---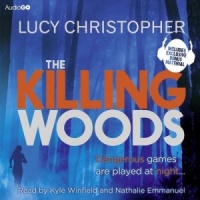 The Killing Woods written by Lucy Christopher performed by Kyle Winfield and Nethalie Emmanuel on CD (Unabridged)£4.99
Emily's dad is accused of murdering a teenage girl in the woods behind her house, the place she played in as a child.
She's sure he's innocent, but what did happen? Determined to find out, and afraid of what she might discover, Emily seeks out the boyfriend of the murdered girl.
---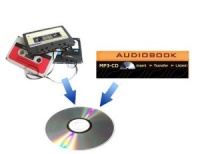 3 Hour Fixed Price Audio Transfer£10.00
This is the fixed price £10 item to be used when ordering conversion of a sub 3 hour Audio Cassette or MP3 CD title.
---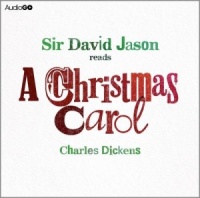 A Christmas Carol written by Charles Dickens performed by David Jason on CD (Abridged)£9.99
Dickens's story of solitary miser Ebenezer Scrooge, who is taught the true meaning of Christmas by the three ghosts of Christmas past, present and future, has been adapted into countless film and stage versions and is today the most famous and loved of all Christmas tales.
---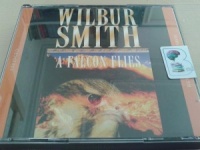 A Falcon Flies written by Wilbur Smith performed by Martin Jarvis on CD (Abridged)£4.99 - £8.99
A Falcon Flies is the first bestselling novel in Wilbur Smith's epic tale of Africa, The Ballantyne Novels. In search of a father they barely remember, Zouga and Dr Robyn Ballantyne board Mungo St John's magnificent clipper to speed them to Africa.
---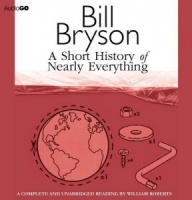 A Short History of Nearly Everything written by Bill Bryson performed by William Roberts on CD (Unabridged)£24.99 - £29.99
In A Short History of Nearly Everything, beloved author Bill Bryson confronts his greatest challenge yet: to understand—and, if possible, answer—the oldest, biggest questions we have posed about the universe and ourselves.
---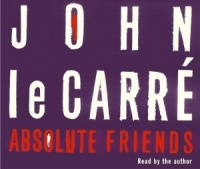 Absolute Friends written by John le Carre performed by John le Carre on CD (Abridged)£6.99
Absolute Friends is a superbly paced novel spanning fifty-six years, a theatrical masterstroke of tragi-comic writing, and a savage fable of our times, almost of our hours.
---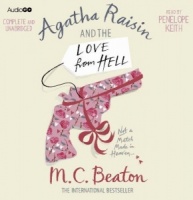 Agatha Raisin and the Love from Hell written by M.C. Beaton performed by Penelope Keith on CD (Unabridged)£9.99 - £24.99
A Genius performance by Penelope Keith!
No happily ever after for her! Recently married to neighbour James Lacey, Agatha quickly finds that love is not all it's cracked up to be - soon the newly-weds are living in separate cottages and accusing each other of infidelity.
---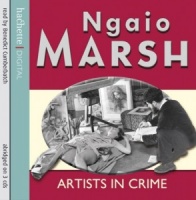 Artists in Crime written by Ngaio Marsh performed by Benedict Cumberbatch on CD (Abridged)£7.99 - £12.99
A Benedict Cumberbatch Genius Performance!
It started as a student exercise, the knife under the drape, the model's pose chalked in place. But before Agatha Troy, artist and instructor, returns to the class, the pose has been re-enacted in earnest....
---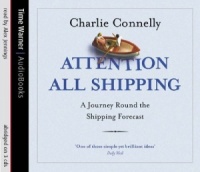 Attention All Shipping written by Charlie Connelly performed by Alex Jennings on CD (Abridged)£9.99
This solemn, rhythmic intonation of the shipping forecast on BBC radio is as familiar as the sound of Big Ben chiming the hour.
Since its first broadcast in the 1920s it has inspired poems, songs and novels in addition to its intended objective of warning generations of seafarers of impending storms and gales.
---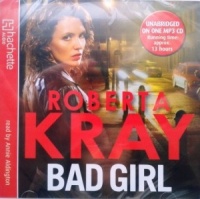 Bad Girl written by Roberta Kray performed by Annie Aldington on MP3 CD (Unabridged)£4.99
The Quinns are one of the most feared criminal gangs in London's East End.
So the reaction of Joe Quinn to the news that his daughter Lynsey is involved with a policeman is predictable and swift, and a pregnant Lynsey finds herself out on the street, bruised and alone.
---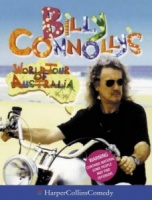 Billy Connolly's World Tour of Australia written by Billy Connolly performed by Billy Connolly on CD (Abridged)£7.99
Travelling by plane, motorbike, boat and foot, Billy Connolly tours the country performing his stage show and delivers and individual commentary on all things Australian.
---
Blood Hunt written by Ian Rankin performed by Steven Pacey on CD (Unabridged)£39.99
It begins with a phone call. Gordon Reeve's brother has been found dead in his car in San Diego - the car was locked from the inside, a gun in his hand. In the US to identify the body Gordon comes to realise that his brother has in fact been murdered. What's more, it is soon obvious that his own life is in danger.
---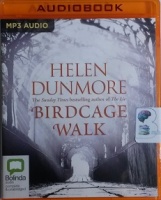 Bridcage Walk written by Helen Dunmore performed by Emma Fenney on MP3 CD (Unabridged)£6.99
It is 1792 and Europe is seized by political turmoil and violence. Lizzie Fawkes has grown up in radical circles where each step of the French Revolution is followed with eager idealism. But she has recently married John Diner Tredevant, a property developer who is heavily invested in Bristol's housing ...
---
---
---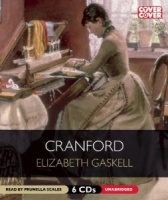 Cranford written by Elizabeth Gaskell performed by Prunella Scales on CD (Unabridged)£19.99
"I'll not listen to reason," she said, now in full possession of her voice, which had been rather choked with sobbing. "Reason always means what someone else has got to say."'
New In March 2018 Part 2
(in alphabetical order)
Angels Flight - A Guild Hunter Collection written by Nalini Singh performed by Justine Eyre on CD (Unabridged)£29.99

Warrior angels, vampire hunters and angels gone bad heat up this altogether sizzling paranormal alternate universe. This anthology of novellas features Angels' Wolf, Angels' Judgement, Angels' Pawn and the never-before-published Angels' Dance.

Brief Lives written by John Aubrey performed by Brian Cox on Cassette (Abridged)£9.99

Probably English literature's greatest collector of gossip, anecdotes and personal trivia, Aubrey's compilation of the doings and sayings of the major and minor figures of the 16th and 17th centuries has survived in popular esteem.

Copperhead - The Second Nathaniel Starbuck Novel written by Bernard Cornwell performed by Hayward Morse on Cassette (Unabridged)£19.99

The beloved Confederate Captain Nate Starbuck returns to the front lines of the Civil War in this second installment of Bernard Cornwell's acclaimed Nathaniel Starbuck Chronicles. It is the summer of 1862, and Nate has been bloodied but victorious at the battles of Ball's Bluff and Seven Pines.

Fifty Poems of Emily Dickinson written by Emily Dickinson performed by Sharon Stone, Meryl Streep, Glenda Jackson and Stephanie Beacham on Cassette (Unabridged)£9.99

A wonderful collection of 50 well-known poems performed by four well known actresses vis. Sharon Stone, Meryl Streep, Glenda Jackson and Stephanie Beacham

Haunted written by James Herbert performed by Sean Barrett on Cassette (Unabridged)£49.99 - £59.99

James Herbert's Haunted is the first chilling novel in the David Ash trilogy. Three nights of terror at the house called Edbrook. Three nights in which David Ash, there to investigate a haunting, will be victim of horrifying and maleficent games.

Introductory French written by Michel Thomas performed by Michel Thomas on CD (Abridged)£9.99

Michel Thomas has taken the language-learning world by storm.

With no books, no memorising and no homework, Michel teaches the basic grammar of the language painlessly. Using the method he perfected over 50 years, he now shares his secret with the world - and 'makes it simple' (Sunday Times).

John Betjeman - A First Class Collection written by John Betjeman performed by John Betjeman on CD (Abridged)£14.99 - £19.99

Sir John Betjeman's unique relationship with the BBC left a lasting legacy of poetry, readings and performances. "A First Class Collection" features a selection of some of his most memorable and best-loved poetry.

Just William 1 written by Richmal Crompton performed by Martin Jarvis on CD (Abridged)£7.99

A Genius Performance by Martin Jarvis! Martin Jarvis has made the voices of William and his gang of outlaws his own in these marvellous readings. Roar with laughter as the lovable rogue, hampered by the loathsome Violet Elizabeth, wreaks havoc in this hilarious collection.

Metamorphosis ('The Transformation') and The Judgement written by Franz Kafka performed by Steven Berkoff on Cassette (Unabridged)£19.99

Gregor Samsa wakes up one morning to find he has been transformed into a gigantic insect. This extraordinary tale of imagination was written by Kafka against the backdrop of increasing turmoil in central Europe and remains not just an affecting tale but a disturbing allegory.

Murder Must Advertise written by Dorothy L. Sayers performed by BBC Full Cast Dramatisation and Ian Carmichael on CD (Abridged)£9.99 - £14.99

A Genius Performance by Ian Carmichael and Cast!
When copywriter Victor Dean falls to his death on the stairs of Pym's Advertising Agency, no one seems to mind. That is, until Lord Peter joins the firm incognito as Dean's replacement and starts asking questions which lead him into a network of blackmailers, drug pushers and one of the most deadly plots of crime fiction. However, before the crimes can be solved and the truth revealed, five more people must die...

My Brief History - A Memoir written by Stephen Hawking performed by Matthew Brenher and Stephen Hawking on CD (Abridged)£9.99

Stephen Hawking has dazzled readers worldwide with a string of bestsellers exploring the mysteries of the universe. Now, for the first time, the most brilliant cosmologist of our age turns his gaze inwards for a revealing look at his own life and intellectual evolution.

Peake's Progress written by Mervyn Peake performed by Sebastian Peake and Fabian Peake on CD (Abridged)£14.99

A selection of short stories and poems taken from this collection of Mervyn Peake's lesser-known work, including the epic poem Rhyme of the Flying Bomb. This collection is read by Mervyn's sons Sebastian and Fabian.

Sharpe's Rifles written by Bernard Cornwell performed by William Gaminara on Cassette (Unabridged)£19.99

Lieutenant Richard Sharpe and a detachment of riflemen join the assault of a strong French force holding the Holy City of Santiago de Compostela. Lieutenant Richard Sharpe and a detachment of Riflemen are cut off from the rest of the army and surrounded.

The Bloody Ground - The Fourth Nathaniel Starbuck Novel written by Bernard Cornwell performed by Hayward Morse on Cassette (Unabridged)£29.99

It is late summer 1862 and the Confederacy is invading the United States of America. Nate Starbuck, a northern preacher's son fighting for the rebel South, is given command of a punishment battalion – a despised unit of shirkers and cowards.

The Cellist of Sarajevo written by Steven Galloway performed by Gareth Armstrong on CD (Unabridged)£14.99

Sarajevo, in the 1990s, is a hellish place. The ongoing war devours human life, tears families apart and transforms even banal routines, such as acquiring water, into life-threatening expeditions. Day after day, a cellist stations himself in the midst of the devastation, defying the ever-present ...

The Looking Glass War written by John le Carre performed by BBC Full Cast Dramatisation and Simon Russell Beale on CD (Abridged)£4.99 - £9.99

When word reaches The Department - an ailing section of British military intelligence - that Soviet missiles are being installed close to the West German border, it seems the perfect opportunity to show Control and Smiley, their rivals over at the Circus, that The Department still has value.

The Making of the Fittest - DNA and the Ultimate Forensic Record of Evolution written by Sean B. Carroll performed by Patrick Lawlor on CD (Unabridged)£24.99

The Making of the Fittest This history of DNA offers listeners a tour of the massive DNA record of three billion years of evolution to see how the fittest are made. This work argues for evolution as it examines immortal genes, fossil genes, and genes that bear the scars of past battles with horrible diseases.

The Pickwick Papers written by Charles Dickens performed by Peter Jeffrey, Norman Rodway, Trevor Peacock and Clive Francis on Cassette (Abridged)£9.99

A Radio 4 dramatization of Dickens's episodic and amusing adventures of Mr Samuel Pickwick and his fellow-members of the Pickwick Club.

The Prince of Medicine - Galen in the Roman Empire written by Susan P. Mattern performed by Jame Patrick Cronin on MP3 CD (Unabridged)£29.99

Galen of Pergamum (A.D. 129-ca. 216) began his remarkable career tending to wounded gladiators in provincial Asia Minor. Later in life he achieved great distinction as one of a small circle of court physicians to the family of Emperor Marcus Aurelius, at the very heart of Roman society.

The Prince of Tides written by Pat Conroy performed by Frank Muller on MP3 CD (Unabridged)£29.99

Pat Conroy has created a huge, brash thunderstorm of a novel, stinging with honesty and resounding with drama. Spanning forty years, this is the story of turbulent Tom Wingo, his gifted and troubled twin sister Savannah, and their struggle to triumph over the dark and tragic legacy of ...

The Raider written by Monica McCarty performed by Anthony Ferguson on CD (Unabridged)£29.99

After consolidating his gains against the enemy English, King Robert the Bruce of Scotland sends his best soldiers to fortify the lawless borders. These legendary warriors of the Highland Guard let nothing come before king and country—except the calling of their heart.

The Return Journey written by Maeve Binchy performed by Kate Binchy on CD (Unabridged)£9.99

In this extraordinary collection of stories, the world-wide bestselling author of Evening Class once again reveals her incomparable understanding of matters of the heart. In The Return Journey, Maeve Binchy creates powerful compelling stories of love, loss, revelation, and reconciliation.

The Secret Pilgrim written by John Le Carre performed by Simon Russell Beale and Patrick Malahide on CD (Abridged)£9.99

George Smiley is one of the most brilliantly realised characters in British fiction. Bespectacled, tubby, eternally middle-aged and deceptively ordinary, he has a mind like a steel trap and is said to possess 'the cunning of Satan and the conscience of a virgin'.

The Unpleasantness at the Bellona Club written by Dorothy L. Sayers performed by BBC Full Cast Dramatisation and Ian Carmichael on CD (Abridged)£5.99 - £9.99

A Genius Performance by Ian Carmichael and Cast!
The dignified calm of the Bellona Club is shattered when Lord Peter Wimsey finds General Fentiman dead in his favourite chair. A straighforward death by natural causes? Perhaps...but why can no-one remember seeing the general the day he died? And, who is the mysterious Mr. Oliver? Lord Peter moves between London and Paris, salon and suburbs, to unfold the intriguing case.

The Whale Road written by Robert Low performed by David Rintoul on CD (Abridged)£6.99

The first in a brand new series charting the adventures of the Oathsworn, a band of Vikings on the chase for the secret hoard of Attila the Hun. Life is savage aboard a Viking raider. When young Orm Rurikson is plucked from the snows of Norway to join his estranged father on the Fjord Elk...

The Woodlanders written by Thomas Hardy performed by Stephen Thorne on CD (Unabridged)£34.99

The Woodlanders is vintage Hardy. The story revolves around the young woman Grace Melbury, who returns to the leafy world of Little Hintock and soon finds herself at the centre of a number of tragic events. In penetrating, incisive and beautiful prose, Hardy tells a moving tale of unrequited love...

What Makes Love Last? - How to Build Trust and Avoid Betrayal written by Dr John Gottman, Ph. D. performed by Peter Berkrot on CD (Unabridged)£29.99

Dr. John Gottman, the country's preeminent researcher on marriage, is famous for his Love Lab at the University of Washington in Seattle where he deciphers the mysteries of human relationships through scientific research.
---
---
---
---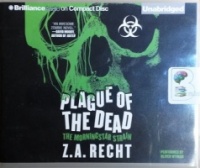 Plague of the Dead - The Morningstar Strain written by Z.A. Recht performed by Oliver Wyman on CD (Unabridged)£9.99
The end begins with a viral outbreak unlike anything mankind has ever encountered before. The infected are subject to delirium, fever, a dramatic increase in violent behavior, and a one-hundred percent mortality rate. Death. But it doesn't end there. The victims return from death to walk the earth.
---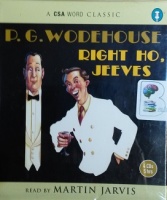 Right Ho, Jeeves written by P.G. Wodehouse performed by Martin Jarvis on CD (Abridged)£19.99
Can Bertie Wooster become Jeeves, at least in the problem-solving department? The odds aren't good, given the mess he makes of everybody's love life when he starts playing rescuer. Gussie Fink-Nottle, who's in love with Madeline Basset, and Tuppy Glossop, who's sometimes engaged to...
---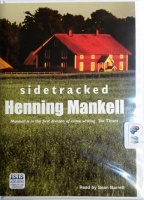 Sidetracked written by Henning Mankell performed by Sean Barrett on Cassette (Unabridged)£29.99
Midsummer approaches, and Wallander prepares for a holiday with the new woman in his life, hopeful that his wayward daughter and his ageing father will cope without him. But his summer is ruined when a girl commits suicide before his eyes, and a former minister of justice is butchered in the...
---
---
---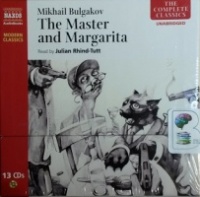 The Master and Margarita written by Mikhail Bulgakov performed by Julian Rhind-Tutt on CD (Unabridged)£39.99
The Devil comes to Moscow; but he isn't all bad. Pontius Pilate sentences a charismatic leader to his death, but yearns for redemption; and a writer tries to destroy his greatest tale, but discovers that manuscripts don't burn. Multilayered and entrancing, blending sharp satire with glorious fantasy...
---
---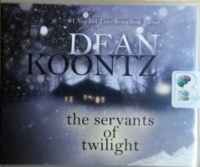 The Servents of Twilight written by Dean Koontz performed by Angela Dawe on CD (Unabridged)£14.99
An ordinary parking lot in southern California. Christine Scavello and her six-year-old son are accosted by a strange old woman. "I know who you are," the woman snaps at the boy. "I know what you are." A scream, a threat - and then a grotesque act of violence. Suddenly Christine's pride and joy...
---
---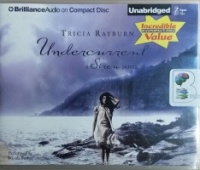 Undercurrent - A Siren Novel written by Tricia Rayburn performed by Nicola Barber on CD (Unabridged)£19.99
The sirens are back, but Vanessa may be the biggest threat of all.... Nothing has been normal since Vanessa Sands learned that her sister was murdered by siren femme fatales of the watery depths and that everything she believed about her family was a lie. Her boyfriend, Simon, has been the only...
---
---
---