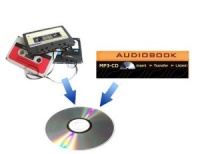 3 Hour Fixed Price Audio Transfer£15.00
This is the fixed price £15 item to be used when ordering conversion of a sub 3 hour Audio Cassette or MP3 CD title.
---
---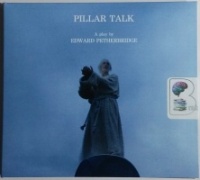 Pillar Talk - A Play written by Edward Petherbridge performed by Edward Petherbridge on CD (Unabridged)£14.99
Exclusive to Brainfood Audiobooks! Esteemed actor Edward (Nicholas Nickleby) Petherbridge uses the story of Symeon Stylites, the 5th century monk who lived on a pillar for thirty-six years, as a framework for an existential inquiry into imagination, belief, doubt, miracles and why one would live 'as I live.'
---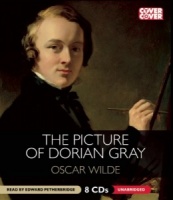 The Picture of Dorian Gray written by Oscar Wilde performed by Edward Petherbridge on CD (Unabridged)£29.99 - £34.99
A Genius Performance by Edward Petherbridge!
Dorian Gray is a child of his time. A young man who is only interested in appearances and, as the story continues, not so much about reality. He has a picture painted and makes a deal with the "devil" so that all the sins he commits are visited on the painting and not on him. This tale has something to say to every generation and is performed by the Genius that is Edward Petherbridge!
---
---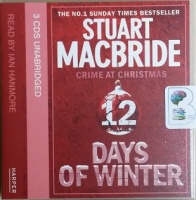 12 Days of Winter written by Stuart MacBride performed by Ian Hanmore on CD (Unabridged)£19.99 - £29.99
A collection of interlinked tales of crime and retribution laced with dark humour, set around the festive season – from the No. 1 bestseller Stuart MacBride
Thieves, drug dealers, lap-dancers, gangsters and even the odd good guy populate these twelve tales exploring the seedier side of life in North East Scotland.
---
---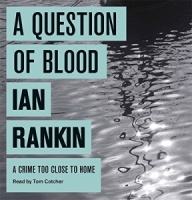 A Question of Blood written by Ian Rankin performed by Tom Cotcher on CD (Unabridged)£29.99
Two seventeen-year-olds are killed by an ex-Army loner who has gone off the rails. The mystery takes Rebus into the heart of a shattered community.
---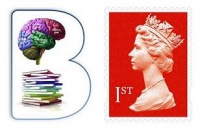 Additional Airmail Postage for Edward Petherbridges Gift to Austrilia£15.00
This is the Additional Postage charge for Edward Petherbridge's audiobook order as one item is required to be sent to Australia.
---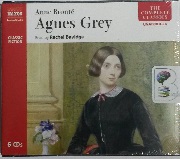 Agnes Grey written by Anne Bronte performed by Rachel Bavidge on CD (Unabridged)£24.99 - £29.99
For all those captivated by the trials of Jane Eyre, Anne Brontës heroine Agnes Grey is the ideal counterpoint. Agnes Grey is widely considered to be the best record of the precarious position of the governess in Victorian society, and the insolence, neglect and dependence that the gentle ....
---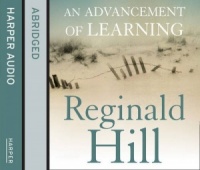 An Advancement of Learning written by Reginald Hill performed by Warren Clarke on CD (Abridged)£4.99 - £14.99
Lecturers having it away with students, witches' sabbaths on the sand dunes, a body buried under a statue in the gardens, and a fresh rash of killings.
---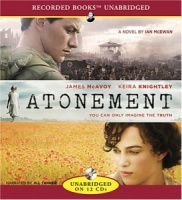 Atonement written by Ian McEwan performed by Jill Tanner on CD (Unabridged)£21.99
On the hottest day of the summer of 1934, thirteen-year-old Briony Tallis sees her sister Cecilia strip off her clothes and plunge into the fountain in the garden of their country house. Watching her is Robbie Turner, her childhood friend who, like Cecilia, has recently come down from Cambridge.
---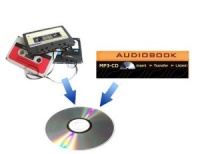 Audio Repair and Audio Transfer for Customers Own Tapes£35.00
Audio Repair and Audio Transfer of Customer Own Tapes
If you have a damaged audio tape that needs repairing and then transferring to Audio CD this is the service for you.
You should place an order for this item for each tape that requires repair and recording.
---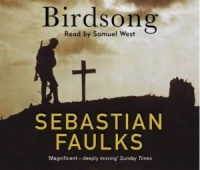 Birdsong written by Sebastian Faulks performed by Samuel West on CD (Abridged)£6.99 - £9.99
A Genius Performance by Samuel West!
Set before and during the Great War, Birdsong captures the drama of that era on both a national and a personal scale. It is the story of Stephen, a young Englishman, who arrives in Amiens in 1910.
---
---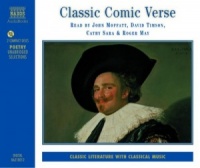 Classic Comic Verse written by Various Famous Poets performed by John Moffat, David Timson, Cathy Sara and Roger May on CD (Abridged)£4.99 - £6.99
Poetry by definition, achieves its effects by rhythm, sound patterns and imagery. One of the most popular areas of audiobooks -- spoken poetic form -- evokes emotions and sensations by bringing the voice of the poet to life in an appropriately intimate way, directly to the ear and mind of the listener.
New In March 2018 Part 1
(in alphabetical order)
1966 and All That written by Geoff Hurst performed by Geoff Hurst on Cassette (Abridged)£4.99

How many "years of hurt" is it now? As England World Cup hero Geoff Hurst relates in his evocative, challenging autobiography 1966 and All That hardly a day goes by without someone reminding him of the hat-trick he scored in the Wembley Final that brought football "home" the last time.

A Cut Like Wound written by Anita Nair performed by Sartaj Garewal on MP3 CD (Unabridged)£9.99

It is the first night of Ramadan. At Sivaji Nagar in the heart of Bangalore, the market comes alive. It is also the night a killer decides to go out in public for the first time as a woman. In the bustling market she finds her victim and lures him into a dark lane but she is interrupted by a young male prostitute.

Blockchain Revolution - How the Technology Behind Bitcoin is changing money, business and the World written by Don and Alex Tapscott performed by Jeff Cummings on CD (Unabridged)£24.99

Blockchain is the ingeniously simple technology that powers Bitcoin. But it is much more than that, too. It is a public ledger to which everyone has access but which no single person controls. It allows for companies and individuals to collaborate with an unprecedented degree of trust and transparency.

Emerson written by Robert D Richardson performed by Michael McConnohie on MP3 CD (Unabridged)£9.99

Ralph Waldo Emerson is one of the most important figures in the history of American thought, religion, and literature. The vitality of his writings and the unsettling power of his example continue to influence us more than a hundred years after his death.

Empress Orchid written by Anchee Min performed by Alexandra O'Karma on CD (Unabridged)£24.99

To rescue her family from poverty and avoid marrying her cousin, 17-year-old Orchid competes to be one of the Emperor's wives. When she is chosen as a lower-ranking concubine, she enters the ritualised Forbidden City and is exposed to all the chaos, corruption, and treachery of the final days ...

Feast Day of Fools written by James Lee Burke performed by Will Patton and on CD (Abridged)£7.99

Sheriff Hackberry Holland patrols a small Southwest Texas border town with a deep and abiding respect for the citizens in his care. Still mourning the loss of his cherished wife and locked in a perilous almost-romance with his deputy, Pam Tibbs, a woman many decades his junior, Hackberry feeds....

Finding Sanctuary - Monastic Steps for Everyday Life written by Christopher Jamison performed by Christopher Jamison and on CD (Unabridged)£14.99

Have you ever wondered why everybody these days seems so busy? In FINDING SANCTUARY, Father Christopher Jamison, the Abbot from BBC TV's THE MONASTERY and THE SILENCE, offers practical wisdom from the monastic tradition on how to build sanctuary into your life.

Forever - The Wolves of Mercy Falls written by Maggie Stiefvater performed by Dan Bittner, Pierce Cranvens, Emma Galvin and Jenna Lamia on MP3 CD (Unabridged)£9.99

The conclusion to the #1 bestselling Shiver trilogy. In Shiver, Grace and Sam found each other. In Linger, they fought to be together. Now, in Forever, the stakes are even higher than before. Wolves are being hunted. Lives are being threatened...

Golf is a Game of Confidence written by Dr. Bob Rotella with Bob Cullen performed by Dr. Bob Rotella on CD (Abridged)£14.99

Dr. Bob Rotella, whose clients include Nick Price, Davis Love III, Tom Kite and Pat Bradley, is firmly established as the premier performance enhancement specialist in the golf world. In Golf is a Game Of Confidence, "Doc" Rotella focuses on the most important skill a golfer can have:

Hemingway in Love - His Own Story written by A.E. Hotchner performed by A.E. Hotchner, Joan Baker, Susan Hanfield and Alex Hyde-White on CD (Unabridged)£19.99

In June of 1961, A.E. Hotchner visited an old friend in the psychiatric ward of St. Mary's Hospital. It would be the last time they spoke: a few weeks later, Ernest Hemingway was released home, where he took his own life.

I Capture The Castle written by Dodie Smith performed by Emilia Fox on CD (Abridged)£9.99

This is the wonderful journal of Cassandra Mortmain, aged 17. A heartwarming and completely original coming-of-age story, it is the account of one year in her life and that of her extraordinary family. With great wit and sensitivity Cassandra reveals her eccentric father with writer's block...

Inheritance from Mother written by Minae Mizumura performed by Allison Hiroto on MP3 CD (Unabridged)£9.99

Award-winning novelist Minae Mizumura demystifies the notion of the selfless Japanese mother and the adult daughter honor-bound to care for her. Mitsuki Katsura, a Japanese woman in her mid-50s, is a French-language instructor at a private university in Tokyo.

Inkheart written by Cornelia Funke performed by Lynn Redgrave on CD (Unabridged)£19.99

Twelve-year-old Meggie loves books. So does her father, Mo, a bookbinder, although he hasn't read aloud to her since her mother mysteriously disappeared. They live a quiet life until the night a stranger knocks at their door. The scarred man, who calls himself Dustfinger...

Land of The Living written by Nicci French performed by Saskia Reeves on CD (Abridged)£7.99

Abbie Devereaux wakes in the dark. She is hooded and bound, with no idea where she is or how she got there. Kept alive by a man she never sees, his only promise is that eventually he will kill her - like the others. But Abbie has spirit and bloody-mindedness on her side.

Life in the Universe written by Lewis Dartnell performed by James Adams on MP3 CD (Unabridged)£9.99

The study of life and its existence in the universe, known as astrobiology, is now one of the hottest areas of both popular science and serious academic research, fusing biology, chemistry, astrophysics, and geology. Lewis Dartnell tours its latest findings, and explores some of the most fascinating ....

Motty - 40 Years in the Commentary Box written by John Motson performed by John Motson on CD (Abridged)£9.99

For everyone in Britain, Motty, like Pele and Maradona, needs no other introduction. As the nation's best-known football commentator, he has had an unparalleled insight into sports broadcasting and the ups and downs of the game.

Overwhelmed - Work, Love, and Play when no one has the time written by Brigid Schulte performed by Tavia Gilbert on MP3 CD (Unabridged)£9.99

In her attempts to juggle work and family life, Brigid Schulte has baked cakes until 2 a.m., frantically (but surreptitiously) sent important emails during school trips and then worked long into the night after her children were in bed.

Play - A Stage Dive Novel written by Kylie Scott performed by Andi Arndt on CD (Unabridged)£29.99

Kylie Scott returns with the highly anticipated follow-up to international bestseller Lick. Mal Ericson, drummer for the world famous rock band Stage Dive, needs to clean up his image fast, at least for a little while. Having a good girl on his arm should do the job just fine.

Sea Swept written by Nora Roberts performed by David Stuart on CD (Abridged)£9.99

A champion boat racer, Cameron Quinn travelled the world spending his winnings on champagne and women. But when his dying father calls him home to care for Seth, a troubled young boy not unlike Cameron once was, his life changes overnight.

Switch on Your Brain written by Dr. Caroline Leaf performed by Joyce Bean on CD (Unabridged)£14.99

You are not a victim of your biology! The vast majority of the illnesses that plague us today are a direct result of our thought life. What we think about truly affects us both physically and emotionally. Today our culture is undergoing an epidemic of toxic thoughts that, left unchecked....

The Diamond Hunters written by Wilbur Smith performed by Tim Pigott-Smith on CD (Abridged)£4.99

The jet was a solid eighteen-inch column, a pillar of brown mud and yellow gravel and sea water that beat against the steel plates of the hull with a hollow drumming roar. In the few seconds since the explosion the cyclone was already half-filled with a slimy shifting porridge that rushed from wall to wall ...

The Drop written by Dennis Lehane performed by Jim Frangione on CD (Unabridged)£14.99

Bob Saginowski finds himself at the centre of a robbery gone awry and entwined in an investigation that digs deep into the neighbourhood's past where friends, families, and foes all work together to make a living - no matter the cost.

The Enchanter written by Vladimir Nabokov performed by Christopher Lane on CD (Unabridged)£9.99

Nabokov described this novella, written in Paris in 1939 but only published twenty years later, as 'the first little throb of Lolita'. The plot is similar: a middle-aged man wedding an unattractive widow in order to indulge his paedophilic obsession with her daughter.

The Future of God written by Deepak Chopra performed by Deepak Chopra on CD (Unabridged)£9.99

Can God be revived in a skeptical age? What would it take to give people a spiritual life more powerful than anything in the past? Deepak Chopra tackles these issues with eloquence and insight in this book. He proposes that God lies at the source of human awareness.

The Happy Prince and Other Stories written by Oscar Wilde performed by Anton Lesser on CD (Abridged)£9.99 - £14.99

These fantasies and true-to-life fables were created by Oscar Wilde for his own sons. Here is the tale of the Prince who is not as happy as he seems, of the Selfish Giant who learns how to love children, and of the Star-Child who suffers bitter trials when he rejects his parents.

The Last of the Mohicans written by James Fenimore Cooper performed by Bill Weideman on MP3 CD (Unabridged)£9.99

The Last of the Mohicans is an epic story of romance and adventure on the American frontier. It is a story of love and loyalty, and of America's coming of age. While the French and Indians besiege Fort William Henry, Cora and Alice Munro, daughters of the English commander, are on their way to join him.

The Mars and Venus Audio Collection written by John Gray, Ph.D. performed by John Gray, Ph.D. on Cassette (Abridged)£14.99

A Brilliant collection of this excellent titles. Men are from Mars, What Your Mother Couldn't Tell You and Mars and Venus in the Bedroom. Get seriously involved with the most famous relationship book ever! Once upon a time Martians and Venusians met, fell in love, and had happy relationships...

The Mayor of Casterbridge written by Thomas Hardy performed by Anton Lesser on CD (Unabridged)£29.99 - £34.99

Thomas Hardy's novels about the cruel twists of fate that blight our lives have a timeless power to move us. In The Mayor Casterbridge, a young Michael Henchard makes a rash, alcohol-fuelled decision to sell his wife. Despite abstaining from alcohol from this point forward and living an upstanding life....

The Nerdist Way - How to Reach the Next Level (in Real Life) written by Chris Hardwick performed by Chris Hardwick on MP3 CD (Unabridged)£9.99

Nerds: Once a tormented subrace of humans... Now captains of industry! You don't have to be a stereotypical geekwad to appreciate the tenets of Nerdism and to make your innate talents for overanalysis and hyper-self-awareness work for you instead of against you.

The Suspicions of Mr Whicher written by Kate Summerscale performed by Harriet Walter on CD (Abridged)£4.99

Winner of the Samuel Johnson Prize for Non-fiction, 2008. Winner of the Richard & Judy, Book Club title, 2009. Winner of the Galaxy Book of the Year, 2009. Winner of the Play.com, Popular Non-Fiction Award, 2009. It is midnight on 30th June 1860 and all is quiet in the Kent family house in Road, Wiltshire.

The Things You Can See Only When You Slow Down written by Haemin Sunim performed by Sean Pratt on MP3 CD (Unabridged)£29.99

The Times Top 10 Bestseller THE INTERNATIONAL BESTSELLER, WITH OVER THREE MILLION COPIES SOLD AROUND THE WORLD Is it the world that's busy, or my mind?' The world moves fast, but that doesn't mean we have to. In this timely guide to mindfulness, Haemin Sunim, a Buddhist monk.....

The Thirst written by Jo Nesbo performed by John Lee on CD (Unabridged)£24.99

A woman is found murdered after an internet date. The marks left on her body show the police that they are dealing with a particularly vicious killer. HE'S IN YOUR HOUSE… HE'S IN YOUR ROOM Under pressure from the media to find the murderer, the force know there's only one man for the job.

Wolf to the Slaughter written by Ruth Rendell performed by Robin Bailey on CD (Unabridged)£14.99

Anita Margolis had vanished. There was no body, no crime, nothing more concrete than an anonymous letter and a name. A pattern soon emerged to the investigation. Not only had Anita been wealthy and flighty, she had been thoroughly immortal, too.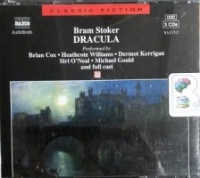 Dracula written by Bran Stoker performed by Brian Cox, Heathcote Williams, Dermot Kerrigan and Full Cast on CD (Abridged)£14.99
"Dracula" is an 1897 Gothic horror novel by Irish author Bram Stoker. Famous for introducing the character of the vampire Count Dracula, the novel tells the story of Dracula's attempt to move from Transylvania to England so he may find new blood and spread undead curse, and the battle between...
---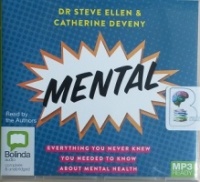 Mental - Everything you Never Knew, you needed to know, about Mental Health written by Dr Steve Ellen and Catherine Deveny performed by Dr Steve Ellen and Catherne Deveny on MP3 CD (Unabridged)£19.99
Psychiatrist Dr Steve Ellen and comedian Catherine Deveny combine forces to demystify the world of mental health. Providing an insider perspective, they share their personal experiences of mental illness and unpack the current knowledge about conditions and treatments. What do we know?
---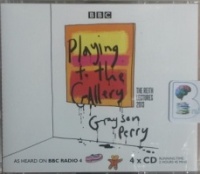 Playing to the Gallery - The Reith Lectures 2013 written by Grayson Perry performed by Grayson Perry on CD (Abridged)£19.99
Turner Prize-winning artist Grayson Perry gives the 2013 Reith Lectures, presented by Sue Lawley. Marcel Duchamp famously declared that a urinal was a work of art. It sometimes seems that anything qualifies, from a pile of sweets on a gallery floor to an Oscar-winning actress asleep in a box.
---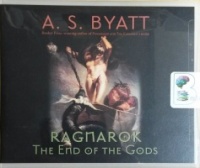 Ragnarok - The End of the Gods written by A.S. Byatt performed by Harriet Walter on CD (Unabridged)£19.99
"Ragnarok" retells the finale of Norse mythology. A story of the destruction of life on this planet and the end of the gods themselves. Just as Wagner used this dramatic and catastrophic struggle for the climax of his Ring Cycle, so A.S. Byatt now reinvents it in all its intensity and glory.
---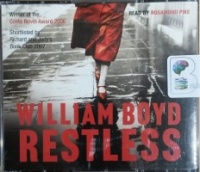 Restless written by William Boyd performed by Rosamund Pike on CD (Abridged)£9.99
Eva Delectorskaya,' I said mystified. ' Who's that?' 'Me,' she said. 'I am Eva Delectorskaya.' What happens to your life when everything you thought you knew about your mother turns out to be an elaborate lie? During the long, hot summer of 1976, Ruth Gilmartin discovers that her very English mother...
---
---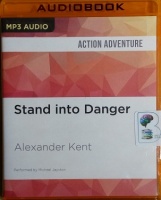 Stand into Danger written by Alexander Kent performed by Michael Jayston on MP3 CD (Unabridged)£19.99
Despatched on a secret mission, the company of a 28-gun frigate must face the hazards of conspiracy, treason, and piracy. And recently appointed third lieutenant Richard Bolitho must learn to accept his new responsibilities as a King's officer.
---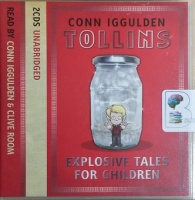 Tollins - Explosive Tales for Children written by Conn Iggulden performed by Conn Iggulden and Clive Room on CD (Unabridged)£9.99
"Tollins are not fairies. Though they both have wings, fairies are delicate creatures and much smaller. Tollins are also a lot less fragile than fairies. In fact, the word 'fragile' can't really be used about them at all. They are about as fragile as a housebrick..." In these three tales, Conn Iggulden introduces...
---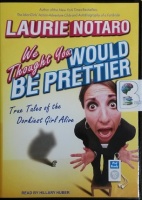 We Thought You Would be Prettier - True Tales of the Dorkiest Girl Alive written by Laurie Notaro performed by Hillary Huber on MP3 CD (Unabridged)£19.99
She thought she'd have more time. Laurie Notaro figured she had at least a few good years yet. But no-it's happened. She has officially lost her marbles. From the kid at the pet-food store checkout line whose coif is so bizarre it makes her seethe "I'm going to kick his hair's ass" to the hapless Sears...
---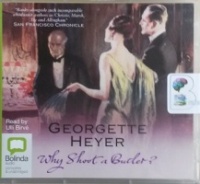 Why Shoot a Butler? written by Georgette Heyer performed by Ulli Birve on CD (Unabridged)£24.99
On a dark night, along a lonely country road, barrister Frank Amberley stops to help a young lady in distress and discovers a sports car with a corpse behind the wheel. The girl protests her innocence, and Amberley believes her – at least until he gets drawn into the mystery and the clues...
---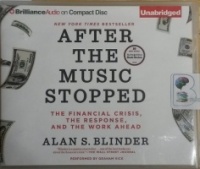 After The Music Stopped - The Financial Crisis, The Response, And the Work Ahead written by Alan S. Blinder performed by Graham Vick on CD (Unabridged)£19.99
Named one of the 10 best books of 2013 by Michiko Kakutani and the New York Times Book Review Alan S. Blinder - esteemed Princeton professor, Wall Street Journal columnist, and former vice chairman of the Federal Reserve Board under Alan Greenspan - is one of our wisest and most...
---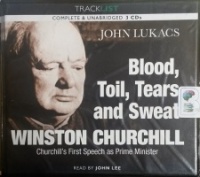 Blood, Toil, Tears and Sweat - Winston Churchill's First Speech as Prime Minister written by John Lukacs performed by John Lee on CD (Unabridged)£19.99
On 13 May 1940, Winston Churchill stood before the House of Parliament to deliver his first speech as prime minister. German troops were advancing across Europe Neville Chamberlain's government had fallen three days earlier. Churchill needed to prove himself an able leader, and he also needed...
---
---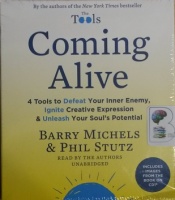 Coming Alive - The Tools - 4 Tools to Defeat Your Inner Enemy written by Barry Michels and Phil Stutz performed by Barry Michels and Phil Stutz on CD (Unabridged)£19.99
Tap into the life force to deepen your emotional and spiritual experience and realize your full potential with this transformative book by the New York Times bestselling authors of The Tools (and the resident shrinks on Goop). In The Tools, Barry Michels and Phil Stutz revolutionized the world ...
---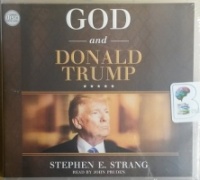 God and Donald Trump written by Stephen E. Strang performed by John Pruden on CD (Unabridged)£19.99
With pundits asking, "How did he win?" this book explores whether there was a supernatural element involved. Christian leaders prophesied before the election that God had raised up Donald Trump to lead the nation through a time of crisis. But could this billionaire reality-TV star actually convince...