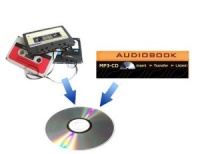 3 Hour Fixed Price Audio Transfer£15.00
This is the fixed price £15 item to be used when ordering conversion of a sub 3 hour Audio Cassette or MP3 CD title.
---
---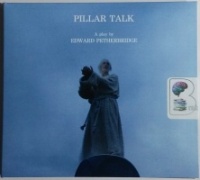 Pillar Talk - A Play written by Edward Petherbridge performed by Edward Petherbridge on CD (Unabridged)£14.99
Exclusive to Brainfood Audiobooks! Esteemed actor Edward (Nicholas Nickleby) Petherbridge uses the story of Symeon Stylites, the 5th century monk who lived on a pillar for thirty-six years, as a framework for an existential inquiry into imagination, belief, doubt, miracles and why one would live 'as I live.'
---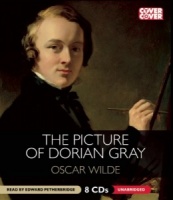 The Picture of Dorian Gray written by Oscar Wilde performed by Edward Petherbridge on CD (Unabridged)£29.99 - £34.99
A Genius Performance by Edward Petherbridge!
Dorian Gray is a child of his time. A young man who is only interested in appearances and, as the story continues, not so much about reality. He has a picture painted and makes a deal with the "devil" so that all the sins he commits are visited on the painting and not on him. This tale has something to say to every generation and is performed by the Genius that is Edward Petherbridge!
---
---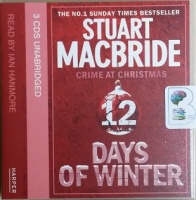 12 Days of Winter written by Stuart MacBride performed by Ian Hanmore on CD (Unabridged)£19.99 - £29.99
A collection of interlinked tales of crime and retribution laced with dark humour, set around the festive season – from the No. 1 bestseller Stuart MacBride
Thieves, drug dealers, lap-dancers, gangsters and even the odd good guy populate these twelve tales exploring the seedier side of life in North East Scotland.
---
New In June 2018 Part 2
(in alphabetical order)
Armageddon's Children written by Terry Brooks performed by Nick Landrum on CD (Unabridged)£19.99

Terry Brooks' Shannara series, launched in 1977 with THE SWORD OF SHANNARA, is a landmark in the fantasy genre and remains one of the bestselling fantasy series of all time. With this new series, a new chapter in the Shannara legend begins.

Brisingr - Part 3 of the Inheritance Cycle Series written by Christopher Paolini performed by Kerry Shale on CD (Abridged)£9.99

Part 3 of the Inheritance Cycle Series. Following the colossal battle against the Empire's warriors, Eragon and Saphira narrowly escaped with their lives. But more awaits the Rider and his dragon, as Eragon finds himself bound by promises he may not be able to keep, including his oath to....

Dexter's Final Cut written by Jeff Lindsay performed by Jeff Lindsay on CD (Unabridged)£39.99

With 1.7 million copies of the Dexter novels sold, and ever-increasing critical acclaim, Jeff Lindsay returns to his groundbreaking and beloved character with his most entertaining book yet. Get ready for a grisly send-up of Hollywood, and a full dose of dark Dexter wit. Lights. Camera. Mayhem.

Destinae written by Roy H. Williams performed by Roy H. Williams on CD (Abridged)£29.99

Book 1: Free the Beagle Book 2: Beagles of Destinae Book 3: Beagles Visit the Seven Sisters Three books containing the epic story of a lawyer named Intellect and a beagle named Intuition on the road to self-discovery. What will they find?

Eldest - Part 2 of the Inheritance Cycle Series written by Christopher Paolini performed by Kerry Shale on CD (Abridged)£9.99

Eragon and his dragon, Saphira, have just saved the rebel state from destruction by the mighty forces of King Galbatorix, cruel ruler of the Empire. Now Eragon must travel to Ellesméra, land of the elves, for further training in magic and swordsmanship, the vital skills of the Dragon Rider.

Flashman written by George MacDonald Fraser performed by Rupert Penry-Jones on CD (Abridged)£29.99

Harry Flashman: the unrepentant bully of Tom Brown's schooldays, now with a Victoria Cross, has three main talents – horsemanship, facility with foreign languages and fornication. A reluctant military hero, Flashman plays a key part in most of the defining military campaigns of the 19th century....

If the Spirit Moves You - Life and Love after Death written by Justine Picardie performed by Samantha Bond on CD (Abridged)£9.99

In September 1997 Justine Picardie's sister, Ruth, died of breast cancer. In this remarkable book, Justine tells the story of life after death - a year in her own life after Ruth's death; and of a search for the afterlife in the age of reason, of scepticism, of science.

Lady Susan written by Jane Austen performed by Harriet Walter, Kim Hicks, Carole Boyd and Full Cast on CD (Abridged)£9.99

An epistolary novel in 18th-century style, this novel tells the story of the recently-widowed Lady Susan Vernon, intelligent but highly manipulative, who is intent on gaining financially secure relationships for both herself and her wayward daughter Frederica.

New Life, No Instructions written by Gail Caldwell performed by Gail Caldwell on CD (Unabridged)£19.99

"New Life, No Instructions" is about the surprising way life can begin again. Within the pages of this memoir, Gail Caldwell explores topics such as what to do when your personal story changes in midlife, how change starts and stays, how we are connected to our loved ones, and finally a discussion on hope.

No! I don't want to join a bookclub written by Virginia Ironside performed by Sian Thomas on CD (Abridged)£9.99

"Certainly not!" said Marie Sharp, when a friend suggests she join a bookclub when she turns sixty. "Bookclub people always seem to have to wade through Captain Corelli's Mandolin or, groan, The God of Small Things. They feel they've forever got to poke their brain with a pointed stick to keep it working.

Silas Marner written by George Eliot performed by Andrew Sachs on CD (Unabridged)£49.99

Although the shortest of George Eliot's novels, Silas Marner is one of her most admired and loved works. It tells the sad story of the unjustly exiled Silas Marner - a handloom linen weaver of Raveloe in the agricultural heartland of England - and how he is restored to life by the unlikely means of the orphan child Eppie.

The Every Woman Anthology written by Various Famous Women Authors performed by Rosalind Ayres, Barbara Leigh-Hunt, Harriet Walter and Juliet Stevenson on CD (Unabridged)£24.99

This collection combines three volumes of the Best of Women's Short Stories. Acclaimed for an unusual mix spanning the sexes, amongst these twenty-six stories are A Young Girl's Confession by Marcel Proust, The Legacy by Virginia Woolf, The Parvenue by Mary Shelley, and The Watsons, an early novella by Jane Austen.

The Leper of Saint Giles written by Ellis Peters performed by Derek Jacobi on CD (Abridged)£19.99

A marriage has been arranged, by greedy guardians, between an ageing nobleman and a very young woman. As both parties arrive in Shrewsbury for the ceremony there is a savage killing and Borther Cadfael is called upon to investigate.

The Lost Boy written by Dave Pelzer performed by Brian Keeler on CD (Unabridged)£19.99

The Lost Boy is a harrowing but ultimately uplifting true story that has touched and inspired millions of people across the world. Dave was horrifically abused as a child by his alcoholic mother. 'A Child Called It' recounts his true story from the ages 4 to 12.

The Trial written by Franz Kafka performed by Scott Brick on CD (Unabridged)£29.99 - £34.99

One of the great works of the 20th century, Kafka's The Trial has been read as a study of political power, a pessimistic religious parable, or a crime novel where the accused man is himself the problem. In it, a man wakes up one morning to find himself under arrest for an offence which is never explained.

Through the Open Door to the Vastness of Your True Being written by Eckhart Toole performed by Eckhart Tolle on CD (Abridged)£9.99

Once you've experienced the power of the present moment, what's next? Eckhart Tolle, who ignited a spiritual awakening in the West with his bestselling The Power of Now, invites you to join him on a path that takes us even further into the profound experience of pure presence.

Time and the Conways written by J.B. Priestley performed by Stella Gonet, Marcia Warren, Belinda Sinclair and Toby Stephens on CD (Abridged)£14.99

It is 1919, the War is over and the Conway family are celebrating their daughter Kay's 21st birthday. But her sudden premonition of their lives in 1937 casts a shadow over their dreams and expectations. "Time and the Conways" follows the fortunes of one family over a period of years, and offers...

Churchill Remembered written by BBC Radio Archive performed by Winston Churchill and Tim Piggot-Smith on CD (Abridged)£19.99

'We Churchills die at forty,' said Winston in 1908, 'and I want to put something more on the slate before then.' By the time he died in 1965, the slate was full. From his earliest days Churchill was an ambitious character, eager for action. He achieved fame and popularity through his dispatches from the...

Full House written by Maeve Binchy performed by Kate Binchy on CD (Unabridged)£24.99

Dee loves her children very much, but now they are all grown up, shouldn't they leave home? Rosie moved out when she got married, but it didn't work out, so now she is back with her parents. Helen is a teacher, and doesn't earn enough for a place of her own.

My Tank is Fight! written by Zack Parsons performed by Patrick Lawlor on CD (Unabridged)£24.99

My Tank Is Fight! contains a humorous and exciting examination of twenty real inventions from World War II that never saw the light of day. Each entry includes full technical details, a complete development history, in-depth analysis, and a riveting fictionalized account of the invention's success...

The Trial written by Franz Kakfa performed by Rupert Degas on CD (Unabridged)£19.99

Josef K, 30, lives in a large town in an unspecified country. He is summonsed to answer a charge and appears in the court room for his trial. Franz Kafka evokes all the reality of trial without any of the specifics in a society that seems to have degraded into chaos: squalid environment, rats, yellow...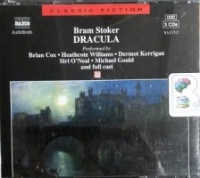 Dracula written by Bran Stoker performed by Brian Cox, Heathcote Williams, Dermot Kerrigan and Full Cast on CD (Abridged)£14.99
"Dracula" is an 1897 Gothic horror novel by Irish author Bram Stoker. Famous for introducing the character of the vampire Count Dracula, the novel tells the story of Dracula's attempt to move from Transylvania to England so he may find new blood and spread undead curse, and the battle between...
---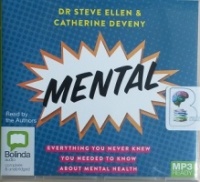 Mental - Everything you Never Knew, you needed to know, about Mental Health written by Dr Steve Ellen and Catherine Deveny performed by Dr Steve Ellen and Catherne Deveny on MP3 CD (Unabridged)£19.99
Psychiatrist Dr Steve Ellen and comedian Catherine Deveny combine forces to demystify the world of mental health. Providing an insider perspective, they share their personal experiences of mental illness and unpack the current knowledge about conditions and treatments. What do we know?
---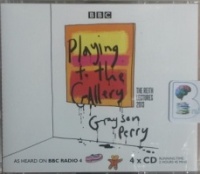 Playing to the Gallery - The Reith Lectures 2013 written by Grayson Perry performed by Grayson Perry on CD (Abridged)£19.99
Turner Prize-winning artist Grayson Perry gives the 2013 Reith Lectures, presented by Sue Lawley. Marcel Duchamp famously declared that a urinal was a work of art. It sometimes seems that anything qualifies, from a pile of sweets on a gallery floor to an Oscar-winning actress asleep in a box.
---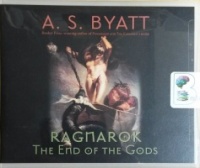 Ragnarok - The End of the Gods written by A.S. Byatt performed by Harriet Walter on CD (Unabridged)£19.99
"Ragnarok" retells the finale of Norse mythology. A story of the destruction of life on this planet and the end of the gods themselves. Just as Wagner used this dramatic and catastrophic struggle for the climax of his Ring Cycle, so A.S. Byatt now reinvents it in all its intensity and glory.
---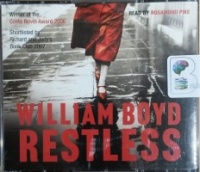 Restless written by William Boyd performed by Rosamund Pike on CD (Abridged)£9.99
Eva Delectorskaya,' I said mystified. ' Who's that?' 'Me,' she said. 'I am Eva Delectorskaya.' What happens to your life when everything you thought you knew about your mother turns out to be an elaborate lie? During the long, hot summer of 1976, Ruth Gilmartin discovers that her very English mother...
---
---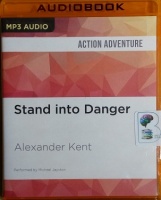 Stand into Danger written by Alexander Kent performed by Michael Jayston on MP3 CD (Unabridged)£19.99
Despatched on a secret mission, the company of a 28-gun frigate must face the hazards of conspiracy, treason, and piracy. And recently appointed third lieutenant Richard Bolitho must learn to accept his new responsibilities as a King's officer.