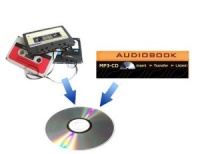 3 Hour Fixed Price Audio Transfer£10.00
This is the fixed price £10 item to be used when ordering conversion of a sub 3 hour Audio Cassette or MP3 CD title.
---
---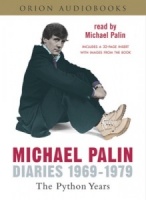 Michael Palin Diaries 1969-1979 - The Python Years written by Michael Palin performed by Michael Palin on CD (Abridged)£3.99 - £4.99
Michael Palin's diaries begin when he was newly married and struggling to make a name for himself in the world of television comedy. But Monty Python was just around the corner . . .
---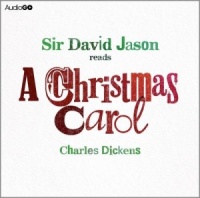 A Christmas Carol written by Charles Dickens performed by David Jason on CD (Abridged)£9.99
Dickens's story of solitary miser Ebenezer Scrooge, who is taught the true meaning of Christmas by the three ghosts of Christmas past, present and future, has been adapted into countless film and stage versions and is today the most famous and loved of all Christmas tales.
---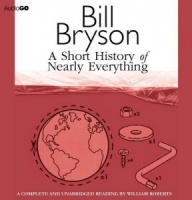 A Short History of Nearly Everything written by Bill Bryson performed by William Roberts on CD (Unabridged)£24.99 - £29.99
In A Short History of Nearly Everything, beloved author Bill Bryson confronts his greatest challenge yet: to understand—and, if possible, answer—the oldest, biggest questions we have posed about the universe and ourselves.
---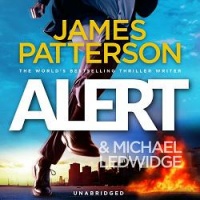 Alert written by James Patterson and Michael Ledwidge performed by Danny Mastrogiorgio and Henry Leyva on CD (Unabridged)£6.99
Every New Yorker's worst nightmare is about to become a reality. New York has seen more than its fair share of horrific attacks, but the city is about to be shaken in a way it never has before. After two devastating catastrophes in quick succession, everyone is on edge.
---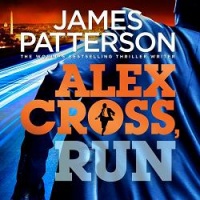 Alex Cross, Run written by James Patterson performed by Michael Boatman on CD (Abridged)£4.99
Detective Alex Cross arrests renowned plastic surgeon Elijah Creem for sleeping with teenage girls. Now, his life ruined, Creem is out of jail, and he's made sure that no one will recognize him - by giving himself a new face. A young woman is found hanging from a sixth-floor window, and Alex is called to the scene.
---
---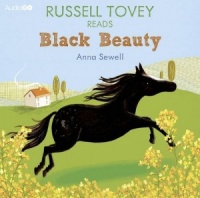 Black Beauty written by Anna Sewell performed by Russell Tovey on CD (Abridged)£5.99
Russell Tovey reads the story of the handsome and spirited horse, Black Beauty."'I hope you will grow up gentle and good, and never learn bad ways; do your work with a good will, lift your feet up well when you trot, and never bite or kick..."
---
---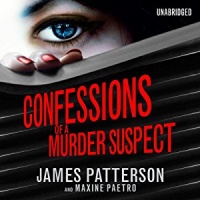 Confessions of a Murder Suspect written by James Patterson and Maxine Paetro performed by Emma Galvin on CD (Unabridged)£11.99
On the night Malcolm and Maud Angel are murdered, their daughter Tandy knows just three things: 1) She was one of the last people to see her parents alive. 2) The suspect list only includes Tandy and her three siblings. 3) She can't trust anyone--maybe not even herself.
---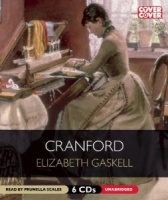 Cranford written by Elizabeth Gaskell performed by Prunella Scales on CD (Unabridged)£19.99
"I'll not listen to reason," she said, now in full possession of her voice, which had been rather choked with sobbing. "Reason always means what someone else has got to say."'
---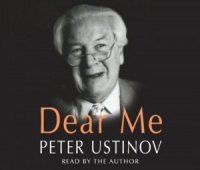 Dear Me written by Peter Ustinov performed by Peter Ustinov on CD (Abridged)£4.99 - £9.99
Sir Peter Ustinov's beautifully crafted autobiography is told with exquisite wit and insight. From his birth in April 1921, it spans his extraordinary career as actor, playwright, film star and director, confirming his early belief that he is 'irrevocably betrothed to laughter'.
---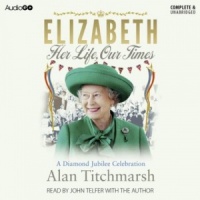 Elizabeth - Her Life, Our Times written by Alan Titchmarsh performed by Alan Titchmarsh and John Telfer on CD (Unabridged)£7.99 - £14.99
On 2 June 1953, 27-year-old Princess Elizabeth of York was crowned Queen, the eyes of the world upon her as she dedicated herself to her country.
---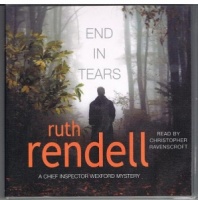 End in Tears written by Ruth Rendell performed by Christopher Ravenscroft on CD (Abridged)£5.99
A lump of concrete dropped deliberately from a little stone bridge kills the wrong person. The young woman in the car behind is spared. But only for a while...
---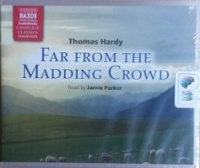 Far From The Madding Crowd written by Thomas Hardy performed by Jamie Parker on CD (Unabridged)£39.99
In a remote corner of early Victorian England, where traditional practices remain untouched by time, Bathsheba Everdene stands out as a beacon of female independence and self-reliance. However, when confronted with three suitors, among them the dashing Captain Troy...
---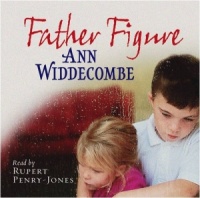 Father Figure written by Ann Widdecombe performed by Rupert Penry-Jones on CD (Abridged)£4.99
Jason Kirk is a 32-year-old teacher who believes he is happily married until he returns home one day to find that his wife has left him, taking their two young children with her.
Suddenly Jason finds the role of father denied to him as he is separated from his children and reduced to the role of visitor.
---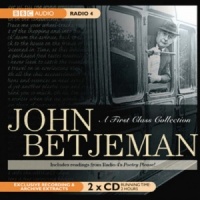 John Betjeman - A First Class Collection written by John Betjeman performed by John Betjeman on CD (Abridged)£14.99 - £19.99
Sir John Betjeman's unique relationship with the BBC left a lasting legacy of poetry, readings and performances. "A First Class Collection" features a selection of some of his most memorable and best-loved poetry.
---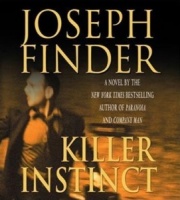 Killer Instinct written by Joseph Finder performed by Scott Brick on CD (Abridged)£3.99
Jason Steadman is a thirty-year-old sales executive living in Boston. He's a witty, charismatic guy who's well liked at the office, but he lacks the 'killer instinct' necessary to reach the top. To the chagrin of his ambitious wife, it looks as if his career has hit a ceiling: Jason's been sidelined.
---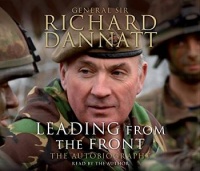 Leading from The Front - The Autobiography written by Gen. Sir Richard Dannatt performed by Gen. Sir Richard Dannatt on CD (Abridged)£9.99
As Chief of the General Staff, Sir Richard Dannatt was in overall command of the British army for the three years from 2006. This period saw some of the fiercest fighting yet in Afghanistan, and new and increased pressures and expectation placed on the army.
New In June 2018 Part 1
(in alphabetical order)
Loco written by Lee Hoffman performed by William Dufris on Cassette (Unabridged)£9.99

Loco didn't look for trouble, but it always found him. This time it found him as fled over the border into Texas. Caught in the middle of a range war between desperate men, he meets a strong woman like none he'd ever met before.

A Family Affair written by Fern Michaels performed by Cris Dukehart on CD (Unabridged)£19.99

From number-one New York Times best-selling author Fern Michaels comes a captivating and heartfelt novel, as a young dancer finds an unexpected partner - and gains the courage to live according to her heart.... In a city built on dreams, Trisha Holiday makes her living moving like one.

A Legacy of Spies written by John Le Carre performed by Tom Hollander on CD (Unabridged)£14.99

Penguin presents the unabridged downloadable audiobook edition of A Legacy of Spies by John le Carré, read by Tom Hollander. This is the first novel in over 25 years to feature George Smiley, le Carré's most beloved character. Peter Guillam, staunch colleague and disciple of George Smiley....

Clark Howard's Living Large for the Long Haul written by Clark Howard performed by Clark Howard on CD (Unabridged)£19.99

Americans from all walks of life are still feeling the roller-coaster effects of the Great Recession. For many, home values are still too low and unemployment is still too high. Others have prospered despite the ups and downs. In Clark Howard's Living Large for the Long Haul, the renowned broadcaster...

Congo - (Spanish Language) written by Florencia Bonelli performed by Martin Untrojb on MP3 CD (Unabridged)£14.99

Matilde Martinez parte hacia el Congo para hacerse cargo de la salud de los mas necesitados, dejando atras la posibilidad de consumar su amor con Eliah Al-Saud, quien ha decidido seguir su camino de empresario militar, sin resignarse del todo a perderla. El dolor que produce un amor tan complicado...

Do Ants have Arseholes? written by Jon Butler and Bruno Vincent performed by Julian Rhind-Tutt, Mark Heap and Tamsin Greig on CD (Abridged)£4.99 - £9.99

How easy is it to fall off a log? Where is the middle of nowhere? Do we really have no bananas?

Double Bill written by Alan Bennett performed by Patricia Routledge, John Gielgud, Paul Eddington and Alan Bennett on CD (Abridged)£4.99

Alan Bennett stars in a new production of his own acclaimed satrical comedy, 30 years after its original West End debut. The Headmaster has been at Albion House for 50 years, man and boy. Now he is retiring and takes part in the end-of-year entertainment for the last time.

God is Disappointed in You written by Mark Russell and Shannon Wheeler performed by James Urbaniak on MP3 CD (Unabridged)£14.99

God Is Disappointed in You is for people who would like to read the Bible...if it would just cut to the chase. Stripped of its arcane language and interminable passages, every book of the Bible is condensed down to its core message, in no more than a few pages each.

Guts - The True Stories Behind Hatchet and The Brian Books written by Gary Paulsen performed by Patrick Lawlor on CD (Unabridged)£9.99

Here are the real events that inspired Gary Paulsen to write Brian Robeson's story in Hatchet, The River, Brian's Winter, Brian's Return, and Brian's Hunt: a stint as a volunteer emergency worker; the death that became the pilot's death in Hatchet; plane crashes he's seen; and his own near misses.

Harry Potter and the Chamber of Secrets written by J.K. Rowling performed by Stephen Fry on CD (Unabridged)£29.99

A Genius Performance by Stephen Fry! 2nd book in the Series! The Dursleys were so mean that hideous that summer that all Harry Potter wanted was to get back to the Hogwarts School for Witchcraft and Wizardry. But just as he's packing his bags, Harry receives a warning from a strange, impish...

Harry Potter and The Goblet of Fire written by J.K. Rowling performed by Jim Dale on Cassette (Unabridged)£14.99

Is it time to open your mind to the possiblility of a NON-Fry Harry? Jim Dale does an excellent job with this performance. Dare you try it???? Young wizard-in-training Harry Potter prepares for a competition between Hogwarts School of Magic and two rival schools, develops a crush on Cho Chang, and...

Harry Potter and the Philosopher's Stone written by J.K. Rowling performed by Stephen Fry on CD (Unabridged)£19.99

A Genius Performance by Stephen Fry! The 1st book in the series. Harry Potter has never even heard of Hogwarts when the letters start dropping on the doormat at number four, Privet Drive. Addressed in green ink on yellowish parchment with a purple seal, they are swiftly confiscated by his grisly aunt...

Hating Whitey written by David Horowitz performed by Jeff Riggenbach on MP3 CD (Unabridged)£14.99

The anti-white racism of the political left remains one of the few taboo subjects in America. In this book, David Horowitz, a former confidante of the Black Panthers, lays bare the liberal attack on "whiteness", the latest battle in the war against American democracy.

North of Here written by Laurel Saville performed by Pete Simonelli on MP3 CD (Unabridged)£14.99

The sounds of unexpected tragedies - a roll of thunder, the crash of metal on metal - leave Miranda in shock amid the ruins of her broken family. As she searches for new meaning in her life, Miranda finds refuge with her family's handyman, Dix, in his cabin in the dark forests of the Adirondack Mountains.

One Day at a Time written by Danielle Steel performed by Dan John Miller on CD (Unabridged)£9.99

Coco Barrington was born into a legendary Hollywood family: her mother Florence is a mega-best-selling author, and her sister Jane is one of Hollywood's top producers. Jane has lived with her partner, Liz, for 10 years, in a solid relationship.

Razor Sharp written by Fern Michaels performed by Laural Merlington on MP3 CD (Unabridged)£14.99

When it comes to repaying a debt, the women of the Sisterhood - Myra, Annie, Kathryn, Alexis, Yoko, Nikki, and Isabelle - never forget. And now one of their allies needs help only they can give. A powerful attorney with a cut-throat reputation, Lizzie Fox has just taken on a high-profile new client - Lily Flowers,...

Revenge - Eleven Dark Tales written by Yoko Ogawa performed by Johanna Parker and Kaleo Griffith on MP3 CD (Unabridged)£14.99

An aspiring writer moves into a new apartment and discovers that her landlady has murdered her husband. Elsewhere, an accomplished surgeon is approached by a cabaret singer, whose beautiful appearance belies the grotesque condition of her heart.

The Clothes They Stood Up In written by Alan Bennett performed by Alan Bennett on CD (Abridged)£4.99

The Ransomes had been burgled. 'Robbed,' Mrs Ransome said. 'Burgled,' Mr Ransome corrected. Premises were burgled; persons were robbed. Mr Ransome was a solicitor by profession and thought words mattered... The fact is that the Ransomes have been cleaned out.

The Complaints written by Ian Rankin performed by James MacPherson on CD (Abridged)£4.99 - £9.99

Nobody likes The Complaints - they're the cops who investigate other cops. Complaints and Conduct Department, to give them their full title, but known colloquially as 'the Dark Side', or simply'The Complaints'. Malcolm Fox works for The Complaints.

The Leonard Bernstein Letters written by Leonard Bernstein (ed Nigel Simeone) performed by George Guidall on CD (Unabridged)£34.99

Leonard Bernstein was a charismatic and versatile musician - a brilliant conductor who attained international super-star status, and a gifted composer of Broadway musicals (West Side Story), symphonies (Age of Anxiety), choral works (Chichester Psalms), film scores (On the Waterfront), and much more.

The Lords of Discipline written by Pat Conroy performed by Dan John Miller on MP3 CD (Unabridged)£19.99

This powerful and breathtaking novel is the story of four cadets who have become blood brothers. Together they will encounter the hell of hazing and the rabid, raunchy and dangerously secretive atmosphere of an arrogant and proud military institute. They will experience the violence. The passion.

The Man Who Spoke Snakish written by Andrus Kivirahk performed by Aaron Landon on MP3 CD (Unabridged)£14.99

A bestseller in the author's native country of Estonia, where the book is so well known that a popular board game has been created based on it,The Man Who Spoke Snakish is the imaginative and moving story of a boy who is tasked with preserving ancient traditions in the face of modernity.

The Man with the Golden Gun written by Ian Fleming performed by Kenneth Branagh on CD (Unabridged)£11.99 - £19.99

A Genius Performance by Kenneth Branagh!

Bond has returned in mysterious circumstances. After a year he appears to be on a KGB mission to kill M! This foiled he must gain the trust of MI6 again by killing Scaramanga AKA The Man with the Golden Gun.
Kenneth Branagh brings all his experience and talent to this performance - Brilliantly done!

The Seven Secrets - Uncovering Genuine Greatness written by John Hagee performed by J. Charles on MP3 CD (Unabridged)£19.99

Everyone longs to be successful but very few have a clue of what true success really means. Pastor John Hagee explores seven areas of life that help readers recognize and define genuine greatness in their lives. Listeners will learn how to press in closer to their potential, overcome their frustration...

The Uncommon Reader written by Alan Bennett performed by Alan Bennett on CD (Abridged)£4.99

It was the corgis' fault. When they strayed through the grounds of Buckingham Palace, the Queen discovered the City of Westminster travelling library. The Queen has never had much time for reading – pleasure has always come second place to duty – though now that one is here I suppose ....

The World of Tibetan Buddhism written by Dalai Lama performed by Edoardo Ballerini on MP3 CD (Unabridged)£14.99

With characteristic humility, His Holiness the Dalai Lama begins this landmark survey of the entire Buddhist path by saying, "I think an overview of Tibetan Buddhism for the purpose of providing a comprehensive framework of the path may prove helpful in deepening your understanding and practice."

Triple Bill written by Alan Bennett performed by Patricia Routledge, Hugh Lloyd, Judi Dench and Thora Hird on CD (Abridged)£4.99

A collection of three BBC Radio dramas from award-winning author Alan Bennett. A Visit from Miss Prothero features Mr Dodsworth, a retiree who has all the time in the world. Then he has a visitor from his old firm – Miss Prothero, who is eager to tell him all the news...

Unstuff Your Life! written by Andrew J Mellen performed by Andrew J Mellen on CD (Unabridged)£14.99

One of the country's most sought-after professional organizers here makes his foolproof rescue plan available for everyone. Arguably the most organized man in America, Andrew J. Mellen has created unique, lasting techniques for streamlined living, bringing order out of chaos for a client....

We are Water written by Wally Lamb performed by George Guidall, Maggi-Meg Reed, Tavia Gilbert and Richard Ferrone on CD (Unabridged)£14.99

After twenty-seven years of marriage and three children, Annie Oh--wife, mother, and outsider artist--has fallen in love with Viveca, the Manhattan art dealer who orchestrated her professional success. Annie and Viveca plan to wed in the Oh family's hometown of Three Rivers, Connecticut, where...

What Happened to My Sister - A Novel written by Elizabeth Flock performed by Cassandra Campbell on MP3 CD (Unabridged)£19.99

Nine-year-old Carrie Parker and her mother, Libby, are making a fresh start in the small town of Hartsville, North Carolina, ready to put their turbulent past behind them. Violence has shattered their family and left Libby nearly unable to cope. And while Carrie once took comfort in her beloved sister, Emma...
---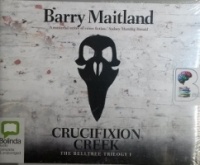 Crucifixion Creek - The Belltree Trilogy 1 written by Barry Maitland performed by Peter Hosking on CD (Unabridged)£19.99
Homicide detective Harry Belltree wouldn't usually be looking too hard at an elderly couple's suicide pact. Especially now, when his brother-in-law Greg has just been stabbed to death. But it seems Greg and the old couple had ties to the same man, a bent moneylender with friends in high places - and low.
---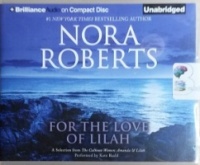 For the Love of Lilah written by Nora Roberts performed by Kate Rudd on CD (Unabridged)£9.99
Adrift in a storm, Professor Max Quartermain thought he must have hallucinated the beautiful mermaid who came to his rescue. But Lilah was no mystical creature--she was a woman of flesh and blood, and undeniably attracted to the intense and mysterious stranger....
---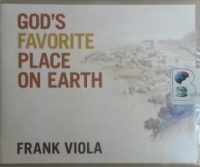 God's Favorite Place on Earth written by Frank Viola performed by Tom Parks on CD (Unabridged)£9.99
He was rejected everywhere He went. There was only one exception...a little village called Bethany. What does God really want from you? Christians face profound challenges today, including doubt, discouragement, fear, guilt, rejection, materialism, and spiritual apathy.
---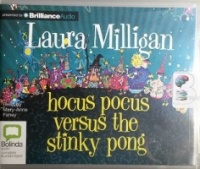 Hocus Pocus versus the Stinky Pong written by Laura Milligan performed by Mary-Anne Fahey on CD (Unabridged)£14.99
Once upon a time, a young witch called Lucy lived on a floating elephant-shaped island called Hocus Pocus.... Hocus Pocus is the most magical place to live in the entire world - until it's invaded by a mysterious (and very stinky!) pong. Nobody knows what to do, so it's up to young witch Lucy and her...
---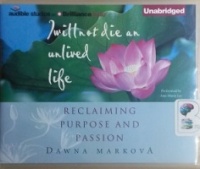 I Will Not Die and Unlived Life - Reclaiming Purpose and Passion written by Dawna Markova performed by Ann Marie Lee on CD (Unabridged)£14.99
In I Will Not Die an Unlived Life, one of the most charismatic teachers and thinkers of today speaks from her heart. Twenty years ago, faced with a life-threatening illness, Dawna Markova began a journey of rediscovery. This audiobook follows her path to finding deeper meaning in life.
---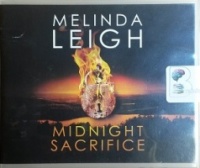 Midnight Sacrifice written by Melinda Leigh performed by Christopher Lane on CD (Unabridged)£19.99
One by one, people are mysteriously disappearing from a small Maine town. Four months ago, a ruthless murderer killed two people and kidnapped three more, including Danny Sullivan's sister, who barely escaped. Unfortunately so did the killer, vanishing without a trace into the vast wilderness.
---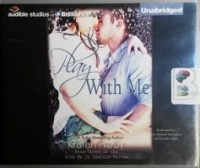 Play with Me - Book Three in the With Me In Seattle Series written by Kristen Proby performed by Eric Michael Summerer and Jennifer Mack on CD (Unabridged)£14.99
Will Montgomery is a successful professional football player and seemingly has it all. He's not used to being told no, and certainly doesn't take no for an answer. So when he turns his charms on his sister's sexy rocker-chick friend Meg, he's not only turned down, but met with open hostility....
---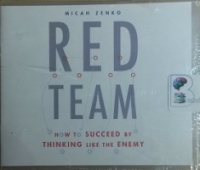 Red Team - How to Succeed by Thinking Like the Enemy written by Micah Zenko performed by Christopher Lane on CD (Unabridged)£19.99
Red teaming. It is a practice as old as the Devil's Advocate, the 11th-century Vatican official charged with discrediting candidates for sainthood. Today, red teams - comprised primarily of fearless skeptics and those assuming the role of saboteurs who seek to better understand the interests, intentions...
---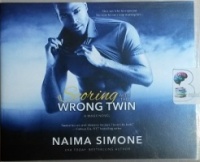 Scoring with the Wrong Twin written by Naima Simone performed by C.J. Bloom on CD (Unabridged)£14.99
Shy, awkward Sophia Cruz has a hard time telling her vivacious identical twin "no". But when her sister begs her to swap places for a modeling shoot, she caves...again. Then Zephirin Black walks onto the set. The brooding, aloof, and gorgeous tight end for the Washington Warriors.
---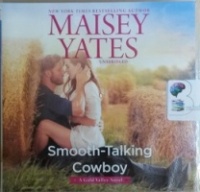 Smooth-Talking Cowboy - A Gold Valley Novel written by Maisey Yates performed by Suzanne Elise Freeman on CD (Unabridged)£19.99
Welcome to Gold Valley, Oregon, where a rough-and-tumble rancher and the girl next door are about to learn that opposites attract Olivia Logan has a plan: win back her ex by making him see what he's missing. But first she needs to find a man who's willing to play along.
---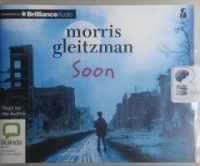 Soon written by Morris Gleitzman performed by Morris Gleitzman on CD (Unabridged)£14.99
After the Nazis took my parents, I was scared. After they killed my best friend, I was angry. After I joined the partisans and helped defeat the Nazis, I was hopeful. Soon, I said, we'll be safe. I was wrong.
---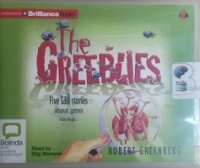 The Greeblies - Five Tall Stories about Gross Little Bugs written by Robert Greenberg performed by Stig Wemyss on CD (Unabridged)£14.99
Bobby and Georgia live in a normal house with their mum and their dad and their pet dog, Rory. But in that house, there's a whole world going on that they know nothing about... the world of the greeblies! Greeblies like Hemi the bedbug, Spritzer the dust mite, Darren the blowfly and Nick the tick.
---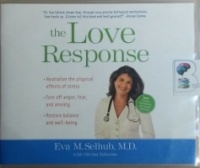 The Love Response written by Eva M. Selhub, M.D. performed by Eva M. Selhub, M.D. on CD (Unabridged)£14.99
An innovative program designed to prevent and eliminate the debilitating impact of stress, fear, anger, and anxiety on one's health explains how to use "the love response" to activate a series of biochemical reactions in the body to lower blood pressure, pulse, respiration, and adrenaline levels...
---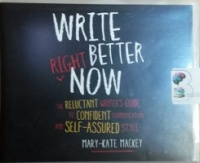 Write Better Right Now written by Mary-Kate Mackey performed by Tanya Eby on CD (Unabridged)£14.99
In almost any career, you must know how to write—even if it's not part of your job description. But if you are a reluctant writer, producing even the simplest memo may be a struggle. Write Better Right Now is the springboard to get you ahead in any job, passion project, or situation that requires...
---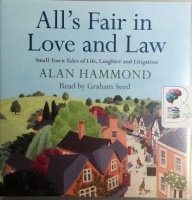 All's Fair in Love and Law written by Alan Hammond performed by Graham Seed on CD (Unabridged)£9.99
Dufty Dufty Popple & Dunn is a traditional solicitors firm in the small Midlands town of Hockam (pronounced Hokum, as the local residents are at pains to point out). This heart-warming collection of stories revolves around the lives, relationships, triumphs and failures of the good people of Hockam...
---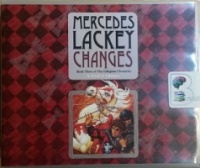 Changes - Book Three of the Collegium Chronicles written by Mercedes Lackey performed by Nick Podehl on CD (Unabridged)£14.99
A Kingdom under threat... After an assassination attempt is made against the King within palace walls, Herald Trainee Mags is selected by the King's own herald, Nikolas, to assist him with a special assignment: seek out the infiltrators and find out where they came from—and who they work for.
---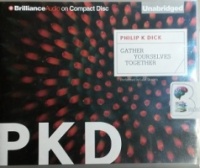 Gather Yourselves Together written by Philip K Dick performed by Luke Daniels on CD (Unabridged)£14.99
Gather Yourselves Together is one of Philip K. Dick's earliest novels, written when he was just 24 years old. It tells the story of three American workers left behind in China by their employer, biding their time as the Communists advance. As they while away the days, both the young and naïve Carl Fitter...