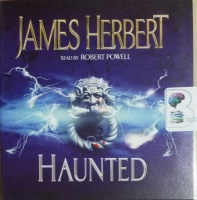 Haunted written by James Herbert performed by Robert Powell on CD (Abridged)£4.99
A ghostly twist. Three nights of terror at the house called Edbrook. Three nights in which David Ash, there to investigate a haunting, will be victim of horrifying games. Three nights in which he will face the blood-chilling enigma of his own past.
---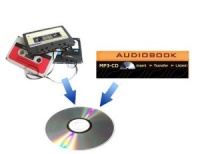 Large Fixed Price Audio Transfer Service£35.00
This is the fixed price £35.00 item to be used when ordering conversion of a 6-9 hour Audio Cassette or MP3 CD title.
---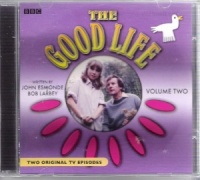 The Good Life written by John Esmonde and Bob Larbey performed by Richard Briers and Felicity Kendal on CD (Abridged)£3.99
Two episodes of the wonderful TV show!
---
---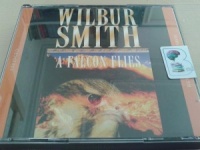 A Falcon Flies written by Wilbur Smith performed by Martin Jarvis on CD (Abridged)£4.99 - £8.99
A Falcon Flies is the first bestselling novel in Wilbur Smith's epic tale of Africa, The Ballantyne Novels. In search of a father they barely remember, Zouga and Dr Robyn Ballantyne board Mungo St John's magnificent clipper to speed them to Africa.
---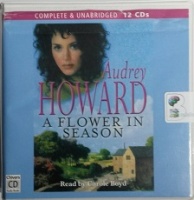 A Flower in Season written by Audrey Howard performed by Carole Boyd on CD (Unabridged)£14.99 - £24.99
Briony Marsden has led a hard life, forced to do the work of a grown man while enduring her drunkard father's taunts and blows. But when he goes too far one day, her fate becomes even worse as she makes her way alone in a heartless world.
---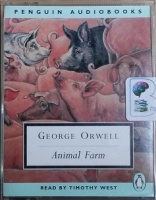 Animal Farm written by George Orwell performed by Timothy West on Cassette (Unabridged)£9.99
All animals are equal - but some are more equal than others' When the downtrodden animals of Manor Farm overthrow their master Mr Jones and take over the farm themselves, they imagine it is the beginning of a life of freedom and equality.
---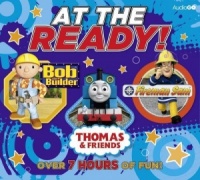 At The Ready! written by Various Childrens Authors performed by Various Famous Actors on CD (Abridged)£39.99
This box set contains over 7 hours of fun from Bob the Builder, Fireman Sam and Tomas the Tank Engine! This would make a brilliant gift that will last considerably longer than the New Year!
---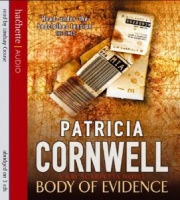 Body of Evidence written by Patricia Cornwell performed by Lindsay Crouse on CD (Abridged)£9.99
A reclusive writer is dead. And her final manuscript has disappeared ...Someone is stalking Beryl Madison.
---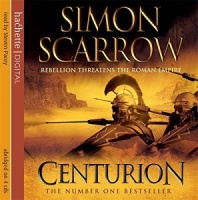 Centurion - Rebellion Threatens the Roman Empire written by Simon Scarrow performed by Steven Pacey on CD (Abridged)£17.99 - £18.99
In the first century AD the Roman Empire faces a new threat from its long-standing enemy Parthia. Parthia is vying with Rome for control of Palmyra an officially neutral kingdom.
---
---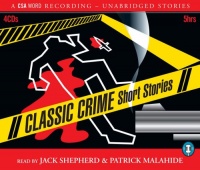 Classic Crime Short Stories written by Various Famous Crime Writers performed by Jack Shepherd and Patrick Malahide on CD (Unabridged)£4.99 - £9.99
Discover a world of heroes and villains, suspense and intrigue. This riveting and comprehensive collection brings together some of the best crime writing of all time.
---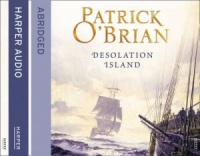 Desolation Island written by Patrick O'Brian performed by Robert Hardy on CD (Abridged)£8.99
A Genius Performance by Robert Hardy!
Commissioned to rescue Governor Bligh of Bounty fame, Captain Jack Aubrey and his friend and surgeon, Stephen Maturin, sail the Leopard to Australia with a hold full of convicts. Among them is a beautiful and dangerous spy — and a treacherous disease which decimates the crew.
---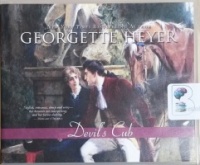 Devil's Cub written by Georgette Heyer performed by Michael Drew on CD (Unabridged)£24.99
The excesses of the young Marquis of Vidal are even wilder than his father's before him. Not for nothing is the reckless duellist and gamester called "the Devil's Cub". But when he is forced to leave the country, Mary Challoner discovers his fiendish plan to abduct her sister. Any only by daring to impersonate...
---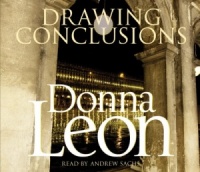 Drawing Conclusions written by Donna Leon performed by Andrew Sachs on CD (Abridged)£4.99 - £5.99
A Genius Performance by Andrew Sachs! When Anna Maria Giusti finds her elderly neighbour Constanza Altavilla dead, with blood on the floor near her head, she calls the police. Brunetti is called to the scene and it seems the woman has suffered a heart attack. Patta, the Vice-Questore, is eager to dismiss the case...
---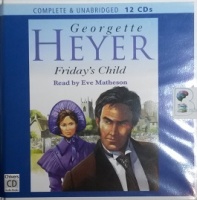 Friday's Child written by Georgette Heyer performed by Eve Matheson on CD (Unabridged)£29.99
This story of mistaken love is a romantic fiction set in the English Regency period. It centers on Lord Sheringham who has been rejected by the woman he loves but the woman who has secretly loved him since childhood is waiting.
---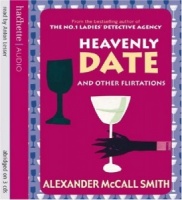 Heavenly Date and Other Flirtations written by Alexander McCall-Smith performed by Anton Lesser on CD (Abridged)£5.99
A Genius Performance by Anton Lesser!
Alexander McCall-Smith's short stories show the interest and intrigue, complexity and completeness that can come from the briefest meeting or a life long love. A lovely set of stories that have something for everyone.
New In June 2018 Part 1
(in alphabetical order)
Loco written by Lee Hoffman performed by William Dufris on Cassette (Unabridged)£9.99

Loco didn't look for trouble, but it always found him. This time it found him as fled over the border into Texas. Caught in the middle of a range war between desperate men, he meets a strong woman like none he'd ever met before.

A Family Affair written by Fern Michaels performed by Cris Dukehart on CD (Unabridged)£19.99

From number-one New York Times best-selling author Fern Michaels comes a captivating and heartfelt novel, as a young dancer finds an unexpected partner - and gains the courage to live according to her heart.... In a city built on dreams, Trisha Holiday makes her living moving like one.

Clark Howard's Living Large for the Long Haul written by Clark Howard performed by Clark Howard on CD (Unabridged)£19.99

Americans from all walks of life are still feeling the roller-coaster effects of the Great Recession. For many, home values are still too low and unemployment is still too high. Others have prospered despite the ups and downs. In Clark Howard's Living Large for the Long Haul, the renowned broadcaster...

Congo - (Spanish Language) written by Florencia Bonelli performed by Martin Untrojb on MP3 CD (Unabridged)£14.99

Matilde Martinez parte hacia el Congo para hacerse cargo de la salud de los mas necesitados, dejando atras la posibilidad de consumar su amor con Eliah Al-Saud, quien ha decidido seguir su camino de empresario militar, sin resignarse del todo a perderla. El dolor que produce un amor tan complicado...

Do Ants have Arseholes? written by Jon Butler and Bruno Vincent performed by Julian Rhind-Tutt, Mark Heap and Tamsin Greig on CD (Abridged)£6.99 - £9.99

How easy is it to fall off a log? Where is the middle of nowhere? Do we really have no bananas?

God is Disappointed in You written by Mark Russell and Shannon Wheeler performed by James Urbaniak on MP3 CD (Unabridged)£14.99

God Is Disappointed in You is for people who would like to read the Bible...if it would just cut to the chase. Stripped of its arcane language and interminable passages, every book of the Bible is condensed down to its core message, in no more than a few pages each.

Guts - The True Stories Behind Hatchet and The Brian Books written by Gary Paulsen performed by Patrick Lawlor on CD (Unabridged)£9.99

Here are the real events that inspired Gary Paulsen to write Brian Robeson's story in Hatchet, The River, Brian's Winter, Brian's Return, and Brian's Hunt: a stint as a volunteer emergency worker; the death that became the pilot's death in Hatchet; plane crashes he's seen; and his own near misses.

Harry Potter and the Chamber of Secrets written by J.K. Rowling performed by Stephen Fry on CD (Unabridged)£29.99

A Genius Performance by Stephen Fry! 2nd book in the Series! The Dursleys were so mean that hideous that summer that all Harry Potter wanted was to get back to the Hogwarts School for Witchcraft and Wizardry. But just as he's packing his bags, Harry receives a warning from a strange, impish...

Harry Potter and The Goblet of Fire written by J.K. Rowling performed by Jim Dale on Cassette (Unabridged)£14.99

Is it time to open your mind to the possiblility of a NON-Fry Harry? Jim Dale does an excellent job with this performance. Dare you try it???? Young wizard-in-training Harry Potter prepares for a competition between Hogwarts School of Magic and two rival schools, develops a crush on Cho Chang, and...

Harry Potter and the Philosopher's Stone written by J.K. Rowling performed by Stephen Fry on CD (Unabridged)£19.99

A Genius Performance by Stephen Fry! The 1st book in the series. Harry Potter has never even heard of Hogwarts when the letters start dropping on the doormat at number four, Privet Drive. Addressed in green ink on yellowish parchment with a purple seal, they are swiftly confiscated by his grisly aunt...

Hating Whitey written by David Horowitz performed by Jeff Riggenbach on MP3 CD (Unabridged)£14.99

The anti-white racism of the political left remains one of the few taboo subjects in America. In this book, David Horowitz, a former confidante of the Black Panthers, lays bare the liberal attack on "whiteness", the latest battle in the war against American democracy.

North of Here written by Laurel Saville performed by Pete Simonelli on MP3 CD (Unabridged)£14.99

The sounds of unexpected tragedies - a roll of thunder, the crash of metal on metal - leave Miranda in shock amid the ruins of her broken family. As she searches for new meaning in her life, Miranda finds refuge with her family's handyman, Dix, in his cabin in the dark forests of the Adirondack Mountains.

One Day at a Time written by Danielle Steel performed by Dan John Miller on CD (Unabridged)£9.99

Coco Barrington was born into a legendary Hollywood family: her mother Florence is a mega-best-selling author, and her sister Jane is one of Hollywood's top producers. Jane has lived with her partner, Liz, for 10 years, in a solid relationship.

Razor Sharp written by Fern Michaels performed by Laural Merlington on MP3 CD (Unabridged)£14.99

When it comes to repaying a debt, the women of the Sisterhood - Myra, Annie, Kathryn, Alexis, Yoko, Nikki, and Isabelle - never forget. And now one of their allies needs help only they can give. A powerful attorney with a cut-throat reputation, Lizzie Fox has just taken on a high-profile new client - Lily Flowers,...

Revenge - Eleven Dark Tales written by Yoko Ogawa performed by Johanna Parker and Kaleo Griffith on MP3 CD (Unabridged)£14.99

An aspiring writer moves into a new apartment and discovers that her landlady has murdered her husband. Elsewhere, an accomplished surgeon is approached by a cabaret singer, whose beautiful appearance belies the grotesque condition of her heart.

The Complaints written by Ian Rankin performed by James MacPherson on CD (Abridged)£4.99 - £9.99

Nobody likes The Complaints - they're the cops who investigate other cops. Complaints and Conduct Department, to give them their full title, but known colloquially as 'the Dark Side', or simply'The Complaints'. Malcolm Fox works for The Complaints.

The Lady in the Van written by Alan Bennett performed by Maggie Smith on CD (Abridged)£4.99

An eccentric old lady moves into a quiet street in Camden Town. There she remains, installed in her van in glorious self-sufficiency, until the council instructs her to move on. A kind homeowner invites her to move her van into his garden. A bizarre tale in itself, but when the homeowner is writer....

The Leonard Bernstein Letters written by Leonard Bernstein (ed Nigel Simeone) performed by George Guidall on CD (Unabridged)£34.99

Leonard Bernstein was a charismatic and versatile musician - a brilliant conductor who attained international super-star status, and a gifted composer of Broadway musicals (West Side Story), symphonies (Age of Anxiety), choral works (Chichester Psalms), film scores (On the Waterfront), and much more.

The Lords of Discipline written by Pat Conroy performed by Dan John Miller on MP3 CD (Unabridged)£19.99

This powerful and breathtaking novel is the story of four cadets who have become blood brothers. Together they will encounter the hell of hazing and the rabid, raunchy and dangerously secretive atmosphere of an arrogant and proud military institute. They will experience the violence. The passion.

The Man Who Spoke Snakish written by Andrus Kivirahk performed by Aaron Landon on MP3 CD (Unabridged)£14.99

A bestseller in the author's native country of Estonia, where the book is so well known that a popular board game has been created based on it,The Man Who Spoke Snakish is the imaginative and moving story of a boy who is tasked with preserving ancient traditions in the face of modernity.

The Man with the Golden Gun written by Ian Fleming performed by Kenneth Branagh on CD (Unabridged)£11.99 - £19.99

A Genius Performance by Kenneth Branagh!

Bond has returned in mysterious circumstances. After a year he appears to be on a KGB mission to kill M! This foiled he must gain the trust of MI6 again by killing Scaramanga AKA The Man with the Golden Gun.
Kenneth Branagh brings all his experience and talent to this performance - Brilliantly done!

The Seven Secrets - Uncovering Genuine Greatness written by John Hagee performed by J. Charles on MP3 CD (Unabridged)£19.99

Everyone longs to be successful but very few have a clue of what true success really means. Pastor John Hagee explores seven areas of life that help readers recognize and define genuine greatness in their lives. Listeners will learn how to press in closer to their potential, overcome their frustration...

The Uncommon Reader written by Alan Bennett performed by Alan Bennett on CD (Abridged)£4.99

It was the corgis' fault. When they strayed through the grounds of Buckingham Palace, the Queen discovered the City of Westminster travelling library. The Queen has never had much time for reading – pleasure has always come second place to duty – though now that one is here I suppose ....

The World of Tibetan Buddhism written by Dalai Lama performed by Edoardo Ballerini on MP3 CD (Unabridged)£14.99

With characteristic humility, His Holiness the Dalai Lama begins this landmark survey of the entire Buddhist path by saying, "I think an overview of Tibetan Buddhism for the purpose of providing a comprehensive framework of the path may prove helpful in deepening your understanding and practice."

Triple Bill written by Alan Bennett performed by Patricia Routledge, Hugh Lloyd, Judi Dench and Thora Hird on CD (Abridged)£4.99

A collection of three BBC Radio dramas from award-winning author Alan Bennett. A Visit from Miss Prothero features Mr Dodsworth, a retiree who has all the time in the world. Then he has a visitor from his old firm – Miss Prothero, who is eager to tell him all the news...

Unstuff Your Life! written by Andrew J Mellen performed by Andrew J Mellen on CD (Unabridged)£14.99

One of the country's most sought-after professional organizers here makes his foolproof rescue plan available for everyone. Arguably the most organized man in America, Andrew J. Mellen has created unique, lasting techniques for streamlined living, bringing order out of chaos for a client....

We are Water written by Wally Lamb performed by George Guidall, Maggi-Meg Reed, Tavia Gilbert and Richard Ferrone on CD (Unabridged)£14.99

After twenty-seven years of marriage and three children, Annie Oh--wife, mother, and outsider artist--has fallen in love with Viveca, the Manhattan art dealer who orchestrated her professional success. Annie and Viveca plan to wed in the Oh family's hometown of Three Rivers, Connecticut, where...

What Happened to My Sister - A Novel written by Elizabeth Flock performed by Cassandra Campbell on MP3 CD (Unabridged)£19.99

Nine-year-old Carrie Parker and her mother, Libby, are making a fresh start in the small town of Hartsville, North Carolina, ready to put their turbulent past behind them. Violence has shattered their family and left Libby nearly unable to cope. And while Carrie once took comfort in her beloved sister, Emma...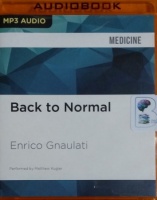 Back to Normal - The Overlooked, Ordinary Explanations for Kids ADHD, Bipolar, and Autistic-Like Behavior written by Enrico Gnaulati performed by Matthew Kugler on MP3 CD (Unabridged)£19.99
A veteran clinical psychologist exposes why doctors, teachers, and parents incorrectly diagnose healthy American children with serious psychiatric conditions. In recent years there has been an alarming rise in the number of American children and youth assigned a mental health diagnosis. Current data from the...
---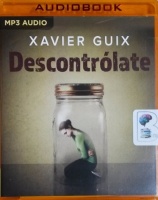 Descontrolate (Spanish) written by Xavier Guix performed by Enric Puig on MP3 CD (Unabridged)£9.99
Anticiparse, programar, vigilar, atar cabos, ordenar y no soltarse demasiado, no vaya a ser que se nos vea el plumero. Cualquier cosa con tal de tenerlo todo bajo control, una ilusión que a la larga se traduce en todo lo contrario: depresión, ansiedad, fobia al compromiso, hipocondría, obsesión. Vivimos con el ...
---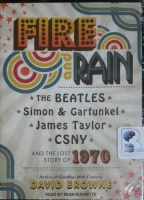 Fire and Rain - The Beatles, Simon and Garfunkel, James Taylor, CSNY and the Lost Story of 1970 written by David Browne performed by Sean Runnette on MP3 CD (Unabridged)£19.99
January 1970: the Beatles assemble one more time to put the finishing touches on Let It Be; Crosby, Stills, Nash & Young are wrapping up Déjà Vu; Simon and Garfunkel are unveiling Bridge Over Troubled Water; James Taylor is an upstart singer-songwriter who's just completed Sweet Baby James. Over the course ...
---
---
---
---
---
---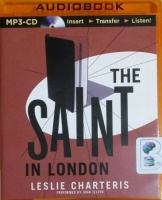 The Saint in London written by Leslie Charteris performed by John Telfer on MP3 CD (Unabridged)£9.99
Three more stories of Saintly adventure show Simon Templar interpreting the law to his own advantage. In The Simon Templar Foundation, a poisonous legacy from his enemy Rayt Marius gives him the opportunity to make a great deal of money - if he can survive equally great danger. The Higher Finance ...
---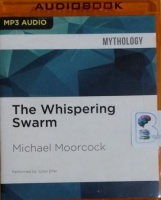 The Whispering Swarm written by Michael Moorcock performed by Julian Elfer on MP3 CD (Unabridged)£9.99
Almost anyone who has read or written science fiction or fantasy has been inspired by the work of Michael Moorcock. His literary flair and grand sense of adventure have been evident since his controversial first novel Behold the Man, from the stories and novels featuring his most famous character, Elric of...
---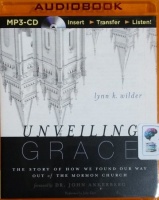 Unveiling Grace - The Story of How We Found Our Way Out of the Mormon Church written by Lynn K. Wilder performed by Julie Carr on MP3 CD (Unabridged)£9.99
From a rare insider's point of view, Unveiling Grace looks at how Latter-day Saints are 'wooing our country' with their religion, lifestyle, and culture. It is also a gripping story of how an entire family, deeply enmeshed in Mormonism, found their way out and what they can tell others about their lives as faithful Mormons.
---
---
---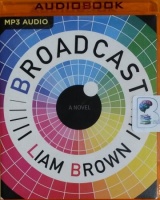 Broadcast written by Liam Brown performed by Oliver Thorne on MP3 CD (Unabridged)£9.99
Inception meets Black Mirror for the YouTube generation. The idea behind MindCast is simple. We insert a small chip into your skull and then every thought, every feeling, every memory is streamed live, 24 hours a day. Trust me - within a few months you'll be the most talked about person on the planet.
---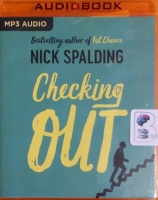 Checking Out written by Nick Spalding performed by Simon Mattacks on MP3 CD (Unabridged)£9.99
What do you do when the doctor says you could die at any moment? Well...after you've made a cup of tea, of course. Nathan James is young, successful and has the world at his feet. Unfortunately, he's also about to die - which ruins things somewhat. And now he's staring imminent death in the face, Nathan is...
---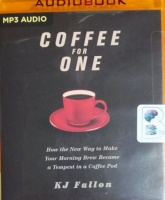 Coffee for One written by K.J. Fallon performed by James Anderson Foster on MP3 CD (Unabridged)£9.99
An inside look into the story of why we all traded in pots for pods! Reminiscent of God in a Cup and The Devil's Cup, this is an inside look into the modern business of making coffee. But rather than a general history, Coffee for One focuses on the revolution that made single serve the most popular way to...