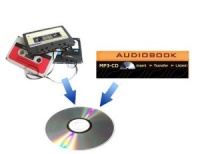 3 Hour Fixed Price Audio Transfer for Customers Own Tapes£25.00
This is the fixed price £25.00 item to be used by Customers when ordering conversion of their own sub 3 hour Audio Cassette or MP3 CD title.
---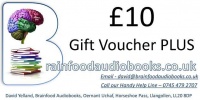 Gift Voucher PLUS 10£10.00
Welcome to the New Brainfood Audiobooks Gift Voucher PLUS! This is a Gift Voucher with a difference.
---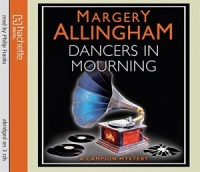 Dancers in Mourning written by Margery Allingham performed by Philip Franks on CD (Abridged)£16.99
A Genius Performance by Philip Franks!
Everyone fell under the spell of Jimmy Sutane, the charming and talented song-and-dance man.
---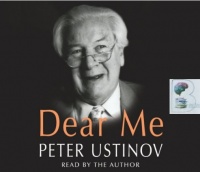 Dear Me written by Peter Ustinov performed by Peter Ustinov on CD (Abridged)£4.99 - £9.99
Sir Peter Ustinov's beautifully crafted autobiography is told with exquisite wit and insight. From his birth in April 1921, it spans his extraordinary career as actor, playwright, film star and director, confirming his early belief that he is 'irrevocably betrothed to laughter'.
---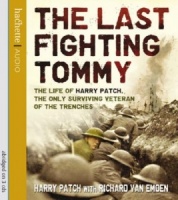 The Last Fighting Tommy written by Harry Patch with Richard Van Emden performed by Alan Howard on CD (Abridged)£5.99 - £6.99
When Harry Patch wrote his memoir in 2007, he was the last British soldier alive to have fought in the trenches of the First World War. He was 109 years old and one of very few people who could directly recall the horror of that conflict.
---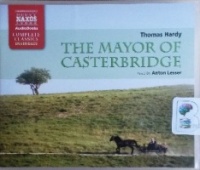 The Mayor of Casterbridge written by Thomas Hardy performed by Anton Lesser on CD (Unabridged)£29.99
Thomas Hardy's novels about the cruel twists of fate that blight our lives have a timeless power to move us. In The Mayor Casterbridge, a young Michael Henchard makes a rash, alcohol-fuelled decision to sell his wife. Despite abstaining from alcohol from this point forward and living an upstanding life.... Naxos
---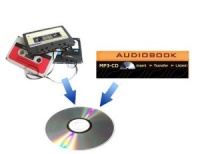 3 Hour Fixed Price Audio Transfer£15.00
This is the fixed price £15 item to be used when ordering conversion of a sub 3 hour Audio Cassette or MP3 CD title.
---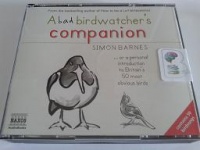 A Bad Birdwatcher's Companion written by Simon Barnes performed by SImon Barnes on CD (Abridged)£9.99
Simon Barnes is one of Britain's leading bird writers and humorists. His weekly column in The Times, his essays for the RSPB magazine and his two books on bad bird-watching have made him one of the characters of the bird world.
---
---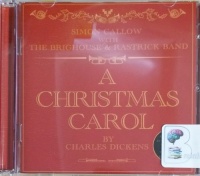 A Christmas Carol written by Charles Dickens performed by Simon Callow and The Brighouse and Rastrick Band on CD (Abridged)£9.99 - £11.99
Marking the 175 anniversary of Charles Dickens' immortal classic 'A Christmas Carol', celebrated actor Simon Callow and one of the world's most respected brass bands The Brighouse and Rastrick Band join forces for this very special Christmas album. It combines Simon Callow's acclaimed adaptation of Charles...
---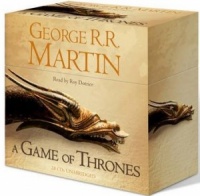 A Game of Thrones written by George R.R. Martin performed by Roy Dotrice on CD (Unabridged)£38.99
This first volume in the hugely popular and highly acclaimed epic fantasy series A SONG OF ICE AND FIRE is unabridged on 28 CDs.
---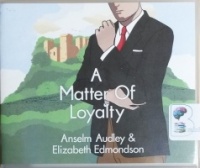 A Matter of Loyalty written by Anselm Audley and Elizabeth Edmondson performed by Michael Page on CD (Unabridged)£19.99
January 1954. Mists cover the hills around Selchester. Someone at the research facility known as the Atomic is leaking secrets to Soviet Russia, and when nuclear scientist Bruno Rothesay goes missing, the British Intelligence Services are convinced he's the mole. Hugo Hawksworth isn't so sure.
---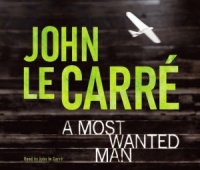 A Most Wanted Man written by John le Carre performed by John le Carre on CD (Abridged)£9.99
A half-starved young Russian man in a long black overcoat is smuggled into Hamburg at dead of night. He has an improbable amount of cash secreted in a purse round his neck. He is a devout Muslim. Or is he? He says his name is Issa.
---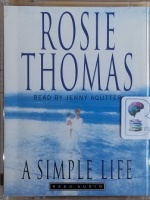 A Simple Life written by Rosie Thomas performed by Jenny Agutter on Cassette (Abridged)£4.99
A new saga from the author of OTHER PEOPLE'S MARRIAGES, about a woman living in America, who has a happy, normal family life, but who also has a secret connected with England which could tear her marriage apart.
---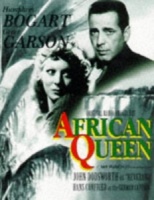 African Queen written by Mr Punch performed by Humphrey Bogart and Greer Garson on Cassette (Unabridged)£5.99
Set in 1915 on the treacherous rivers of war-torn Africa, this production features Charlie Allnut, a gin-drinking river trader, who reluctantly agrees to help the prim missionary, Rose Sayer, to travel down the river and destroy a German gun boat.
---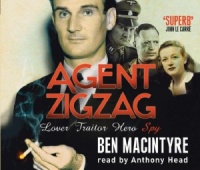 Agent Zigzag written by Ben Macintyre performed by Anthony Head on CD (Abridged)£23.99
Eddie Chapman: rogue, criminal, confidence trickster, hero to both sides and betrayer of all. At the start of the Second World War, Chapman was recruited by the German Secret Service. He was a highly prized Nazi agent.
---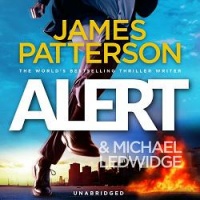 Alert written by James Patterson and Michael Ledwidge performed by Danny Mastrogiorgio and Henry Leyva on CD (Unabridged)£6.99
Every New Yorker's worst nightmare is about to become a reality. New York has seen more than its fair share of horrific attacks, but the city is about to be shaken in a way it never has before. After two devastating catastrophes in quick succession, everyone is on edge.
New In June 2018 Part 1
(in alphabetical order)
Loco written by Lee Hoffman performed by William Dufris on Cassette (Unabridged)£9.99

Loco didn't look for trouble, but it always found him. This time it found him as fled over the border into Texas. Caught in the middle of a range war between desperate men, he meets a strong woman like none he'd ever met before.

A Family Affair written by Fern Michaels performed by Cris Dukehart on CD (Unabridged)£19.99

From number-one New York Times best-selling author Fern Michaels comes a captivating and heartfelt novel, as a young dancer finds an unexpected partner - and gains the courage to live according to her heart.... In a city built on dreams, Trisha Holiday makes her living moving like one.

A Legacy of Spies written by John Le Carre performed by Tom Hollander on CD (Unabridged)£19.99

Penguin presents the unabridged downloadable audiobook edition of A Legacy of Spies by John le Carré, read by Tom Hollander. This is the first novel in over 25 years to feature George Smiley, le Carré's most beloved character. Peter Guillam, staunch colleague and disciple of George Smiley....

Arthur and George written by Julian Barnes performed by Nigel Anthony on CD (Abridged)£4.99

A Genius Performance by Nigel Anthony! Julian Barnes' Man Booker Prize-shortlisted novel is based on Arthur Conan Doyle's extraordinary real-life fight for justice. 'Julian Barnes...has taken the bones of a long-dead history and imbued them with vivid and memorable life' - "Observer".

Buddhism Without Beliefs written by Stephen Batchelor performed by Stephen Batchelor on MP3 CD (Unabridged)£14.99

Demystifing the tenets of Buddhism, this introduction to the Buddhist religion explains, without jargon or obscure terminology, the essential elements of its teachings, presents ways to work toward awakening, and examines Buddhism's relevance in Western culture.

Clark Howard's Living Large for the Long Haul written by Clark Howard performed by Clark Howard on CD (Unabridged)£19.99

Americans from all walks of life are still feeling the roller-coaster effects of the Great Recession. For many, home values are still too low and unemployment is still too high. Others have prospered despite the ups and downs. In Clark Howard's Living Large for the Long Haul, the renowned broadcaster...

Cocktail Sticks written by Alan Bennett performed by Alex Jennings on CD (Abridged)£4.99

A radio adaptation of Alan Bennett's short autobiographical play, originally directed by Nicholas Hytner for the National Theatre. Alan looks back on his early life with affection and sadness, revisiting some of the themes and conversations of his memoir 'A Life Like other People's'.

Congo - (Spanish Language) written by Florencia Bonelli performed by Martin Untrojb on MP3 CD (Unabridged)£14.99

Matilde Martinez parte hacia el Congo para hacerse cargo de la salud de los mas necesitados, dejando atras la posibilidad de consumar su amor con Eliah Al-Saud, quien ha decidido seguir su camino de empresario militar, sin resignarse del todo a perderla. El dolor que produce un amor tan complicado...

Do Ants have Arseholes? written by Jon Butler and Bruno Vincent performed by Julian Rhind-Tutt, Mark Heap and Tamsin Greig on CD (Abridged)£6.99 - £9.99

How easy is it to fall off a log? Where is the middle of nowhere? Do we really have no bananas?

Double Bill written by Alan Bennett performed by Patricia Routledge, John Gielgud, Paul Eddington and Alan Bennett on CD (Abridged)£4.99

Alan Bennett stars in a new production of his own acclaimed satrical comedy, 30 years after its original West End debut. The Headmaster has been at Albion House for 50 years, man and boy. Now he is retiring and takes part in the end-of-year entertainment for the last time.

God is Disappointed in You written by Mark Russell and Shannon Wheeler performed by James Urbaniak on MP3 CD (Unabridged)£14.99

God Is Disappointed in You is for people who would like to read the Bible...if it would just cut to the chase. Stripped of its arcane language and interminable passages, every book of the Bible is condensed down to its core message, in no more than a few pages each.

Guts - The True Stories Behind Hatchet and The Brian Books written by Gary Paulsen performed by Patrick Lawlor on CD (Unabridged)£9.99

Here are the real events that inspired Gary Paulsen to write Brian Robeson's story in Hatchet, The River, Brian's Winter, Brian's Return, and Brian's Hunt: a stint as a volunteer emergency worker; the death that became the pilot's death in Hatchet; plane crashes he's seen; and his own near misses.

Harry Potter and the Chamber of Secrets written by J.K. Rowling performed by Stephen Fry on CD (Unabridged)£29.99

A Genius Performance by Stephen Fry! 2nd book in the Series! The Dursleys were so mean that hideous that summer that all Harry Potter wanted was to get back to the Hogwarts School for Witchcraft and Wizardry. But just as he's packing his bags, Harry receives a warning from a strange, impish...

Harry Potter and The Goblet of Fire written by J.K. Rowling performed by Jim Dale on Cassette (Unabridged)£14.99

Is it time to open your mind to the possiblility of a NON-Fry Harry? Jim Dale does an excellent job with this performance. Dare you try it???? Young wizard-in-training Harry Potter prepares for a competition between Hogwarts School of Magic and two rival schools, develops a crush on Cho Chang, and...

Harry Potter and the Philosopher's Stone written by J.K. Rowling performed by Stephen Fry on CD (Unabridged)£19.99

A Genius Performance by Stephen Fry! The 1st book in the series. Harry Potter has never even heard of Hogwarts when the letters start dropping on the doormat at number four, Privet Drive. Addressed in green ink on yellowish parchment with a purple seal, they are swiftly confiscated by his grisly aunt...

Hating Whitey written by David Horowitz performed by Jeff Riggenbach on MP3 CD (Unabridged)£14.99

The anti-white racism of the political left remains one of the few taboo subjects in America. In this book, David Horowitz, a former confidante of the Black Panthers, lays bare the liberal attack on "whiteness", the latest battle in the war against American democracy.

North of Here written by Laurel Saville performed by Pete Simonelli on MP3 CD (Unabridged)£14.99

The sounds of unexpected tragedies - a roll of thunder, the crash of metal on metal - leave Miranda in shock amid the ruins of her broken family. As she searches for new meaning in her life, Miranda finds refuge with her family's handyman, Dix, in his cabin in the dark forests of the Adirondack Mountains.

One Day at a Time written by Danielle Steel performed by Dan John Miller on CD (Unabridged)£9.99

Coco Barrington was born into a legendary Hollywood family: her mother Florence is a mega-best-selling author, and her sister Jane is one of Hollywood's top producers. Jane has lived with her partner, Liz, for 10 years, in a solid relationship.

Razor Sharp written by Fern Michaels performed by Laural Merlington on MP3 CD (Unabridged)£14.99

When it comes to repaying a debt, the women of the Sisterhood - Myra, Annie, Kathryn, Alexis, Yoko, Nikki, and Isabelle - never forget. And now one of their allies needs help only they can give. A powerful attorney with a cut-throat reputation, Lizzie Fox has just taken on a high-profile new client - Lily Flowers,...

Revenge - Eleven Dark Tales written by Yoko Ogawa performed by Johanna Parker and Kaleo Griffith on MP3 CD (Unabridged)£14.99

An aspiring writer moves into a new apartment and discovers that her landlady has murdered her husband. Elsewhere, an accomplished surgeon is approached by a cabaret singer, whose beautiful appearance belies the grotesque condition of her heart.

The Clothes They Stood Up In written by Alan Bennett performed by Alan Bennett on CD (Abridged)£4.99

The Ransomes had been burgled. 'Robbed,' Mrs Ransome said. 'Burgled,' Mr Ransome corrected. Premises were burgled; persons were robbed. Mr Ransome was a solicitor by profession and thought words mattered... The fact is that the Ransomes have been cleaned out.

The Complaints written by Ian Rankin performed by James MacPherson on CD (Abridged)£4.99 - £9.99

Nobody likes The Complaints - they're the cops who investigate other cops. Complaints and Conduct Department, to give them their full title, but known colloquially as 'the Dark Side', or simply'The Complaints'. Malcolm Fox works for The Complaints.

The History Boys written by Alan Bennett performed by Radio 3 and National Theatre Cast on CD (Abridged)£4.99

After a sell-out national tour and an extended stage run, Alan Bennett's phenomenally successful play transferred to BBC Radio 3, with Richard Griffiths, Clive Merrison and Frances de la Tour starring as part of the National Theatre cast. At a boys' grammar school in Sheffield, eight boys are being ....

The Lady in the Van written by Alan Bennett performed by Maggie Smith on CD (Abridged)£4.99

An eccentric old lady moves into a quiet street in Camden Town. There she remains, installed in her van in glorious self-sufficiency, until the council instructs her to move on. A kind homeowner invites her to move her van into his garden. A bizarre tale in itself, but when the homeowner is writer....

The Leonard Bernstein Letters written by Leonard Bernstein (ed Nigel Simeone) performed by George Guidall on CD (Unabridged)£34.99

Leonard Bernstein was a charismatic and versatile musician - a brilliant conductor who attained international super-star status, and a gifted composer of Broadway musicals (West Side Story), symphonies (Age of Anxiety), choral works (Chichester Psalms), film scores (On the Waterfront), and much more.

The Lords of Discipline written by Pat Conroy performed by Dan John Miller on MP3 CD (Unabridged)£19.99

This powerful and breathtaking novel is the story of four cadets who have become blood brothers. Together they will encounter the hell of hazing and the rabid, raunchy and dangerously secretive atmosphere of an arrogant and proud military institute. They will experience the violence. The passion.

The Man Who Spoke Snakish written by Andrus Kivirahk performed by Aaron Landon on MP3 CD (Unabridged)£14.99

A bestseller in the author's native country of Estonia, where the book is so well known that a popular board game has been created based on it,The Man Who Spoke Snakish is the imaginative and moving story of a boy who is tasked with preserving ancient traditions in the face of modernity.

The Man with the Golden Gun written by Ian Fleming performed by Kenneth Branagh on CD (Unabridged)£11.99 - £19.99

A Genius Performance by Kenneth Branagh!

Bond has returned in mysterious circumstances. After a year he appears to be on a KGB mission to kill M! This foiled he must gain the trust of MI6 again by killing Scaramanga AKA The Man with the Golden Gun.
Kenneth Branagh brings all his experience and talent to this performance - Brilliantly done!

The Seven Secrets - Uncovering Genuine Greatness written by John Hagee performed by J. Charles on MP3 CD (Unabridged)£19.99

Everyone longs to be successful but very few have a clue of what true success really means. Pastor John Hagee explores seven areas of life that help readers recognize and define genuine greatness in their lives. Listeners will learn how to press in closer to their potential, overcome their frustration...

The Uncommon Reader written by Alan Bennett performed by Alan Bennett on CD (Abridged)£4.99

It was the corgis' fault. When they strayed through the grounds of Buckingham Palace, the Queen discovered the City of Westminster travelling library. The Queen has never had much time for reading – pleasure has always come second place to duty – though now that one is here I suppose ....

The World of Tibetan Buddhism written by Dalai Lama performed by Edoardo Ballerini on MP3 CD (Unabridged)£14.99

With characteristic humility, His Holiness the Dalai Lama begins this landmark survey of the entire Buddhist path by saying, "I think an overview of Tibetan Buddhism for the purpose of providing a comprehensive framework of the path may prove helpful in deepening your understanding and practice."

Triple Bill written by Alan Bennett performed by Patricia Routledge, Hugh Lloyd, Judi Dench and Thora Hird on CD (Abridged)£4.99

A collection of three BBC Radio dramas from award-winning author Alan Bennett. A Visit from Miss Prothero features Mr Dodsworth, a retiree who has all the time in the world. Then he has a visitor from his old firm – Miss Prothero, who is eager to tell him all the news...

Unstuff Your Life! written by Andrew J Mellen performed by Andrew J Mellen on CD (Unabridged)£14.99

One of the country's most sought-after professional organizers here makes his foolproof rescue plan available for everyone. Arguably the most organized man in America, Andrew J. Mellen has created unique, lasting techniques for streamlined living, bringing order out of chaos for a client....

We are Water written by Wally Lamb performed by George Guidall, Maggi-Meg Reed, Tavia Gilbert and Richard Ferrone on CD (Unabridged)£14.99

After twenty-seven years of marriage and three children, Annie Oh--wife, mother, and outsider artist--has fallen in love with Viveca, the Manhattan art dealer who orchestrated her professional success. Annie and Viveca plan to wed in the Oh family's hometown of Three Rivers, Connecticut, where...

What Happened to My Sister - A Novel written by Elizabeth Flock performed by Cassandra Campbell on MP3 CD (Unabridged)£19.99

Nine-year-old Carrie Parker and her mother, Libby, are making a fresh start in the small town of Hartsville, North Carolina, ready to put their turbulent past behind them. Violence has shattered their family and left Libby nearly unable to cope. And while Carrie once took comfort in her beloved sister, Emma...
---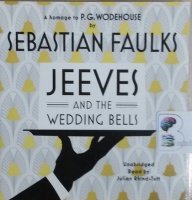 Jeeves and the Wedding Bells written by Sebastian Faulks performed by Julian Rhind-Tutt on CD (Unabridged)£19.99
A gloriously witty novel from Sebastian Faulks using P.G. Wodehouse's much-loved characters, Jeeves and Wooster, fully authorised by the Wodehouse estate. Bertie Wooster, recently returned from a very pleasurable soujourn in Cannes, finds himself at the stately home of Sir Henry Hackwood in Dorset. Bertie is...
---
---
---
---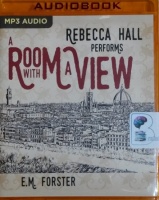 A Room With a View written by E.M. Forster performed by Rebecca Hall on MP3 CD (Unabridged)£14.99
One of E. M. Forster's most celebrated novels, "A Room With a View" is the story of a young English middle-class girl, Lucy Honeychurch. While vacationing in Italy, Lucy meets and is wooed by two gentlemen, George Emerson and Cecil Vyse. After turning down Cecil Vyse's marriage proposals twice Lucy finally...
---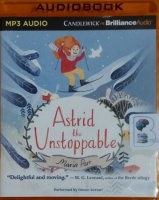 Astrid the Unstoppable written by Maria Parr performed by Devon Sorvari on MP3 CD (Unabridged)£14.99
Pippi Longstocking meets Heidi meets Anne Shirley in this tale of an irrepressible girl in a mountain village who navigates unexpected changes with warmth and humor. Speed and self-confidence, that's Astrid's motto. Nicknamed "the little thunderbolt," she loves to spend her days racing down the hillside on her...
---
---
---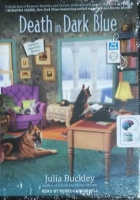 Death in Dark Blue written by Julia Buckley performed by Rebecca Mitchell on MP3 CD (Unabridged)£14.99
In the quaint town of Blue Lake, Indiana, Lena London is settling into her dream job, but someone is making her life a nightmare . . .Things are beginning to go right for Lena. She's got a new job assisting suspense novelist and friend, Camilla Graham. She lives rent-free in Camilla's beautiful, Gothic house. She ...
---
---
Hollow written by Owen Egerton performed by Andrew Eiden on MP3 CD (Unabridged)£14.99
When Oliver Bonds, a revered religious studies professor at the University of Texas, loses his toddler son and undergoes intense legal scrutiny over his involvement, grief engulfs him completely. His life is upended; Oliver loses his wife, home, and faith. Three years after his son's death, Oliver lives in a shack...
---
---
---
---