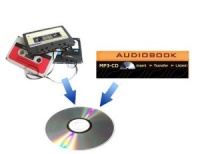 3 Hour Fixed Price Audio Transfer for Customers Own Tapes£25.00
This is the fixed price £25.00 item to be used by Customers when ordering conversion of their own sub 3 hour Audio Cassette or MP3 CD title.
---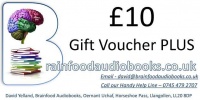 Gift Voucher PLUS 10£10.00
Welcome to the New Brainfood Audiobooks Gift Voucher PLUS! This is a Gift Voucher with a difference.
---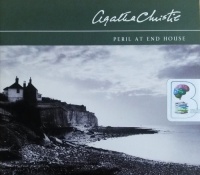 Peril at End House written by Agatha Christie performed by Hugh Fraser on CD (Abridged)£3.99 - £4.99
Nick Buckley was an unusual name for a pretty young woman. But then she had led an unusual life. First, on a treacherous Cornish hillside, the brakes on her car failed. Then, on a coastal path, a falling boulder missed her by inches. Later, an oil painting fell and almost crushed her in bed.
---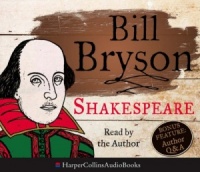 Shakespeare written by Bill Bryson performed by Bill Bryson on CD (Unabridged)£6.99 - £7.99
This short biography of William Shakespeare by world famous writer Bill Bryson brims with the authorís inimitable wit and intelligence.
---
---
---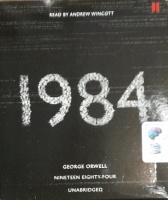 1984 written by George Orwell performed by Andrew Wincott on CD (Unabridged)£19.99
BIG BROTHER IS WATCHING YOU . . . 1984 is the year in which it happens. The world is divided into three superstates. In Oceania, the Party's power is absolute. Every action, word, gesture and thought is monitored under the watchful eye of Big Brother and the Thought Police. In the Ministry of Truth...
---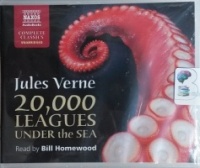 20,000 Leagues Under the Sea written by Jules Verne performed by Bill Homewood on CD (Unabridged)£39.99
The most exciting underwater adventure ever! In 1866, a mysterious giant whale savagely attacks shipping in international seas. A famous French marine biologist, Pierre Aronnax, joins the hunt to track down and incapacitate the creature. With him are his loyal servant Conseil and the redoubtable ...
---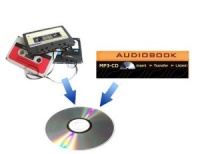 3 Hour Fixed Price Audio Transfer£15.00
This is the fixed price £15 item to be used when ordering conversion of a sub 3 hour Audio Cassette or MP3 CD title.
---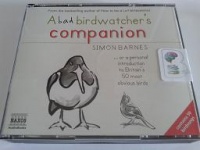 A Bad Birdwatcher's Companion written by Simon Barnes performed by SImon Barnes on CD (Abridged)£9.99
Simon Barnes is one of Britain's leading bird writers and humorists. His weekly column in The Times, his essays for the RSPB magazine and his two books on bad bird-watching have made him one of the characters of the bird world.
---
---
---
New In July 2018 Part 1
(in alphabetical order)
10 Mindful Minutes written by Goldie Hawn with Wendy Holden performed by Goldie Hawn, Daniel J. Siegel and Joyce Bean on MP3 CD (Unabridged)£14.99

Across the country, the revolutionary MindUP program, which was developed under the auspices of the Hawn Foundation, established by Goldie Hawn, is teaching children vital social and emotional skills. By understanding how their brains work, children discover where their emotions come from....

At All Costs written by David Weber performed by Allyson Johnson on MP3 CD (Unabridged)£9.99

What price victory? The war with the Republic of Haven has resumed... disastrously for the Star Kingdom of Manticore. Admiral Lady Dame Honor Harrington, Steadholder and Duchess Harrington, the single victorious Allied commander of the opening phase of the new war...

Best of Robert Louis Stevenson written by Robert Louis Stevenson performed by Roger Blake, Ian Holm and Denis Lawson on CD (Abridged)£14.99

This brilliant collection of the best of Robert Louis Stevenson includes Treasure Island, The Strange Case of Dr Jekyll and Mr Hyde and Travels with a Donkey in the Cevennes.

Clouds of Witness written by Dorothy L. Sayers performed by Ian Carmichael on MP3 CD (Unabridged)£29.99

The fiancé of Lord Peter's sister, Mary, is found dead outside the conservatory of the family's shooting lodge in Yorkshire. Peter's and Mary's older brother, the Duke of Denver, is charged with wilful murder and put on trial in the House of Lords.

Durable Goods written by Elizabeth Berg performed by Natalie Ross on CD (Unabridged)£9.99

On the hot Texas army base she calls home, Katie spends the lazy days of her summer waiting: waiting to grow up; waiting for Dickie Mack to fall in love with her; waiting for her breasts to blossom; waiting for the beatings to stop. Since their mother died, Katie and her older sister, Diane....

Entrepreneur - How to Start an Online Business written by Lucy Tobin performed by Tania Rodrigues on MP3 CD (Unabridged)£9.99

The secrets of the UK's biggest online entrepreneurs revealed. Thinking of starting a business? Already have a business online and looking to take it to the next level? The wonderful world wide web has made creating a start-up that much easier.

Fairy Tales written by Terry Jones performed by Bob Hoskins, Helen Mirren, Michael Hordern and Joan Greenwood on CD (Unabridged)£9.99 - £19.99

Terry Jones, Joan Greenwood, Michael Hordern, Bob Hoskins, Helen Mirren and Tim Rice read of a collection of original fairy tales for 8 to 11-year-olds, written by master storyteller Terry Jones, introducing such bizarre creatures as the fly-by-night, the rainbow cat, and the wonderful cake-horse.

Heat Wave written by Richard Castle performed by Johnny Heller on CD (Unabridged)£19.99

A New York real estate tycoon plunges to his death on a Manhattan sidewalk. A trophy wife with a past survives a narrow escape from a brazen attack. Mobsters and moguls with no shortage of reasons to kill trot out their alibis. And then, in the suffocating grip of a record heat wave...

Hiss and Hers written by M.C. Beaton performed by Penelope Keith on CD (Unabridged)£19.99

Agatha has fallen in love - again. This time it's the local gardener, George Marston, she has her eye on. But competition for his attention abounds. With her shameless determination Agatha will do anything to get her man - including footing the bill for a charity ball in town just for the chance to dance with him.

If This isn't Nice, What is? Advice for the Young written by Kurt Vonnegut performed by Dan Wakefield, Scott Brick and Kevin T. Collins on CD (Unabridged)£14.99

Master storyteller and satirist Kurt Vonnegut was one of the most in-demand commencement speakers of his time. For each occasion, Vonnegut's words were unfailingly unique, insightful, and witty, and they stayed with audience members long after graduation.

Learn German with Paul Noble written by Paul Noble performed by Paul Noble on CD (Unabridged)£29.99

An exciting approach to learning German with the easy, relaxed appeal of an audio-only product. Over 12 hours of easy-listening. No books. No rote memorisation. No chance of failure. For all those who have struggled to learn German in the past. For all those who think they're just not a linguist.

Mastering the Seven Decisions that Determine Personal Success written by Andy Andrews performed by Andy Andrews on CD (Unabridged)£14.99

The Responsible Decision: The buck stops here. I accept responsibility for my past. I am responsible for my success. I will not let my history control my destiny. The Guided Decision: I will seek wisdom. The Active Decision: I am a person of action. The Certain Decision: I have a decided heart.

Seasons' End written by Will North performed by Tom Taylorson on CD (Unabridged)£14.99

Every summer for generations, three families intertwined by history, marriage, and career have spent "the season" at their beach cottage compounds on an island in Puget Sound. Today, Martha "Pete" Petersen, married to Tyler Strong, is the lynchpin of the "summer people."

Stress Free Surgery written by Linda Thomson PhD MSN CPNP performed by Linda Thomson on CD (Unabridged)£19.99 - £24.99

This 2 CD set contains everything you need to accompany any surgery you are undergoing. Forty years of research has shown that patients who are psychologically prepared for surgery have improved outcomes. Hypnosis, when used in addition to anesthesia, can decrease anxiety and pain....

Surfing For God written by Michael John Cusick performed by Nick Podehl on CD (Unabridged)£9.99

In a world where there are 68 million searches for pornography every day and where over 70 percent of Christian men report viewing porn in the last year, it's no surprise that more and more men struggle with an addiction to this false fantasy.

The Body Departed written by J.R. Rain performed by Peter Berkrot on CD (Unabridged)£11.99

James Blakely is a good man who has done some bad things in his time. So when he's viciously gunned down in his sleep, he's faced with a choice: Proceed immediately to an afterlife of eternal damnation or haunt the world of the living in search of redemption - and one last shot at heaven.

The Haunting of Hiram written by Eva Ibbotson performed by Prunella Scales on CD (Unabridged)£14.99

What is young Alex MacBuff to do? 'I will buy your castle,' declared Hiram C. Hopgood. 'But only if there are no ghosts!' Alex MacBuff can't afford to keep his beloved Castle Carra - and an American millionaire has made him an offer he can't refuse. But the castle is full of ghosts!

The House of Unexpected Sisters written by Alexander McCall Smith performed by Adjoa Andoh on CD (Unabridged)£39.99

Precious Ramotswe has always idolised her father, the late Obed Ramotswe. She feels that she knows all about his life – but does she? Sometimes our parents surprise us, and we discover that things were not quite what we thought them to be.

The Hunt for Vulcan - and How Albert Einstein Destroyed a Planet.... written by Thomas Levenson performed by Kevin Pariseau on MP3 CD (Unabridged)£14.99

The captivating, all-but-forgotten story of Isaac Newton, Albert Einstein, and the search for a planet that never existed. For more than 50 years, the world's top scientists searched for the "missing" planet Vulcan, whose existence was mandated by Isaac Newton's theories of gravity.

The Mackay MBA of Selling in the Real World written by Harvey Mackay performed by Tim Wheeler on MP3 CD (Unabridged)£14.99

Harvey Mackay is a legend-and now he's back with the sum total of decades of sales know-how, teaching go-getters how to make the sale and hit the numbers, day in and day out. His advice is rooted in road-tested, real-world experiences and include new tips on the Web, LinkedIn and Facebook.

The Night Guest written by Fiona McFarlane performed by Lisbeth Kennelly on CD (Unabridged)£19.99

In an isolated house on the New South Wales coast, Ruth - a widow whose sons work abroad - lives alone. Until one day a stranger bowls up, announcing that she's been sent by the authorities to be Ruth's carer. At first, Ruth is happy to have the company.

The Trial written by Franz Kafka performed by Scott Brick on CD (Unabridged)£24.99 - £29.99

One of the great works of the 20th century, Kafka's The Trial has been read as a study of political power, a pessimistic religious parable, or a crime novel where the accused man is himself the problem. In it, a man wakes up one morning to find himself under arrest for an offence which is never explained.

The Witch in the Wood and The Ill-Made Knight written by T.H. White performed by Neville Jason on CD (Unabridged)£39.99

These two stories are the second and third parts of T.H. White's classic fantasy novel of the Arthurian legend. Arthur has become king, Guinevere and Lancelot fall in love, and the kingdom is threatened from the north.

Twelfth Night written by William Shakespeare performed by Stella Gonet, Gerard Murphy and Jonathan Keeble on CD (Unabridged)£9.99

One of Shakespeare's finest comedies, Twelfth Night was written at the same time as Hamlet and Troilus and Cressida, and whilst it shares their fascination with sex, death and confused identities, its exuberant comedy and linguistic inventiveness rises above the introspection of these plays.

Warriors written by Various Famous Authors performed by Patrick Lawlor and Christina Traister on MP3 CD (Unabridged)£19.99

People have been telling stories about warriors for as long as they have been telling stories. Since Homer first sang of the wrath of Achilles and the ancient Sumerians set down their tales of Gilgamesh, warriors, soldiers, and fighters have fascinated us; they are a part of every culture,....

Why Men Don't Listen and Women Can't read Maps written by Allan and Barbara Pease performed by Allan and Barbara Pease on CD (Abridged)£18.99 - £29.99

The audio of the book that's taking Britain by storm!

Bestselling authors Allan and Barbara Pease spotlight the differences between the way men and women think.They travelled the world collating the dramatic findings of new research on the brain, investigating evolutionary biology, analysing psychologists research, studying social change and annoying the locals.

Zero K written by Don DeLillo performed by Thomas Sadoski on CD (Unabridged)£14.99

The wisest, richest, funniest, and most moving novel in years from Don DeLillo, one of the great American novelists of our time—an ode to language, at the heart of our humanity, a meditation on death, and an embrace of life. Jeffrey Lockhart's father, Ross, is a billionaire in his sixties, with a younger wife....
---
---
---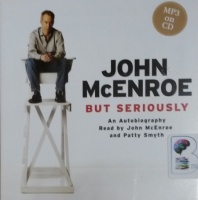 But Seriously written by John McEnroe performed by John McEnroe and Patty Smith on MP3 CD (Unabridged)£19.99
Read by John McEnroe and Patty Smyth He is one of the most controversial sportsmen in history and a legend of Open Era tennis. But after reaching the top of his game - what came next? A decade after his international number-one bestseller SERIOUS, John McEnroe is back and ready to talk. Now the undisputed..
---
Cell 7 written by Kerry Drewery performed by Rosie Jones on CD (Unabridged)£34.99
A world where justice and the fate of those accused of murder is decided by the public, but has moved on from the Roman Gladiator 'thumbs up or thumbs down' public vote, to a public vote by telephone. If you are voted innocent you are set free; if you are voted guilty you are committed to death by electric...
---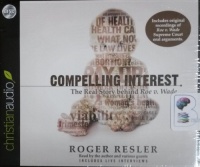 Compelling Interest - The Real Story of Roe vs. Wade written by Roger Resler performed by Roger Resler on CD (Unabridged)£24.99
Is a fetus a person? Is "pro-choice" a neutral position? For 40 years since the landmark Roe v. Wade Supreme Court decision, the abortion debate has been highly charged and politicized. Questions like these - and passionate but widely varying answers - have become the common language of the public dialogue..
---
---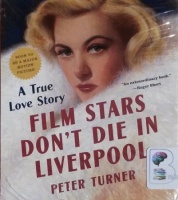 Film Stars Don't Die In Liverpool - A True Love Story written by Peter Turner performed by Peter Kenny on CD (Unabridged)£19.99
Now a major motion picture starring Academy Award nominee, Annette Bening, and BAFTA Award winners Jamie Bell and Julie Walters. On Digital Download from 11th March and DVD & Blu-ray 19th March. On 29 September 1981, Peter Turner received a phone call that would change his life. His former lover...
---
---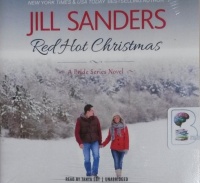 Red Hot Christmas written by Jill Sanders performed by Tanya Eby on CD (Unabridged)£24.99
Just in time for the holidays, take another wonderful trip to Oregon. Enjoy this sweet story about some new small-town people and learn about the lives and loves of a hot young couple. Don't miss this opportunity to catch up on some of your favorite book people and the enchanting town of Pride. Amber is new ...
---
---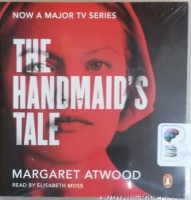 The Handmaid's Tale written by Margaret Atwood performed by Elisabeth Moss on CD (Unabridged)£19.99
Read by Elisabeth Moss, star of the hit Channel 4 TV series. The Republic of Gilead offers Offred only one function: to breed. If she deviates, she will, like dissenters, be hanged at the wall or sent out to die slowly of radiation sickness. But even a repressive state cannot obliterate desire - neither Offred's nor ...