New In January 2019 Part 4
(in alphabetical order)
Anonymous Shake-Speare - The Man Behind written by Kurt Kreiler performed by Mark Boyett on CD (Unabridged)£29.99

William Shakespeare had nothing to do with the actor and money lender William Shaksper from Stratford-upon-Avon. The man behind the nom de plum "William Shakespeare" was, in fact, a very well educated aristocrat who often frequented the court of Elizabeth and whose real name was....

Cosmic Banditos written by A.C. Weisbecker performed by Ray Porter on CD (Unabridged)£24.99

Cosmic banditos: a contrabandista's quest for the meaning of life. Mr. Quark is a down-on-his-luck pot smuggler hiding out in the mountains of Colombia with his dog, High Pockets, and a small band of banditos led by the irascible but intensely loyal José. Only months before, these three and their...

Escape the Coming Night - A Message of Hope in a Time of Crisis written by Dr. David Jeremiah performed by Henry O. Arnold on CD (Unabridged)£9.99

There's no doubt the world is in trouble. We see tragedy in the streets and violence in the news. We hear increasingly divisive political debates that spotlight the deep and bitter divisions in our society. We feel the pain and confusion of a culture that seems to be coming apart at the seams.

Everything You Love will Burn - Inside The Rebirth of White Nationalism in America written by Vegas Tenold performed by Vegas Tenold on CD (Unabridged)£14.99

The dark story of the shocking resurgence of white supremacist and nationalist groups, and their path to political power Six years ago, Vegas Tenold embedded himself among the members of three of America's most ideologically extreme white nationalist groups - the KKK, the National...

Get Rid of the Performance Review! - How Companies Can Stop Intimidating, Start Managing and Focus on What Really Matters written by Samuel A. Culbert with Lawrence Rout performed by Samuel A. Culbert on CD (Unabridged)£14.99

Based upon a startling article in the Wall Street Journal Dr. Sam Culbert, a professor at the prestigious UCLA Anderson School of Business summarized what most of us have known for years - that the annual corporate ritual of performance appraisals not only don't work, but cause more problems...

Grass Roots - The Rise and Fall and Rise of Marijuana in America written by Emily Dufton performed by Greg Baglia on CD (Unabridged)£34.99

How earnest hippies, frightened parents, suffering patients, and other ordinary Americans went to war over marijuana In the last five years, eight states have legalized recreational marijuana. To many, continued progress seems certain. But pot was on a similar trajectory forty years ago, only to encounter...

Guns of Powder River written by Jerry Robbins performed by Jerry Robbins and The Colonial Radio Players on CD (Unabridged)£19.99

Two women and their children arrive in Clearmont in route to California. Mrs. Chambers is looking to reunite with her husband, who has been off mining for gold, while Mrs. Larson is a recent widow whose husband died of a snake bite along the trail. The women are determined to press onward...

In Defense of a Liberal Education written by Fareed Zakaria performed by Fareed Zakaria on CD (Unabridged)£24.99

New York Times bestselling author of The Post-American World and host of CNN's Fareed Zakaria GPS argues for a renewed commitment to the world's most valuable educational traditions in this fascinating audiobook. The liberal arts educational system is under attack.

Into the Black Nowhere - An Unsub Novel written by Meg Gardiner performed by Hillary Huber on CD (Unabridged)£24.99

In this exhilarating thriller inspired by real-life serial killer Ted Bundy, FBI profiler Caitlin Hendrix faces off against a charming, merciless serial killer. In southern Texas, on Saturday nights, women are disappearing. One vanishes from a movie theater. Another is ripped from her car at a stoplight.

On Remarque's All Quiet on the Western Front written by Susan Van Kirk M.Ed. performed by Luke Daniels on MP3 CD (Unabridged)£19.99

This CliffsNotes study guide on Erich Maria Remarque's All Quiet on the Western Front supplements the original literary work, giving you background information about the author, an introduction to the work, a graphical character map, critical commentaries, expanded glossaries, and a comprehensive...

On Shakespeare's Macbeth written by Alex Want M.A. performed by Joyce Bean on MP3 CD (Unabridged)£19.99

This CliffsNotes study guide on William Shakespeare's Macbeth supplements the original literary work, giving you background information about the author, an introduction to the work, a graphical character map, critical commentaries, expanded glossaries, and a comprehensive index, all for you to...

Rain - What a Paperboy Learned About Business written by Jeffrey J. Fox performed by Jeffrey J. Fox on CD (Unabridged)£14.99

Paper boys and girls symbolize our country's relentless indefatigable entrepreneurial spirit. They bought, sold and delivered papers. And they did it alone, often in the dark and cold. Jeffrey Fox reveals why the lessons paperboys learn so often establish themselves on the early road to success.

Real America - A Memoir written by Julie Lythcott-Haims performed by Julie Lythcott-Haims on CD (Unabridged)£19.99

A fearless debut audiobook memoir in which beloved and bestselling How to Raise an Adult author Julie Lythcott-Haims pulls no punches in her recollections of growing up a biracial black woman in America. Bringing a poetic sensibility to her prose to stunning effect, Lythcott-Haims briskly...

Social Security Works! - Why Social Security Isn't Going Broke and How Expanding It Will Help Us All written by Nancy J. Altman and Eric R. Kingson performed by Joyce Bean and on CD (Unabridged)£24.99

A growing chorus of prominent voices in Congress and elsewhere are calling for the expansion of our Social Security system people who know that Social Security will not go broke and does not add a penny to the national debt.Social Security Works! will amplify these voices and offer a powerful...

Spectacle - The Astonishing Life of Ota Benga written by Pamela Newkirk performed by Bahni Turpin on CD (Unabridged)£39.99

In 1904, Ota Benga, a young Congolese "pygmy" - a person of petite stature - arrived from central Africa and was featured in an anthropology exhibit at the St. Louis World's Fair. Two years later, the New York Zoological Gardens displayed him in its Monkey House, caging the slight 103-pound, 4-foot 11-inch...

The Awakening written by Kate Chopin performed by Shelly Frasier on CD (Unabridged)£19.99

Edna Pontellier is married, twenty-eight, and at a crossroads in her life. She is passionate and artistic but has no one who understands her deep yearnings. She jumps at the chance to spend a summer away from her husband and the heat of New Orleans at a small coastal retreat.

The Big Fix - The Hunt for The Match-Fixers Bringing Down Soccer written by Brett Forrest performed by Alexander Cendese on CD (Unabridged)£24.99

Relates how a longtime Interpol cop and former FIFA head of security have taken on a mission to track down the fixers and financial backers acting on behalf of Asian criminal syndicates to fix more than seven hundred international soccer matches since 2008.

The Gripping Hand written by Jerry Pournelle and Larry Niven performed by L.J. Ganser on MP3 CD (Unabridged)£14.99

Robert Heinlein called it "possibly the finest science fiction novel I have ever read". TheSan Francisco Chronicle declared that "as science fiction, The Mote in God's Eye is one of the most important novels ever published". Now Larry Niven and Jerry Pournelle, award-winning authors of such best sellers as...

The View from the Cheap Seats written by Neil Gaiman performed by Neil Gaiman on CD (Unabridged)£24.99

The View from the Cheap Seats draws together, for the first time ever, myriad nonfiction writing by international phenomenon and Sunday Times best-selling author Neil Gaiman. From Make Good Art, the speech he gave at the University of the Arts in Philadelphia that went viral, to pieces on artists...

Wicca for Beginners - Fundamentals of Philosophy and Practice written by Thea Sabin performed by Karyn O'Bryant on CD (Unabridged)£29.99

Due to the sheer number of Wicca 101 books on the market, many newcomers to the Craft find themselves piecing together their Wiccan education by reading a chapter from one book and a few pages from another. Rather than depending on snippets of wisdom to build a new faith, Wicca for Beginners...
---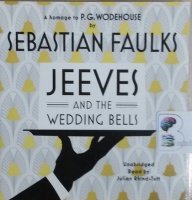 Jeeves and the Wedding Bells written by Sebastian Faulks performed by Julian Rhind-Tutt on CD (Unabridged)£19.99
A gloriously witty novel from Sebastian Faulks using P.G. Wodehouse's much-loved characters, Jeeves and Wooster, fully authorised by the Wodehouse estate. Bertie Wooster, recently returned from a very pleasurable soujourn in Cannes, finds himself at the stately home of Sir Henry Hackwood in Dorset. Bertie is...
---
---
---
---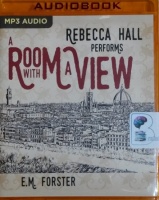 A Room With a View written by E.M. Forster performed by Rebecca Hall on MP3 CD (Unabridged)£14.99
One of E. M. Forster's most celebrated novels, "A Room With a View" is the story of a young English middle-class girl, Lucy Honeychurch. While vacationing in Italy, Lucy meets and is wooed by two gentlemen, George Emerson and Cecil Vyse. After turning down Cecil Vyse's marriage proposals twice Lucy finally...
---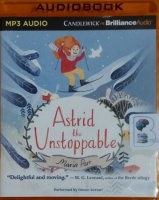 Astrid the Unstoppable written by Maria Parr performed by Devon Sorvari on MP3 CD (Unabridged)£14.99
Pippi Longstocking meets Heidi meets Anne Shirley in this tale of an irrepressible girl in a mountain village who navigates unexpected changes with warmth and humor. Speed and self-confidence, that's Astrid's motto. Nicknamed "the little thunderbolt," she loves to spend her days racing down the hillside on her...
---