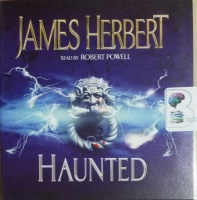 Haunted written by James Herbert performed by Robert Powell on CD (Abridged)£4.99
A ghostly twist. Three nights of terror at the house called Edbrook. Three nights in which David Ash, there to investigate a haunting, will be victim of horrifying games. Three nights in which he will face the blood-chilling enigma of his own past.
---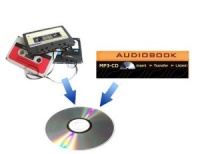 Large Fixed Price Audio Transfer Service£35.00
This is the fixed price £35.00 item to be used when ordering conversion of a 6-9 hour Audio Cassette or MP3 CD title.
---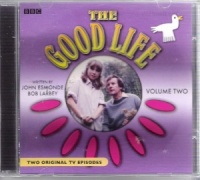 The Good Life written by John Esmonde and Bob Larbey performed by Richard Briers and Felicity Kendal on CD (Abridged)£3.99
Two episodes of the wonderful TV show!
---
---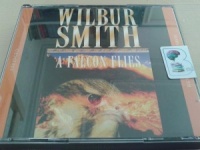 A Falcon Flies written by Wilbur Smith performed by Martin Jarvis on CD (Abridged)£4.99 - £8.99
A Falcon Flies is the first bestselling novel in Wilbur Smith's epic tale of Africa, The Ballantyne Novels. In search of a father they barely remember, Zouga and Dr Robyn Ballantyne board Mungo St John's magnificent clipper to speed them to Africa.
---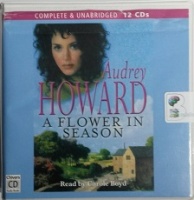 A Flower in Season written by Audrey Howard performed by Carole Boyd on CD (Unabridged)£14.99 - £24.99
Briony Marsden has led a hard life, forced to do the work of a grown man while enduring her drunkard father's taunts and blows. But when he goes too far one day, her fate becomes even worse as she makes her way alone in a heartless world.
---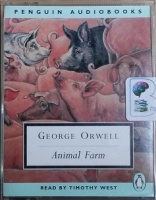 Animal Farm written by George Orwell performed by Timothy West on Cassette (Unabridged)£9.99
All animals are equal - but some are more equal than others' When the downtrodden animals of Manor Farm overthrow their master Mr Jones and take over the farm themselves, they imagine it is the beginning of a life of freedom and equality.
---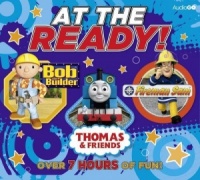 At The Ready! written by Various Childrens Authors performed by Various Famous Actors on CD (Abridged)£39.99
This box set contains over 7 hours of fun from Bob the Builder, Fireman Sam and Tomas the Tank Engine! This would make a brilliant gift that will last considerably longer than the New Year!
---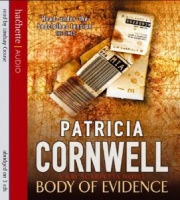 Body of Evidence written by Patricia Cornwell performed by Lindsay Crouse on CD (Abridged)£9.99
A reclusive writer is dead. And her final manuscript has disappeared ...Someone is stalking Beryl Madison.
---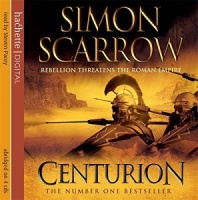 Centurion - Rebellion Threatens the Roman Empire written by Simon Scarrow performed by Steven Pacey on CD (Abridged)£17.99 - £18.99
In the first century AD the Roman Empire faces a new threat from its long-standing enemy Parthia. Parthia is vying with Rome for control of Palmyra an officially neutral kingdom.
---
---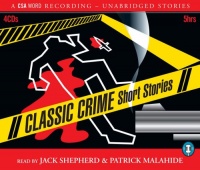 Classic Crime Short Stories written by Various Famous Crime Writers performed by Jack Shepherd and Patrick Malahide on CD (Unabridged)£4.99 - £9.99
Discover a world of heroes and villains, suspense and intrigue. This riveting and comprehensive collection brings together some of the best crime writing of all time.
---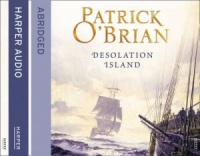 Desolation Island written by Patrick O'Brian performed by Robert Hardy on CD (Abridged)£8.99
A Genius Performance by Robert Hardy!
Commissioned to rescue Governor Bligh of Bounty fame, Captain Jack Aubrey and his friend and surgeon, Stephen Maturin, sail the Leopard to Australia with a hold full of convicts. Among them is a beautiful and dangerous spy — and a treacherous disease which decimates the crew.
---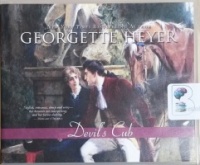 Devil's Cub written by Georgette Heyer performed by Michael Drew on CD (Unabridged)£24.99
The excesses of the young Marquis of Vidal are even wilder than his father's before him. Not for nothing is the reckless duellist and gamester called "the Devil's Cub". But when he is forced to leave the country, Mary Challoner discovers his fiendish plan to abduct her sister. Any only by daring to impersonate...
---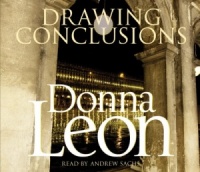 Drawing Conclusions written by Donna Leon performed by Andrew Sachs on CD (Abridged)£4.99 - £5.99
A Genius Performance by Andrew Sachs! When Anna Maria Giusti finds her elderly neighbour Constanza Altavilla dead, with blood on the floor near her head, she calls the police. Brunetti is called to the scene and it seems the woman has suffered a heart attack. Patta, the Vice-Questore, is eager to dismiss the case...
---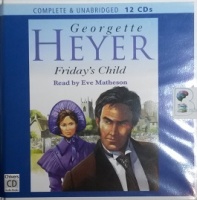 Friday's Child written by Georgette Heyer performed by Eve Matheson on CD (Unabridged)£29.99
This story of mistaken love is a romantic fiction set in the English Regency period. It centers on Lord Sheringham who has been rejected by the woman he loves but the woman who has secretly loved him since childhood is waiting.
---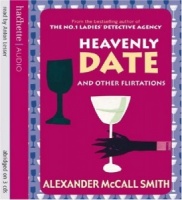 Heavenly Date and Other Flirtations written by Alexander McCall-Smith performed by Anton Lesser on CD (Abridged)£5.99
A Genius Performance by Anton Lesser!
Alexander McCall-Smith's short stories show the interest and intrigue, complexity and completeness that can come from the briefest meeting or a life long love. A lovely set of stories that have something for everyone.
---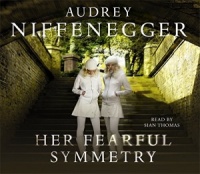 Her Fearful Symmetry written by Audrey Niffenegger performed by Sian Thomas on CD (Abridged)£4.49 - £4.99
dearest e, I told you I would let you know-so here it is-goodbye. I try to imagine what it would feel like if it was you-but it's impossible to conjure the world without you, even though we've been apart so long. I didn't leave you anything. You got to live my life.
---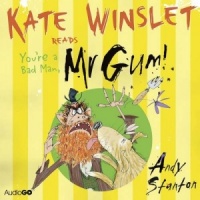 Kate Winslet reads You're a Bad Man Mr Gum written by Andy Stanton performed by Kate Winslet on CD (Unabridged)£6.99 - £8.99
Good evening. Mr Gum is a complete horror who hates children, animals, fun and corn on the cob. This book's all about him. And an angry fairy who lives in his bathtub. And Jake the dog, and a little girl called Polly. And there's heroes and sweets and adventures and EVERYTHING.
---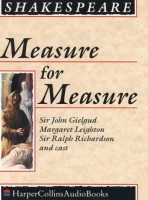 Measure for Measure written by William Shakespeare performed by Sir John Gielgud, Margaret Leighton and Sir Ralph Richardson on Cassette (Unabridged)£19.99
This is one of Shakespeare's so-called black comedies. This thought-provoking play poses the stark question: when a young woman is offered the choice of saving a man's life at the price of her own chastity, what should she do?
---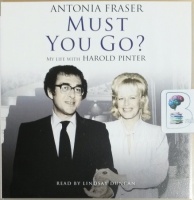 Must You Go? - My Life with Harold Pinter written by Antonia Fraser performed by Lindsay Duncan on CD (Abridged)£4.99 - £9.99
I first saw Harold across a crowded room, but it was lunchtime, not some enchanted evening, and we did not speak...' When Antonia Fraser met Harold Pinter she was a celebrated biographer and he was Britain's finest playwright.
New In January 2019 Part 3
(in alphabetical order)
A Naturalist at Large - The Best Essays of Bernd Heinrich written by Bernd Heinrich performed by Rick Adamson on MP3 CD (Unabridged)£19.99

From one of the finest scientists and writers of our time comes an engaging record of a life spent in close observation of the natural world, one that has yielded marvelous, mind-altering (Los Angeles Times) insight and discoveries. In essays that span several decades, Bernd Heinrich finds himself...

A Purple Place for Dying - A Travis McGee novel written by John D. MacDonald performed by Robert Petkoff on CD (Unabridged)£9.99

John D. MacDonald created a staggering quantity of wonderful books, each rich with characterization, suspense, and an almost intoxicating sense of place. Jonathan Kellerman Travis McGee is taking his retirement in installments while he's still young enough to enjoy it. But sooner or later, his money runs...

A Window into Time written by Peter F. Hamilton performed by Chris MacDonnell on CD (Unabridged)£19.99

Whip-smart thirteen-year-old Julian Costello Proctor-better known as Jules-has an eidetic memory. For as long as he can remember, he has remembered everything. "My mind is always on," he explains. But when an unexpected death throws his life into turmoil, Jules begins to experience something strange.

Against the Inquisition written by Marcos Aguinis performed by Timothy Andres Pabon on CD (Unabridged)£19.99

"[A] stirring song of freedom." - Nobel Prize laureate Mario Vargas Llosa From a renowned prize-winning Argentinian author comes a historical novel based on the true story of one man's faith, spirit, and resistance during the Spanish Inquisition in Latin America. Born in sixteenth-century Argentina...

Anna Dressed in Blood written by Kendare Blake performed by August Ross on CD (Unabridged)£29.99

For three years, seventeen-year-old Cas Lowood has carried on his father's work of dispatching the murderous dead, traveling with his kitchen-witch mother and their spirit-sniffing cat, but everything changes when he meets Anna, a girl unlike any ghost he has faced before.

Anywhere But Here written by Mona Simpson performed by Kate Rudd on CD (Unabridged)£19.99

A national bestseller upon its publication, Anywhere But Here is a moving, often comic portrait of wise child Ann August and her mother, Adele, a larger-than-life American dreamer. As they travel through the landscape of their often conflicting ambitions, Ann and Adele bring to life a novel that is ...

Beyond Religion - Ethics for a Whole World written by Dalai Lama performed by Martin Sheen on CD (Unabridged)£9.99

In 1999 His Holiness The Dalai Lama published the bestselling Ancient Wisdom: Modern World, which addressed the question of ethics for the new millennium. A decade later, His Holiness enters the contemporary debate about religion vs atheism, and returns to the theme of ethics with a...

Blitzed - Drugs in the Third Reich written by Norman Ohler performed by Stefan Rudnicki on CD (Unabridged)£59.99

The Nazis presented themselves as warriors against moral degeneracy. Yet, as Norman Ohler's gripping best seller reveals, the entire Third Reich was permeated with drugs: cocaine, heroin, morphine and, most of all, methamphetamines, or crystal meth, used by everyone from factory...

Body Love - Live in Balance, Weigh What You Want, and Free Yourself from Food Drama Forever written by Kelly Leveque performed by Kelly Leveque, and on CD (Unabridged)£29.99

Celebrity favorite health and wellness consultant Kelly LeVeque shares her secrets for losing weight, attuning ourselves to our bodies' needs, and freeing ourselves from food drama in this essential wellness guide. In this inspirational yet practical book, the nutritional consultant and holistic health care...

Buddha and Einstein walk into a Bar written by Guy Joseph Ale performed by Stefan Rudnicki on CD (Unabridged)£19.99

Buddha and Einstein Walk Into a Bar explores the revolutionary idea that sensing how long we can live is a latent capacity in us, currently unknown -- just like the introduction of fire, the invention of flying, and the discovery of radio waves were before we ''discovered'' them. Understand how the knowledge...

Buy In - Saving Your Good Idea from Getting Shot Down written by John P. Kotter and Lorne A. Whithead performed by Tim Wheeler on CD (Unabridged)£9.99

Provides advice on how to confront critics who use delaying tactics, confusion, and character assassination to kill support for a good idea.

Captain David Grief written by Jack London performed by Brian Emerson on CD (Unabridged)£24.99

This book's eight tales of danger and adventure feature David Grief, who came to the South Pacific at the age of twenty and two decades later owned a vast trading empire. He played the South Sea game not for the gold but for the daring life of the island rover.

Emerson - The Mind on Fire written by Robert D Richardson performed by Michael McConnohie on MP3 CD (Unabridged)£19.99

Ralph Waldo Emerson is one of the most important figures in the history of American thought, religion, and literature. The vitality of his writings and the unsettling power of his example continue to influence us more than a hundred years after his death.

Helter Skelter - The True Story of the Manson Murders written by Vincent Bugliosi and Curt Gentry performed by Scott Brick on CD (Unabridged)£29.99

Prosecuting attorney in the Manson trial, Vincent Bugliosi held a unique insider's position in one of the most baffling and horrifying cases of the twentieth century: the cold-blooded Tate-LaBianca murders carried out by Charles Manson and four of his followers. What motivated Manson in his...

Hitler's Last Days written by Bill O'Reilly performed by Bill O'Reilly on CD (Unabridged)£29.99

A narrative account of the events surrounding the death of Adolf Hitler and the downfall of the German Nazi State adapts the author's historical thriller, Killing Patton, and covers the advancement of the Allied Forces and the contributions of key historical figures.

In The Heat of The Night written by John Ball performed by Ryan Vincent Anderson, Michael Hammond, Kalen Harriman and James Morrison on CD (Abridged)£24.99

Based on John Ball's novel which inspired the Oscar-winning film and the Emmy-winning television series, In the Heat of the Night pits a visiting black detective from California against a small Alabama town simmering with anger over desegregation. A fitting reflection of America in the 1960s...

Into the Magic Shop - A Neurosurgeon's Quest to Discover The Mysteries of the Brain and the Secrets of the Heart written by James R. Doty, MD performed by Dan Woren on CD (Unabridged)£39.99

The award-winning New York Times bestseller that inspired BTS's K-pop song 'Magic Shop'. The day that 12-year-old James Doty walked in to his local magic shop is the day that changed his life. Once the neglected son of an alcoholic father and a mother with chronic depression, he has gone on to become...

Little Shoes - The Sensational Depression-Era Murders that became My Family's Secret written by Pamela Everett performed by Coleen Marlo on CD (Unabridged)£24.99

In the summer of 1937, with the Depression deep and World War II looming, a California crime stunned an already grim nation. Three little girls were lured away from a neighborhood park to unthinkable deaths. After a frantic week-long manhunt for the killer, a suspect emerged, and his sensational...

Maggot Moon written by Sally Gardner performed by Robert Madge on CD (Unabridged)£19.99

On the other side of the wall there is a dark secret. And the devil. And the Moon Man.And the Motherland doesn't want anyone to know.But Standish Treadwell, who has different-colored eyes, who can't read, can't write, Standish Treadwell isn't bright, sees things differently than the rest of the ...

Mirror Touch - Notes from a Doctor Who Can Feel Your Pain written by Joel Salinas MD performed by Adam Verner on CD (Unabridged)£39.99

A doctor with a rare - seemingly superhuman - neurological trait takes us on a compelling tour deep into the human brain in this blend of memoir and scientific exploration that combines the compassionate wisdom of Oliver Sacks and the personal revelations of Jill Bolte Taylor's My Stroke of Insight.

Murder in an Irish Churchyard written by Carlene O'Conner performed by Caroline Lennon on MP3 CD (Unabridged)£24.99

It's official! Siobhan is now Garda O'Sullivan, and her five siblings couldn't be prouder. While her brother James runs Naomi's Bistro, Siobhan is doing her part to keep the village safe. Of course, Kilbane is pretty quiet compared to a place like Dublin, where Macdara Flannery has gone to be a...

Oceana - Our Planet's Endangered Oceans and What We Can Do to Save Them written by Ted Danson with Michael D'Orso performed by Michael Kramer on CD (Unabridged)£39.99

Most people know Ted Danson as the affable bartender Sam Malone in the long-running television series Cheers. But fewer realize that over the course of the past two and a half decades, Danson has tirelessly devoted himself to the cause of heading off a looming global catastrophe-the massive...

Pearls of Wisdom written by Jack Canfield performed by Laural Merlington and Fred Stella on CD (Unabridged)£9.99

An oyster can't produce pearls without first suffering with a grain of sand. Each of the chapters in Pearls of Wisdom: 30 Inspirational Ideas to Lead Your Best Life Now gives guidance to readers on how to turn their own grains of sand into pearls.With four New York Times Best-Selling Authors...

Portrait of Jennie written by Robert Nathan performed by Stephen R. Thorne on CD (Unabridged)£39.99

Eben Adams is a young painter in Depression-era New York just looking to make a living. When he happens upon a young schoolgirl named Jennie in Central Park, he is intrigued by her mystical quality and her knowledge of things that happened well before her time. He begins to sketch a portrait ...

Sisters in Arms - British Army Nurses tell Their Story written by Nicola Tyrer performed by Barbara Flynn and Sian Thomas on CD (Abridged)£14.99

The amazing experiences of the Queen Alexandra nurses in the Second World War form one of the greatest adventure stories of modern times, and - incredibly - remain largely untold. Thousands of middle-class girls, barely out of school, were plucked from sheltered backgrounds, subjected to...

Target: Tinos - A Chief Inspector Kaldis Novel written by Jeffrey Siger performed by Stefan Rudnicki on MP3 CD (Unabridged)£24.99

In an isolated olive grove on the idyllic Aegean island of Tinos, revered by religious pilgrims around the world as the Lourdes of Greece, two bodies charred beyond recognition are discovered, chained together amid bits and pieces of an incinerated Greek flag. An enraged press screams for justice...

The 22-Day Revolution written by Marcos Borges performed by Timothy Andres Pabon on MP3 CD (Unabridged)£19.99

A guide founded on the principle that it takes twenty-one days to make or break a habit presents a plant-based diet and detailed twenty-two-day meal plan that will lead to a healthier, more energetic, and more productive life.

The Amazing Story of Quantum Mechanics written by James Kakalios performed by Peter Berkrot on CD (Unabridged)£39.99

The author of The Physics of Superheroes explains how everyday products were made possible by quantum mechanics, covering such topics as the Schrödinger equation, the Heisenberg Uncertainty Principle and nanoscience.

The Atlantis Gene written by A.G. Riddle performed by Stephen Bel Davies on CD (Unabridged)£14.99

The greatest mystery of all time the history of human origins will be revealed. Seventy thousand years ago, the human race almost went extinct. We survived, but no one knows how. Until now. The countdown to the next stage of human evolution is about to begin, and humanity might not ...

The Conservative Heart written by Arthur C. Brooks performed by P. J. Ochlan on CD (Unabridged)£24.99

The prominent economist and president of the American Enterprise Institute--the leading intellectual think tank on the right--offers a bold new vision for conservatism as a movement for social and economic justice.In The Conservative Heart, Arthur C. Brooks contends that after years of focusing...

The Cranes Dance written by Meg Howrey performed by Justine Eyre on CD (Unabridged)£29.99

I threw my neck out in the middle of Swan Lake last night. So begins the tale of Kate Crane, a soloist in a celebrated New York City ballet company who is struggling to keep her place in a very demanding world. At every turn she is haunted by her close relationship with her younger sister, Gwen...

The Devil's Love written by Julia London performed by Anne Flosnik on CD (Unabridged)£19.99

A woman's desire. With dreams of a great romantic love, Abigail Carrington sails to England to marry the man she has loved since childhood, Michael Ingram, Marquis of Darfield. She believes her betrothed is a generous and noble man who has been longing for her. But the handsome man waiting...

The Enlightened Brain - The Neuroscience of Awakening written by Rick Hanson, PhD performed by Rick Hanson PhD on CD (Unabridged)£39.99

There s been a major breakthrough in the world s oldest research experiment. For over 2,500 years, Buddhist meditators have investigated the human psyche. Now with the help of modern neuroscience, we have gained an unprecedented understanding of how the brain responds to meditation...

The Ghost and the Gold Louis written by Jamie Sutliff performed by Jamie Sutliff on MP3 CD (Unabridged)£39.99

After a ghost tells her great-granddaughter the tale of the gold coins that purchased her as a slave in 1810, it leads her on the trail to recover the gold Louis coins, which were donated to the Confederate war effort by one of her twin sons. The granddaughter has inherited a museum in New Orleans that...

The Guinea Pig Diaries - My Life as an Experiment written by A.J. Jacobs performed by A.J. Jacobs on CD (Unabridged)£19.99

For his first hit title, Jacobs read the Encyclopedia Britannica. For his second, he followed every single rule in the Bible. Now comes a collection of his most outrageous and thought-provoking experiments yet. In The Guinea Pig Diaries, Jacobs goes undercover as a beautiful woman.

The Last Mrs. Parrish written by Liv Constantine performed by Suzanne Elise Freeman and Meghan Wolf on CD (Unabridged)£24.99

Tired of being a nobody who blends into the background, Amber Patterson worms her way into the lives of a wealthy golden couple from Connecticut as part of her plot to achieve a privileged life, unveiling dark secrets along the way.

The New Adventures of Mickey Spillane's Mike Hammer in Oil and Water and Dangerous Days written by M.J. Elliott and JoBe Cerny performed by Stacy Keach and Full Cast Drama Team on CD (Unabridged)£14.99

Hard-boiled, New York City private detective Mike Hammer takes on the role of judge, jury, and executioner as he pursues his own version of justice in a collection of fully dramatized mystery tales, enhanced by a full supporting cast, sound effects, and music. Read by Stacy Keach.

The Norman Conquest written by Marc Morris performed by Frazer Douglas on MP3 CD (Unabridged)£24.99

A riveting and authoritative history of the single most important event in English history: The Norman Conquest. An upstart French duke who sets out to conquer the most powerful and unified kingdom in Christendom. An invasion force on a scale not seen since the days of the Romans.

The Power Paradox - How We Gain and Lose Influence written by Dacher Keltner performed by Kaleo Griffith on CD (Unabridged)£29.99

A revolutionary and timely reconsideration of everything we know about power. Celebrated UC Berkeley psychologist Dr. Dacher Keltner argues that compassion and selflessness enable us to have the most influence over others and the result is power as a force for good in the world.

The Silent Shield written by Jeff Wheeler performed by Kate Rudd on CD (Unabridged)£19.99

Wall Street Journal bestselling author Jeff Wheeler continues the acclaimed Kingfountain Series with a vast expansion of this spellbinding world. Thrust into the heart of events threatening to rip her kingdom apart, young Trynne Kiskaddon will gain new powers and see old allies fall and new heroes...

The Wild Shore written by Kim Stanley Robinson performed by Stefan Rudnicki on CD (Unabridged)£29.99

From the author of the award-winning Mars trilogy comes a vision of a radically different alternative future, where every day is a fight to survive.North America, 2047. For the small Pacific Coast community of San Onofre, life in the aftermath of a devastating nuclear attack is a matter of survival...

The Wright Brothers written by David McCullough performed by David McCullough on CD (Unabridged)£24.99

Two-time winner of the Pulitzer Prize David McCullough tells the dramatic story-behind-the-story about the courageous brothers who taught the world how to fly: Wilbur and Orville Wright. On December 17, 1903 at Kitty Hawk, North Carolina, Wilbur and Orville Wright's Wright Flyer became the first...

Tower of Dawn - A Throne of Glass Novel written by Sarah J. Maas performed by Elizabeth Evans on CD (Unabridged)£24.99

In the next installment of the New York Times best-selling Throne of Glass series, follow Chaol on his sweeping journey to a distant empire. Chaol Westfall has always defined himself by his unwavering loyalty, his strength, and his position as the captain of the Guard. But all of that has changed since...

Trashing the Planet written by Dixy Lee Ray with Lou Guzzo performed by Jeff Riggenbach on CD (Unabridged)£29.99

Trashing the Planet is the one book you need to get a common-sense grasp on the contentious issues of environmentalism, where science and politics overlap and well-meaning idealism turns to counterproductive eco-terrorism. Dixy Lee Ray, a marine biologist and former chair of the...

Trashing the Planet is the one book you need to get a common-sense grasp on the contentious issues of environmentalism, where science and politics overlap and well-meaning idealism turns to counterproductive eco-terrorism. Dixy Lee Ray, a marine biologist and former chair of the...

Two Years Eight Months and Twenty-Eight Nights written by Salman Rushdie performed by Robert G. Slade on CD (Unabridged)£39.99

NEW YORK TIMES BESTSELLER • NAMED ONE OF THE BEST BOOKS OF THE YEAR BY The Washington Post • Los Angeles Times • San Francisco Chronicle • Harper's Bazaar • St. Louis Post-Dispatch • The Guardian • from Salman Rushdie, one of the great writers of our time, comes a spellbinding work of ...

Yes! - 50 Scientifically Proven Ways to Be Persuasive written by Noah J. Goldstein, Steve J. Martin and Robert B. Cialdini performed by Noah J. Goldstein, Steve J. Martin and Robert B. Cialdini on CD (Unabridged)£29.99

Every day we face the challenge of persuading others to do what we want. But what makes people say yes to our requests? Persuasion is not only an art, it is also a science, and researchers who study it have uncovered a series of hidden rules for moving people in your direction. ...

You written by Caroline Kepnes performed by Santino Fontana on CD (Unabridged)£29.99

Gone Girl meets Fatal Attraction in Caroline Kepnes' You, a chilling account of the twisted psychology behind unrelenting passion, from the author of Hidden Bodies and the upcoming Providence, publishing June 2018. When aspiring writer Guinevere Beck strides into the bookstore where Joe works...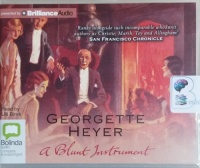 A Blunt Instrument written by Georgette Heyer performed by Ulli Birve on CD (Unabridged)£24.99
When Ernest Fletcher is found bludgeoned to death in his study, everyone is shocked and mystified: Ernest was well liked and respected, so who would have a motive for killing him? Enter Superintendent Hannasyde who, with consummate skill, begins to uncover the complexities of Fletcher's life. It seems the ...
---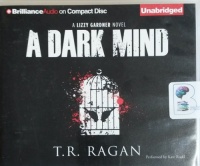 A Dark Mind written by T.R. Ragan performed by Kate Rudd on CD (Unabridged)£12.99
They call him the Lovebird Killer, a merciless fiend unleashing a flood of unspeakable cruelty upon Sacramento's most loving couples, young and old. This real-life monster's reign of terror has left the city's residents paralyzed with fear. All but Lizzy Gardner. Because hiding from monsters isn't Lizzy's style, not...
---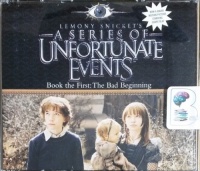 A Series of Unfortunate Events - Book The First: The Bad Beginning written by Lemony Snicket performed by Tim Curry on CD (Unabridged)£6.99
Like a car alarm, bagpipe music, or a doorbell ringing in the middle of the night, hearing this all-new audio edition of The Bad Beginning will only upset you. This unique multi-voice recording brings the first book in Lemony Snicket's alarming A Series of Unfortunate Events to such terrible life that no one should...
---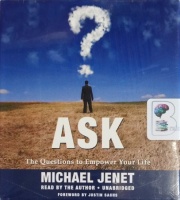 Ask - The Questions to Empower Your Life written by Michael Jenet performed by Michael Jenet on CD (Unabridged)£9.99
WHY? Why do some people live happier, successful, and more fulfilling lives while others are miserable, struggling and empty? ASK gives you the answer. As Jenet says, "Life is meant to be lived, not endured". In an easy-to-read, humorous, conversational style, peppered with logical explanations, simple steps ...
---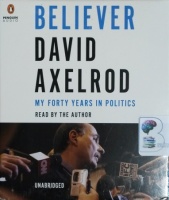 Believer - My Forty Years in Politics written by David Axelrod performed by David Axelrod on CD (Unabridged)£14.99
The great strategist who masterminded Obama's historic election campaigns opens up about his years as a young journalist, political consultant, and ultimately senior adviser to the president The man behind some of the greatest political changes of the last decade, David Axelrod has devoted a lifetime to...
---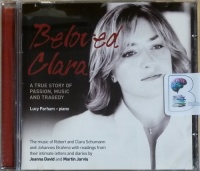 Beloved Clara written by Robert and Clara Schumann and Joahnnes Brahms performed by Joanna David, Martin Jarvis and Lucy Parham (Piano) on CD (Abridged)£9.99
Through their music and readings from their intimate letters and diaries, this album recounts the highly-charged story of the relationships between Robert and Clara Schumann and Johannes Brahms, between whom one of the most famed love triangles existed. The readings are by Martin Jarvis & Joanna David...
---
---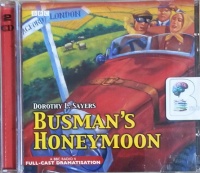 Busman's Honeymoon - BBC Dramatisation written by Dorothy L. Sayers performed by Ian Carmichael, Sarah Badel, Peter Jones and Rosemary Leach on CD (Abridged)£7.99
Society's eligible women are in mourning. Lord Peter Wimsey has married at last, having finally succeeded in his ardent pursuit of the lovely mystery novelist Harriet Vane. The two depart for a tranquil honeymoon in a country farmhouse but find, instead of a well-prepared love nest, the place left in a shambles by...
---
---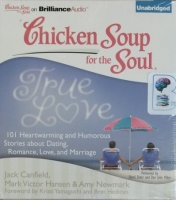 Chicken Soup for the Soul - True Love 101 Heartwarming and Humorous Stories about Dating, Romance, Love and Marriage written by Jack Canfield, Mark Victor Hansen and Amy Newmark performed by Sherri Slater and Dan John Miller on CD (Unabridged)£6.99
Everyone loves a good love story. And we all love stories about how the love started and blossomed. This fun new book about dating, romance, love, and marriage, will make you laugh and make you cry, and is guaranteed to inspire you to renew that search for your soul mate or open your heart a little more ...
---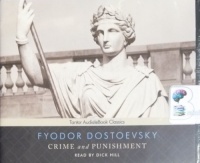 Crime and Punishment written by Fyodor Dostoevsky performed by Dick Hill on CD (Unabridged)£39.99
A desperate young man plans the perfect crime-the murder of a despicable pawnbroker, an old woman no one loves and no one will mourn. Is it not just, he reasons, for a man of genius to commit such a crime-to transgress moral law-if it will ultimately benefit humanity? So begins one of the greatest novels ever...
---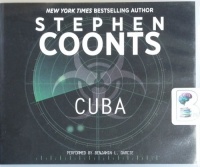 Cuba written by Stephen Coonts performed by Benjamin L. Darcie on CD (Unabridged)£19.99
The hero of six New York Times bestsellers by Stephen Coonts, author of Flight of the Intruder and Fortunes of War, returns as the United States and Cuba engage in a terrifying game of brinksmanship, a gamble that could break the last military taboo and destroy both countries. In Cuba, an ailing Fidel Castro ...
---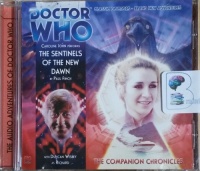 Dr Who - The Sentinels of the New Dawn written by Paul French performed by Caroline John and Duncan Wisbey on CD (Unabridged)£4.99
Some time after leaving UNIT, Liz Shaw calls the Doctor to Cambridge University, where scientists are experimenting with time dilation. A device hurls them to the year 2014, and a meeting with Richard Beauregard, heir to the Beauregard estate.
---
---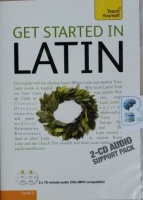 Get Started In Latin written by The Teach Yourself Team performed by Mark Espiner, Carmen Plaza, Paul Price and George Sharpley on CD (Abridged)£9.99
If you are an absolute beginner or simply looking for a solid foundation to your language studies for school, work or travel, this engaging course will help get you on your way to speaking, writing, reading and understanding Latin in no time. Through culture notes, clear language presentations, and extensive...
---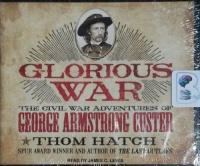 Glorious War - The Civil War Adventures of George Armstrong Custer written by Thom Hatch performed by James C. Lewis on CD (Unabridged)£24.99
Glorious War, the thrilling and definitive biography of George Armstrong Custer's Civil War years, is nothing short of a heart-pounding cavalry charge through the battlefield heroics that thrust the gallant young officer into the national spotlight in the midst of the country's darkest hours. From West Point to the...
---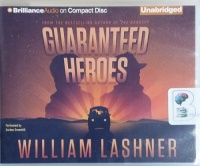 Guaranteed Heroes written by William Lashner performed by Gordon Greenhill on CD (Unabridged)£19.99
In a nation still recovering from the nuclear tragedies of forty years earlier, Clyde is working a dead-end guaranteed job at a diner, and Moonis is incarcerated in a Labor Camp for the Malcontented. But when Moonis's sister, Cecily, goes missing, the old friends escape their prisons to search for her in post-fallout...
---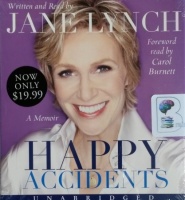 Happy Accidents written by Jane Lynch performed by Jane Lynch on CD (Unabridged)£14.99
Best-known as Glee's sharp-tongued Sue Sylvester, Jane Lynch's on-screen persona is someone that many love to hate. But when she's not prowling the corridors in Sue's shiny tracksuit, who is the real Jane Lynch and how did this Golden Globe and Emmy winner learn to channel such delicious nastiness?
---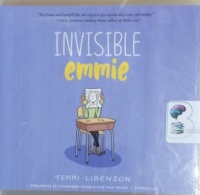 Invisible Emmie written by Terri Libenson performed by Cassandra Morris and Tara Sands on CD (Unabridged)£9.99
This debut novel from US cartoonist Terri Libenson follows two girls who could not seem more different: shy, observant, wallflower Emmie; and loud, popular, cheery Katie. What both girls do have in common are their strong feelings for the same boy, Tyler Ross. Then Emmie's very private, very embarrassing...