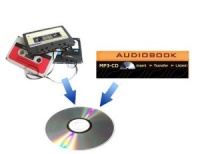 3 Hour Fixed Price Audio Transfer for Customers Own Tapes£25.00
This is the fixed price £25.00 item to be used by Customers when ordering conversion of their own sub 3 hour Audio Cassette or MP3 CD title.
---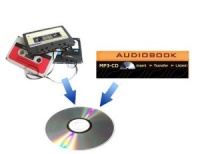 3 Hour Fixed Price Audio Transfer£15.00
This is the fixed price £15 item to be used when ordering conversion of a sub 3 hour Audio Cassette or MP3 CD title.
---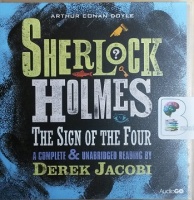 Sherlock Holmes The Sign of the Four written by Arthur Conan Doyle performed by Derek Jacobi on CD (Unabridged)£7.99 - £9.99
A Genius Performance by Derek Jacobi!
Mary Morstan reports two seemingly unconnected and inexplicable events: the disappearance of her father, a British Indian Army Captain, and the arrival of pearls by post from an unknown sender.
---
---
---
---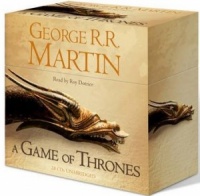 A Game of Thrones written by George R.R. Martin performed by Roy Dotrice on CD (Unabridged)£38.99
This first volume in the hugely popular and highly acclaimed epic fantasy series A SONG OF ICE AND FIRE is unabridged on 28 CDs.
---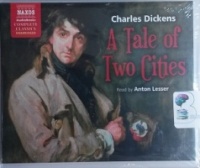 A Tale of Two Cities written by Charles Dickens performed by Anton Lesser on CD (Unabridged)£29.99 - £39.99
It was the best of times and the worst of times'. In one of the most famous openings of any novel, Dickens masterfully presents the turmoil of the French Revolution which is the backdrop for a novel of love, patience, hope and self-sacrifice. It is read by Anton Lesser whose award-winning Dickens... Naxos
---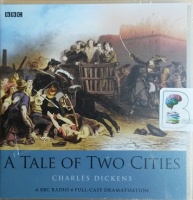 A Tale of Two Cities written by Charles Dickens performed by BBC Full Cast Dramatisation and Robert Lindsay on CD (Abridged)£24.99 - £34.99
Robert Lindsay stars in this BBC Radio 4 full-cast dramatisation of the classic novel by Charles Dickens. From the echo of the first line 'It was the best of times, it was the worst of times' to the final 'It is a far better thing that I do than I have ever done', Dickens' classic novel of the French revolution...
---
---
---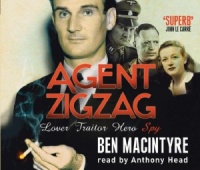 Agent Zigzag written by Ben Macintyre performed by Anthony Head on CD (Abridged)£23.99
Eddie Chapman: rogue, criminal, confidence trickster, hero to both sides and betrayer of all. At the start of the Second World War, Chapman was recruited by the German Secret Service. He was a highly prized Nazi agent.
---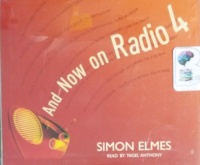 And Now on Radio 4 written by Simon Elmes performed by Nigel Anthony on CD (Abridged)£9.99
And Now on Radio 4 offers an enthusiast's guide to the shows that have made Radio 4 what it is, and also explores some of the wonderful corners of the network's history that are long forgotten by all but a few. Who, for instance, now recalls Ronnie Barker's starring role on Radio 4 in a sophisticated ...
---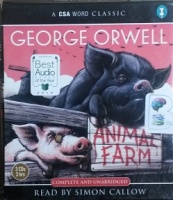 Animal Farm written by George Orwell performed by Simon Callow on CD (Unabridged)£19.99
George Orwell's 1945 satire on the perils of Stalinism has proved magnificently long-lived as a parable about totalitarianism anywhere and has given the world at least one immortal phrase: "Everyone is equal, but some are more equal than others."
---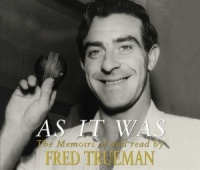 As It Was written by Fred Trueman performed by Fred Trueman on CD (Abridged)£28.99
Fred Trueman was a national treasure, a legend not only to cricket fans the world over but also to those who only ever took a passing interest in the game.
---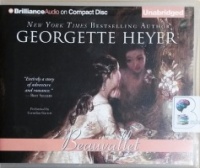 Beauvallet written by Georgette Heyer performed by Cornelius Garrett on CD (Unabridged)£24.99
Sir Nicholas Beauvallet has fallen in love with a Spanish noblewoman. She and her father were aboard a galleon captured by Sir Nicholas. He vows to make her his bride even though it means returning the pair to Spain and entering the lion's den.
---
---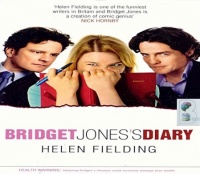 Bridget Jones's Diary written by Helen Fielding performed by Tracie Bennett on CD (Abridged)£4.99
Bridget Jones wants to have it all - and once she's given up smoking and got down to 8st 7 she will.
Based on Helen Fielding's diary in the Independent newspaper, this is a novel about a year in the life of a single girl on an optimistic but doomed quest for self-improvement and Inner Poise.
---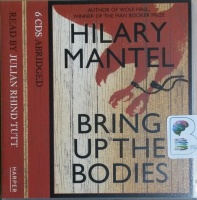 Bring Up The Bodies written by Hilary Mantel performed by Julian Rhind Tutt on CD (Abridged)£9.99
Winner of the Man Booker Prize 2012 Winner of the 2012 Costa Book of the Year Shortlisted for the 2013 Women's Prize for Fiction 'Simply exceptional…I envy anyone who hasn't yet read it'Daily Mail 'A gripping story of tumbling fury and terror'Independent on Sunday With this historic win for Bring Up the Bodies...
---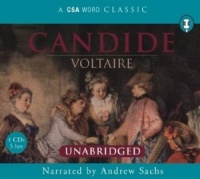 Candide written by Voltaire performed by Andrew Sachs on CD (Unabridged)£19.99
A Genius Performance by Andrew Sachs!
Candide and his tutor Pangloss journey the earth, following the philosophy: All is for the best in this, the best of all possible worlds - A point made by Liebnitz and earlier by Aquinas. This adage, however, is disproved at many turns, with the characters encountering opposition to their outlook. The initially naive Candide realises some of the dark truths of the eighteenth-century world, but could there be any light at the end of the tunnel?
---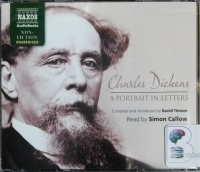 Charles Dickens a Portrait in Letters written by Charles Dickens and David Timson performed by David Timson and Simon Callow on CD (Unabridged)£14.99 - £19.99
Charles Dickens was a prolific writer of letters throughout his life. There are extant more than 13,000 letters that he wrote to friends, family, fellow authors and actors as well as many letters written to people involved in good causes he espoused. In the hands of actor and writer Simon Callow, one of the most...
---
---
---
---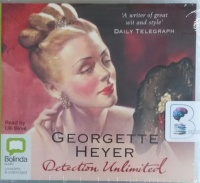 Detection Unlimited - Book 4 of The Inspector Hemmingway Series written by Georgette Heyer performed by Ulli Birve on CD (Unabridged)£19.99
Slumped on a seat under an oak tree is old Sampson Warrenby, with a bullet through his head. Everybody in the village is ready to tell Chief Inspector Hemingway who did it. Could the murderer have been the dead man's niece? Or perhaps it was the other town solicitor? The couple at the farm had a guilty...
---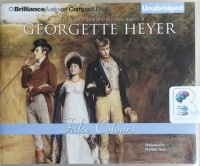 False Colours written by Georgette Heyer performed by Phyllida Nash on CD (Unabridged)£19.99 - £24.99
The honourable Christopher Fancot, on leave from the Diplomatic Service in the summer of 1817, is startled to find his entrancing but incorrigibly extravagant mother on the brink of financial and social ruin - and more than alarmed that his identical twin, Evelyn, Earl of Denville, has disappeared ...
New In January 2019 Part 2
(in alphabetical order)
A Princess of Mars written by Edgar Rice Burroughs performed by Jim Killavey on CD (Unabridged)£29.99

Two years before Edgar Rice Burroughs became a worldwide celebrity with the publication of Tarzan of the Apes, he published A Princess of Mars. A futuristic sci-fi fantasy romance, A Princess of Mars tells the story of John Carter, a Civil War veteran who inexplicably finds himself held prisoner...

Ameritopia - The Unmaking of America written by Mark R. Levin performed by Adam Grupper and Mark R. Levin on CD (Unabridged)£19.99

In his acclaimed #1 New York Times bestseller, Mark R. Levin explores the psychology, motivations, and history of the utopian movement, its architects--the Founding Fathers, and its modern-day disciples--and how the individual and American society are being devoured by it. Levin asks, what is this...

At The Edge of Uncertainty written by Michael Brooks performed by Sean Runnette on CD (Unabridged)£34.99 - £39.99

The atom. The big bang. DNA. Natural selection. All ideas that have revolutionised science - and that were dismissed out of hand when they first appeared. The surprises haven't stopped: here, Michael Brooks, best-selling author of 13 Things That Don't Make Sense, investigates the new wave....

Becoming Beyonce - The Untold Story written by J. Randy Taraborrelli performed by Allyson Johnson on CD (Unabridged)£14.99

The first comprehensive biography ever published about America's favorite living pop icon, Beyoncé, from New York Times bestselling biographer J. Randy Taraborrelli. Beyoncé Knowles is a woman who began her career at the age of eight performing in pageant shows and talent contests, honing her...

Binary written by Michael Crichton as John Lange performed by Christopher Lane on CD (Unabridged)£19.99

Political radical John Wright is plotting an act of mass destruction - and federal agent John Graves has him under surveillance, trying to figure out what the plot is. When a government computer is hacked and a high-security shipment of nerve gas gets hijacked, Graves puts the pieces together - but can...

Biscuits, Fleas and Pump Handles - Zig Ziglar shows you the way to create your destiny! written by Zig Ziglar performed by Zig Ziglar on CD (Unabridged)£9.99

This is an inspirational and informative look at how you can achieve remarkable success, wealth, confidence, peace, and joy in your life. You can have it all by adopting the right attitude, positive self-image, setting challenging but achievable goals, adopting a productive work ethic, and establishing good...

Boost Your Brain Power in 60 Seconds written by Michelle Schoffro Cook, PhD performed by Margaret Strom on CD (Unabridged)£24.99

A new disease is emerging as the leading killer of North Americans: Scientists are predicting that within eight years, brain disease will kill or disable more people than cancer and heart disease combined. Given this shocking new research, we urgently need to know how to protect and improve...

Cancer Crossings - A Brother, His Doctors, and the Quest for a Cure to Childhood Leukemia written by Tim Wendel performed by Tim Wendel on MP3 CD (Unabridged)£24.99

When Eric Wendel was diagnosed with acute lymphoblastic leukemia in 1966, the survival rate was less than 10 percent. Today, it is 90 percent. Even as politicians call for a "Cancer Moonshot," this accomplishment remains a pinnacle in cancer research. The author's daughter, then a medical student...

Confessions of a Latter-Day Virgin - A Memoir written by Nicole Hardy performed by Nicole Hardy on CD (Unabridged)£9.99

When Nicole Hardy's eye-opening 'Modern Love' column appeared in the New York Times, the response from readers was overwhelming. Hardy's essay, which exposed the conflict between being true to herself as a woman and remaining true to her Mormon faith, struck a chord with women coast-to-coast.

Dancing with Life - Buddhist Insights for Finding Meaning and Joy in the Face of Suffering written by Phillip Moffitt performed by Fred Stella on CD (Unabridged)£19.99

Why do we suffer? Is there a purpose to our pain? Reflecting on his own journey from Esquire magazine editor-in-chief to Buddhist meditation teacher, Phillip Moffitt provides a fresh perspective on the Buddha's ancient wisdom, showing how to move from suffering to new awareness and unanticipated joy.

Dracula written by Bran Stoker performed by Brian Cox, Heathcote Williams, Dermot Kerrigan and Full Cast on CD (Abridged)£14.99

"Dracula" is an 1897 Gothic horror novel by Irish author Bram Stoker. Famous for introducing the character of the vampire Count Dracula, the novel tells the story of Dracula's attempt to move from Transylvania to England so he may find new blood and spread undead curse, and the battle between...

Extra Virginity - The Sublime and Scandalous World of Olive Oil written by Tom Mueller performed by Peter Ganim on MP3 CD (Unabridged)£24.99

For millennia, fresh olive oil has been a necessity - for food, medicine, beauty, and religion. Today's researchers continue to confirm the remarkable, life-giving properties of true extra-virgin, and 'extra-virgin Italian' has become the highest standard of quality. But what if this symbol of purity...

Fum written by Adam Rapp performed by Lauren Ezzo on CD (Unabridged)£14.99

What is it like to be a giant? Meet Corinthia Bledsoe, a seven-foot tall high-school junior who can predict the future. Over seven feet tall and with a newfound ability to sense future events, Corinthia Bledsoe is far more than just another Midwestern high-school junior; she's a force of nature.

Girls Like Us - Carole King, Joni Mitchell, Carly Simon and the Journey of a Generation written by Sheila Weller performed by Susan Ericksen on MP3 CD (Unabridged)£19.99

A colorful and intimate portrait of three of the twentieth century's most important musical artists offers a female perspective on coming of age during the 1960s as viewed through the lives and careers of Carole King, Joni Mitchell, and Carly Simon, capturing the three women's diverse backgrounds...

How to Have A Beautiful Mind written by Edward de Bono performed by Humphrey Blower on CD (Unabridged)£19.99

Use the power of creative thinking to become more attractive with a makeover of your mind! It doesn't need a high IQ, or reams of knowledge, or a great personality. All it needs is creativity, imagination and empathy - all techniques that anyone can learn. Here Edward de Bono, world-famous for changing...

Mental - Everything you Never Knew, you needed to know, about Mental Health written by Dr Steve Ellen and Catherine Deveny performed by Dr Steve Ellen and Catherne Deveny on MP3 CD (Unabridged)£19.99

Psychiatrist Dr Steve Ellen and comedian Catherine Deveny combine forces to demystify the world of mental health. Providing an insider perspective, they share their personal experiences of mental illness and unpack the current knowledge about conditions and treatments. What do we know?

Midnight written by Stephen Leather performed by Ralph Lister on CD (Unabridged)£29.99

"Your sister is going to hell, Jack Nightingale." Somehow, variations of that line keep former police negotiator Nightingale's life careening in wild, unforeseen directions. This time, it is uttered by a dead woman hanging over a staircase, her neck broken by the laundry cord she tied around it before tossing...

My Religion written by Helen Keller performed by Lillian Gish on MP3 CD (Abridged)£29.99

A woman who lived in silent darkness describes a world of love, light, and color. Where did Helen Keller find the strength and courage to break out of her silent and dark world and discover light? What inner resources of faith helped her overcome the limits of her physical body? In My Religion...

Natural Meditation - Refreshing Your Spirit Through Nature written by Barbara Ann Kipfer performed by Coleen Mario on CD (Unabridged)£19.99

Natural Meditation offers easy-to-follow meditation cues for meditating in natural settings or meditating on natural images or objects. Sidebars throughout the book provide suggestions on how to incorporate nature into your mindfulness practice. The short entries allow readers to open to a page during...

No Time To Blink written by Dina Silver performed by Emily Sutton-Smith and Siiri Scott on CD (Unabridged)£9.99

He knows the one thing that would destroy me would be to separate me from my daughter… Catherine Clarke defied her family's expectations when she married Gabriel, a handsome Lebanese businessman. After moving to Gabriel's homeland and welcoming a baby daughter, Catherine knew she...

Onyx and Ivory written by Mindee Arnett performed by Khristine Hvam on CD (Unabridged)£29.99

Acclaimed author Mindee Arnett thrusts listeners into a beautiful, dangerous, and magical world in this stunningly epic and romantic fantasy for fans of Leigh Bardugo and Sarah Raasch. They call her Traitor Kate. It's a title Kate Brighton inherited from her father after he tried to assassinate the high king...

Order of Darkness - Book 2 of Stormbringers written by Philippa Gregory performed by Nicola Barber on CD (Unabridged)£19.99

Luca Vero is a member of the secret Order of Darkness, tasked with searching out and reporting signs of the end of the world. Breaking his journey in Piccolo, he finds a place filled with superstitious fears: of the unknown, of the forces of the sea and sky, of strangers. With him are his loyal friend...

Our Father - Reflection on the Lord's Prayer written by Pope Francis performed by Arthur Morey and Mark Bramhall on CD (Unabridged)£14.99

National Bestseller! Pope Francis provides new insights into the most popular prayer in Christianity, offering readers a guide to living a life of meaning, purpose and strength. This new work by Pope Francis illuminates the most important prayer in all of Christianity, verse by verse, in conversation...

Playing to the Gallery - The Reith Lectures 2013 written by Grayson Perry performed by Grayson Perry on CD (Abridged)£19.99

Turner Prize-winning artist Grayson Perry gives the 2013 Reith Lectures, presented by Sue Lawley. Marcel Duchamp famously declared that a urinal was a work of art. It sometimes seems that anything qualifies, from a pile of sweets on a gallery floor to an Oscar-winning actress asleep in a box.

Ragnarok - The End of the Gods written by A.S. Byatt performed by Harriet Walter on CD (Unabridged)£19.99

"Ragnarok" retells the finale of Norse mythology. A story of the destruction of life on this planet and the end of the gods themselves. Just as Wagner used this dramatic and catastrophic struggle for the climax of his Ring Cycle, so A.S. Byatt now reinvents it in all its intensity and glory.

Restless written by William Boyd performed by Rosamund Pike on CD (Abridged)£9.99

Eva Delectorskaya,' I said mystified. ' Who's that?' 'Me,' she said. 'I am Eva Delectorskaya.' What happens to your life when everything you thought you knew about your mother turns out to be an elaborate lie? During the long, hot summer of 1976, Ruth Gilmartin discovers that her very English mother...

Revenge - Eleven Dark Tales written by Yoko Ogawa performed by Johanna Parker and Kaleo Griffith on MP3 CD (Unabridged)£14.99

An aspiring writer moves into a new apartment and discovers that her landlady has murdered her husband. Elsewhere, an accomplished surgeon is approached by a cabaret singer, whose beautiful appearance belies the grotesque condition of her heart.

Shopgirl written by Steve Martin performed by Steve Martin on CD (Unabridged)£14.99

THE BESTSELLING NOVEL BY STEVE MARTIN IS NOW A MAJOR MOTION PICTURE Mirabelle is the "shopgirl" of the title, a young woman, beautiful in a wallflowerish kind of way, who works behind the glove counter at Neiman Marcus "selling things that nobody buys anymore..."

Smoke Signals - A Social History of Marijuana - Medical, Recreational and Scientific written by Martin A. Lee performed by Nick Podehl on CD (Unabridged)£29.99

"Hallelujah and glory be to Smoke Signals, Martin Lee's bodacious new book...Lee chronicles everything and everyone worth chronicling in the annals of marijuana" (High Times). This is the great American pot story, a dramatic social exploration of a plant that sits at the nexus of political, legal, medical...

Stand into Danger written by Alexander Kent performed by Michael Jayston on MP3 CD (Unabridged)£19.99

Despatched on a secret mission, the company of a 28-gun frigate must face the hazards of conspiracy, treason, and piracy. And recently appointed third lieutenant Richard Bolitho must learn to accept his new responsibilities as a King's officer.

Still Waters - The Secret World of Lakes written by Curt Stager performed by Matthew Josdal on CD (Unabridged)£29.99

Lakes are changing rapidly today, not because we are separate from nature but because we are so connected to it. But while many of our effects on the natural world are new, from climate change to nuclear fallout, our connections to it are ancient, as core samples from lake beds reveal.

The Accelerating Universe - Infinite Expansion, The Cosmological Constant and the Beauty of the Cosmos written by Mario Livio performed by Tom Parks on CD (Unabridged)£39.99

"The Accelerating Universe is not only an informative book about modern cosmology. It is rich storytelling and, above all, a celebration of the human mind in its quest for beauty in all things." (Alan Lightman, author of Einstein's Dreams) "This is a wonderfully lucid account of the extraordinary discoveries...

The Age of Empathy - Nature's Lessons for a Kinder Society written by Frans De Waal performed by Alan Sklar on MP3 CD (Unabridged)£24.99

Is it really human nature to stab one another in the back in our climb up the corporate ladder? Competitive, selfish behavior is often explained away as instinctive, thanks to evolution and "survival of the fittest," but, in fact, humans are equally hard-wired for empathy.

The Battle of Bretton Woods written by Benn Steil performed by Philip Rose on CD (Unabridged)£19.99

When turmoil strikes world monetary and financial markets, leaders invariably call for "a new Bretton Woods" to prevent catastrophic economic disorder and defuse political conflict. The name of the remote New Hampshire town where representatives of 44 nations gathered in July 1944, in the midst...

The Better Man Project written by Bill Phillips performed by Eric Michael Summerer on CD (Unabridged)£29.99

No more procrastinating! It's time to finally take control of your health-to ensure a fit, strong, and healthy body from now until you're blowing out 100-plus candles on your birthday cake. The Better Man Project is your personal handbook for winning life's ultimate prize: good health forever.

The Big It - and other Stories written by A.B. Guthrie Jr. performed by Adam Verner on CD (Unabridged)£24.99

In The Big It Guthrie presents thirteen imaginative and at times hilarious short stories about life on the frontier. Resilient and memorable, Guthrie�s characters bring to life the pioneer spirit and the untamed west. Perhaps best known for his remarkable and award winning novels, The Way West...

The Curse Breakers written by Denise Grover Swank performed by Shannon McManus on CD (Unabridged)£14.99

For more than four hundred years, the Curse Keepers guarded the barrier between the human and spirit realms. All that changed the day Ellie Lancaster met Collin Dailey. Prophecy demanded they defend the world from evil...even as it ignited a passion that threatened to consume them both.

The Demographic Cliff - How to Survive and Prosper during the Great Deflation of 2014-2019 written by Harry S. Dent, Jr. performed by Harry S. Dent, Jr. on CD (Unabridged)£19.99

Best-selling author and financial guru Harry Dent shows why we're facing a "great deflation" after five years of desperate stimulus - and what to do about it now. Throughout his long career as an economic forecaster, Harry Dent has relied on a not-so-secret weapon: demographics.

The Fire Next Time written by James Baldwin performed by Jesse Martin on CD (Unabridged)£14.99

The landmark work on race in America from James Baldwin, whose life and words are immortalized in the Oscar-nominated film I Am Not Your Negro We, the black and the white, deeply need each other here if we are really to become a nation' James Baldwin's impassioned plea to 'end the racial nightmare'

The Girl from Krakow written by Alex Rosenberg performed by Michael Page on CD (Unabridged)£19.99

It's 1935. Rita Feuerstahl comes to the university in Krakow intent on enjoying her freedom. But life has other things in store—marriage, a love affair, a child, all in the shadows of the oncoming war. When the war arrives, Rita is armed with a secret so enormous that it could cost the Allies everything..

The Halloween Tree written by Ray Bradbury performed by Jerry Robbins and The Colonial Radio Players on CD (Abridged)£19.99

On Halloween night, eight trick-or-treaters gather at the haunted house by the edge of town, ready for adventure. But when something whisks their friend Pip away, only one man, the sinister Carapace Clavicle Moundshroud, can help the boys find him. "If you want to know what Halloween is, or if you...

The Lords of Discipline written by Pat Conroy performed by Dan John Miller on CD (Unabridged)£24.99 - £29.99

This powerful and breathtaking novel is the story of four cadets who have become bloodbrothers. Together they will encounter the hell of hazing and the rabid, raunchy and dangerously secretive atmosphere of an arrogant and proud military institute. They will experience the violence.

The Patrick Scott Smokin' Mysteries written by Patrick Fraley performed by Scott Brick, Patrick Fraley and Full Cast on CD (Unabridged)£29.99

This exciting audio collection contains three hours of rapid-fire smokin' mysteries and all the clues you need to solve them at breakneck speed. Scott Brick, Pat Fraley, and a full cast of 24 narrators voice dames, dolts, and detectives in this collection of original whodunit gems.

The Political Brain - The Role of Emotion in Deciding the Fate of the Nation written by Drew Westen performed by Anthony Heald on CD (Unabridged)£39.99

The Political Brain is the classic text on the role of emotion in determining the political life of the nation. In this substantially updated edition, Drew Westen, professor of psychology and psychiatry at Emory University, shows why in politics, when reason and emotion collide, emotion invariably wins.

The Ray Bradbury Collection - Martian Chronicles and Farenheit 451 written by Ray Bradbury performed by Mark Boyett and Tim Robbins on MP3 CD (Unabridged)£24.99

This collection includes unabridged performances of The Martian Chronicles and Fahrenheit 451. Fahrenheit 451 - The hauntingly prophetic classic novel set in a not-too-distant future where books are burned by a special task force of firemen. Guy Montag is a fireman.

The Science Fiction Hall of Fame Vol 2-B written by Various Great Sci-Fi Authors performed by Various Sci-Fi Performers on CD (Unabridged)£34.99

Eleven essential classics in one volume This last volume in the definitive collection of the best science fiction novellas published between 1929 and 1964 contains 11 great classics. No anthology better captures the birth of science fiction as a literary field. Published in 1973 to honor stories that had...

The Trial written by Franz Kafka performed by Scott Brick on CD (Unabridged)£24.99 - £29.99

One of the great works of the 20th century, Kafka's The Trial has been read as a study of political power, a pessimistic religious parable, or a crime novel where the accused man is himself the problem. In it, a man wakes up one morning to find himself under arrest for an offence which is never explained.

They Eat Puppies, Don't They? written by Christopher Buckley performed by Robert Petkoff on CD (Unabridged)£19.99

In an attempt to gain congressional approval for a top-secret weapons system, Washington lobbyist "Bird" McIntyre teams up with sexy, outspoken neocon Angel Templeton to pit the American public against the Chinese. When Bird fails to uncover an authentic reason to slander the nation, he and Angel...

Tollins - Explosive Tales for Children written by Conn Iggulden performed by Conn Iggulden and Clive Room on CD (Unabridged)£9.99

"Tollins are not fairies. Though they both have wings, fairies are delicate creatures and much smaller. Tollins are also a lot less fragile than fairies. In fact, the word 'fragile' can't really be used about them at all. They are about as fragile as a housebrick..." In these three tales, Conn Iggulden introduces...

Twirl - A Free Spin at Life written by Patsy Clairmont performed by Patsy Clairmont on CD (Unabridged)£19.99

Is life making you so dizzy that you're forgetting what's most important? Patsy Clairmont loves a good twirl. The kind that will make a child fall to the ground, squeal with laughter, and then want to get up and spin in circles some more! However, there is a twirl where busy schedules and urgency...

We Thought You Would be Prettier - True Tales of the Dorkiest Girl Alive written by Laurie Notaro performed by Hillary Huber on MP3 CD (Unabridged)£19.99

She thought she'd have more time. Laurie Notaro figured she had at least a few good years yet. But no-it's happened. She has officially lost her marbles. From the kid at the pet-food store checkout line whose coif is so bizarre it makes her seethe "I'm going to kick his hair's ass" to the hapless Sears...

Where the Wind Blows written by Caroline Fyffe performed by Phil Gigante on CD (Unabridged)£24.99

Chase Logan lives by no man's leave, a solitary drifter who closed off his heart long ago - until the day he impulsively does a kindness for a beautiful young widow, and everything changes. For two years, Jessie Strong has dreamt of the day she could bring little Sarah home from the orphanage and call...

White Chrysanthemum written by Mary Lynn Bracht performed by Greta Jung on CD (Unabridged)£29.99

Random House presents the audiobook edition of White Chrysanthemum by Mary Lynn Bracht, read by Greta Jung. Look for your sister after each dive. Never forget. If you see her, you are safe.' Hana and her little sister Emi are part of an island community of haenyeo, women who make their living...

Why Shoot a Butler? written by Georgette Heyer performed by Ulli Birve on CD (Unabridged)£29.99

On a dark night, along a lonely country road, barrister Frank Amberley stops to help a young lady in distress and discovers a sports car with a corpse behind the wheel. The girl protests her innocence, and Amberley believes her – at least until he gets drawn into the mystery and the clues...

Zombies vs. Unicorns written by Various Modern Fantasy Authors performed by Ellen Grafton, Nick Podehl, Kate Rudd and Julian Whelan on MP3 CD (Unabridged)£14.99

It's a question as old as time itself: which is better, the zombie or the unicorn? In this anthology, edited by Holly Black and Justine Larbalestier (unicorn and zombie, respectively), strong arguments are made for both sides in the form of short stories. Half of the stories portray the strengths - for good and evil...
---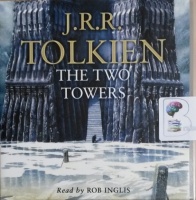 Lord of the Rings - Part 2 The Two Towers written by J.R.R. Tolkien performed by Rob Inglis on CD (Unabridged)£24.99
The Two Towers is the second part of JRR Tolkien's epic masterpiece The Lord of the Rings. Frodo and the Companions of the Ring have been beset by danger during their quest to prevent the Ruling Ring from falling into the hands of the Dark Lord by destroying it in the Cracks of Doom. They have lost the wizard...
---
---
The Fictional Woman written by Tara Moss performed by Tara Moss on CD (Unabridged)£29.99
Tara Moss has worn many labels in her time, including author, model, gold-digger, commentator, inspiration, dumb blonde, feminist, and mother, among many others. Now, in her first work of nonfiction, she blends memoir and social analysis to examine the common fictions about women. She traces key...
---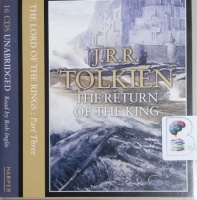 The Lord of the Rings - Part 3 The Return of the King written by J.R.R. Tolkien performed by Rob Inglis on CD (Unabridged)£24.99
The climactic volume of the trilogy, wherein the little hobbit and his trusty companions make a terrible journey to the heart of the land of the Shadow in a final reckoning with the power of Sauron. The climactic volume of the trilogy, wherein the little hobbit and his trusty companions make a terrible journey to...
---
---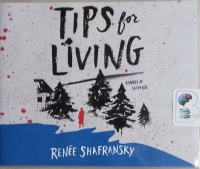 Tips for Living written by Renee Shafransky performed by Susan Bennett on CD (Unabridged)£29.99
On the day Nora discovered that her husband, Hugh, had gotten another woman pregnant, she made a vow: I will come back to life no matter how long it takes… It's taken Nora three years. With the help of her best friend, she fled New York City for a small resort town, snagged a job as the advice columnist for...
---
---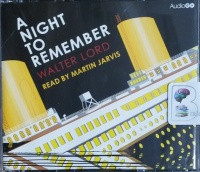 A Night to Remember written by Walter Lord performed by Martin Jarvis on CD (Unabridged)£9.99
There is no danger that Titanic will sink. The boat is unsinkable and nothing but inconvenience will be suffered by the passengers.' - Phillip Franklin, White Star Line Vice-President
---
---
---
---
---
---
---
---
---
---
Robert Donat reads written by Various Famous Poets performed by Robert Donat on Cassette (Abridged)£39.99
This wonderful recording took place in 1959 and 1965 when Donat was still at his very best. The bulk of the work is consituted from the poetry of Wordsworth, Keats, Kipling, Eliot, Wilfred Owen, Browing, Shakespeare, Hardy, Walter de la Mare, Betjeman, Shelley, Houseman, Brooke, Sassoon and many others.
---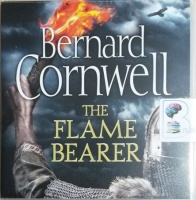 The Flame Bearer written by Bernard Cornwell performed by Matt Bates on CD (Unabridged)£19.99
The brand-new novel in Bernard Cornwell's number one best-selling series on the making of England and the fate of his great hero, Uhtred of Bebbanburg. BBC2's major TV show The Last Kingdom is based on the first two novels in the series. From the day it was stolen from me, I had dreamed of recapturing...
---
---
---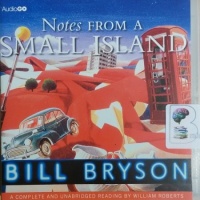 Notes from a Small Island written by Bill Bryson performed by William Roberts on CD (Unabridged)£14.99 - £24.99
"Suddenly, in the space of a moment, I realized what it was that I loved about Britain--which is to say, all of it. Every last bit of it, good and bad--old churches, country lanes, people saying 'Mustn't grumble' and 'I'm terribly sorry but,' people apologizing to me when I conk them with a careless elbow, milk in bottles, beans on toast ...