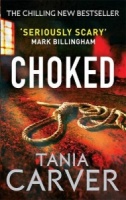 Choked written by Tania Carver performed by Martyn Waites on CD (Abridged)£4.99 - £9.99
'I have something you've lost,' the voice said. 'Your daughter.' He will threaten her. The honeymoon is over for newlywed criminologist Marina Esposito. Her house is in flames. Her cop husband is in a coma. Her baby daughter is missing. And then her phone rings . . .
---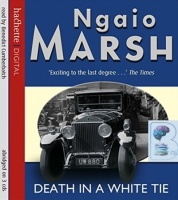 Death in a White Tie written by Ngaio Marsh performed by Benedict Cumberbatch on CD (Abridged)£14.99
A Benedict Cumberbatch Genius Performance!
The season had begun. Débutantes and chaperones were planning their luncheons, teas, dinners, balls. And the blackmailer was planning his strategies, stalking his next victim.
---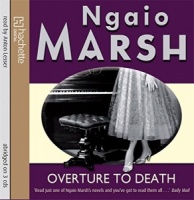 Overture to Death written by Ngaio Marsh performed by Anton Lesser on CD (Abridged)£7.99 - £8.99
A Genius Performance by Anton Lesser!
Inspector Alleyn gets involved when the piano, played by the victim, Miss Campanula, appears to trigger the murdering shot. It was supposed to accompany a play in aid of the piano fund but it has ended with murder. But who loaded the gun and how can Alleyn find him out?
---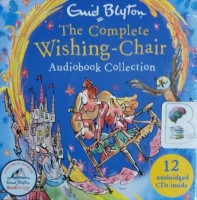 The Complete Wishing-Chair Collection written by Enid Blyton performed by Sarah Ovens on CD (Unabridged)£39.99
Mollie and Peter come across a chair that can fly and grant wishes while out looking for their mother's birthday present and it's not long until they are whisked away to faraway lands and meeting pixies and even Santa Claus!
---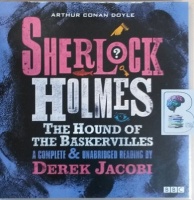 The Hound of the Baskervilles written by Arthur Conan Doyle performed by Derek Jacobi on CD (Unabridged)£19.99 - £24.99
When a country doctor comes to Sherlock Holmes with a far-fetched tale of a sudden death, a devil dog and an ancient curse, Holmes is sceptical. Could the demise of Sir Charles Baskerville really have been caused by the gigantic ghostly hound which is said to have haunted his family for generations?
---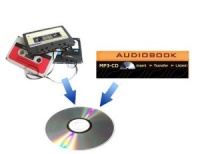 3 Hour Fixed Price Audio Transfer£15.00
This is the fixed price £15 item to be used when ordering conversion of a sub 3 hour Audio Cassette or MP3 CD title.
---
---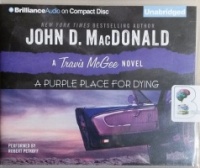 A Purple Place for Dying - A Travis McGee novel written by John D. MacDonald performed by Robert Petkoff on CD (Unabridged)£9.99
John D. MacDonald created a staggering quantity of wonderful books, each rich with characterization, suspense, and an almost intoxicating sense of place. Jonathan Kellerman Travis McGee is taking his retirement in installments while he's still young enough to enjoy it. But sooner or later, his money runs...
---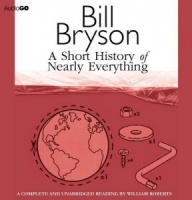 A Short History of Nearly Everything written by Bill Bryson performed by William Roberts on CD (Unabridged)£24.99 - £29.99
In A Short History of Nearly Everything, beloved author Bill Bryson confronts his greatest challenge yet: to understand—and, if possible, answer—the oldest, biggest questions we have posed about the universe and ourselves.
---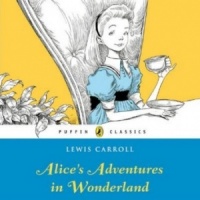 Alice's Adventures in Wonderland written by Lewis Carroll performed by Susan Jameson and James Saxon on CD (Abridged)£5.99
On an ordinary summer's afternoon, Alice tumbles down a hole and an extraordinary adventure begins.
In a strange world with even stranger characters, she meets a rabbit with a pocket watch, joins a Mad Hatter's Tea Party, and plays croquet with the Queen! Lost in this fantasy land, Alice finds herself growing more and more curious by the minute . . .
---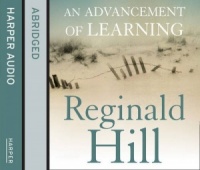 An Advancement of Learning written by Reginald Hill performed by Warren Clarke on CD (Abridged)£4.99 - £14.99
Lecturers having it away with students, witches' sabbaths on the sand dunes, a body buried under a statue in the gardens, and a fresh rash of killings.
---
---
---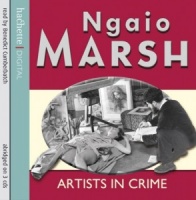 Artists in Crime written by Ngaio Marsh performed by Benedict Cumberbatch on CD (Abridged)£7.99 - £12.99
A Benedict Cumberbatch Genius Performance!
It started as a student exercise, the knife under the drape, the model's pose chalked in place. But before Agatha Troy, artist and instructor, returns to the class, the pose has been re-enacted in earnest....
---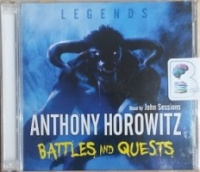 Battles and Quests written by Anthony Horowitz performed by John Sessions on CD (Abridged)£3.99 - £4.99
There was a time when monsters and dragons roamed the earth and the gods walked among us. A time of blood, swords and furious battles. A time of legends, heroes, darkness and death . . . The first in a series of masterful retellings of classic myths from Anthony Horowitz.
---
---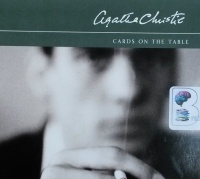 Cards on the Table written by Agatha Christie performed by Geraldine James on CD (Abridged)£4.99
Mr Shaitana was famous as a flamboyant party host. Nevertheless, he was a man of whom everybody was a little afraid. So, when he boasted to Poirot that he considered murder an art form, the detective had some reservations about accepting a party invitation to view Shaitana's private collection.
---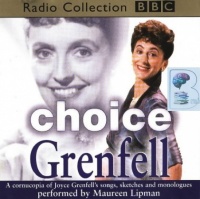 Choice Grenfell - BBC Radio Collection written by Joyce Grenfell performed by Maureen Lipman on CD (Abridged)£9.99 - £19.99
A retrospective of the genteel wit of the broadcaster, comedienne, pianist and poet, Joyce Grenfell. Monologues, sketches, songs and letters from the Grenfell archive are performed and read by Maureen Lipman, who portrayed her in the stage show, "Re:Joyce!".
---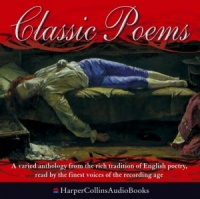 Classic Poems written by Various performed by Sir Ralph Richardson, Dylan Thomas and James Mason on CD (Abridged)£7.99
A Genius Performance by Ralph Richardson and Sir John Gielgud plus many more!
A varied anthology of poets – including Eliot and Auden – reading their own words, and favorite poems by Keats, Browning, Kipling, Tennyson and many more read by the finest voices of the recording age.
---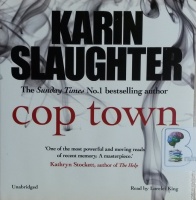 Cop Town written by Karen Slaughter performed by Lorelei King on CD (Unabridged)£9.99 - £19.99
The compelling stand-alone novel from the Sunday Times best-selling author of Unseen and Criminal. 1970s Atlanta: A time of great change and yet for many the fierce desire to keep things exactly the same is still strong. For women like Maggie Lawson and Kate Murphy every day is a battle. From different sides ...
New In January 2019 Part 1
(in alphabetical order)
After The Music Stopped - The Financial Crisis, The Response, And the Work Ahead written by Alan S. Blinder performed by Graham Vick on CD (Unabridged)£19.99

Named one of the 10 best books of 2013 by Michiko Kakutani and the New York Times Book Review Alan S. Blinder - esteemed Princeton professor, Wall Street Journal columnist, and former vice chairman of the Federal Reserve Board under Alan Greenspan - is one of our wisest and most...

Agnes Grey written by Anne Bronte performed by Rachel Bavidge on CD (Unabridged)£29.99 - £39.99

For all those captivated by the trials of Jane Eyre, Anne Brontës heroine Agnes Grey is the ideal counterpoint. Agnes Grey is widely considered to be the best record of the precarious position of the governess in Victorian society, and the insolence, neglect and dependence that the gentle ....

Black Hole - How an idea abandonded by Newtonians, Hated by Einstein, and Gambled on by Hawking became Loved written by Marcia Bartusiak performed by Randye Kaye on MP3 CD (Unabridged)£24.99

For more than half a century, physicists and astronomers engaged in heated dispute over the possibility of black holes in the universe. The weirdly alien notion of a space-time abyss from which nothing escapes-not even light-seemed to confound all logic. This engrossing book tells the story of the...

Blood, Toil, Tears and Sweat - Winston Churchill's First Speech as Prime Minister written by John Lukacs performed by John Lee on CD (Unabridged)£19.99

On 13 May 1940, Winston Churchill stood before the House of Parliament to deliver his first speech as prime minister. German troops were advancing across Europe Neville Chamberlain's government had fallen three days earlier. Churchill needed to prove himself an able leader, and he also needed...

Coming Alive - The Tools - 4 Tools to Defeat Your Inner Enemy written by Barry Michels and Phil Stutz performed by Barry Michels and Phil Stutz on CD (Unabridged)£19.99

Tap into the life force to deepen your emotional and spiritual experience and realize your full potential with this transformative book by the New York Times bestselling authors of The Tools (and the resident shrinks on Goop). In The Tools, Barry Michels and Phil Stutz revolutionized the world ...

Earth (The Audiobook) - A Visitor's Guide to the Human Race written by Jon Stewart and The Daily Show performed by Jon Stewart, Sigourney Weaver, Samantha Bee and John Oliver on CD (Unabridged)£9.99 - £12.99

Where do we come from? Who created us? Why are we here? These questions have puzzled us since the dawn of time, but when it became apparent to Jon Stewart and the writers of The Daily Show that the world was about to end, they embarked on a massive mission to write a book that summed...

Emotional Intelligence 2.0 written by Travis Bradberry and Jean Greaves performed by Tom Parks on MP3 CD (Unabridged)£14.99

Knowing what emotional intelligence is and knowing how to use it to improve your life are two very different things. Emotional Intelligence 2.0 is a step-by-step program for increasing your emotional intelligence using the four core EQ skills-self-awareness, self-management, social awareness...

Ender's Game written by Orson Scott Card performed by Stefan Rudnicki, Harlan Ellison and Full Cast on CD (Unabridged)£19.99

An expert at simulated war games, Andrew "Ender" Wiggin believes that he is engaged in one more computer war game when, in truth, he is commanding the last Earth fleet against an alien race seeking Earth's complete destruction.

Fantastic Mr Fox written by Roald Dahl performed by Lionel Jeffries on CD (Unabridged)£24.99

Roald Dahl's classic story is performed here by Lionel Jeffries. Boggis, Bunce and Bean are nasty farmers who hate Mr Fox. They lie in wait outside his hole waiting to shoot him, starve him, or dig him out, but clever Mr Fox has other plans!

Fiercely You written by Jackie Huba with Shelly Stewart Kronbergs performed by Jackie Huba and Shelly Stewart Kronbergs on MP3 CD (Unabridged)£19.99

Fiercely You is a creative, playful approach to the serious problems that women face regarding confidence and risk taking. Drawing on her own experiences and interviews with the world's top drag queens, Huba offers five Keys to Fierce that will help readers find the courage to ignore criticism and live...

God and Donald Trump written by Stephen E. Strang performed by John Pruden on CD (Unabridged)£19.99

With pundits asking, "How did he win?" this book explores whether there was a supernatural element involved. Christian leaders prophesied before the election that God had raised up Donald Trump to lead the nation through a time of crisis. But could this billionaire reality-TV star actually convince...

How to Bake Pi written by Eugenia Cheng performed by Tavia Gilbert on CD (Unabridged)£24.99

What is math? And how exactly does it work? In How to Bake Pi, math professor Eugenia Cheng provides and accessible introduction to the logic of mathematics-sprinkled throughout with recipes for everything from crispy duck to cornbread-that illustrates to the general listener the beauty of math.

In The Blood - A Jefferson Tayte Genealogical Mystery written by Steve Robinson performed by Simon Vance on CD (Unabridged)£14.99

Two hundred years ago a loyalist family fled to England to escape the American War of Independence and seemingly vanished into thin air. American genealogist Jefferson Tayte is hired to find out what happened, but it soon becomes apparent that a calculated killer is out to stop him.

Knocking on Heaven's Door written by Lisa Randall performed by Carrington Macduffie, and on MP3 CD (Unabridged)£29.99

The latest developments in physics have the potential to radically revise our understanding of the world: its makeup, its evolution, and the fundamental forces that drive its operation. Knocking on Heaven's Door is an exhilarating and accessible overview of these developments and an impassioned...

Many Bloody Returns written by Various Horror Authors performed by Luke Daniels and Teri Clark Linden on MP3 CD (Unabridged)£9.99

Charlaine Harris (the Sookie Stackhouse novels) and Toni L. P. Kelner (the Laura Fleming mysteries) have gathered together another 11 writers with serious vamp credentials to provide a baker's dozen tales. Meet Sookie Stackhouse, who, as the only non-vampire at a 'Dracula's birthday ball', soon finds...

Mojo written by Tim Tharp performed by Jesse Bernstein on CD (Unabridged)£24.99

All Dylan wants is mojo. What is mojo? It's power. The ability to command respect. It's everything Dylan doesn't have. He gets no respect at school, and when he finds the dead body of a classmate, even the police push him around. All the thanks he gets for trying to help the investigation with...

My Journey with Maya written by Tavis Smiley with David Ritz performed by Tavis Smiley on CD (Unabridged)£19.99

Tavis Smiley and Maya Angelou met in 1986, when he was twenty-one and she was fifty-eight. For the next twenty-eight years, Angelou was a teacher and a maternal figure to Smiley, and they talked often of art, politics, history, music, religion, and race. In My Journey with Maya, Smiley beautifully...

Now With You, Now Without You - My Journey Through Life and Loss written by Kathryn Leigh Scott performed by Kathryn Leigh Scott on MP3 CD (Unabridged)£19.99

In the final months of her husband's terminal illness, Kathryn Leigh Scott was determined to make the most of every precious minute they had left. Despite Geoff's debilitating condition and the difficulties of caregiving, the couple decided to travel the world. Anticipating new horizons and experiences...

Our Man in Havana written by Graham Greene performed by Jeremy Northam on CD (Unabridged)£14.99 - £34.99

Our Man in Havana, set in Cuba under the Batista regime, was published in 1958 - one year before Castro's revolution in 1959. This comedy thriller focuses on Havana-based vacuum cleaner salesman James Wormold, an Englishman. The story revolves around Wormold's reluctant role in the...

Overcoming Opioid Addiction - The Authoritative Medical Guide for Patients, Families, Doctors and Therapists written by Adam Bisaga MD with Karen Chernyaev performed by Liz Maxwell on CD (Unabridged)£39.99

Drug overdoses are now the leading cause of death for Americans un­der the age of 50, claiming more lives than the AIDS epidemic did at its peak. Opioid abuse accounts for two-thirds of these overdoses, with over 100 Americans dying from opioid overdoses every day. Now Overcoming Opioid Addiction

Red River written by Lalita Tademy performed by Tim Cain and Gammy Singer on CD (Abridged)£9.99

The lives of three generations of two African-American families intertwine in the aftermath of the Civil War as newly freed slaves struggle to build new lives in The Bottom, a poor settlement just down Red River from Colfax, Louisiana.

Remembrance written by Theresa Breslin performed by Frances Thorburn and Gary Bakewell on CD (Abridged)£14.99

1915 - Scotland. A group of teenagers from two families meet for a picnic, but the war across the Channel is soon to tear them away from such youthful pleasures. All too soon the horror of what is to become known as The Great War engulfs them, their friends and the whole village.

Restless written by William Boyd performed by Rosamund Pike on CD (Unabridged)£29.99

Eva Delectorskaya,' I said mystified. ' Who's that?' 'Me,' she said. 'I am Eva Delectorskaya.' What happens to your life when everything you thought you knew about your mother turns out to be an elaborate lie? During the long, hot summer of 1976, Ruth Gilmartin discovers that her very...

Rizzoli & Isles - Books 10 and 11 - Last to Die and Die Again written by Tess Gerritsen performed by Tanya Eby on MP3 CD (Unabridged)£14.99

LAST TO DIE For the second time in his short life, Teddy Clock has survived a massacre. Two years ago, he barely escaped when his entire family was slaughtered. Now, at fourteen, in a hideous echo of the past, Teddy is the lone survivor of his foster family's mass murder. DIE AGAIN When Boston ...

Selected Shorts - The William Hurt Collection written by Various Short Story Authors performed by William Hurt on CD (Unabridged)£9.99

Recorded live at the Peter Norton Symphony Space in New York City and at venues across the United States, these audio anthologies feature short stories from the Selected Shorts program that airs nationwide. More than 300,000 listeners tune in to this offering weekly to hear some of their favorite...

The Architecture of Happiness written by Alain de Botton performed by Simon Vance on MP3 CD (Unabridged)£29.99

A thoughtful study of architecture that examines how we both shape and are shaped by our surroundings considers how our private homes and public edifices--from Classical to Gothic to minimalist Modern--reflect how we feel and explains how our stylistic choices can be used to increase our chances of happiness

The Code of the Woosters written by P.G. Wodehouse performed by BBC Full Cast Dramatisation, Michael Hordern and Richard Briers on CD (Abridged)£14.99 - £24.99

This is a BBC Radio 4 full-cast dramatisation starring Michael Hordern as Jeeves and Richard Briers as Wooster.

Who would think that an eighteenth-century silver cow-creamer could cause so much trouble?

The Fabric of the Cosmos written by Brian Greene performed by Erik Davies on CD (Abridged)£24.99

From the bestselling author of The Elegant Universe, Brian Greene's The Fabric of the Cosmos takes us on an irresistible and revelatory journey through the biggest of the big questions. What is reality? Could we exist without space and time? Can we travel to the past? What are the limits of the universe?

The Happy Prince and Other Stories written by Oscar Wilde performed by Anton Lesser on CD (Abridged)£9.99 - £14.99

These fantasies and true-to-life fables were created by Oscar Wilde for his own sons. Here is the tale of the Prince who is not as happy as he seems, of the Selfish Giant who learns how to love children, and of the Star-Child who suffers bitter trials when he rejects his parents. Naxos

Unchain Your Brain - 10 Steps to Breaking the Addictions that Steal Your Life written by Daniel G. Amen MD and David E. Smith MD performed by Stefan Rudnicki on MP3 CD (Unabridged)£29.99

Are you chained to your addiction to smoking?Drinking? Sugar? Drugs? Food? Prescription painkillers? Caffeine? Internetporn? Gambling? Sex? When you are chained by an addiction, it can ruin your life, devastate your family, destroy your relationships, derail your career, lower your grades, and make...

Worth Killing For - A DI Fenchurch Novel written by Ed James performed by Michael Page on CD (Unabridged)£14.99

On a busy London street, a young woman is attacked in broad daylight and left bleeding to death on the pavement. Among the eyewitnesses are DI Simon Fenchurch and his wife. Fenchurch pursues the attacker through a warren of backstreets and eventually arrests a young hoodie with a cache...

You Will Be Mine written by Natasha Preston performed by Anna Parker-Naples on CD (Unabridged)£14.99

Roses are redViolets are blueWatch your backI'm coming for youLylah and her friends can't wait to spend a night out together. Partying is the perfect way to let loose from the stress of life and school, and Lylah hopes that hitting the dance floor with Chace, her best friend, will bring them closer.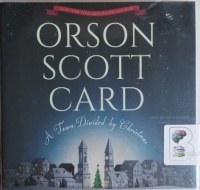 A Town Divided by Christmas written by Orson Scott Card performed by Emily Rankin on CD (Unabridged)£19.99
It began with a quarrel over which newborn should be the baby Jesus in the town's Christmas pageant. Decades later, two scientists arrive to study small-town genetic patterns, only to run up against the invisible walls that split the leading citizens into two congregations that can only be joined by love and...
---
---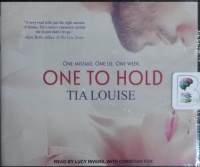 One to Hold written by Tia Louise performed by Lucy Rivers and Christian Fox on CD (Unabridged)£24.99
Derek Alexander is a retired Marine, ex-cop, and the top investigator in his field. Melissa Jones is a small-town girl trying to escape her troubled past. When the two intersect in a bar in Arizona, their sexual chemistry is off the charts. But what is revealed during their "one week stand" only complicates matters...
---
---
---
Timeless written by R.A. Salvatore performed by Victor Bavine on CD (Unabridged)£29.99
At long last, New York Times bestselling author R. A. Salvatore returns with one of fantasy's most beloved and enduring icons, the dark elf Drizzt Do'Urden, in an all-new trilogy full of swordplay, danger, and imaginative thrills. Centuries ago, in the city of Menzoberranzan, the City of Spiders, the city of drow, nestled...
---
---
---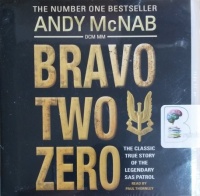 Bravo Two Zero - The Classic True Story of the Legendary SAS Patrol written by Andy McNab performed by Paul Thornley on CD (Unabridged)£19.99
January 1991. IRAQ. Eight members of the SAS regiment embark upon a top secret mission to infiltrate deep behind enemy lines. Under the command of Sergeant Andy McNab, they are to sever a vital underground communication link and to seek and destroy mobile Scud launchers. Their call sign: BRAVO...
---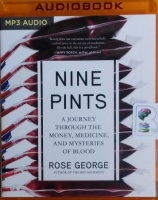 Nine Pints - A Journey Through the Money, Medicine and Mysteries of Blood written by Rose George performed by Karen Cass on MP3 CD (Unabridged)£19.99
An eye-opening exploration of blood, the lifegiving substance with the power of taboo, the value of diamonds and the promise of breakthrough science Blood carries life, yet the sight of it makes people faint. It is a waste product and a commodity pricier than oil. It can save lives and transmit deadly infections.
---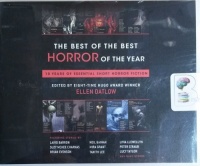 The Best of The Best Horror of the Year - 10 Years of Essential Short Horror Fiction written by Various Famous Horror Authors performed by Tim Campbell and Emily Sutton-Smith on CD (Unabridged)£24.99
***One of Publishers Weekly's "Most Anticipated Books of Fall 2018"*** A group of mountain climbers, caught in the dark, fight to survive their descent; in the British countryside, hundreds of magpies ascend into the sky, higher and higher, until they seem to vanish into the heavens; a professor and his student...
---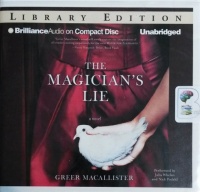 The Magician's Lie written by Greer Macallister performed by Julia Whelan and Nick Podehl on CD (Unabridged)£24.99
Water for Elephants meets The Night Circus in The Magician's Lie, a debut novel in which the country's most notorious female illusionist stands accused of her husband's murder - and she has only one night to convince a small-town policeman of her innocence. The Amazing Arden is the most famous female...
---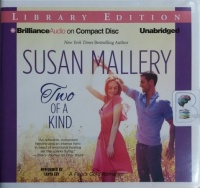 Two of a Kind written by Susan Mallery performed by Tanya Eby on CD (Unabridged)£24.99
Felicia Swift never dreamed she'd hear a deep, sexy voice from her past in tiny Fool's Gold, California. The last time Gideon Boylan whispered in her ear was half a world away…on the morning after the hottest night of her life. Her freaky smarts have limited her close friendships, and romance, but she came to...
---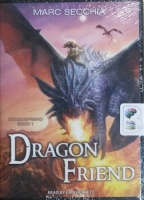 Dragonfriend written by Marc Secchia performed by Erin Bennett on MP3 CD (Unabridged)£19.99
Stabbed. Burned by a dragon. Abandoned for the windrocs to pick over. The traitor Ra'aba tried to silence Hualiama forever, but he reckoned without the strength of a dragonet's paw and the courage of a girl who refused to die.Only an extraordinary friendship will save Hualiama's beloved kingdom of Fra'anior..
---
---
Marlena written by Julie Buntin performed by Emma Galvin on CD (Unabridged)£39.99
Cat is fifteen and the lonely new girl in town. Until she meets her neighbour, the manic, beautiful, pill-popping Marlena. Cat is quickly lured into Marlena's roller-coaster orbit by little more than an arched eyebrow and a shake of white-blonde hair. Within one intense, obsessive year of friendship, Marlena is ...
---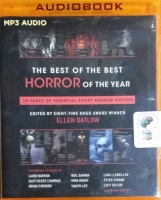 The Best of The Best Horror of the Year - 10 Years of Essential Short Horror Fiction written by Various Famous Horror Authors performed by Tim Campbell and Emily Sutton-Smith on MP3 CD (Unabridged)£19.99
***One of Publishers Weekly's "Most Anticipated Books of Fall 2018"*** A group of mountain climbers, caught in the dark, fight to survive their descent; in the British countryside, hundreds of magpies ascend into the sky, higher and higher, until they seem to vanish into the heavens; a professor and his student track a zombie...
---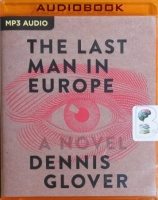 The Last Man in Europe written by Dennis Glover performed by Simon Mattacks on MP3 CD (Unabridged)£19.99
"There are just a few writers whose work is so distinctive, definitive, and important their very name describes a whole world, like 'Orwellian.' Dennis Glover has written a novel that captures George Orwell as he began to write the book he saw as the culmination of all he'd learned in a bloody century about...