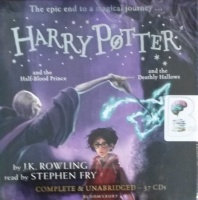 Harry Potter Collection Part 3 - Books 6 and 7 written by J.K. Rowling performed by Stephen Fry on CD (Unabridged)£39.99 - £59.99
Witches and wizards unite as you join the Battle of Hogwarts! Complete the entire series of J.K. Rowling's Harry Potter stories with this enchanting audiobook collection. The 37 CDs cover The Half-Blood Prince and The Deathly Hallows and find Dark Magic rising. Will Harry be able to summon the courage (and the...
---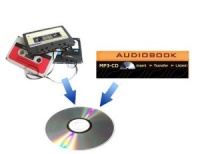 3 Hour Fixed Price Audio Transfer£15.00
This is the fixed price £15 item to be used when ordering conversion of a sub 3 hour Audio Cassette or MP3 CD title.
---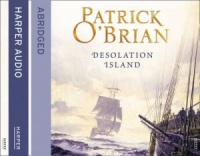 Desolation Island written by Patrick O'Brian performed by Robert Hardy on CD (Abridged)£8.99
A Genius Performance by Robert Hardy!
Commissioned to rescue Governor Bligh of Bounty fame, Captain Jack Aubrey and his friend and surgeon, Stephen Maturin, sail the Leopard to Australia with a hold full of convicts. Among them is a beautiful and dangerous spy — and a treacherous disease which decimates the crew.
---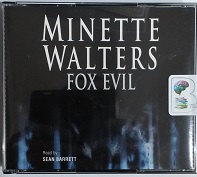 Fox Evil written by Minette Walters performed by Sean Barrett on CD (Abridged)£4.99 - £6.99
When elderly Ailsa Lockyer-Fox is found dead in her garden, dressed only in night clothes and with blood stains on the ground near her body, the finger of suspicion points at her wealthy, landowning husband, Colonel James Lockyer-Fox.
---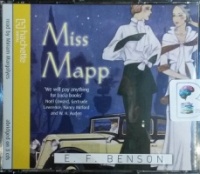 Miss Mapp written by E.F. Benson performed by Miriam Margolyes on CD (Abridged)£4.99
Nothing escapes the snooping opera glasses of Miss Elizabeth Mapp. She whiles away her busy hours observing the small English village of Tilling, and recording the antics in her notebook. But her observations are set to be disrupted by amorous advances of two retired army generals, both vying for her affection.
---
---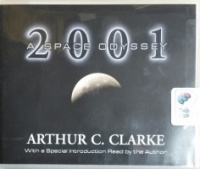 2001 - A Space Odyssey written by Arthur C. Clarke performed by Arthur C. Clarke and Dick Hill on CD (Unabridged)£19.99
It has been more than forty years since the publication of this classic science fiction novel that changed the way we look at the stars and ourselves. From the savannas of Africa at the dawn of mankind to the rings of Saturn as man adventures to the outer rim of our solar system, 2001: A Space Odyssey is a ...
---
---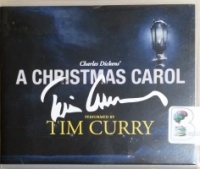 A Christmas Carol written by Charles Dickens performed by Tim Curry on CD (Unabridged)£16.99
This version of Charles Dickens's A Christmas Carol, masterfully narrated by Tim Curry, was available for a limited time last year, and now it's back. This one-of-a-kind performance puts a unique spin on a treasured classic, and served as the inspiration for the exciting new line of Audible Signature Classics...
---
---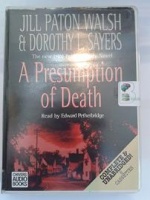 A Presumption of Death written by Jill Paton Walsh and Dorothy L Sayers performed by Edward Petherbridge on Cassette (Unabridged)£29.99 - £39.99
The story opens in 1940. Harriet Vane - now Lady Peter Wimsey - has taken her children to safety in the country. But the war has followed them: glamorous RAF pilots and even more glamorous land-girls scandalise the villagers; the blackout makes the night-time lanes as sinister as the back alleys of London.
---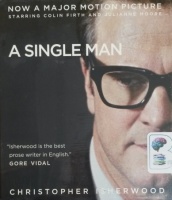 A Single Man written by Christopher Isherwood performed by Simon Prebble on CD (Unabridged)£19.99
Celebrated as a masterpiece from its first publication, A Single Man is the story of George, an English professor in suburban California left heartbroken after the death of his lover, Jim. With devastating clarity and humour, Christopher Isherwood shows George's determination to carry on, evoking the unexpected...
---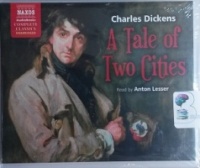 A Tale of Two Cities written by Charles Dickens performed by Anton Lesser on CD (Unabridged)£49.99 - £59.99
It was the best of times and the worst of times'. In one of the most famous openings of any novel, Dickens masterfully presents the turmoil of the French Revolution which is the backdrop for a novel of love, patience, hope and self-sacrifice. It is read by Anton Lesser whose award-winning Dickens... Naxos
---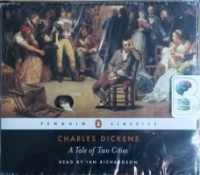 A Tale of Two Cities written by Charles Dickens performed by Ian Richardson on CD (Abridged)£5.99 - £9.99
After 18 years as a political prisoner in the Bastille the aging Dr Manette is finally released and reunited with his daughter in England.
---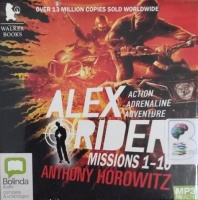 Alex Rider Missions 1 to 10 written by Anthony Horowitz performed by Jonathan Davies on MP3 CD (Unabridged)£29.99
In the number one bestselling series by Anthony Horowitz, 14-year-old Alex Rider is forcibly recruited into the deadly world of espionage and sent on his first mission. But mortal danger is never far away and the reluctant teenage spy soon finds himself in demand again by MI6. The ever popular and explosive...
---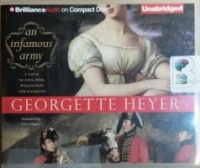 An Infamous Army written by Georgette Heyer performed by Claire Higgins on CD (Unabridged)£24.99 - £34.99
In 1815, beneath the aegis of the Army of Occupation, Brussels is the gayest town in Europe. And the widow Lady Barbara Childe, renowned for being as outrageous as she is beautiful, is at the centre of all that is fashionable and light-hearted. When she meets Charles Audley, dashing aide-de-camp...
---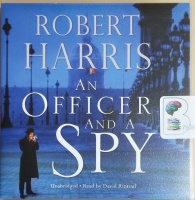 An Officer and a Spy written by Robert Harris performed by David Rintoul on CD (Unabridged)£14.99
They lied to protect their country. He told the truth to save it. A gripping historical thriller from the bestselling author of FATHERLAND. January 1895. On a freezing morning in the heart of Paris, an army officer, Georges Picquart, witnesses a convicted spy, Captain Alfred Dreyfus, being publicly humiliated in front..
---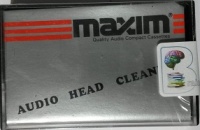 Audio Head Cleaner written by Maxim performed by Maxim on Cassette (Unabridged)£4.99
Very few of us like spending time cleaning. But...... cleaning the head of your tape player can give impressive results. If you haven't used a head cleaner for a significant period of time you should introduce it's use slowly. There may well be an accumulation of deposits on the rubber rollers ...
---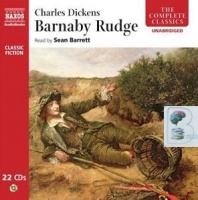 Barnaby Rudge written by Charles Dickens performed by Sean Barrett on CD (Unabridged)£40.00 - £69.99
Dickens' first historical novel is set in 1780s England at the time of the Gordon Riots. In a case of mistaken identification, Barnaby Rudge, a pale half-wit with long red hair who dresses all in green and carries a large raven on his back, is arrested as the leader of a mob of anti-Catholic rioters. Naxos
---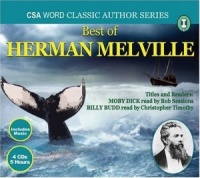 Best of Herman Melville written by Herman Melville performed by Bob Sessions and Christopher Timothy on CD (Abridged)£6.99
This set includes Billy Budd and Moby Dick (abriged)
New In January 2019 Part 1
(in alphabetical order)
After The Music Stopped - The Financial Crisis, The Response, And the Work Ahead written by Alan S. Blinder performed by Graham Vick on CD (Unabridged)£19.99

Named one of the 10 best books of 2013 by Michiko Kakutani and the New York Times Book Review Alan S. Blinder - esteemed Princeton professor, Wall Street Journal columnist, and former vice chairman of the Federal Reserve Board under Alan Greenspan - is one of our wisest and most...

Agnes Grey written by Anne Bronte performed by Rachel Bavidge on CD (Unabridged)£24.99 - £29.99

For all those captivated by the trials of Jane Eyre, Anne Brontës heroine Agnes Grey is the ideal counterpoint. Agnes Grey is widely considered to be the best record of the precarious position of the governess in Victorian society, and the insolence, neglect and dependence that the gentle ....

Benjamin Franklin written by Walter Isaacson performed by Boyd Gaines on CD (Abridged)£19.99

Chronicles the founding father's life and his multiple careers as a shopkeeper, writer, inventor, media baron, scientist, diplomat, business strategist, and political leader, while showing how his faith in the wisdom of the common citizen helped to forge an American identity based on the virtues of its middle class.

Black Hole - How an idea abandonded by Newtonians, Hated by Einstein, and Gambled on by Hawking became Loved written by Marcia Bartusiak performed by Randye Kaye on MP3 CD (Unabridged)£24.99

For more than half a century, physicists and astronomers engaged in heated dispute over the possibility of black holes in the universe. The weirdly alien notion of a space-time abyss from which nothing escapes-not even light-seemed to confound all logic. This engrossing book tells the story of the...

Blood, Toil, Tears and Sweat - Winston Churchill's First Speech as Prime Minister written by John Lukacs performed by John Lee on CD (Unabridged)£19.99

On 13 May 1940, Winston Churchill stood before the House of Parliament to deliver his first speech as prime minister. German troops were advancing across Europe Neville Chamberlain's government had fallen three days earlier. Churchill needed to prove himself an able leader, and he also needed...

Coming Alive - The Tools - 4 Tools to Defeat Your Inner Enemy written by Barry Michels and Phil Stutz performed by Barry Michels and Phil Stutz on CD (Unabridged)£19.99

Tap into the life force to deepen your emotional and spiritual experience and realize your full potential with this transformative book by the New York Times bestselling authors of The Tools (and the resident shrinks on Goop). In The Tools, Barry Michels and Phil Stutz revolutionized the world ...

Earth (The Audiobook) - A Visitor's Guide to the Human Race written by Jon Stewart and The Daily Show performed by Jon Stewart, Sigourney Weaver, Samantha Bee and John Oliver on CD (Unabridged)£9.99 - £12.99

Where do we come from? Who created us? Why are we here? These questions have puzzled us since the dawn of time, but when it became apparent to Jon Stewart and the writers of The Daily Show that the world was about to end, they embarked on a massive mission to write a book that summed...

Emotional Intelligence 2.0 written by Travis Bradberry and Jean Greaves performed by Tom Parks on MP3 CD (Unabridged)£14.99

Knowing what emotional intelligence is and knowing how to use it to improve your life are two very different things. Emotional Intelligence 2.0 is a step-by-step program for increasing your emotional intelligence using the four core EQ skills-self-awareness, self-management, social awareness...

Ender's Game written by Orson Scott Card performed by Stefan Rudnicki, Harlan Ellison and Full Cast on CD (Unabridged)£19.99

An expert at simulated war games, Andrew "Ender" Wiggin believes that he is engaged in one more computer war game when, in truth, he is commanding the last Earth fleet against an alien race seeking Earth's complete destruction.

Fantastic Mr Fox written by Roald Dahl performed by Lionel Jeffries on CD (Unabridged)£24.99

Roald Dahl's classic story is performed here by Lionel Jeffries. Boggis, Bunce and Bean are nasty farmers who hate Mr Fox. They lie in wait outside his hole waiting to shoot him, starve him, or dig him out, but clever Mr Fox has other plans!

Fiercely You written by Jackie Huba with Shelly Stewart Kronbergs performed by Jackie Huba and Shelly Stewart Kronbergs on MP3 CD (Unabridged)£19.99

Fiercely You is a creative, playful approach to the serious problems that women face regarding confidence and risk taking. Drawing on her own experiences and interviews with the world's top drag queens, Huba offers five Keys to Fierce that will help readers find the courage to ignore criticism and live...

God and Donald Trump written by Stephen E. Strang performed by John Pruden on CD (Unabridged)£19.99

With pundits asking, "How did he win?" this book explores whether there was a supernatural element involved. Christian leaders prophesied before the election that God had raised up Donald Trump to lead the nation through a time of crisis. But could this billionaire reality-TV star actually convince...

How to Bake Pi written by Eugenia Cheng performed by Tavia Gilbert on CD (Unabridged)£24.99

What is math? And how exactly does it work? In How to Bake Pi, math professor Eugenia Cheng provides and accessible introduction to the logic of mathematics-sprinkled throughout with recipes for everything from crispy duck to cornbread-that illustrates to the general listener the beauty of math.

In The Blood - A Jefferson Tayte Genealogical Mystery written by Steve Robinson performed by Simon Vance on CD (Unabridged)£14.99

Two hundred years ago a loyalist family fled to England to escape the American War of Independence and seemingly vanished into thin air. American genealogist Jefferson Tayte is hired to find out what happened, but it soon becomes apparent that a calculated killer is out to stop him.

Knocking on Heaven's Door written by Lisa Randall performed by Carrington Macduffie, and on MP3 CD (Unabridged)£29.99

The latest developments in physics have the potential to radically revise our understanding of the world: its makeup, its evolution, and the fundamental forces that drive its operation. Knocking on Heaven's Door is an exhilarating and accessible overview of these developments and an impassioned...

Many Bloody Returns written by Various Horror Authors performed by Luke Daniels and Teri Clark Linden on MP3 CD (Unabridged)£9.99

Charlaine Harris (the Sookie Stackhouse novels) and Toni L. P. Kelner (the Laura Fleming mysteries) have gathered together another 11 writers with serious vamp credentials to provide a baker's dozen tales. Meet Sookie Stackhouse, who, as the only non-vampire at a 'Dracula's birthday ball', soon finds...

Mojo written by Tim Tharp performed by Jesse Bernstein on CD (Unabridged)£24.99

All Dylan wants is mojo. What is mojo? It's power. The ability to command respect. It's everything Dylan doesn't have. He gets no respect at school, and when he finds the dead body of a classmate, even the police push him around. All the thanks he gets for trying to help the investigation with...

My Journey with Maya written by Tavis Smiley with David Ritz performed by Tavis Smiley on CD (Unabridged)£19.99

Tavis Smiley and Maya Angelou met in 1986, when he was twenty-one and she was fifty-eight. For the next twenty-eight years, Angelou was a teacher and a maternal figure to Smiley, and they talked often of art, politics, history, music, religion, and race. In My Journey with Maya, Smiley beautifully...

Now With You, Now Without You - My Journey Through Life and Loss written by Kathryn Leigh Scott performed by Kathryn Leigh Scott on MP3 CD (Unabridged)£19.99

In the final months of her husband's terminal illness, Kathryn Leigh Scott was determined to make the most of every precious minute they had left. Despite Geoff's debilitating condition and the difficulties of caregiving, the couple decided to travel the world. Anticipating new horizons and experiences...

Our Man in Havana written by Graham Greene performed by Jeremy Northam on CD (Unabridged)£14.99 - £24.99

Our Man in Havana, set in Cuba under the Batista regime, was published in 1958 - one year before Castro's revolution in 1959. This comedy thriller focuses on Havana-based vacuum cleaner salesman James Wormold, an Englishman. The story revolves around Wormold's reluctant role in the...

Overcoming Opioid Addiction - The Authoritative Medical Guide for Patients, Families, Doctors and Therapists written by Adam Bisaga MD with Karen Chernyaev performed by Liz Maxwell on CD (Unabridged)£39.99

Drug overdoses are now the leading cause of death for Americans un­der the age of 50, claiming more lives than the AIDS epidemic did at its peak. Opioid abuse accounts for two-thirds of these overdoses, with over 100 Americans dying from opioid overdoses every day. Now Overcoming Opioid Addiction

Red River written by Lalita Tademy performed by Tim Cain and Gammy Singer on CD (Abridged)£9.99

The lives of three generations of two African-American families intertwine in the aftermath of the Civil War as newly freed slaves struggle to build new lives in The Bottom, a poor settlement just down Red River from Colfax, Louisiana.

Religion and Science written by Bertrand Russell performed by David Case on CD (Abridged)£14.99

"New truth is often uncomfortable," Bertrand Russell wrote, "but it is the most important achievement of our species." In Religion and Science (1961), his popular polemic against religious dogma, he covers the ground from demonology to quantum physics, yet concedes that science...

Remembrance written by Theresa Breslin performed by Frances Thorburn and Gary Bakewell on CD (Abridged)£14.99

1915 - Scotland. A group of teenagers from two families meet for a picnic, but the war across the Channel is soon to tear them away from such youthful pleasures. All too soon the horror of what is to become known as The Great War engulfs them, their friends and the whole village.

Restless written by William Boyd performed by Rosamund Pike on CD (Unabridged)£29.99

Eva Delectorskaya,' I said mystified. ' Who's that?' 'Me,' she said. 'I am Eva Delectorskaya.' What happens to your life when everything you thought you knew about your mother turns out to be an elaborate lie? During the long, hot summer of 1976, Ruth Gilmartin discovers that her very...

Rizzoli & Isles - Books 10 and 11 - Last to Die and Die Again written by Tess Gerritsen performed by Tanya Eby on MP3 CD (Unabridged)£14.99

LAST TO DIE For the second time in his short life, Teddy Clock has survived a massacre. Two years ago, he barely escaped when his entire family was slaughtered. Now, at fourteen, in a hideous echo of the past, Teddy is the lone survivor of his foster family's mass murder. DIE AGAIN When Boston ...

Selected Shorts - The William Hurt Collection written by Various Short Story Authors performed by William Hurt on CD (Unabridged)£9.99

Recorded live at the Peter Norton Symphony Space in New York City and at venues across the United States, these audio anthologies feature short stories from the Selected Shorts program that airs nationwide. More than 300,000 listeners tune in to this offering weekly to hear some of their favorite...

The Architecture of Happiness written by Alain de Botton performed by Simon Vance on MP3 CD (Unabridged)£29.99

A thoughtful study of architecture that examines how we both shape and are shaped by our surroundings considers how our private homes and public edifices--from Classical to Gothic to minimalist Modern--reflect how we feel and explains how our stylistic choices can be used to increase our chances of happiness

The Code of the Woosters written by P.G. Wodehouse performed by BBC Full Cast Dramatisation, Michael Hordern and Richard Briers on CD (Abridged)£14.99 - £24.99

This is a BBC Radio 4 full-cast dramatisation starring Michael Hordern as Jeeves and Richard Briers as Wooster.

Who would think that an eighteenth-century silver cow-creamer could cause so much trouble?

The Fabric of the Cosmos written by Brian Greene performed by Erik Davies on CD (Abridged)£24.99

From the bestselling author of The Elegant Universe, Brian Greene's The Fabric of the Cosmos takes us on an irresistible and revelatory journey through the biggest of the big questions. What is reality? Could we exist without space and time? Can we travel to the past? What are the limits of the universe?

The Happy Prince and Other Stories written by Oscar Wilde performed by Anton Lesser on CD (Abridged)£9.99 - £14.99

These fantasies and true-to-life fables were created by Oscar Wilde for his own sons. Here is the tale of the Prince who is not as happy as he seems, of the Selfish Giant who learns how to love children, and of the Star-Child who suffers bitter trials when he rejects his parents. Naxos

The Name of the Rose written by Umberto Eco performed by Sean Barrett and on CD (Unabridged)£69.99

*** Currently in Our US Warehouse hence 5 day delay on dispatch *** This hugely engaging story of murder, superstition, religious politics and drama in a medieval monastery was one of the most striking novels to appear in the 1980s. The Name of the Rose is a thrilling story enriched with period ... Naxos

Unchain Your Brain - 10 Steps to Breaking the Addictions that Steal Your Life written by Daniel G. Amen MD and David E. Smith MD performed by Stefan Rudnicki on MP3 CD (Unabridged)£29.99

Are you chained to your addiction to smoking?Drinking? Sugar? Drugs? Food? Prescription painkillers? Caffeine? Internetporn? Gambling? Sex? When you are chained by an addiction, it can ruin your life, devastate your family, destroy your relationships, derail your career, lower your grades, and make...

Worth Killing For - A DI Fenchurch Novel written by Ed James performed by Michael Page on CD (Unabridged)£14.99

On a busy London street, a young woman is attacked in broad daylight and left bleeding to death on the pavement. Among the eyewitnesses are DI Simon Fenchurch and his wife. Fenchurch pursues the attacker through a warren of backstreets and eventually arrests a young hoodie with a cache...

You Will Be Mine written by Natasha Preston performed by Anna Parker-Naples on CD (Unabridged)£14.99

Roses are redViolets are blueWatch your backI'm coming for youLylah and her friends can't wait to spend a night out together. Partying is the perfect way to let loose from the stress of life and school, and Lylah hopes that hitting the dance floor with Chace, her best friend, will bring them closer.
---
---
---
Dillinger written by Jack Higgins performed by Dick Hill on CD (Unabridged)£39.99
The dramatic final moments of the legendary outlaw's career - retold by the world's master storyteller, Jack Higgins. Early March 1934, America's most notorious criminal makes his spectacular escape from Lake County Jail, Indiana. Three months later, John Dillinger, the last American outlaw, is gunned down..
---
---
---
---
---
---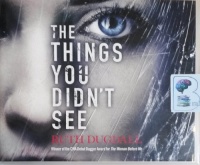 The Things You Didn't See written by Ruth Dugdall performed by Elizabeth Knowelden on CD (Unabridged)£39.99
Her instincts are telling her something isn't right... On a chilly morning in rural Suffolk, Cassandra Hawke is woken by a gunshot. Her mother is clinging on to her life, the weapon still lying nearby. Everyone thinks it's attempted suicide - but none of it makes any sense to Cass. She's certain there's more to it than...
---
---
---
---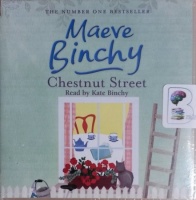 Chestnut Street written by Maeve Binchy performed by Kate Binchy on CD (Unabridged)£19.99
Just round the corner from St Jarlath's Crescent (featured in MINDING FRANKIE) is Chestnut Street. Here, the lives of the residents are revealed in Maeve Binchy's wonderfully compelling tales: Bucket Maguire, the window cleaner, who must do more than he bargained for to protect his son. Nessa Byrne...
---
---
---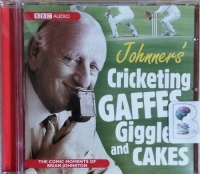 Johnners' Cricketing Gaffes, Giggles and Cakes written by Brian Johnston performed by Brian Johnston on CD (Abridged)£4.99 - £9.99
A compilation of cricketing moments including the letter from William H Tit, the streakers commentaries, the chocolate cake mouthfuls, Johnners numerous scoring mix ups, the resemblance between Fred Trueman and a turnip, cricket for the blind, Jim'll Fix it voiceover, Ned Sherrin interviewing Johnners on his...
---
K-Pax written by Gene Brewer performed by Tom Casaletto on MP3 CD (Unabridged)£39.99
When a man who claims to be from outer space is brought into the Manhattan Institute, the mental ward seems to be just the place for him. However, this patient is unlike anyone psychiatrist Dr. Gene Brewer has met before. Clever, inscrutable and utterly charismatic, Robert Porter calls himself 'prot' and has ...