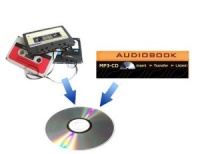 3 Hour Fixed Price Audio Transfer for Customers Own Tapes£25.00
This is the fixed price £25.00 item to be used by Customers when ordering conversion of their own sub 3 hour Audio Cassette or MP3 CD title.
---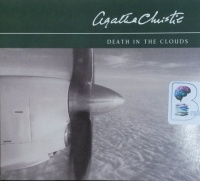 Death in the Clouds written by Agatha Christie performed by David Timson on CD (Abridged)£4.99
From seat No.9, Hercule Poirot was ideally placed to observe his fellow air passengers. Over to his right sat a pretty young woman, ahead, across the gangway in seat No.8, a detective writer was being troubled by an aggressive wasp. What Poirot did not yet realize was that behind him, in seat No.2, sat the ...
---
---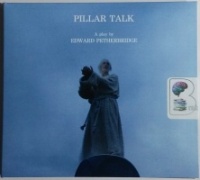 Pillar Talk - A Play written by Edward Petherbridge performed by Edward Petherbridge on CD (Unabridged)£14.99
Exclusive to Brainfood Audiobooks! Esteemed actor Edward (Nicholas Nickleby) Petherbridge uses the story of Symeon Stylites, the 5th century monk who lived on a pillar for thirty-six years, as a framework for an existential inquiry into imagination, belief, doubt, miracles and why one would live 'as I live.'
---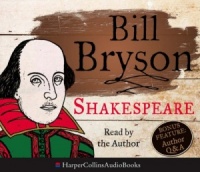 Shakespeare written by Bill Bryson performed by Bill Bryson on CD (Unabridged)£6.99 - £7.99
This short biography of William Shakespeare by world famous writer Bill Bryson brims with the authorís inimitable wit and intelligence.
---
---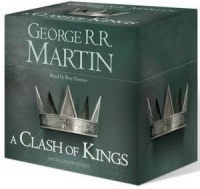 A Clash of Kings written by George R.R. Martin performed by Roy Dotrice on CD (Unabridged)£38.99
George R. R. Martinís superb fantasy epic continues in consummate style as bloodshed and alchemy lay waste the Seven Kingdoms. This second volume of A Song of Ice and Fire is unabridged and on 30 CDs.
---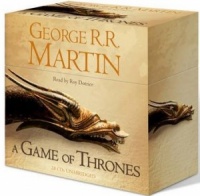 A Game of Thrones written by George R.R. Martin performed by Roy Dotrice on CD (Unabridged)£38.99
This first volume in the hugely popular and highly acclaimed epic fantasy series A SONG OF ICE AND FIRE is unabridged on 28 CDs.
---
---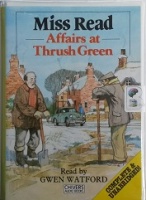 Affairs at Thrush Green written by Mrs Dora Saint as Miss Read performed by Gwen Watford on Cassette (Unabridged)£16.99 - £19.99
When Charles Henstock, rector of Thrush Green, moves a mile downhill to the parish of Lulling, his many friends rejoice in his promotion. But an unfortunate skirmish with one of his wealthy parishioners over the Lady Chapel kneelers saddens him. England, 1930s.
---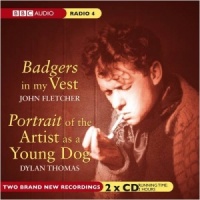 Badgers in My Vest and Portrait of the Artist as a Young Dog written by Dylan Thomas performed by BBC Full Cast Dramatisation on CD (Unabridged)£4.99 - £6.99
Badgers in My Vest is a new, darkly funny play by an acclaimed contemporary playwright, based on a true incident in Dylan Thomas' life.
---
---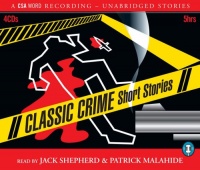 Classic Crime Short Stories written by Various Famous Crime Writers performed by Jack Shepherd and Patrick Malahide on CD (Unabridged)£4.99 - £9.99
Discover a world of heroes and villains, suspense and intrigue. This riveting and comprehensive collection brings together some of the best crime writing of all time.
---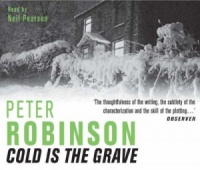 Cold is the Grave written by Peter Robinson performed by Neil Pearson on CD (Abridged)£19.99
Detective Inspector Alan Banks relationship with Chief Constable Riddle has always been strained. So Banks is more than a little surprised when Riddle summons him late one night and begs for his help.
---
New In January 2018 Part 2
(in alphabetical order)
Ava Gardner - The Secret Conversations written by Ava Gardner and Peter Evans performed by William Hope on CD (Unabridged)£9.99

Ava Gardner was one of the most glamorous and famous stars in Hollywood in the 1940s and 1950s.

Catching Life by the Throat written by Josephine Hart performed by Famous British Actors on CD (Abridged)£7.99 - £14.99

A Magnificent production for anyone interested in poetry! This set features live recordings from the Josephine Hart Poetry Hour: Eight of the greatest poets in the English language.

Close Your Eyes written by Iris Johansen and Roy Johansen performed by Elisabeth Rodgers on MP3 CD (Unabridged)£14.99

Blind for the first twenty years of her life, Kendra Michaels honed her other senses to almost superhuman perfection and unintentionally became a secret weapon for the FBI.

Gormenghast written by Mervyn Peake performed by Edmund Dehn on Cassette (Unabridged)£49.99

Titus Groan is seven years old. Lord and heir to the crumbling castle Gormenghast. Gothic labyrinth of roofs and turrets, cloisters and corridors, stairwells and dungeons, it is also the cobwebbed kingdom of Byzantine government and age-old rituals, a world primed to implode beneath the weight of ...

Lark Rise to Candleford written by Flora Thompson performed by Olivia Hallinan on CD (Abridged)£14.99

A record of country life at the end of the 19th century - the fast-dissolving England of peasant, yeoman and craftsman in a self-sufficient world of work and poverty. Their world is the hamlet, the nearby village and the small market town.

Millenium - The End of the World and the Forging of Christendom written by Tom Holland performed by Andrew Sachs on CD (Abridged)£39.99

A Genius Performance by Andrew Sachs! Of all the civilisations existing in the year 1000, that of Western Europe seemed the unlikeliest candidate for future greatness. Compared to the glittering empires of Byzantium or Islam, the splintered kingdoms on the edge of the Atlantic appeared impoverished...

Poetry Please The Anniversary Edition written by Various Famous Authors performed by Various Famous Actors on CD (Abridged)£4.99

This special edition celebrating the 25th anniversary of BBC Radio 4's hugely successful programme, "Poetry Please", features many of the most popular poems that are most frequently requested by listeners.

Sophie's World - An Adventure in Philosophy written by Jostein Gaarder performed by Anna Massey on Cassette (Abridged)£7.99

A Genius Performance by Anna Massey! When 14-year-old Sophie encounters a mysterious mentor who introduces her to philosophy, mysteries deepen in her own life. Why does she keep getting postcards addressed to another girl? Who is the other girl? And who, for that matter, is Sophie herself?

The Autobiography written by Ned Sherrin performed by Ned Sherrin on CD (Abridged)£4.49 - £4.99

In this hilarious, frank and affecting autobiography Ned Sherrin looks back on his life and career with inimitable wit and a good deal of wisdom.

In his long, successful and event-filled career Ned Sherrin has been an innovative satirist...

The Easy Way to Become Stress Free with Hypnosis written by Benjamin Bonetti performed by Benjamin Bonetti on CD (Unabridged)£4.99

Let go of tension and negative thoughts and emotions with the help of this audio program. Benjamin Bonetti is one of the world's bestselling hypnotherapists. His advanced hypnotic technique sends positive messages to your subconscious so you can accomplish your goals.

The Intelligent Entrepreneur - How Three Harvard Business School Graduates Learned the 10 Rules of Successful Entrepreneurship written by Bill Murphy Jr. performed by Fred Berman and L.J. Ganser on CD (Unabridged)£19.99

"An invaluable guide to those who might follow in the footsteps of these remarkable young entrepreneurs."

The Private Patient written by P.D. James performed by Michael Jayston on CD (Unabridged)£9.99 - £29.99

A Genius Performance by Michael Jayston!

Rhoda Gradwyn booked into Mr Chandler-Powell's private clinic in Dorset for the removal of a disfiguring scar. She was never to leave Cheverell Manor alive.

The Restaurant at the End of the Universe written by Douglas Adams performed by Douglas Adams on Cassette (Unabridged)£19.99

When all questions of space, time, matter and the nature of being have been resolved, only one question remains - "Where shall we have dinner?"
The Restaurant at the End of the Universe provides the ultimate gastronomic experience, and for once there is no morning after to worry about.

The Road Taken - An Autobiography written by Michael Buerk performed by Michael Buerk on CD (Abridged)£4.99

'Dawn, and as the sun breaks through the piercing chill of night on the plain outside Korem it lights up a biblical famine, now, in the Twentieth Century.'Those words opened Michael Buerk's first report on the Ethiopian famine for the 6 o'clock news on October 24th 1984.

The Robe of Skulls written by Vivian French performed by Renee Raudman on CD (Unabridged)£24.99

"A romp filled with language play and just plain nonsense. . . . Everyone gets his, her, or its due; goodness is rewarded; and evil punished oh-so-wickedly." The Horn Book High above the mountain village of Fracture, trouble is brewing.

The Shell Seekers written by Rosamunde Pilcher performed by Lynn Redgrave on CD (Abridged)£9.99 - £24.99

Artist's daughter Penelope Keeling can look back on a full and varied life: a Bohemian childhood in London and Cornwall, an unhappy wartime marriage, and the one man she truly loved. She has brought up three children - and learned to accept them as they are.

Three Radio Mysteries Volume Three written by Agatha Christie performed by BBC Full Cast Dramatisation on CD (Abridged)£4.99 - £19.99

p>Three 30 min Agatha Christie short story full-cast dramatisations: In a Glass Darkly, The Dressmaker's Doll and The Case Of The Perfect Carer/Maid.

Titus Alone written by Mervyn Peake performed by Edmund Dehn on Cassette (Unabridged)£49.99

The final volume of the GORMENGHAST trilogy. Titus Groan has abdicated in rebellion against the steeped traditions of the kingdom he inherited. Heading instead into the outside world, he is confronted by a vivid sequence of events, figures and landscapes as he passes beyond the boundaries of childhood.

We Interrupt This Programme - 20 News Stories that Marked the Century written by Peter Barnard performed by Various BBC Presenters on CD (Abridged)£9.99

This item is primarily a hard-backed book as pictured. We have stocked it as it includes an audio CD featuring the great news stories which have broken in upon broadcasting throughout the BBC's prestigious 75-year history. Events include the moon landing, the deaths of Kennedy and Diana, ...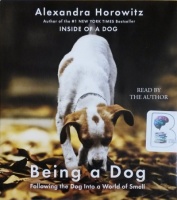 Being a Dog written by Alexandra Horowitz performed by Alexandra Horowitz on CD (Unabridged)£24.99
A New York Times Bestseller A Science Friday and Library Journal Best Science Book of the Year Alexandra Horowitz, the author of the lively, highly informative New York Times bestselling blockbuster Inside of a Dog, explains how dogs perceive the world through their most spectacular organ--the nose--and how we...
---
---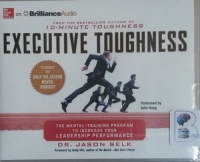 Executive Toughness - The Mental Training Program to Increase Your Leadership Performance written by Dr. Jason Selk performed by John Haag on CD (Unabridged)£14.99
Take your professional game to the next level-in 100 seconds or less! People with inborn talent may be good at what they do-but only the mentally tough reach the highest plateaus in their field. And here's the best news of all: mental toughness is something anyone can learn. Director of mental training for the..
---
Farside written by Ben Bova performed by Stefan Rudnicki on CD (Unabridged)£39.99
When an Earth-sized planet circling a star some 30 light-years away is detected, the race is on to build an astronomical observatory on Farside, the side of the Moon that never faces Earth a dangerous task that is plagued by accidents, mental and emotional breakdowns and a discovery that will forever change the human race.
---
---
---
---
---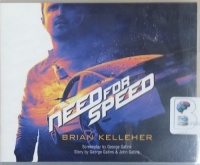 Need for Speed written by Brian Kelleher performed by Alexander Cendese on CD (Unabridged)£9.99
A near-impossible cross-country race against time - one that begins as a mission for revenge, but proves to be one of redemption. Based on the most successful racing video game franchise ever with over 140 million copies sold, Need for Speed captures the freedom and excitement of the game in a...
---
---
---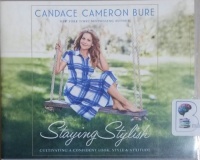 Staying Stylish written by Candace Cameron Bure performed by Candace Cameron Bure on CD (Unabridged)£19.99
Candace Cameron Bure, best known as D. J. Tanner from Full House and Fuller House and a New York Times best-selling author, whose faith and wit have delighted audiences for decades, lets you in on her best-kept secrets for Staying Stylish. This gorgeous manual for beauty, style, health, and spiritual ...
---
---