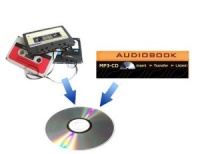 Large Fixed Price Audio Transfer Service£30.00
This is the fixed price £30.00 item to be used when ordering conversion of a 6-9 hour Audio Cassette or MP3 CD title.
---
---
---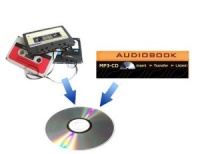 3 Hour Fixed Price Audio Transfer£10.00
This is the fixed price £10 item to be used when ordering conversion of a sub 3 hour Audio Cassette or MP3 CD title.
---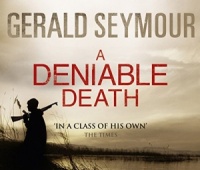 A Deniable Death written by Gerald Seymour performed by Rupert Degas on CD (Abridged)£7.99
C.R.O.P.: Covert Rural Observation Posts are places where men like Danny 'Badger' Baxter hide for endless, motionless hours, secretly recording criminal or terrorist activity. But now Badger has a bigger job than photographing dissident Republicans in muddy Ulster fields or Islamic extremists on rainswept Yorkshire moors.
---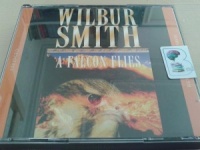 A Falcon Flies written by Wilbur Smith performed by Martin Jarvis on CD (Abridged)£4.99 - £8.99
A Falcon Flies is the first bestselling novel in Wilbur Smith's epic tale of Africa, The Ballantyne Novels. In search of a father they barely remember, Zouga and Dr Robyn Ballantyne board Mungo St John's magnificent clipper to speed them to Africa.
---
---
---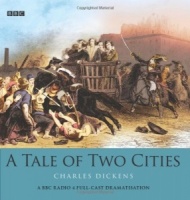 A Tale of Two Cities written by Charles Dickens performed by BBC Full Cast Dramatisation and Robert Lindsay on CD (Abridged)£19.99 - £29.99
Robert Lindsay stars in this BBC Radio 4 full-cast dramatisation of the classic novel by Charles Dickens.
---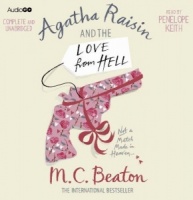 Agatha Raisin and the Love from Hell written by M.C. Beaton performed by Penelope Keith on CD (Unabridged)£14.99 - £24.99
A Genius performance by Penelope Keith!
No happily ever after for her! Recently married to neighbour James Lacey, Agatha quickly finds that love is not all it's cracked up to be - soon the newly-weds are living in separate cottages and accusing each other of infidelity.
---
---
---
---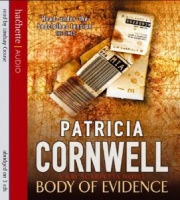 Body of Evidence written by Patricia Cornwell performed by Lindsay Crouse on CD (Abridged)£9.99
A reclusive writer is dead. And her final manuscript has disappeared ...Someone is stalking Beryl Madison.
---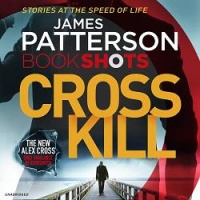 Bookshots Cross Kill written by James Patterson performed by Ruben Santiago Hudson on CD (Unabridged)£4.99
ALEX CROSS, I'm coming for you – even from the grave if I have to. Along Came a Spider killer Gary Soneji has been dead for over ten years. Alex Cross watched him die. But today, Cross saw him gun down his partner. Is Soneji alive? A ghost? Or something even more sinister?
---
New In January 2018 Part 2
(in alphabetical order)
Ava Gardner - The Secret Conversations written by Ava Gardner and Peter Evans performed by William Hope on CD (Unabridged)£9.99

Ava Gardner was one of the most glamorous and famous stars in Hollywood in the 1940s and 1950s.

Cat Among The Pigeons written by Agatha Christie performed by Hugh Fraser on CD (Unabridged)£19.99

Unfortunately, schoolgirl Julia Upjohn knows too much… Late one night, two teachers investigate a mysterious flashing light in the sports pavilion, while the rest of the school sleeps.

Catching Life by the Throat written by Josephine Hart performed by Famous British Actors on CD (Abridged)£7.99 - £14.99

A Magnificent production for anyone interested in poetry! This set features live recordings from the Josephine Hart Poetry Hour: Eight of the greatest poets in the English language.

Close Your Eyes written by Iris Johansen and Roy Johansen performed by Elisabeth Rodgers on MP3 CD (Unabridged)£14.99

Blind for the first twenty years of her life, Kendra Michaels honed her other senses to almost superhuman perfection and unintentionally became a secret weapon for the FBI.

Count Karlstein written by Philip Pullman performed by Jo Thurley on CD (Abridged)£5.99

Who would dare venture outdoors on All Souls' Eve knowing that Zamiel the Demon Huntsman is on the prowl? But evil Count Karlstein has struck a bargain with Zamiel - and his two young nieces Charlotte and Lucy stand to lose out in the pact.

Do You Mind If I Smoke written by Fenella Fielding performed by Fenella Fielding on CD (Unabridged)£24.99

Do You Mind If I Smoke? is the astonishing and often hilarious life story of a national treasure, told for the first time in a special edition hardback book to be published on the eve of actress Fenella Fielding's 90th birthday this November.

From Shakespeare - with Love - The Best of the Sonnets written by William Shakespeare performed by Juliet Stevenson, Juliet Stevenson, Anton Lesser and Stella Gonet on CD (Abridged)£4.99

The story: only days after finishing his widely-praised production of Hamlet in the West End, David Tennant came into the Naxos AudioBooks studio to record some of Shakespeare's finest sonnets

Gormenghast written by Mervyn Peake performed by Edmund Dehn on Cassette (Unabridged)£49.99

Titus Groan is seven years old. Lord and heir to the crumbling castle Gormenghast. Gothic labyrinth of roofs and turrets, cloisters and corridors, stairwells and dungeons, it is also the cobwebbed kingdom of Byzantine government and age-old rituals, a world primed to implode beneath the weight of ...

Lark Rise to Candleford written by Flora Thompson performed by Olivia Hallinan on CD (Abridged)£14.99

A record of country life at the end of the 19th century - the fast-dissolving England of peasant, yeoman and craftsman in a self-sufficient world of work and poverty. Their world is the hamlet, the nearby village and the small market town.

Millenium - The End of the World and the Forging of Christendom written by Tom Holland performed by Andrew Sachs on CD (Abridged)£24.99

A Genius Performance by Andrew Sachs! Of all the civilisations existing in the year 1000, that of Western Europe seemed the unlikeliest candidate for future greatness. Compared to the glittering empires of Byzantium or Islam, the splintered kingdoms on the edge of the Atlantic appeared impoverished...

Poetry Please The Anniversary Edition written by Various Famous Authors performed by Various Famous Actors on CD (Abridged)£4.99

This special edition celebrating the 25th anniversary of BBC Radio 4's hugely successful programme, "Poetry Please", features many of the most popular poems that are most frequently requested by listeners.

Sophie's World - An Adventure in Philosophy written by Jostein Gaarder performed by Anna Massey on Cassette (Abridged)£7.99

A Genius Performance by Anna Massey! When 14-year-old Sophie encounters a mysterious mentor who introduces her to philosophy, mysteries deepen in her own life. Why does she keep getting postcards addressed to another girl? Who is the other girl? And who, for that matter, is Sophie herself?

The Autobiography written by Ned Sherrin performed by Ned Sherrin on CD (Abridged)£4.49 - £4.99

In this hilarious, frank and affecting autobiography Ned Sherrin looks back on his life and career with inimitable wit and a good deal of wisdom.

In his long, successful and event-filled career Ned Sherrin has been an innovative satirist...

The Da Vinci Code written by Dan Brown performed by Jeff Harding on CD (Abridged)£3.99 - £4.99

While in Paris on business, Harvard symbologist Robert Langdon receives an urgent late-night phone call: the elderly curator of the Louvre has been murdered inside the museum.

The Double Helix - A Personal Account of the Discovery of the Structure of DNA written by James D. Watson performed by Grover Gardner on CD (Unabridged)£19.99 £17.99

The classic personal account of Watson and Crick s groundbreaking discovery of the structure of DNA, now with an introduction by Sylvia Nasar, author of "A Beautiful Mind."

The Easy Way to Become Stress Free with Hypnosis written by Benjamin Bonetti performed by Benjamin Bonetti on CD (Unabridged)£4.99

Let go of tension and negative thoughts and emotions with the help of this audio program. Benjamin Bonetti is one of the world's bestselling hypnotherapists. His advanced hypnotic technique sends positive messages to your subconscious so you can accomplish your goals.

The Intelligent Entrepreneur - How Three Harvard Business School Graduates Learned the 10 Rules of Successful Entrepreneurship written by Bill Murphy Jr. performed by Fred Berman and L.J. Ganser on CD (Unabridged)£19.99

"An invaluable guide to those who might follow in the footsteps of these remarkable young entrepreneurs."

The Mysterious Affair at Styles written by Agatha Christie performed by Hugh Fraser on CD (Unabridged)£19.99

With impeccable timing Hercule Poirot, the renowned Belgian detective, makes his dramatic entrance on to the English crime stage. Recently, there had been some strange goings on at Styles St Mary.

The Private Patient written by P.D. James performed by Michael Jayston on CD (Unabridged)£9.99 - £29.99

A Genius Performance by Michael Jayston!

Rhoda Gradwyn booked into Mr Chandler-Powell's private clinic in Dorset for the removal of a disfiguring scar. She was never to leave Cheverell Manor alive.

The Restaurant at the End of the Universe written by Douglas Adams performed by Douglas Adams on Cassette (Unabridged)£19.99

When all questions of space, time, matter and the nature of being have been resolved, only one question remains - "Where shall we have dinner?"
The Restaurant at the End of the Universe provides the ultimate gastronomic experience, and for once there is no morning after to worry about.

The Road Taken - An Autobiography written by Michael Buerk performed by Michael Buerk on CD (Abridged)£4.99

'Dawn, and as the sun breaks through the piercing chill of night on the plain outside Korem it lights up a biblical famine, now, in the Twentieth Century.'Those words opened Michael Buerk's first report on the Ethiopian famine for the 6 o'clock news on October 24th 1984.

The Robe of Skulls written by Vivian French performed by Renee Raudman on CD (Unabridged)£24.99

"A romp filled with language play and just plain nonsense. . . . Everyone gets his, her, or its due; goodness is rewarded; and evil punished oh-so-wickedly." The Horn Book High above the mountain village of Fracture, trouble is brewing.

The Shell Seekers written by Rosamunde Pilcher performed by Lynn Redgrave on CD (Abridged)£9.99 - £24.99

Artist's daughter Penelope Keeling can look back on a full and varied life: a Bohemian childhood in London and Cornwall, an unhappy wartime marriage, and the one man she truly loved. She has brought up three children - and learned to accept them as they are.

Titus Alone written by Mervyn Peake performed by Edmund Dehn on Cassette (Unabridged)£49.99

The final volume of the GORMENGHAST trilogy. Titus Groan has abdicated in rebellion against the steeped traditions of the kingdom he inherited. Heading instead into the outside world, he is confronted by a vivid sequence of events, figures and landscapes as he passes beyond the boundaries of childhood.

We Interrupt This Programme - 20 News Stories that Marked the Century written by Peter Barnard performed by Various BBC Presenters on CD (Abridged)£9.99

This item is primarily a hard-backed book as pictured. We have stocked it as it includes an audio CD featuring the great news stories which have broken in upon broadcasting throughout the BBC's prestigious 75-year history. Events include the moon landing, the deaths of Kennedy and Diana, ...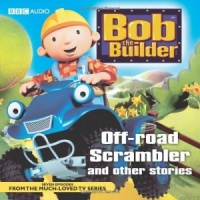 Bob the Builder - Off-Road Scrambler written by Bob the Builder Team performed by Bob the Builder Team on CD (Unabridged)£2.99
This title includes seven episodes from the hugely popular series featuring Bob the Builder, Roley, Lofty, Dizzy, Scoop, Muck and Spud - as seen on BBC TV.
---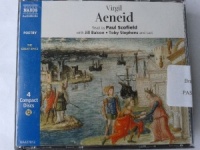 The Aeneid written by Virgil performed by Jill Balcon, Paul Scofield and Toby Stevens on CD (Abridged)£9.99
Virgil's Aeneid, one of the greatest Classical poems, tells the story of Aeneas, son of Priam, after the fall of Troy. His quest is to find the site "in the west" where he will found a new town prophesied to be the seat of a world empire - Rome.
---
The Island written by Victoria Hislop performed by Emilia Fox on CD (Abridged)£19.99
A Genius Performance by Emilia Fox!
On the brink of a life-changing decision, Alexis Fielding longs to find out about her mother's past. But Sofia has never spoken of it. All she admits to is growing up in a small Cretan village before moving to London. When Alexis decides to visit Crete, however, Sofia gives her daughter a letter to take to an old friend, and promises that through her she will learn more.
---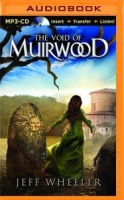 The Void of Muirwood written by Jeff Wheeler performed by Kate Rudd on MP3 CD (Unabridged)£11.99
When banished Princess Maia is captured by her father and threatened with execution, it appears that all is lost…until the people rise in rebellion against their king. Suddenly, the cast-aside royal finds herself crowned the first Queen of Comoros.
---
---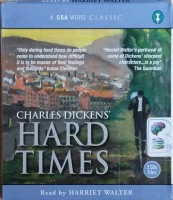 Hard Times written by Charles Dickens performed by Harriet Walter on CD (Abridged)£9.99
Set in the north of England during the 19th century, 'Hard Times' is the story of Thomas Gradgrind, a schoolmaster, who has strong and overbearing views on how his children, Louisa and Tom, should behave in order to become 'models in society'.
---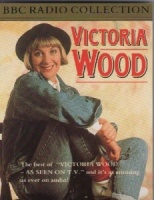 The Best of Victoria Wood - As Seen on TV written by Victoria Wood performed by Victoria Wood on Cassette (Abridged)£4.99
This wonderful collection of highlights from Victoria Wood's TV performances. Very funny and faboulously evocative of the 80's.
---
---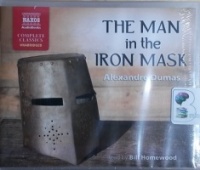 The Man in the Iron Mask written by Alexandre Dumas performed by Bill Homewood on CD (Unabridged)£39.99
Thirty years after their first adventures in The Three Musketeers, we find Athos, Porthos, Aramis, and D'Artagnan in very different situations. Athos has settled down at his own estate. Porthos married a rich widow, and is now a Baron. Aramis joined a monastery, and is now the Bishop of Vannes.
---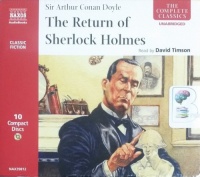 The Return of Sherlock Holmes written by Arthur Conan Doyle performed by David Timson on CD (Unabridged)£24.99
The 13 stories in this entertaining set chart the activities of the world's greatest private detective from his sudden re-appearance after his supposed death at the Reichenberg Falls. Faithful Dr Watson recounts the "Adventure of The Empty House", the "Adventure of the Dancing Men" and others...
---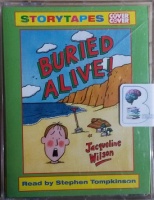 Buried Alive! written by Jacqueline Wilson performed by Stephen Tompkinson on Cassette (Unabridged)£4.99
Tim is thrilled when his parents allow his best friend, Biscuits, to come on holiday to Llanpistyll, Wales, with them. He and Biscuits are having an absolutely brilliant time eating ice cream, having picnics, and making sandcastles until a deadly, fiendish enemy in the form of the bully Prickle-Head...
---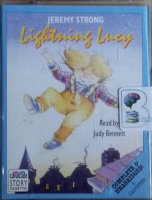 Lightning Lucy written by Jeremy Strong performed by Judy Bennett on Cassette (Unabridged)£4.99
Lucy King has extra special powers. She can fly through the air like a streak of lightning! She always seems to end up in the spotlight but as her fame grows she begins to wonder if it might be better to be a little more ordinary. Judy Bennett is best known for her role in "The Archers".
---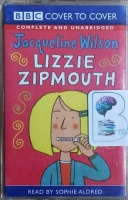 Lizzie Zipmouth written by Jacqueline Wilson performed by Sophie Aldred on Cassette (Unabridged)£4.99
Lizzie refuses to speak. She doesn't want to talk to Rory or Jake, her new stepbrothers, or Sam, their dad or even her mum. She's totally fed up at having to join a new family and nothing can coax her into speaking to them. Not football, not pizza, not a new bedroom.
---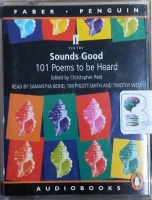 Sounds Good - 101 Poems to be Heard written by Various Famous Poets performed by Samantha Bond, Tim Pigott-Smith and Timothy West on Cassette (Abridged)£4.99
Christopher Reid has put together a wonderful collection of poetry, chosen specifically for the way the poem sounds. Citing T. S. Eliot, who described the process whereby the ear can understand a poem before the mind can grasp it, he illustrates just how this quality is achieved and what makes...
---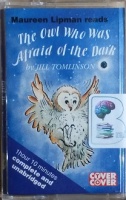 The Owl Who Was Afraid of the Dark written by Jill Tomlinson performed by Maureen Lipman on Cassette (Unabridged)£4.99
Plop is a fledgling barn owl, old enough to begin hunting for his own food, but afraid of the dark. His wise mother sends him to talk to a small boy, an old lady, a boy scout and others. Slowly he learns from them the joy of darkness.