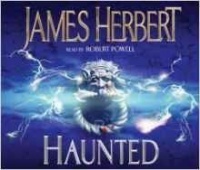 Haunted written by James Herbert performed by Robert Powell on CD (Abridged)£4.99
A ghostly twist. Three nights of terror at the house called Edbrook. Three nights in which David Ash, there to investigate a haunting, will be victim of horrifying games. Three nights in which he will face the blood-chilling enigma of his own past.
---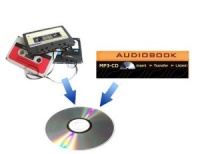 Large Fixed Price Audio Transfer Service£35.00
This is the fixed price £35.00 item to be used when ordering conversion of a 6-9 hour Audio Cassette or MP3 CD title.
---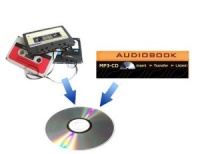 3 Hour Fixed Price Audio Transfer£15.00
This is the fixed price £15 item to be used when ordering conversion of a sub 3 hour Audio Cassette or MP3 CD title.
---
---
---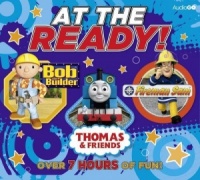 At The Ready! written by Various Childrens Authors performed by Various Famous Actors on CD (Abridged)£39.99
This box set contains over 7 hours of fun from Bob the Builder, Fireman Sam and Tomas the Tank Engine! This would make a brilliant gift that will last considerably longer than the New Year!
---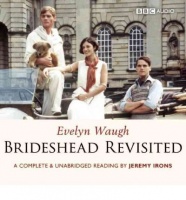 Brideshead Revisited written by Evelyn Waugh performed by Jeremy Irons on CD (Unabridged)£39.99 - £49.99
Brideshead Revisited is Evelyn Waugh's stunning novel of duty and desire set amongst the decadent, faded glory of the English aristocracy in the run-up to the Second World War.
Performed brilliantly by Jeremy Irons
---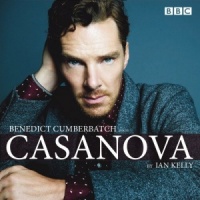 Casanova written by Ian Kelly performed by Benedict Cumberbatch on CD (Abridged)£9.99
Benedict Cumberbatch reads Ian Kelly's biography of one of the most beguiling and controversial individuals of any age.
---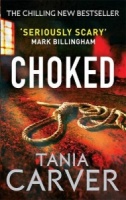 Choked written by Tania Carver performed by Martyn Waites on CD (Abridged)£3.99 - £6.99
'I have something you've lost,' the voice said. 'Your daughter.' He will threaten her. The honeymoon is over for newlywed criminologist Marina Esposito. Her house is in flames. Her cop husband is in a coma. Her baby daughter is missing. And then her phone rings . . .
---
---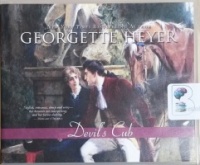 Devil's Cub written by Georgette Heyer performed by Michael Drew on CD (Unabridged)£24.99
The excesses of the young Marquis of Vidal are even wilder than his father's before him. Not for nothing is the reckless duellist and gamester called "the Devil's Cub". But when he is forced to leave the country, Mary Challoner discovers his fiendish plan to abduct her sister. Any only by daring to impersonate...
---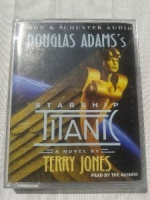 Douglas Adams Starship Titanic written by Terry Jones performed by Terry Jones on Cassette (Abridged)£18.99
At the centre of the galaxy, an unknown civilization is preparing for an event of epic proportions, the launch of the most technologically advanced spaceship ever built - the Starship Titanic. The ship that cannot possibly go wrong.
---
---
---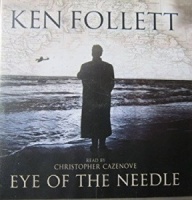 Eye of the Needle written by Ken Follett performed by Christopher Cazenove on CD (Abridged)£14.99 - £17.99
His weapon is the stiletto, his codename: The Needle. He is Hitler's prize undercover agent - a cold and professional killer. It is 1944 and weeks before D-Day. The Allies are disguising their invasion plans with a phoney armada of ships and planes.
---
New In January 2018 Part 1
(in alphabetical order)
6 Minute English - British Life written by BBC Learning English performed by BBC Learning English Team on CD (Unabridged)£4.99

Learn and improve your English with the BBC.Collected here for the first time are 12 episodes from BBC Learning English's popular 6 Minute English series. Aimed at intermediate level learners of English, each programme examines a different topic which is discussed and explained to help learners ...

6 Minute English - Science and Technology written by BBC Learning English performed by BBC Learning English Team on CD (Unabridged)£4.99

Learn and improve your English with the BBC. Collected here for the first time are 12 episodes from BBC Learning English's popular "6 Minute English" series. Aimed at intermediate level learners of English, each programme examines a different topic which is discussed and explained to help ....

All of Me - My Extraordinary Life written by Barbara Windsor performed by Barbara Windsor and on Cassette (Abridged)£9.99

Barbara Windsor has dug deep into her soul to write one of the most brutally honest, passionate celebrity memoirs ever. This is a spectacular success story of a hugely - respected British icon who has seen and done it all, in theatre, film and TV, from "Blackpool" to "Broadway", working with all ....

Der Steppenwolf written by Hermann Hesse performed by Manfred Zapatka, Dieter Mann, Rolf Hoppe and Anna Thalbach on CD (Abridged)£19.99

GERMAN VERSION - A lonely and sensitive man's critique of bourgeois society is put to the test when he meets Hermine, who shows him the pleasures of the mind and body.

Der Wanderer - Geschichten und Gedanken written by Paulo Coelho performed by Markus Hoffmann on CD (Abridged)£4.99

GERMAN VERSION - Geschichten und Gedanken über das Wagnis der Liebe, über Angst und Mut, die Macht der Gewohnheit und das Risiko des eigenen Weges, über Moralisten und Doktrinäre, über Schönheit, Wunder und verlorene Söhne. Seit 2008 ist Sven Görtz die deutsche Stimme von Paulo Coelho.

George Orwell written by Gordon Bowker performed by Christopher Kay on Cassette (Unabridged)£19.99

George Orwell was one of the greatest writers England produced in the last century. He left an enduring mark on our language and culture, with concepts such as 'Big Brother' and 'Room 101.' His reputation rests not only on his political shrewdness and his sharp satires....

Kes written by Barry Hines performed by Colin Welland on Cassette (Abridged)£19.99

This item has been graded as Acceptable due to a tape tension issue at the beginning of tape 1 which lasts for a couple of seconds. Other than this the tapes play perfectly. Billy, a disaffected young boy, has problems at school and at home: he's neglected by his mother, beaten by his brother ....

My First Times Tables written by Little Star Creations performed by Little Star Creations Team on CD (Unabridged)£3.99

First times tables songs for children from 1 to 12. Songs are sung twice once with delayed answers. A great introduction to the world of multiplication.

Once Upon a Fairy Tale - The Frog Price, Little Red Riding Hood, Rumplestiltskin and Goldilocks and the Three Bears written by Traditional Authors performed by An Enormous Cast of World Famous Actors and Actresses on Hardback book and CD (Abridged)£7.99 - £9.99

A colorful collection of four popular nursery tales is retold by more than twenty celebrity authors and illustrators and includes a CD of the famous celebrities -- The Frog Prince, Little Red Riding Hood, Rumplestiltskin and Goldilocks and the Three Bears. Brilliant!

Peter and the Wolf and the Young Person's Guide to the Orchestra written by Prokofiev and Britten performed by Dame Edna Everage on CD (Unabridged)£3.99

Hello Possums! I have always loved music and I'm not ashamed to say that music rather loves me Although I'm not a trained singer, internationally acclaimed conductors and music buffs the world over always put me up there with Dame Joan Sutherland, Dame Kiri and any other dame ....

Red to Black written by Alex Dryden performed by Sophie Ward on CD (Unabridged)£9.99

A spy thriller, a love story and a chilling look at a resurgent superpower... At the dawn of the new millennium, Finn, an MI6 spy, and Anna, a colonel of the KGB, have been sent to spy on each other. Instead they find a love that becomes to only truth they can trust.

Round the Horne written by Barry Took performed by Barry Took on Cassette (Abridged)£6.99

From 1965 to 1968, Round the Horne boldly went where no programme had previously dared, bringing a frenetic mix of wit, satire, parody and downright innuendo to the BBC airwaves.

From its roots as a successor to Beyond Our Ken it became an institution, earning a place in the hearts of listeners worldwide and in the annals of radio comedy.

Slaughterhouse 5 written by Kurt Vonnegut performed by William Dufris and on Cassette (Unabridged)£29.99

Billy Pilgrim is the son of an American barber. He serves as a chaplain's assistant in World War II, is captured by the Germans, and he survives the largest massacre in European history the fire bombing of Dresden. After the war Billy makes a great deal of money as an optometrist, and on his wedding ...

The Law of Attraction - The Basics of the Teachings of Abraham written by Esther and Jerry Hicks performed by Esther Hicks and Jerry Hicks on CD (Abridged)£9.99

You've most likely heard the saying "Like attracts like," "Birds of a feather flock together," or "It is done unto you as you believe" (a belief is only a thought you keep thinking); and although the Law of Attraction has been alluded to by some of the greatest teachers in history, it has never before been ....

The Puffin Book of Stories for Five-Year-Olds written by Margaret Mahy, James Riordan and Malorie Blackman performed by Adjoa Andoh, Rula Lenska, Zubin Varla and Kevin Whately on CD (Abridged)£4.99

This wonderful collection of stories has been enjoyed in particular by children around the age of five years. Coming from all over the world, they include the tale of Eric and his elephant, of the hungry hedgehog who decides to eat hamburgers, of the Indian King who never takes a bath and of the little ....

The Stone Monkey written by Jeffery Deaver performed by Kerry Shale on CD (Abridged)£4.99

Lincoln and Amelia are recruited to track down a cargo ship carrying two dozen illegal Chinese immigrants, as well as the notorious human smuggler and killer known as Youling - the Ghost. But when the capture goes disastrously wrong, Lincoln and Amelia find themselves in a race to stop the Ghost ....

The Years written by Virginia Woolf performed by Finty Williams on Cassette (Unabridged)£19.99

As the Pargiters, a middle-class English family, move from the oppressive confines of the Victorian home of the 1880s to the `present day' of the 1930s, they are weighed down by the pressures of war, the social strictures of patriarchy, capitalism and Empire, and the rise of Fascism.

Tideline written by Penny Hancock performed by Juanita McMahon and Charlotte Strevens on CD (Unabridged)£6.99

One winter's afternoon, Sonia opens the door of her beautiful riverside home to fifteen-year-old Jez, the nephew of a family friend. He's come to borrow some music. Sonia invites him in and soon decides that she isn't going to let him leave. As Sonia's desire to keep Jez hidden and protected from the ....

Touchline Tales written by Des Lynam and Christopher Matthew performed by Des Lynam and Christopher Matthew on CD (Unabridged)£4.99

Four selected episodes from both BBC Radio 4 series featuring Des Lynam and Christopher Matthew. Old friends Des Lynam and Christopher Matthew visit some famous sporting venues to enjoy, observe, reminisce and trade tales.

Twelfth Night written by William Shakespeare performed by David Tennant, Naomi Frederick and Paul Ready on CD (Unabridged)£7.99

David Tennant stars as Malvolio in Shakespeare's comedy of disguise, madness and love. One of Shakespeare's happiest plays, Twelfth Night is both a comedy of misrule and a trenchant attack on puritanism. Disguise and deceit leads to misadventure, madness and mistaken love.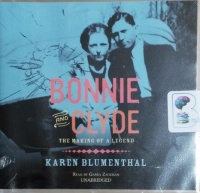 Bonnie and Clyde - The Making of a Legend written by Karen Blumenthal performed by Gabra Zackman on CD (Unabridged)£24.99
Bonnie and Clyde may be the most notorious-and celebrated-outlaw couple America has ever known. This is the true story of how they got that way.Bonnie and Clyde-we've been on a first name basis with them for almost a hundred years. Immortalized in movies, songs, and pop culture references, they are...
---
Breakers written by Edward W. Robertson performed by Ray Chase on CD (Unabridged)£24.99
In New York, Walt Lawson is about to lose his girlfriend Vanessa. In Los Angeles, Raymond and Mia James are about to lose their house. Within days, none of it will matter. When Vanessa dies of the flu, Walt is devastated. But she isn't the last. The virus quickly kills billions, reducing New York to an open grave and...
---
---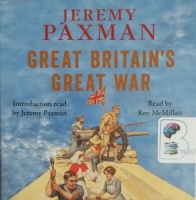 Great Britain's Great War written by Jeremy Paxman performed by Roy McMillan on CD (Unabridged)£9.99
We may think we know about it, but what was life really like for the British people during the First World War? The well-known images - the pointing finger of Lord Kitchener; a Tommy buried in the mud of the Western Front; the memorial poppies of remembrance day - all reinforce the idea that it was a pointless...
---
---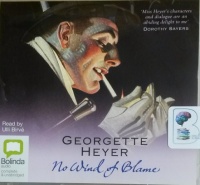 No Wind of Blame written by Georgette Heyer performed by Ulli Birve on CD (Unabridged)£24.99
The superlatively analytical Inspector Hemingway is confronted by a murder that seems impossible - no one was near the murder weapon at the time the shot was fired. Everyone on the scene seems to have a motive, not to mention the wherewithal to commit murder, and alibis that simply don't hold up.
---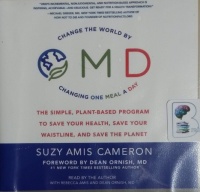 O.M.D. - Change The World by Changing One Meal a Day written by Suzy Amis Cameron performed by Suzy Amis Cameron, Rebecca Amis and Dean Ornish MD on CD (Unabridged)£24.99
Change the world by changing one meal a day. Suzy Amis Cameron - environmental advocate, former actor, and mom of five - presents a clear-eyed and accessible guide for you to improve your health and shrink your personal carbon footprint simply by swapping one meat- and dairy-based meal for a ...
---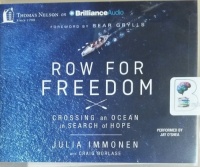 Row For Freedom - Crossing an Ocean in Search of Hope written by Julia Immonen with Craig Borlase performed by Jay O'Shea on CD (Unabridged)£9.99
"When you're in the middle of the adventure, you just have to live it. When you're on an expedition, you put your head down and battle through. Storytelling happens after the finish line... now that time has come [and] Julia can tell her story. The full story." (From the foreword by Bear Grylls.) An incredible account...
---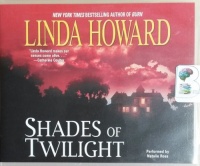 Shades of Twilight written by Linda Howard performed by Natalie Ross on CD (Unabridged)£4.99
Passion, wealth, and murder come together in this unputdownable thriller from the New York Times bestselling "queen of romantic suspense" (Booklist) Linda Howard. Roanna Davenport grew up a wealthy orphan on her grandmother's magnificent estate, Davencourt. There, she wanted for nothing except...
---
---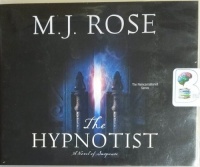 The Hypnotist written by M.J. Rose performed by Phil Gigante on CD (Unabridged)£9.99
Haunted by a 20-year-old murder of a beautiful young painter, Lucian Glass keeps his demons at bay through his fascinating work as a special agent with the FBI's Art Crime Team. Currently investigating a crazed art collector who has begun destroying prized masterworks, Glass is thrust into a bizarre hostage...
---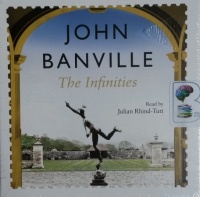 The Infinities written by John Banville performed by Julian Rhind-Tutt on CD (Unabridged)£9.99
The dazzling new novel from the Man Booker Prize-winning author of The Sea Old Adam Godley's time on earth is drawing to an end, and as his wife and children gather at the family home, little do they realize that they are not the only ones who have come to observe the spectacle. The mischievous Greek...
---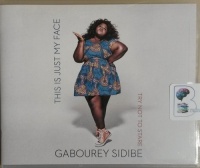 This is Just My Face - Try Not to Stare written by Gabourey Sidibe performed by Gabourey Sidibe on CD (Unabridged)£14.99
The Oscar-nominated Precious star and Empire actress delivers a much-awaited memoir which is wise, complex, smart and funny. This Is Just My Face is the whirlwind tour of Gabourey Sidibe's life so far. In it, we meet her polygamous father, her gifted mother who fed the family by busking on the subway, and...
---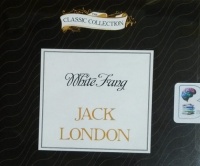 White Fang written by Jack London performed by Theodore Bikel on CD (Abridged)£6.99
White Fang, written by Jack London, tells the story of a half-wolf, half-dog nearly destroyed by the vicious cruelty of men. Near death, White Fang is rescued by Weeden Scott, who takes him home to California. White Fang learns to love his new master, and repays his kindness by saving Scott's father from a...
---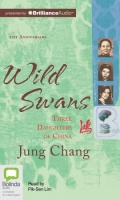 Wild Swans: Three Daughters of China written by Jung Chang performed by Pik-Sen Lim on CD (Unabridged)£29.99
Few books have had such an impact as Wild Swans: a popular best seller and a critically acclaimed history of China that opened up the country to the world. Through the story of three generations of women in her own family - the grandmother given to the warlord as a concubine, the Communist mother, and the...