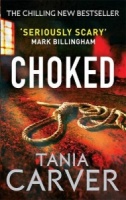 Choked written by Tania Carver performed by Martyn Waites on CD (Abridged)£4.99 - £9.99
'I have something you've lost,' the voice said. 'Your daughter.' He will threaten her. The honeymoon is over for newlywed criminologist Marina Esposito. Her house is in flames. Her cop husband is in a coma. Her baby daughter is missing. And then her phone rings . . .
---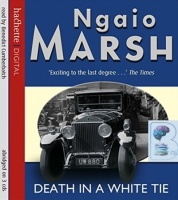 Death in a White Tie written by Ngaio Marsh performed by Benedict Cumberbatch on CD (Abridged)£14.99
A Benedict Cumberbatch Genius Performance!
The season had begun. Débutantes and chaperones were planning their luncheons, teas, dinners, balls. And the blackmailer was planning his strategies, stalking his next victim.
---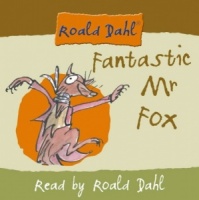 Fantastic Mr Fox written by Roald Dahl performed by Roald Dahl on CD (Unabridged)£3.99 - £4.99
New look for this backlist classic favourite, read by Roald Dahl, himself. Boggis, Bunce and Bean are just about the nastiest and meanest three farmers you could meet – and they hate Mr Fox!
---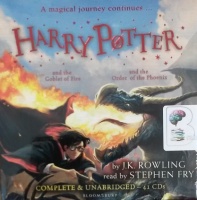 Harry Potter Collection Part 2 - Books 4 and 5 written by J.K. Rowling performed by Stephen Fry on CD (Unabridged)£59.99
The first unabridged Harry Potter audiobook collection left so many wizards, witches and Muggles spellbound and now we are so excited to give you the chance to hear Stephen Fry read Harry Potter and the Goblet of Fire and Harry Potter and the Order of the Phoenix (books 4 and 5 from J.K. Rowling's ...
---
---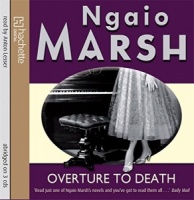 Overture to Death written by Ngaio Marsh performed by Anton Lesser on CD (Abridged)£7.99 - £8.99
A Genius Performance by Anton Lesser!
Inspector Alleyn gets involved when the piano, played by the victim, Miss Campanula, appears to trigger the murdering shot. It was supposed to accompany a play in aid of the piano fund but it has ended with murder. But who loaded the gun and how can Alleyn find him out?
---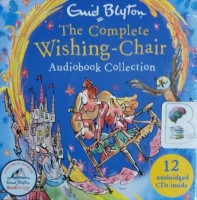 The Complete Wishing-Chair Collection written by Enid Blyton performed by Sarah Ovens on CD (Unabridged)£39.99
Mollie and Peter come across a chair that can fly and grant wishes while out looking for their mother's birthday present and it's not long until they are whisked away to faraway lands and meeting pixies and even Santa Claus!
---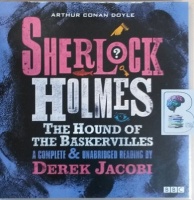 The Hound of the Baskervilles written by Arthur Conan Doyle performed by Derek Jacobi on CD (Unabridged)£19.99 - £24.99
When a country doctor comes to Sherlock Holmes with a far-fetched tale of a sudden death, a devil dog and an ancient curse, Holmes is sceptical. Could the demise of Sir Charles Baskerville really have been caused by the gigantic ghostly hound which is said to have haunted his family for generations?
---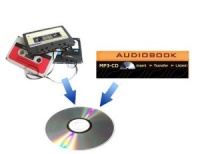 3 Hour Fixed Price Audio Transfer£15.00
This is the fixed price £15 item to be used when ordering conversion of a sub 3 hour Audio Cassette or MP3 CD title.
---
---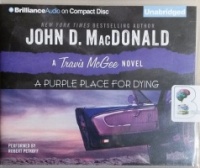 A Purple Place for Dying - A Travis McGee novel written by John D. MacDonald performed by Robert Petkoff on CD (Unabridged)£9.99
John D. MacDonald created a staggering quantity of wonderful books, each rich with characterization, suspense, and an almost intoxicating sense of place. Jonathan Kellerman Travis McGee is taking his retirement in installments while he's still young enough to enjoy it. But sooner or later, his money runs...
---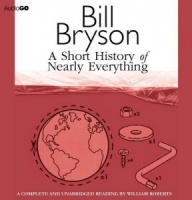 A Short History of Nearly Everything written by Bill Bryson performed by William Roberts on CD (Unabridged)£24.99 - £29.99
In A Short History of Nearly Everything, beloved author Bill Bryson confronts his greatest challenge yet: to understand—and, if possible, answer—the oldest, biggest questions we have posed about the universe and ourselves.
---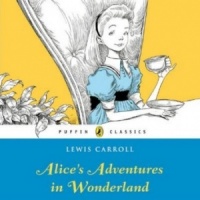 Alice's Adventures in Wonderland written by Lewis Carroll performed by Susan Jameson and James Saxon on CD (Abridged)£5.99
On an ordinary summer's afternoon, Alice tumbles down a hole and an extraordinary adventure begins.
In a strange world with even stranger characters, she meets a rabbit with a pocket watch, joins a Mad Hatter's Tea Party, and plays croquet with the Queen! Lost in this fantasy land, Alice finds herself growing more and more curious by the minute . . .
---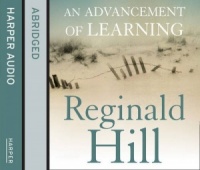 An Advancement of Learning written by Reginald Hill performed by Warren Clarke on CD (Abridged)£4.99 - £14.99
Lecturers having it away with students, witches' sabbaths on the sand dunes, a body buried under a statue in the gardens, and a fresh rash of killings.
---
---
---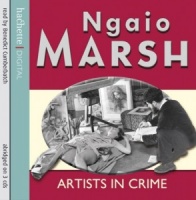 Artists in Crime written by Ngaio Marsh performed by Benedict Cumberbatch on CD (Abridged)£7.99 - £12.99
A Benedict Cumberbatch Genius Performance!
It started as a student exercise, the knife under the drape, the model's pose chalked in place. But before Agatha Troy, artist and instructor, returns to the class, the pose has been re-enacted in earnest....
---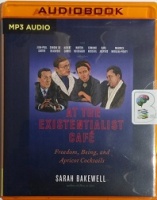 At The Existentialist Cafe written by Sarah Bakewell performed by Antonia Beamish on MP3 CD (Unabridged)£9.99
Named one of the Ten Best Books of 2016 by the New York Times, a spirited account of a major intellectual movement of the twentieth century and the revolutionary thinkers who came to shape it, by the best-selling author of How to Live Sarah Bakewell.
---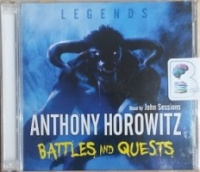 Battles and Quests written by Anthony Horowitz performed by John Sessions on CD (Abridged)£3.99 - £4.99
There was a time when monsters and dragons roamed the earth and the gods walked among us. A time of blood, swords and furious battles. A time of legends, heroes, darkness and death . . . The first in a series of masterful retellings of classic myths from Anthony Horowitz.
---
---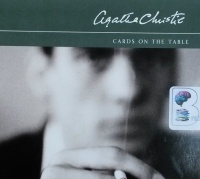 Cards on the Table written by Agatha Christie performed by Geraldine James on CD (Abridged)£4.99
Mr Shaitana was famous as a flamboyant party host. Nevertheless, he was a man of whom everybody was a little afraid. So, when he boasted to Poirot that he considered murder an art form, the detective had some reservations about accepting a party invitation to view Shaitana's private collection.
---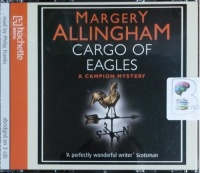 Cargo of Eagles written by Margery Allingham performed by Philip Franks on CD (Abridged)£14.99 - £19.99
Albert Campion sets out to plumb the secrets of Saltey, an ancient hamlet on the Essex marshes. Once the haunt of smugglers, now it hides a secret rich and mysterious enough to trap all who enter - and someone in the village is willing to terrorise, murder and raise the very devil to keep that secret to themselves.
---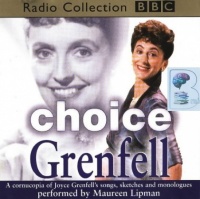 Choice Grenfell - BBC Radio Collection written by Joyce Grenfell performed by Maureen Lipman on CD (Abridged)£9.99 - £19.99
A retrospective of the genteel wit of the broadcaster, comedienne, pianist and poet, Joyce Grenfell. Monologues, sketches, songs and letters from the Grenfell archive are performed and read by Maureen Lipman, who portrayed her in the stage show, "Re:Joyce!".
New In February 2019 Part 3
(in alphabetical order)
Boobela and Worm written by Joe Friedman performed by Samantha Bond on CD (Unabridged)£4.99

Boobela is a giant - a young, shy and rather lonely giant. Worm is a worm - wise and opinionated, but above all, he's a clever and loyal friend. They live in a world that's a lot like ours, but not quite. When Boobela meets Worm, she has the chance to overcome her fears, pursue her strange and magical powers ...

Harry Potter and the Order of the Phoenix written by J K Rowling performed by Stephen Fry on CD (Unabridged)£39.99

A Genius Performance by Stephen Fry!

There is a door at the end of a silent corridor. And it's haunting Harry Potter's dreams. Why else would he be waking in the middle of the night, screaming in terror?

How Green Was My Valley written by Richard Llewellyn performed by Ralph Cosham on CD (Unabridged)£39.99 - £59.99

Growing up in a mining community in rural South Wales, Huw Morgan is taught many harsh lessons - at the kitchen table, at Chapel and around the pit-head. Looking back on the hardships of his early life, where difficult days are faced with courage but the valleys swell with the sound of Welsh voices

Skydancer written by Geoffrey Archer performed by Bill Wallis on Cassette (Unabridged)£14.99

Project Skydancer was the brainchild of the Ministry of Defence. Beautiful and terrifying in its simplicity, DS29 had designed new warheads for Polaris missiles, warheads that with consummate ease could evade the new batteries of anti-ballistic missiles the Russians had set up around their prime military targets.

Snow Wolf written by Glenn Meade performed by Steven Pacey on Cassette (Unabridged)£19.99

In the heart of the Cold War, they sent him to plot the ultimate assassination.

Now they want him dead... It is 1953. Joseph Stalin, the world's most tyrannical dictator, is teetering on the edge of insanity, and about to plunge the world into nuclear chaos. Only one man and one woman can penetrate the Iron Curtain and stop this madman, before it's too late.

The Monarchy of England - Volume 1 - The Beginnings written by David Starkey performed by Tim Pigott-Smith on CD (Unabridged)£24.99 - £29.99

The thrilling launch of David Starkey's new mammoth venture – MONARCHY: three books linked to 18 hours of television on the Kings and Queens of England. Volume 1 The Early Kings covers the retreat of the Romans from Britain in 410 to the fall of the House of Lancaster in the middle...

The Ordeal of Gilbert Pinfold written by Evelyn Waugh performed by Michael Cochrane on CD (Unabridged)£24.99

Based on a true episode, this sharply comic novel and Waugh's own biography are entangled in a richly fascinating way. The Ordeal of Gilbert Pinfold - A Conversation Piece recounts a period of mental confusion and breakdown in the life of Gilbert Pinfold, an established novelist of mature years.

The Way Through the Woods written by Colin Dexter performed by Michael Pennington on Cassette (Unabridged)£19.99

Morse is enjoying a rare if unsatisfying holiday in Dorset when the first letter appears in The Times. A year before, a stunning Swedish student disappeared from Oxfordshire, leaving behind a rucksack with her identification. As the lady was dishy, young, and traveling alone, the Thames Valley Police ......

Travels with My Aunt written by Graham Greene performed by BBC Radio 4 Full-cast Dramatisation, Dame Hilda Bracket and Charles Kay on Cassette (Abridged)£14.99

Starring Dame Hilda Bracket as Aunt Augusta, this is a Radio 4 dramatization of Graham Greene's novel in which a retired bank manager accompanies his aunt to exotic parts of the world. Henry is introduced to the wilder shores of life, and a morality far beyond his own narrow suburban experience.

Twelve Red Herrings written by Jeffrey Archer performed by David Rintoul on Cassette (Unabridged)£19.99

An imprisoned man is certain that his supposed murder victim is very much alive; a female driver is pursued relentlessly by a menacing figure in another vehicle; a young artist gets the biggest break of her career; a restless beauty manages the perfect birthday celebration; an escaped Iraqi on Saddam...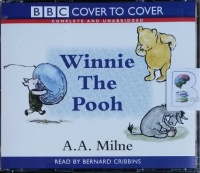 Winnie the Pooh written by A.A. Milne performed by Bernard Cribbins on CD (Unabridged)£14.99 - £29.99
Winnie-the-Pooh may be a bear of very little brain, but thanks to his friends Piglet, Eeyore and, of course, Christopher Robin, he's never far from an adventure. In this story Pooh gets into a tight place, nearly catches a Woozle and heads off on an 'expotition' to the North Pole with the other animals.
---
---
---
Bossypants written by Tina Fey performed by Tina Fey on CD (Unabridged)£29.99
Once in a generation a woman comes along who changes everything. Tina Fey is not that woman, but she met that woman once and acted weird around her. Before 30 Rock, Mean Girls and 'Sarah Palin', Tina Fey was just a young girl with a dream: a recurring stress dream that she was being chased through a ...
---
---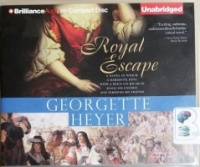 Royal Escape written by Georgette Heyer performed by Cornelius Garrett on CD (Unabridged)£34.99
A fascinating look into a tumultuous interlude in British history and the life of Bonnie Prince Charlie This brilliantly entertaining novel is a fictionalization of the true story of Charles II (May 29, 1630—February 6, 1685), charting his daring flight to France after the Battle of Worcester, where Cromwell and...
---
---
---
---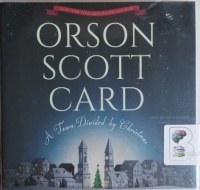 A Town Divided by Christmas written by Orson Scott Card performed by Emily Rankin on CD (Unabridged)£19.99
It began with a quarrel over which newborn should be the baby Jesus in the town's Christmas pageant. Decades later, two scientists arrive to study small-town genetic patterns, only to run up against the invisible walls that split the leading citizens into two congregations that can only be joined by love and...
---
---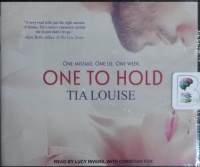 One to Hold written by Tia Louise performed by Lucy Rivers and Christian Fox on CD (Unabridged)£24.99
Derek Alexander is a retired Marine, ex-cop, and the top investigator in his field. Melissa Jones is a small-town girl trying to escape her troubled past. When the two intersect in a bar in Arizona, their sexual chemistry is off the charts. But what is revealed during their "one week stand" only complicates matters...
---
---
---
Timeless written by R.A. Salvatore performed by Victor Bavine on CD (Unabridged)£29.99
At long last, New York Times bestselling author R. A. Salvatore returns with one of fantasy's most beloved and enduring icons, the dark elf Drizzt Do'Urden, in an all-new trilogy full of swordplay, danger, and imaginative thrills. Centuries ago, in the city of Menzoberranzan, the City of Spiders, the city of drow, nestled...
---
---
---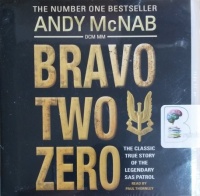 Bravo Two Zero - The Classic True Story of the Legendary SAS Patrol written by Andy McNab performed by Paul Thornley on CD (Unabridged)£19.99
January 1991. IRAQ. Eight members of the SAS regiment embark upon a top secret mission to infiltrate deep behind enemy lines. Under the command of Sergeant Andy McNab, they are to sever a vital underground communication link and to seek and destroy mobile Scud launchers. Their call sign: BRAVO...
---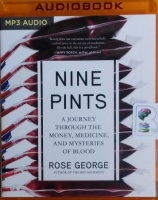 Nine Pints - A Journey Through the Money, Medicine and Mysteries of Blood written by Rose George performed by Karen Cass on MP3 CD (Unabridged)£19.99
An eye-opening exploration of blood, the lifegiving substance with the power of taboo, the value of diamonds and the promise of breakthrough science Blood carries life, yet the sight of it makes people faint. It is a waste product and a commodity pricier than oil. It can save lives and transmit deadly infections.
---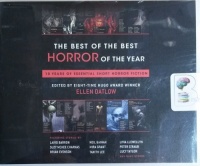 The Best of The Best Horror of the Year - 10 Years of Essential Short Horror Fiction written by Various Famous Horror Authors performed by Tim Campbell and Emily Sutton-Smith on CD (Unabridged)£24.99
***One of Publishers Weekly's "Most Anticipated Books of Fall 2018"*** A group of mountain climbers, caught in the dark, fight to survive their descent; in the British countryside, hundreds of magpies ascend into the sky, higher and higher, until they seem to vanish into the heavens; a professor and his student...
---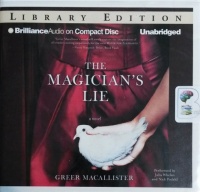 The Magician's Lie written by Greer Macallister performed by Julia Whelan and Nick Podehl on CD (Unabridged)£24.99
Water for Elephants meets The Night Circus in The Magician's Lie, a debut novel in which the country's most notorious female illusionist stands accused of her husband's murder - and she has only one night to convince a small-town policeman of her innocence. The Amazing Arden is the most famous female...