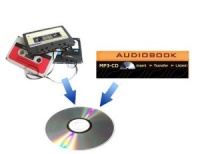 3 Hour Fixed Price Audio Transfer for Customers Own Tapes£25.00
This is the fixed price £25.00 item to be used by Customers when ordering conversion of their own sub 3 hour Audio Cassette or MP3 CD title.
---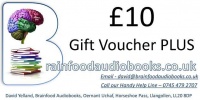 Gift Voucher PLUS 10£10.00
Welcome to the New Brainfood Audiobooks Gift Voucher PLUS! This is a Gift Voucher with a difference.
---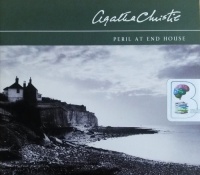 Peril at End House written by Agatha Christie performed by Hugh Fraser on CD (Abridged)£3.99 - £4.99
Nick Buckley was an unusual name for a pretty young woman. But then she had led an unusual life. First, on a treacherous Cornish hillside, the brakes on her car failed. Then, on a coastal path, a falling boulder missed her by inches. Later, an oil painting fell and almost crushed her in bed.
---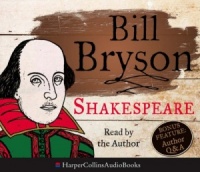 Shakespeare written by Bill Bryson performed by Bill Bryson on CD (Unabridged)£6.99 - £7.99
This short biography of William Shakespeare by world famous writer Bill Bryson brims with the authorís inimitable wit and intelligence.
---
---
---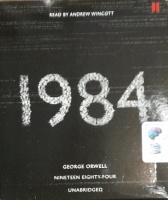 1984 written by George Orwell performed by Andrew Wincott on CD (Unabridged)£19.99
BIG BROTHER IS WATCHING YOU . . . 1984 is the year in which it happens. The world is divided into three superstates. In Oceania, the Party's power is absolute. Every action, word, gesture and thought is monitored under the watchful eye of Big Brother and the Thought Police. In the Ministry of Truth...
---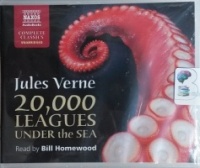 20,000 Leagues Under the Sea written by Jules Verne performed by Bill Homewood on CD (Unabridged)£39.99
The most exciting underwater adventure ever! In 1866, a mysterious giant whale savagely attacks shipping in international seas. A famous French marine biologist, Pierre Aronnax, joins the hunt to track down and incapacitate the creature. With him are his loyal servant Conseil and the redoubtable ...
---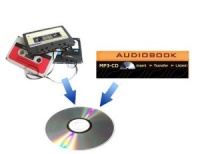 3 Hour Fixed Price Audio Transfer£15.00
This is the fixed price £15 item to be used when ordering conversion of a sub 3 hour Audio Cassette or MP3 CD title.
---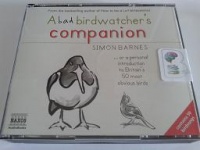 A Bad Birdwatcher's Companion written by Simon Barnes performed by SImon Barnes on CD (Abridged)£9.99
Simon Barnes is one of Britain's leading bird writers and humorists. His weekly column in The Times, his essays for the RSPB magazine and his two books on bad bird-watching have made him one of the characters of the bird world.
---
---
---
---
---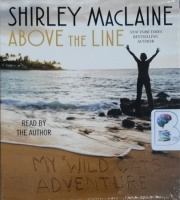 Above the Line - My Wild Oats Adventure written by Shirley MacLaine performed by Shirley MacLaine on CD (Unabridged)£24.99
Read by New York Times best-selling author and Academy Award winner Shirley MacLaine, a funny, fierce, imaginative memoir chronicling her remarkable experiences filming Wild Oats in the Canary Islands and the extraordinary memories her time there brought forth of a past life on the lost continent...
---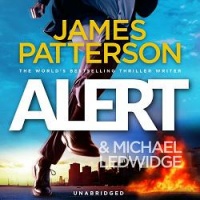 Alert written by James Patterson and Michael Ledwidge performed by Danny Mastrogiorgio and Henry Leyva on CD (Unabridged)£6.99
Every New Yorker's worst nightmare is about to become a reality. New York has seen more than its fair share of horrific attacks, but the city is about to be shaken in a way it never has before. After two devastating catastrophes in quick succession, everyone is on edge.
---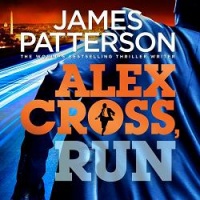 Alex Cross, Run written by James Patterson performed by Michael Boatman on CD (Abridged)£4.99
Detective Alex Cross arrests renowned plastic surgeon Elijah Creem for sleeping with teenage girls. Now, his life ruined, Creem is out of jail, and he's made sure that no one will recognize him - by giving himself a new face. A young woman is found hanging from a sixth-floor window, and Alex is called to the scene.
---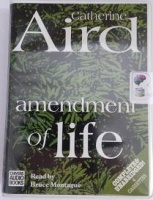 Amendment of Life written by Catherine Aird performed by Bruce Montague on Cassette (Unabridged)£13.99
The new Detective Inspector Sloan mystery from the mistress of cosy English crime Tidying up the famous yew hedge maze at Aumerle Court was never Peter Carter's favourite job.
---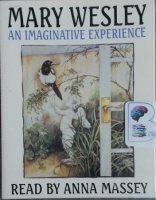 An Imaginative Experience written by Mary Wesley performed by Anna Massey on Cassette (Abridged)£4.99
A traveller on an InterCity train returning to London smells the burn of the breaks as it hisses to a stop in the middle of the countryside. He sees a white-faced woman leap from the train and race to the aid of a sheep stranded on its back, unable to rise, in a field. Righting it, she turns, and he sees her face is full of...
---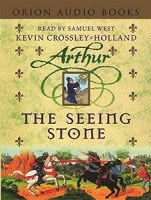 Arthur - The Seeing Stone written by Kevin Crossley-Holland performed by Samuel West on Cassette (Abridged)£4.99
The year is 1199, the place the Welsh Marches. Young Arthur de Caldicot is given a shining stone in which his legendary namesake is revealed. In 100 short chapters that brilliantly evoke life in a medieval manor, stories of the boy King Arthur ....
---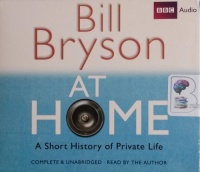 At Home - A Short History of Private Life written by Bill Bryson performed by Bill Bryson on CD (Unabridged)£19.99
Here is Bill Bryson's entertaining and illuminating book about the history of the way we live - complete, unabridged and read by the author. Bill Bryson was struck one day by the thought that we devote more time to studying the battles and wars of history than to considering what history really consists of...
---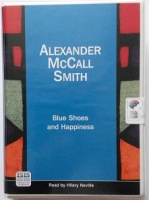 Blue Shoes and Happiness written by Alexander McCall Smith performed by Hilary Neville on Cassette (Unabridged)£14.99
Now that she is finally and happily married to her long-term suitor Mr J.L.B. Matekoni, Mma Ramotswe of the No. 1 Ladies Detective Agency of Botswana might have expected life to grow more sedate. But the many problems that lead customers to Mma Ramotswe's door seem, if anything, to have multiplied .....
---
New In February 2019 Part 3
(in alphabetical order)
Boobela and Worm written by Joe Friedman performed by Samantha Bond on CD (Unabridged)£4.99

Boobela is a giant - a young, shy and rather lonely giant. Worm is a worm - wise and opinionated, but above all, he's a clever and loyal friend. They live in a world that's a lot like ours, but not quite. When Boobela meets Worm, she has the chance to overcome her fears, pursue her strange and magical powers ...

Ford County - Stories written by John Grisham performed by John Grisham on CD (Unabridged)£4.99

In his first collection of short stories John Grisham takes us back to Ford County, Mississippi, the setting of his first novel, A TIME TO KILL. ·Wheelchair-bound Inez Graney and her two older sons, Leon and Butch, take a bizarre road trip through the Mississippi Delta to visit the youngest Graney brother...

Harry Potter and the Order of the Phoenix written by J K Rowling performed by Stephen Fry on CD (Unabridged)£39.99

A Genius Performance by Stephen Fry!

There is a door at the end of a silent corridor. And it's haunting Harry Potter's dreams. Why else would he be waking in the middle of the night, screaming in terror?

How Green Was My Valley written by Richard Llewellyn performed by Ralph Cosham on CD (Unabridged)£39.99 - £59.99

Growing up in a mining community in rural South Wales, Huw Morgan is taught many harsh lessons - at the kitchen table, at Chapel and around the pit-head. Looking back on the hardships of his early life, where difficult days are faced with courage but the valleys swell with the sound of Welsh voices

Mrs Pringle written by Miss Read performed by Gwen Watford on Cassette (Unabridged)£19.99

Mrs Pringle, the lugubrious school cleaner, has always been a favourite character in the Fairacre series. Here we trace Maud Pringle's life from childhood visits to the village from her Caxley home, through her working days before her marriage to Fred Pringle, and on to her long association with Fariacre School, and we meet again many old friends as they cross Mrs

Murder in the Mews written by Agatha Christie performed by Nigel Hawthorne on CD (Unabridged)£9.99

4 short stories featuring the great detective himself… How did a woman holding a pistol in her right hand manage to shoot herself in the left temple? What was the link between a ghost sighting and the disappearance of top secert military plans? How did the bullet that killed Sir Gervase shatter a mirror...

Paradise Lost written by John Milton performed by Anton Lesser on CD (Unabridged)£24.99 - £39.99

A Genius Performance by Anton Lesser! Paradise Lost is the greatest epic poem in the English language. In words remarkable for their richness of rhythm and imagery, Milton tells the story of Man's creation, fall and redemption - to "justify the ways of God to men". Naxos

Skydancer written by Geoffrey Archer performed by Bill Wallis on Cassette (Unabridged)£14.99

Project Skydancer was the brainchild of the Ministry of Defence. Beautiful and terrifying in its simplicity, DS29 had designed new warheads for Polaris missiles, warheads that with consummate ease could evade the new batteries of anti-ballistic missiles the Russians had set up around their prime military targets.

Snow Wolf written by Glenn Meade performed by Steven Pacey on Cassette (Unabridged)£19.99

In the heart of the Cold War, they sent him to plot the ultimate assassination.

Now they want him dead... It is 1953. Joseph Stalin, the world's most tyrannical dictator, is teetering on the edge of insanity, and about to plunge the world into nuclear chaos. Only one man and one woman can penetrate the Iron Curtain and stop this madman, before it's too late.

The Monarchy of England - Volume 1 - The Beginnings written by David Starkey performed by Tim Pigott-Smith on CD (Unabridged)£24.99 - £29.99

The thrilling launch of David Starkey's new mammoth venture – MONARCHY: three books linked to 18 hours of television on the Kings and Queens of England. Volume 1 The Early Kings covers the retreat of the Romans from Britain in 410 to the fall of the House of Lancaster in the middle...

The Ordeal of Gilbert Pinfold written by Evelyn Waugh performed by Michael Cochrane on CD (Unabridged)£24.99

Based on a true episode, this sharply comic novel and Waugh's own biography are entangled in a richly fascinating way. The Ordeal of Gilbert Pinfold - A Conversation Piece recounts a period of mental confusion and breakdown in the life of Gilbert Pinfold, an established novelist of mature years.

The Picture of Dorian Gray written by Oscar Wilde performed by Edward Petherbridge on CD (Unabridged)£29.99 - £39.99

A Genius Performance by Edward Petherbridge! Dorian Gray is a child of his time. A young man who is only interested in appearances and, as the story continues, not so much about reality. He has a picture painted and makes a deal with the "devil" so that all the sins he commits are visited on the..

The Way Through the Woods written by Colin Dexter performed by Michael Pennington on Cassette (Unabridged)£19.99

Morse is enjoying a rare if unsatisfying holiday in Dorset when the first letter appears in The Times. A year before, a stunning Swedish student disappeared from Oxfordshire, leaving behind a rucksack with her identification. As the lady was dishy, young, and traveling alone, the Thames Valley Police ......

Travels with My Aunt written by Graham Greene performed by BBC Radio 4 Full-cast Dramatisation, Dame Hilda Bracket and Charles Kay on Cassette (Abridged)£19.99

Starring Dame Hilda Bracket as Aunt Augusta, this is a Radio 4 dramatization of Graham Greene's novel in which a retired bank manager accompanies his aunt to exotic parts of the world. Henry is introduced to the wilder shores of life, and a morality far beyond his own narrow suburban experience.

Twelve Red Herrings written by Jeffrey Archer performed by David Rintoul on Cassette (Unabridged)£19.99

An imprisoned man is certain that his supposed murder victim is very much alive; a female driver is pursued relentlessly by a menacing figure in another vehicle; a young artist gets the biggest break of her career; a restless beauty manages the perfect birthday celebration; an escaped Iraqi on Saddam...
---
---
---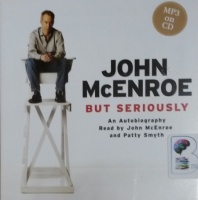 But Seriously written by John McEnroe performed by John McEnroe and Patty Smith on MP3 CD (Unabridged)£19.99
Read by John McEnroe and Patty Smyth He is one of the most controversial sportsmen in history and a legend of Open Era tennis. But after reaching the top of his game - what came next? A decade after his international number-one bestseller SERIOUS, John McEnroe is back and ready to talk. Now the undisputed..
---
Cell 7 written by Kerry Drewery performed by Rosie Jones on CD (Unabridged)£34.99
A world where justice and the fate of those accused of murder is decided by the public, but has moved on from the Roman Gladiator 'thumbs up or thumbs down' public vote, to a public vote by telephone. If you are voted innocent you are set free; if you are voted guilty you are committed to death by electric...
---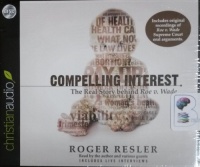 Compelling Interest - The Real Story of Roe vs. Wade written by Roger Resler performed by Roger Resler on CD (Unabridged)£24.99
Is a fetus a person? Is "pro-choice" a neutral position? For 40 years since the landmark Roe v. Wade Supreme Court decision, the abortion debate has been highly charged and politicized. Questions like these - and passionate but widely varying answers - have become the common language of the public dialogue..
---
---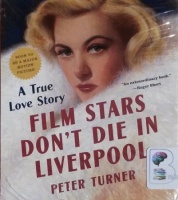 Film Stars Don't Die In Liverpool - A True Love Story written by Peter Turner performed by Peter Kenny on CD (Unabridged)£19.99
Now a major motion picture starring Academy Award nominee, Annette Bening, and BAFTA Award winners Jamie Bell and Julie Walters. On Digital Download from 11th March and DVD & Blu-ray 19th March. On 29 September 1981, Peter Turner received a phone call that would change his life. His former lover...
---
---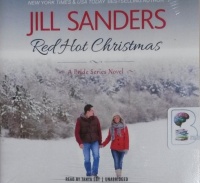 Red Hot Christmas written by Jill Sanders performed by Tanya Eby on CD (Unabridged)£24.99
Just in time for the holidays, take another wonderful trip to Oregon. Enjoy this sweet story about some new small-town people and learn about the lives and loves of a hot young couple. Don't miss this opportunity to catch up on some of your favorite book people and the enchanting town of Pride. Amber is new ...
---
---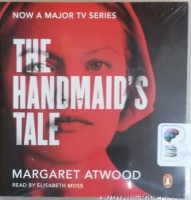 The Handmaid's Tale written by Margaret Atwood performed by Elisabeth Moss on CD (Unabridged)£19.99
Read by Elisabeth Moss, star of the hit Channel 4 TV series. The Republic of Gilead offers Offred only one function: to breed. If she deviates, she will, like dissenters, be hanged at the wall or sent out to die slowly of radiation sickness. But even a repressive state cannot obliterate desire - neither Offred's nor ...
---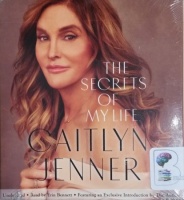 The Secrets of My Life written by Caitlyn Jenner performed by Erin Bennett on CD (Unabridged)£24.99
In this remarkable memoir former Olympian and Kardashian family member Caitlyn Jenner reveals shocking and heartbreaking stories from her journey to become a transgender woman and fight for the LGBTQ+ community. "Imagine denying your core and soul. Then add to it the most impossible expectations...
---
---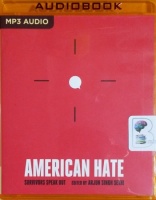 American Hate - Survivours Speak Out written by Various Survivors of American Hate performed by Edoardo Ballerini and Rashida High on MP3 CD (Unabridged)£19.99
"Amid the ugly realities of contemporary America, American Hate affirms our courage and inspiration, opening a road map to reconciliation by means of the victims' own words." (NPR Books) "The collection offers possible solutions for how people, on their own or working with others, can confront hate." (San Francisco Chronicle)...
---
---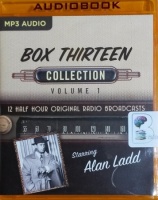 Box Thirteen Collection - Volume 1 written by Mayfair Productions performed by Alan Ladd on MP3 CD (Unabridged)£11.99
Movie star Alan Ladd played Dan Holiday, retired newspaperman turned fiction writer and adventurer extraordinaire. To gain ideas for his books, Holiday placed an ad in the Star-Times newspaper "Adventure wanted – will go anywhere, do anything – Box 13." It wasn't long before Box 13 became jammed with adventures galore.
---
---
---
Night Fall written by Simon R. Green performed by Gideon Emery on CD (Unabridged)£59.99
From the New York Times bestselling author of Moonbreaker comes the epic final Secret Histories adventure, where the Droods will take on the most unexpected of enemies: the inhabitants of the Nightside. The Droods are all about control, making people do what they're told for the greater good. The Nightside is all about choice:...
---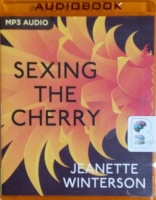 Sexing the Cherry written by Jeanette Winterson performed by Juliet Stevenson on MP3 CD (Unabridged)£11.99
In a fantastic world that is and is not 17th-century England, a baby is found floating in the Thames. The child, Jordan, is rescued by Dog Woman and grows up to travel the world like Gulliver, though he finds that the world's most curious oddities come from his own mind. Winterson leads the listener from discussions on the nature of ...