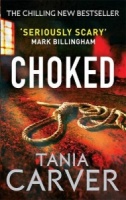 Choked written by Tania Carver performed by Martyn Waites on CD (Abridged)£3.99 - £6.99
'I have something you've lost,' the voice said. 'Your daughter.' He will threaten her. The honeymoon is over for newlywed criminologist Marina Esposito. Her house is in flames. Her cop husband is in a coma. Her baby daughter is missing. And then her phone rings . . .
---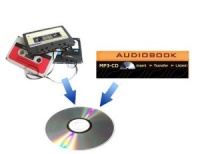 3 Hour Fixed Price Audio Transfer£15.00
This is the fixed price £15 item to be used when ordering conversion of a sub 3 hour Audio Cassette or MP3 CD title.
---
---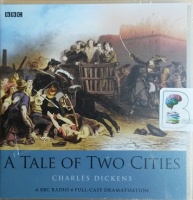 A Tale of Two Cities written by Charles Dickens performed by BBC Full Cast Dramatisation and Robert Lindsay on CD (Abridged)£19.99 - £34.99
Robert Lindsay stars in this BBC Radio 4 full-cast dramatisation of the classic novel by Charles Dickens. From the echo of the first line 'It was the best of times, it was the worst of times' to the final 'It is a far better thing that I do than I have ever done', Dickens' classic novel of the French revolution...
---
---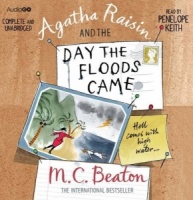 Agatha Raisin and the Day The Floods Came written by M.C. Beaton performed by Penelope Keith on CD (Unabridged)£14.99 - £19.99
A Genius performance by Penelope Keith!
Drowned brides are like buses: nothing for ages, then two come along at the same time . . . ! Abandoned by husband James, Agatha hops on a plane to the South Pacific, hoping to mend her broken heart.
---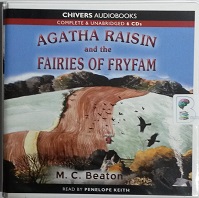 Agatha Raisin and the Fairies of Fryfam written by M.C. Beaton performed by Penelope Keith on CD (Unabridged)£19.99
Feeling jilted and cross, Agatha follows a fortune-teller's advice and rents a cottage in the pretty village of Fryfam, where she hopes good fortune and true love will come chasing after her for a change. Unfortunately, her romantic notions are soon dispelled by the strange goings-on in the village.
---
---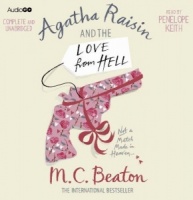 Agatha Raisin and the Love from Hell written by M.C. Beaton performed by Penelope Keith on CD (Unabridged)£14.99 - £24.99
A Genius performance by Penelope Keith!
No happily ever after for her! Recently married to neighbour James Lacey, Agatha quickly finds that love is not all it's cracked up to be - soon the newly-weds are living in separate cottages and accusing each other of infidelity.
---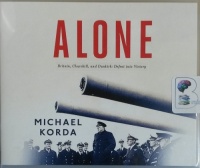 Alone - Britain, Churchill and Dunkirk: Defeat into Victory written by Michael Korda performed by John Lee on CD (Unabridged)£24.99
Combining epic history with rich family stories, Michael Korda chronicles the outbreak of World War II and the great events that led to Dunkirk. An epic of remarkable originality, Alone captures the heroism of World War II as movingly as any book in recent memory. Bringing to vivid life the world leaders...
---
And Another Thing written by Eoin Colfer performed by Simon Jones on CD (Unabridged)£19.99
"And Another Thing ..." will be the sixth novel in the now improbably named "Hitchhiker's Guide to the Galaxy" trilogy.
Eight years after the death of its creator, Douglas Adams, the author's widow, Jane Belson, has given her approval for the project to be continued by the international number one bestselling children's writer, Eoin Colfer
---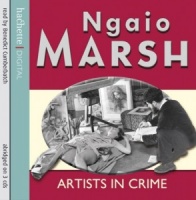 Artists in Crime written by Ngaio Marsh performed by Benedict Cumberbatch on CD (Abridged)£7.99 - £12.99
A Benedict Cumberbatch Genius Performance!
It started as a student exercise, the knife under the drape, the model's pose chalked in place. But before Agatha Troy, artist and instructor, returns to the class, the pose has been re-enacted in earnest....
---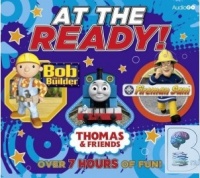 At The Ready! written by Various Childrens Authors performed by Various Famous Actors on CD (Abridged)£39.99
This box set contains over 7 hours of fun from Bob the Builder, Fireman Sam and Tomas the Tank Engine! This would make a brilliant gift that will last considerably longer than the New Year! Consisting of Bob the Builder: Project Build It / Bob the Builder: Off-Road Scrambler and other stories / Fireman Sam: Paper Plane Down and other...
---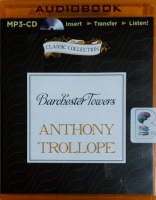 Barchester Towers written by Anthony Trollope performed by Stephen Thorne on MP3 CD (Unabridged)£29.99
Barchester Towers, Trollope's most popular novel, is the second of the six Chronicles of Barsetshire.
---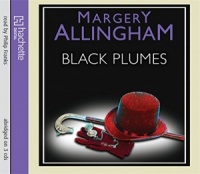 Black Plumes written by Margery Allingham performed by Philip Franks on CD (Abridged)£19.99
A Genius Performance by Philip Franks!
The slashing of a valuable painting at the renowned Ivory Gallery in London, followed by the murder of the proprietor's son-in-law, Robert, sets the stage for another finely tuned Allingham mystery. The proprietor's mother, 90-year-old Gabrielle Ivory, holds the key to the web of intrigue and danger that permeates the gallery.
---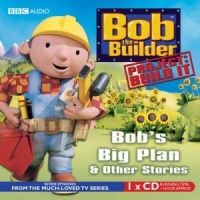 Bob the Builder - Bob's Big Plan written by Bob the Builder Team performed by Bob the Builder Team on CD (Unabridged)£11.99
You'll love these great new stories about "Bob the Builder" and his friends! In "Bob's Big Plan", a special extended episode, Bob hears that Sunflower Valley, where he and his brother Tom used to camp, is being developed.
---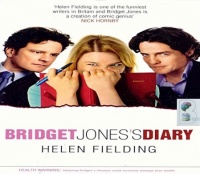 Bridget Jones's Diary written by Helen Fielding performed by Tracie Bennett on CD (Abridged)£4.99
Bridget Jones wants to have it all - and once she's given up smoking and got down to 8st 7 she will.
Based on Helen Fielding's diary in the Independent newspaper, this is a novel about a year in the life of a single girl on an optimistic but doomed quest for self-improvement and Inner Poise.
---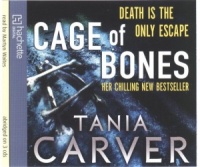 Cage of Bones written by Tania Carver performed by Martyn Waites on CD (Abridged)£6.99
Into the house. Down the stairs. Through the dripping dark of the cellar. Someone is there. Someone that shouldn't be there.
As a building awaits demolition, a horrifying discovery is made inside the basement: a cage made of human bones
---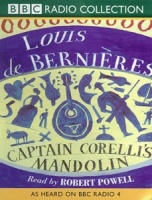 Captain Corelli's Mandolin written by Louis de Bernieres performed by Robert Powell on Cassette (Abridged)£4.99
A Genius Performance by Robert Powell!
Set on the Greek island of Cephallonia during World War II, this is the story of a beautiful young woman and her two suitors: a gentle fisherman turned ruthless guerrilla, and the charming mandolin-playing head of the Italian garrison on the island.
---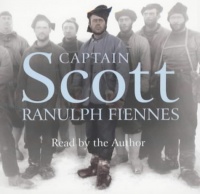 Captain Scott written by Ranulph Fiennes performed by Ranulph Fiennes on CD (Abridged)£6.99 - £9.99
Sir Ranulph Fiennes is uniquely qualified to write a new biography of Captain Scott. This is the first biography of Scott by someone who has experienced the deprivations.
---
---
Coroner's Pidgin written by Margery Allingham performed by Philip Franks on CD (Abridged)£7.99 - £28.99
A Genius Performance by Philip Franks!
Campion returns from three years work for the War Office in Europe to find that Lugg, his manservant, has brought him an unusual gift: the black silk nightdress-clad body of a dead woman, an apparent suicide. Wanting only to get away to a well-deserved rest, Campion must instead assist Detective Chief Inspector Oates and Superintendent Yeo in unravelling a tangled plot of deception and murder, as the war draws to its conclusion.
---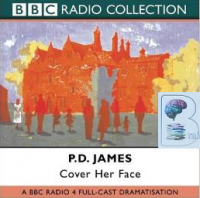 Cover Her Face written by P.D. James performed by BBC Full Cast Dramatisation on CD (Abridged)£9.99
A BBC Radio 4 dramatization of an Adam Dalgliesh mystery. Called in to investigate a murder at an Elizabethan manor house, Dalgliesh soon discovers that there is no shortage of motives.
New In February 2019 Part 3
(in alphabetical order)
Boobela and Worm written by Joe Friedman performed by Samantha Bond on CD (Unabridged)£4.99

Boobela is a giant - a young, shy and rather lonely giant. Worm is a worm - wise and opinionated, but above all, he's a clever and loyal friend. They live in a world that's a lot like ours, but not quite. When Boobela meets Worm, she has the chance to overcome her fears, pursue her strange and magical powers ...

Harry Potter and the Order of the Phoenix written by J K Rowling performed by Stephen Fry on CD (Unabridged)£39.99

A Genius Performance by Stephen Fry!

There is a door at the end of a silent corridor. And it's haunting Harry Potter's dreams. Why else would he be waking in the middle of the night, screaming in terror?

How Green Was My Valley written by Richard Llewellyn performed by Ralph Cosham on CD (Unabridged)£39.99 - £59.99

Growing up in a mining community in rural South Wales, Huw Morgan is taught many harsh lessons - at the kitchen table, at Chapel and around the pit-head. Looking back on the hardships of his early life, where difficult days are faced with courage but the valleys swell with the sound of Welsh voices

Paradise Lost written by John Milton performed by Anton Lesser on CD (Unabridged)£24.99 - £39.99

A Genius Performance by Anton Lesser! Paradise Lost is the greatest epic poem in the English language. In words remarkable for their richness of rhythm and imagery, Milton tells the story of Man's creation, fall and redemption - to "justify the ways of God to men". Naxos

Skydancer written by Geoffrey Archer performed by Bill Wallis on Cassette (Unabridged)£14.99

Project Skydancer was the brainchild of the Ministry of Defence. Beautiful and terrifying in its simplicity, DS29 had designed new warheads for Polaris missiles, warheads that with consummate ease could evade the new batteries of anti-ballistic missiles the Russians had set up around their prime military targets.

Snow Wolf written by Glenn Meade performed by Steven Pacey on Cassette (Unabridged)£19.99

In the heart of the Cold War, they sent him to plot the ultimate assassination.

Now they want him dead... It is 1953. Joseph Stalin, the world's most tyrannical dictator, is teetering on the edge of insanity, and about to plunge the world into nuclear chaos. Only one man and one woman can penetrate the Iron Curtain and stop this madman, before it's too late.

The Monarchy of England - Volume 1 - The Beginnings written by David Starkey performed by Tim Pigott-Smith on CD (Unabridged)£24.99 - £29.99

The thrilling launch of David Starkey's new mammoth venture – MONARCHY: three books linked to 18 hours of television on the Kings and Queens of England. Volume 1 The Early Kings covers the retreat of the Romans from Britain in 410 to the fall of the House of Lancaster in the middle...

The Ordeal of Gilbert Pinfold written by Evelyn Waugh performed by Michael Cochrane on CD (Unabridged)£24.99

Based on a true episode, this sharply comic novel and Waugh's own biography are entangled in a richly fascinating way. The Ordeal of Gilbert Pinfold - A Conversation Piece recounts a period of mental confusion and breakdown in the life of Gilbert Pinfold, an established novelist of mature years.

The Way Through the Woods written by Colin Dexter performed by Michael Pennington on Cassette (Unabridged)£19.99

Morse is enjoying a rare if unsatisfying holiday in Dorset when the first letter appears in The Times. A year before, a stunning Swedish student disappeared from Oxfordshire, leaving behind a rucksack with her identification. As the lady was dishy, young, and traveling alone, the Thames Valley Police ......

Travels with My Aunt written by Graham Greene performed by BBC Radio 4 Full-cast Dramatisation, Dame Hilda Bracket and Charles Kay on Cassette (Abridged)£14.99

Starring Dame Hilda Bracket as Aunt Augusta, this is a Radio 4 dramatization of Graham Greene's novel in which a retired bank manager accompanies his aunt to exotic parts of the world. Henry is introduced to the wilder shores of life, and a morality far beyond his own narrow suburban experience.

Twelve Red Herrings written by Jeffrey Archer performed by David Rintoul on Cassette (Unabridged)£19.99

An imprisoned man is certain that his supposed murder victim is very much alive; a female driver is pursued relentlessly by a menacing figure in another vehicle; a young artist gets the biggest break of her career; a restless beauty manages the perfect birthday celebration; an escaped Iraqi on Saddam...
Exposed written by Roberta Kray performed by Annie Aldington on CD (Unabridged)£49.99
Eden Chase is head over heels in love with her husband, Tom. He's the sort of man who doesn't give much away, but Eden doesn't mind that - Tom is worth the effort. So when he's accused of a years-old robbery and murder, Eden won't believe it. No, not her Tom - he's not capable of the things they're saying he...
---
Gone Tomorrow written by Lee Child performed by Dick Hill on CD (Abridged)£24.99
Suicide bombers are easy to spot. They give out all kinds of tell-tale signs, mostly because they're nervous. By definition they're all first-timers. Riding the subway in New York at 2:00 in the morning, Reacher knows the 12 giveaway signs to look out for. Watching one of his fellow passengers, he becomes sharply..
---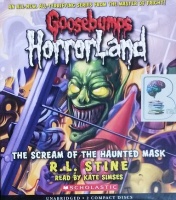 Goosebumps - Horrorland written by R.L. Stine performed by Kate Simses on CD (Unabridged)£9.99
What should Carly Beth be for Halloween this year? TERRIFIED! Late at night, an ugly green mask is mysteriously calling out to her, and ugly green masks don't like to be ignored. If Carly Beth survives the night, even a scary theme park might sound like a vacation. Or maybe not! At HorrorLand, every night is...
---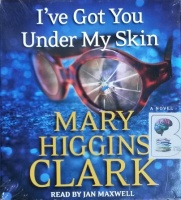 I've Got You Under My Skin written by Mary Higgins Clarke performed by Jan Maxwell on CD (Unabridged)£29.99
In this gripping #1 New York Times bestseller from Queen of Suspense Mary Higgins Clark, a Manhattan ER doctor is brazenly murdered in front of his young son in a city playground. Five years later, his killer is still at large. When Laurie Moran's husband was brutally murdered, only three-year-old Timmy saw the...
---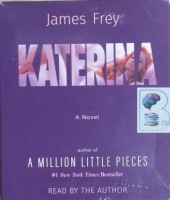 Katerina written by James Frey performed by James Frey on CD (Unabridged)£29.99
The devastating new novel from the author of the international best seller A Million Little Pieces. A kiss, a touch. A smile and a beating heart. Love and sex and dreams, art and drugs and the madness of youth. Betrayal and heartbreak, regret and pain, the melancholy of age. Katerina, the explosive new novel by...
---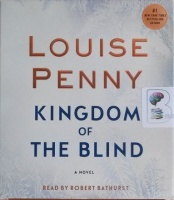 Kingdom of the Blind written by Louise Penny performed by Robert Bathurst on CD (Unabridged)£29.99
The entrancing new crime thriller featuring Chief Inspector Armand Gamache, from number one New York Times bestselling author Louise Penny A wonderful addition to a fantastic series' Elly Griffiths When Armand Gamache receives a letter inviting him to an abandoned farmhouse outside of Three...
---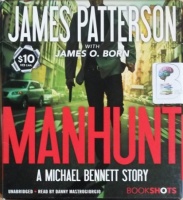 Manhunt written by James Patterson with James O. Born performed by Danny Mastrogiorgio on CD (Unabridged)£9.99
Michael Bennett, be grateful you're alive.
Someone attacked the Thanksgiving Day Parade directly in front of Michael Bennett and his family. The television news called it "holiday terror"--Michael Bennett calls it personal. The hunt is on....
---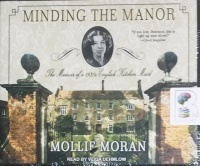 Minding the Manor - The Memoir of a 1930's English Kitchen Maid written by Mollie Moran performed by Veida Dehmlow on CD (Unabridged)£29.99
Mollie Moran is one of the few people alive today who can recall working "downstairs" in the early 1930s before the outbreak of World War II. In Minding the Manor, she provides a rare and fascinating insight into a world that has long since vanished. Mollie left school at age fourteen and became a scullery maid ...
---
---
---
---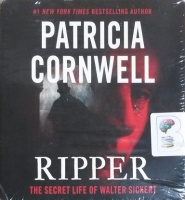 Ripper - The Secret Life of Walter Sickert written by Patricia Cornwell performed by Mary Stuart Masterson on CD (Unabridged)£29.99
From New York Times bestselling author Patricia Cornwell comes Ripper: The Secret Life of Walter Sickert, a comprehensive and intriguing exposé of one of the world's most chilling cases of serial murder - and the police force that failed to solve it. Vain and charismatic Walter Sickert made a name for himself as a..
---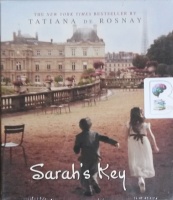 Sarah's Key written by Tatiana de Rosnay performed by Polly Stone on CD (Unabridged)£34.99
Paris, July 1942: Sarah, a ten year-old girl, is brutally arrested with her family by the French police in the Vel' d'Hiv' roundup, but not before she locks her younger brother in a cupboard in the family's apartment, thinking that she will be back within a few hours. Paris, May 2002: On Vel' d'Hiv's 60th anniversary...
---
---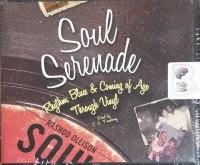 Soul Serenade - Rhythm, Blue and Coming of Age Through Vinyl written by Rashod Ollison performed by C.S. Treadway on CD (Unabridged)£29.99
Soul Serenade is the memoir of pop music critic Rashod Ollison, whose love for soul music was fostered by his father, a disturbed Vietnam vet. After his parents' volatile marriage ended in divorce when Rashod was six years old, he retreated into the records his father left behind-discovering that the music of...
---
---
---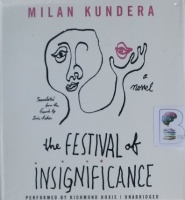 The Festival of Insignificance written by Milan Kundera performed by Richmond Hoxie on CD (Unabridged)£24.99
An ode to friendship set in present-day Paris follows the long-running discourse among four companions on sex, desire, history, art, and the meaning of human existence.
---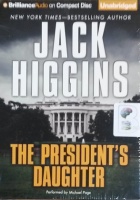 The President's Daughter written by Jack Higgins performed by Michael Page on CD (Unabridged)£29.99
In 1969, Jake Cazalet saved the life of a Frenchwoman in Vietnam, and a brief, passionate affair ensued. Years later in Paris, he was introduced to another beautiful young woman - his daughter. For many reasons, their relationship remained a secret.Now Jake Cazalet is president of the United States. Somehow...
---
---