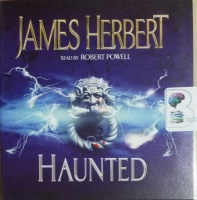 Haunted written by James Herbert performed by Robert Powell on CD (Abridged)£4.99
A ghostly twist. Three nights of terror at the house called Edbrook. Three nights in which David Ash, there to investigate a haunting, will be victim of horrifying games. Three nights in which he will face the blood-chilling enigma of his own past.
---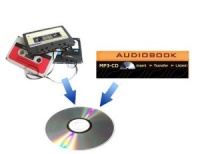 Large Fixed Price Audio Transfer Service£35.00
This is the fixed price £35.00 item to be used when ordering conversion of a 6-9 hour Audio Cassette or MP3 CD title.
---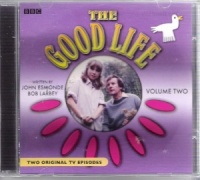 The Good Life written by John Esmonde and Bob Larbey performed by Richard Briers and Felicity Kendal on CD (Abridged)£3.99
Two episodes of the wonderful TV show!
---
---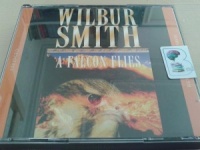 A Falcon Flies written by Wilbur Smith performed by Martin Jarvis on CD (Abridged)£4.99 - £8.99
A Falcon Flies is the first bestselling novel in Wilbur Smith's epic tale of Africa, The Ballantyne Novels. In search of a father they barely remember, Zouga and Dr Robyn Ballantyne board Mungo St John's magnificent clipper to speed them to Africa.
---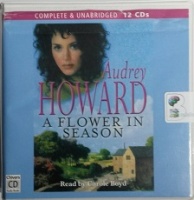 A Flower in Season written by Audrey Howard performed by Carole Boyd on CD (Unabridged)£14.99 - £24.99
Briony Marsden has led a hard life, forced to do the work of a grown man while enduring her drunkard father's taunts and blows. But when he goes too far one day, her fate becomes even worse as she makes her way alone in a heartless world.
---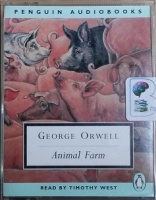 Animal Farm written by George Orwell performed by Timothy West on Cassette (Unabridged)£9.99
All animals are equal - but some are more equal than others' When the downtrodden animals of Manor Farm overthrow their master Mr Jones and take over the farm themselves, they imagine it is the beginning of a life of freedom and equality.
---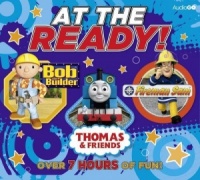 At The Ready! written by Various Childrens Authors performed by Various Famous Actors on CD (Abridged)£39.99
This box set contains over 7 hours of fun from Bob the Builder, Fireman Sam and Tomas the Tank Engine! This would make a brilliant gift that will last considerably longer than the New Year!
---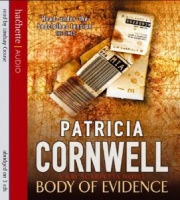 Body of Evidence written by Patricia Cornwell performed by Lindsay Crouse on CD (Abridged)£9.99
A reclusive writer is dead. And her final manuscript has disappeared ...Someone is stalking Beryl Madison.
---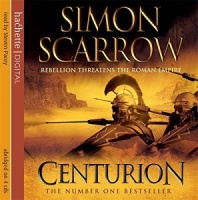 Centurion - Rebellion Threatens the Roman Empire written by Simon Scarrow performed by Steven Pacey on CD (Abridged)£17.99 - £18.99
In the first century AD the Roman Empire faces a new threat from its long-standing enemy Parthia. Parthia is vying with Rome for control of Palmyra an officially neutral kingdom.
---
---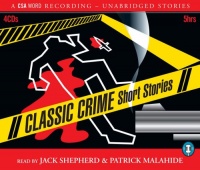 Classic Crime Short Stories written by Various Famous Crime Writers performed by Jack Shepherd and Patrick Malahide on CD (Unabridged)£4.99 - £9.99
Discover a world of heroes and villains, suspense and intrigue. This riveting and comprehensive collection brings together some of the best crime writing of all time.
---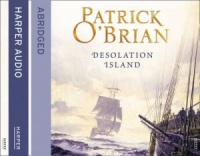 Desolation Island written by Patrick O'Brian performed by Robert Hardy on CD (Abridged)£8.99
A Genius Performance by Robert Hardy!
Commissioned to rescue Governor Bligh of Bounty fame, Captain Jack Aubrey and his friend and surgeon, Stephen Maturin, sail the Leopard to Australia with a hold full of convicts. Among them is a beautiful and dangerous spy — and a treacherous disease which decimates the crew.
---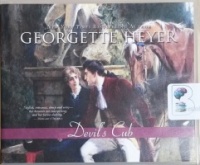 Devil's Cub written by Georgette Heyer performed by Michael Drew on CD (Unabridged)£24.99
The excesses of the young Marquis of Vidal are even wilder than his father's before him. Not for nothing is the reckless duellist and gamester called "the Devil's Cub". But when he is forced to leave the country, Mary Challoner discovers his fiendish plan to abduct her sister. Any only by daring to impersonate...
---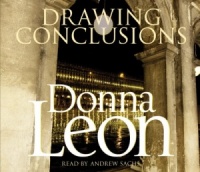 Drawing Conclusions written by Donna Leon performed by Andrew Sachs on CD (Abridged)£4.99 - £5.99
A Genius Performance by Andrew Sachs! When Anna Maria Giusti finds her elderly neighbour Constanza Altavilla dead, with blood on the floor near her head, she calls the police. Brunetti is called to the scene and it seems the woman has suffered a heart attack. Patta, the Vice-Questore, is eager to dismiss the case...
---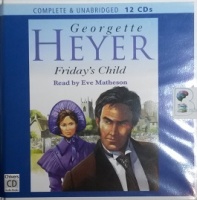 Friday's Child written by Georgette Heyer performed by Eve Matheson on CD (Unabridged)£29.99
This story of mistaken love is a romantic fiction set in the English Regency period. It centers on Lord Sheringham who has been rejected by the woman he loves but the woman who has secretly loved him since childhood is waiting.
---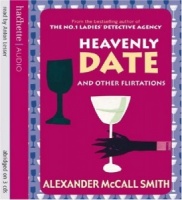 Heavenly Date and Other Flirtations written by Alexander McCall-Smith performed by Anton Lesser on CD (Abridged)£5.99
A Genius Performance by Anton Lesser!
Alexander McCall-Smith's short stories show the interest and intrigue, complexity and completeness that can come from the briefest meeting or a life long love. A lovely set of stories that have something for everyone.
---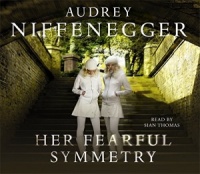 Her Fearful Symmetry written by Audrey Niffenegger performed by Sian Thomas on CD (Abridged)£4.49 - £4.99
dearest e, I told you I would let you know-so here it is-goodbye. I try to imagine what it would feel like if it was you-but it's impossible to conjure the world without you, even though we've been apart so long. I didn't leave you anything. You got to live my life.
---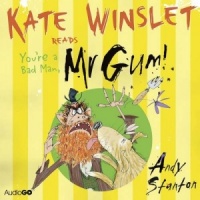 Kate Winslet reads You're a Bad Man Mr Gum written by Andy Stanton performed by Kate Winslet on CD (Unabridged)£6.99 - £8.99
Good evening. Mr Gum is a complete horror who hates children, animals, fun and corn on the cob. This book's all about him. And an angry fairy who lives in his bathtub. And Jake the dog, and a little girl called Polly. And there's heroes and sweets and adventures and EVERYTHING.
---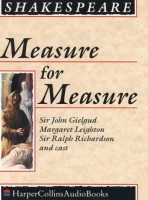 Measure for Measure written by William Shakespeare performed by Sir John Gielgud, Margaret Leighton and Sir Ralph Richardson on Cassette (Unabridged)£19.99
This is one of Shakespeare's so-called black comedies. This thought-provoking play poses the stark question: when a young woman is offered the choice of saving a man's life at the price of her own chastity, what should she do?
---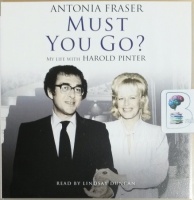 Must You Go? - My Life with Harold Pinter written by Antonia Fraser performed by Lindsay Duncan on CD (Abridged)£4.99 - £9.99
I first saw Harold across a crowded room, but it was lunchtime, not some enchanted evening, and we did not speak...' When Antonia Fraser met Harold Pinter she was a celebrated biographer and he was Britain's finest playwright.
New In February 2019 Part 2
(in alphabetical order)
"They Take Our Jobs!" and 20 Other Myths About Immigration - Expanded Edition written by Aviva Chomsky performed by Frankie Corzo on CD (Unabridged)£19.99

In They Take Our Jobs! Aviva Chomsky challenges the underlying assumptions that fuel misinformed claims about immigrants, radically altering our notions of citizenship, discrimination, and U.S. history. Since it was first published, many of the same myths about immigration such as immigrants take...

A Detective in Love written by H.R.F. Keating performed by Sheila Mitchell on CD (Unabridged)£9.99 - £14.99

DCI Harriet Martens is nicknamed the Hard Detective. But for Harriet, love proves more dangerous than any of her cases… Britain's number one tennis star, the beautiful Bubbles Xingara, has been murdered in the grounds of her luxurious house.

A Perfect Universe - Ten Stories written by Scott O'Connor performed by Bronson Pinchot and Therese Plummer on CD (Unabridged)£19.99

Scott O'Connor's novels have been hailed as "astonishing" (Library Journal), and "so insistently stirring, you want to lean in close to catch every word" (The New York Times Book Review). Now, from the author of Untouchable and Half World comes A Perfect Universe, a piercingly emotional cycle...

Ask The Right Questions, Hire The Right People - Fourth Edition written by Ron Fry performed by Patrick Lawlor on CD (Unabridged)£19.99

In this completely updated new edition, the best-selling author of 101 Great Answers to the Toughest Interview Questions and 101 Smart Questions to Ask on Your Interview takes you step by step through the hiring process. Whether you're replacing an employee who's leaving or creating a new position...

Daily Wisdom for Why Does He Do That? - Encouragement for Women Involved with Angry and Controlling Men written by Lundy Bancroft performed by Gary Galone on MP3 CD (Unabridged)£34.99

Even if you've read Why Does He Do That?, it may be hard to see the truth of what is happening to you. You may feel overwhelmed by confusion, loss, and fear, and find yourself looking away from the truth and falling back into traumatic patterns.Like a constant friend, this collection of meditations is a...

Don't Worry, It Gets Worse written by Alida Nugent performed by Alida Nugent on CD (Unabridged)£19.99

Alida Nugent graduated college with a degree in one hand and a drink in the other, eager to trade in parties and all-nighters for "the real world". But post-grad wasn't the glam life she imagined. Soon buried under a pile of bills, laundry, and three-dollar bottles of wine, it quickly became clear that she...

El Tono Universal - Sacando Mi Historia a La Luz (Spanish) written by Carlos Santana con Ashley Kahn y Hal Miller performed by Gustavo Rex on CD (Unabridged)£24.99

(Performed in Spanish) The intimate and long-awaited autobiography of a legend In 1967 in San Francisco, just a few weeks after the Summer of Love, a young Mexican guitarist took the stage at the Fillmore Auditorium and played a blistering solo that announced the arrival of a prodigious musical talent.

Fallen written by Carey Baldwin performed by Rebecca Gibel on CD (Unabridged)£29.99

A body just fell from the sky onto Hollywood Boulevard.When a beautiful prostitute is dumped onto the Walk of Fame, FBI profiler Atticus Spenser and forensic psychiatrist Dr. Caitlin Cassidy are called in to solve one of their most baffling cases yet. The media's dubbed him the Fallen Angel Killer...

Fallen written by Carey Baldwin performed by Rebecca Gibel on MP3 CD (Unabridged)£19.99

A body just fell from the sky onto Hollywood Boulevard.When a beautiful prostitute is dumped onto the Walk of Fame, FBI profiler Atticus Spenser and forensic psychiatrist Dr. Caitlin Cassidy are called in to solve one of their most baffling cases yet. The media's dubbed him the Fallen Angel Killer ....

Farmer in the Sky written by Robert A. Heinlein performed by Nick Podehl on CD (Unabridged)£24.99

Farmer In The Sky is a 1953 science fiction novel by Robert A. Heinlein about a teenage boy who emigrates with his family to Jupiter's moon Ganymede, which is in the process of being terraformed. A condensed version of the novel was published in serial form in 1950 in Boys' Life magazine.

Firefly Lane written by Kristin Hannah performed by Susan Ericksen on CD (Unabridged)£29.99

In the summer of 1974, Kate Mularkey has accepted her place at the bottom of the eighth-grade social food chain. Then, to her amazement, the "coolest girl in the world" moves in across the street and wants to be her friend. Tully Hart seems to have it all: beauty, brains, ambition. On the surface...

Horses Never Lie About Love - The Heartwarming Story of a Remarkable Horse Who Changed the World Around Her written by Jana Harris performed by Susanna Burney on CD (Unabridged)£24.99

An award-winning poet and founder of the Switched-on Gutenberg electronic poetry journal recounts her 24-year relationship with a beautiful feral mare who in spite of a troubled past has conveyed help and healing to all humans and horses she has encountered. Read by Susanna Burney.

How to Succeed In Business Without Really Crying - Lessons From A Life in Comedy written by Carol Leifer performed by Carol Leifer and on MP3 CD (Unabridged)£19.99

For many years, television comedy was an exclusive boys' club-until a brilliant comedian named Carol Leifer came along, blazing a trail for funny women everywhere. From Late Night with David Letterman and Saturday Night Live to Seinfeld, The Ellen Show, and Modern Family, Carol has written for...

Kathy Griffin's Celebrity Run-Ins - My A-Z Index written by Kathy Griffin performed by Kathy Griffin on CD (Unabridged)£19.99

From #1 New York Times bestselling author Kathy Griffin, an A-Z compendium of her celebrity run-ins, and the jaw-dropping, charming, and sometimes bizarre anecdotes only she can tell about them. Kathy Griffin's Celebrity Run-Ins is Kathy's funny, juicy index of all of the celebrities she has met during...

London The Biography - The Collected Edition written by Peter Ackroyd performed by Simon Callow on Cassette (Abridged)£19.99 - £24.99

A Genius Performance by Simon Callow! Much of Peter Ackroyd's work has been concerned with the life and past of London but here, as a culmination, is his definitive account of the city. For him it is an organism with its own laws of growth and change, so he regards this as a "biography" rather than a history.

Love From Both Sides written by Nick Spalding performed by Heather Wilds and Napoleon Ryan on CD (Unabridged)£24.99

Sometimes, the hardest part of finding love is keeping a straight face.... For Jamie Newman, being a single guy isn't proving to be much fun, especially when confronted with a sexually belligerent divorcee and a goddess so far out of his league she might as well be a different species. Mind you, being a...

Love Under Different Skies written by Nick Spalding performed by Heather Wilds and Napoleon Ryan on CD (Unabridged)£19.99

Sometimes, the hardest part of staying together is keeping a straight face... Ever wish you could leave all your problems behind and make a fresh start somewhere else? Trade the stresses and strains of everyday life for your own slice of sun-kissed paradise on the other side of the world?

Mad Love written by Nick Spalding performed by Nico Evers-Swindell and Amy London on CD (Unabridged)£19.99

Can two people who have never met make a marriage work? Popular dating site Sociality thinks so, and is marrying London lad Adam to California girl Jessica to prove it. What better way to show that your 'love algorithms' work than to put two complete strangers together in an expensive publicity stunt?

Magnificent Delusions - Pakistan, the United States, and an Epic History of Misunderstanding written by Husain Haqqani performed by Ralph Lister on CD (Unabridged)£14.99 - £19.99

A history of the alliance between America and Pakistan documents each nation's mutual misunderstandings while explaining how each sees the other, in an account that traces the author's firsthand witness to their turbulent partnership.

My Happy Days - Happy and Otherwise written by Marion Ross performed by Marion Ross and The Cast of Happy Days on CD (Unabridged)£29.99

For eleven seasons, Marion Ross was head of one of America's favorite television households. Now meet the lovable real-life woman behind the Happy Days mom . . . Before she was affectionately known to millions as "Mrs. C.," Marion Ross began her career as a Paramount starlet who went on to...

Notorious written by Carey Baldwin performed by Rebecca Gibel on MP3 CD (Unabridged)£19.99

Dallas socialite Cynthia Langhorne is infamous for her beauty, her philanthropy, and her home wrecking-until she's found shot through the heart and posed nude at a fundraising ball. The case is high profile, and there's a bigger problem: Cindy is the wife of a decorated FBI special agent-the prime...

Overcoming Borderline Personality Disorder written by Valerie Porr, MA performed by Donna Postel on CD (Unabridged)£39.99

Overcoming Borderline Personality Disorder is a compassionate and informative guide to understanding this profoundly unsettling-and widely misunderstood-mental illness, believed to affect approximately six percent of the general population.Rather than viewing people with BPD as ...

Pavilion of Women written by Pearl S. Buck performed by Adam Verner on CD (Unabridged)£29.99

On her fortieth birthday, Madame Wu carries out a decision she has been planning for a long time: she tells her husband that after twenty-four years their physical life together is now over and she wishes him to take a second wife. The House of Wu, one of the oldest and most revered in China...

Scanners Live in Vain written by Cordwainer Smith performed by Christopher Strong on CD (Unabridged)£9.99

Man has conquered space, but not without costs. To maintain the space lanes, Scanners have to undergo an operation in which their brain is severed from their sensory inputs to block the pain of space. Scanner Martel has made this sacrifice. He must monitor his vital functions via implanted dials...

Sinatra - Behind the Legend written by J. Randy Taraborrelli performed by Robert Petkoff on CD (Unabridged)£39.99

A look at the life and times of a legendary singer explores the personalities, realities, and controversies surrounding the show business giant.

Still Ranting After All These Years written by Dennis Miller performed by Dennis Miller on CD (Unabridged)£9.99

If you thought Dennis Miller was done ranting, guess again. In Still Ranting After All These Years, recorded in early 2002, Miller is in fine form, commenting on everything from "War and Terrorism" to Enron; from "Obsessed Parents" to the "End of Class;" to "Truth in the Media," and so much more.

The Book of The Unwinding - A Witches of New Orleans Novel written by J.D. Horn performed by Sophie Amoss on CD (Unabridged)£19.99

The struggle for power continues in the sequel to The King of Bones and Ashes from Wall Street Journal bestselling author J.D. Horn. With their magic diminishing, warring factions of New Orleans witches desperately search for the Book of the Unwinding—a legendary grimoire, hidden by spells, that...

The Little Green Book of Getting Your Own Way written by Jeffrey Gitomer performed by Jeffrey Gitomer on CD (Unabridged)£14.99

In this work on the power of persuasion, the author explains how preparation and writing skills are the secrets behind influencing others and how persistence can be the ultimate key to success. Read by the author.

The Sex Issue - Everything You've Always Wanted to Know About Sexuality, Seduction and Desire written by Goop - The Editors performed by Christine Lakin and Jeff Bottoms on CD (Unabridged)£29.99

An eye-catching, conversation-sparking book that answers all your questions on sexuality, seduction, and sex by the editors of GOOP A beautifully illustrated, gift-y, sometimes shocking, fact-filled book that explores everything we've always wondered about sex and relationships, but may have been...

The Vicar of Wakefield written by Oliver Goldsmith performed by Timothy West on Cassette (Unabridged)£29.99

Another Genius Performance by Timothy West! The story opens in the country parsonage of Dr. Primrose, a kindly man who has a good heart, a good family, and a good income. Suddenly, his idyllic life is cruelly devastated by a series of misfortunes, and he ends up in prison. Yet, despite all this...

They Fought Alone - The True Story of the Starr Brothers, British Secret Agents in Nazi-Occupied France written by Charles Glass performed by Allan Corduner on CD (Unabridged)£29.99

"Highly detailed and fast-paced, Charles Glass's They Fought Alone is a must-read for those whose passion is the Resistance literature of World War II." —Alan Furst, author of A Hero of France From the bestselling author of Americans in Paris and The Deserters, the astounding story of Britain's...

This is the Story of a Happy Marriage written by Ann Patchett performed by Ann Patchett on CD (Unabridged)£19.99

"Tell the story of your marriage," my young friend Niki says to me. "Write down how it is you have a happy marriage"' But the story of my marriage, which is the great joy and astonishment of my life, is too much like a fairy tale, the German kind, unsweetened by Disney. This Is the Story of a Happy Marriage is...

Tony Bennett - Just Getting Started written by Tony Bennett with Scott Simon performed by Joe Barrett on CD (Unabridged)£19.99

At 90, musician and singer Tony Bennett is as vibrant and productive as ever. In addition to his prodigious musical output, including albums, concerts, and personal appearances, this beloved and enduring artist has written his second book. In 2012's Life Is a Gift, Tony reflected on the lessons he has...

Who Gets What - and Why written by Alvin E. Roth performed by Peter Berkrot on CD (Unabridged)£14.99

"In his fluent and accessible book, Mr. Roth vividly describes the successes of market design." -- Economist.com​ "In this fascinating, often surprising book, Alvin Roth guides us through the jungles of modern life, pointing to the many markets that are hidden in plain view all around us." -- Dan Ariely, author...

Winter Kept Us Warm written by Anne Raeff performed by Suzanne Toren on CD (Unabridged)£29.99

A novel of rich details and landscapes, Winter Kept Us Warm follows three friends through six decades -- from postwar Berlin to Manhattan, 1960s Los Angeles to contemporary Morocco. A twisting narrative reveals their mysteries in fragments, examining their long-ago love triangle and how it...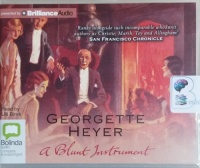 A Blunt Instrument written by Georgette Heyer performed by Ulli Birve on CD (Unabridged)£24.99
When Ernest Fletcher is found bludgeoned to death in his study, everyone is shocked and mystified: Ernest was well liked and respected, so who would have a motive for killing him? Enter Superintendent Hannasyde who, with consummate skill, begins to uncover the complexities of Fletcher's life. It seems the ...
---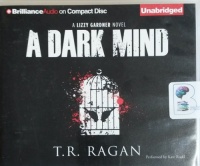 A Dark Mind written by T.R. Ragan performed by Kate Rudd on CD (Unabridged)£12.99
They call him the Lovebird Killer, a merciless fiend unleashing a flood of unspeakable cruelty upon Sacramento's most loving couples, young and old. This real-life monster's reign of terror has left the city's residents paralyzed with fear. All but Lizzy Gardner. Because hiding from monsters isn't Lizzy's style, not...
---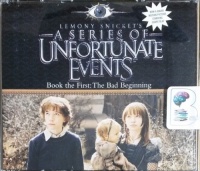 A Series of Unfortunate Events - Book The First: The Bad Beginning written by Lemony Snicket performed by Tim Curry on CD (Unabridged)£6.99
Like a car alarm, bagpipe music, or a doorbell ringing in the middle of the night, hearing this all-new audio edition of The Bad Beginning will only upset you. This unique multi-voice recording brings the first book in Lemony Snicket's alarming A Series of Unfortunate Events to such terrible life that no one should...
---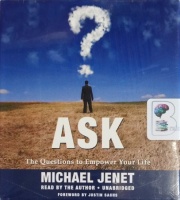 Ask - The Questions to Empower Your Life written by Michael Jenet performed by Michael Jenet on CD (Unabridged)£9.99
WHY? Why do some people live happier, successful, and more fulfilling lives while others are miserable, struggling and empty? ASK gives you the answer. As Jenet says, "Life is meant to be lived, not endured". In an easy-to-read, humorous, conversational style, peppered with logical explanations, simple steps ...
---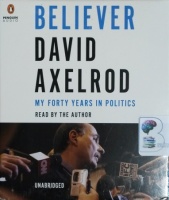 Believer - My Forty Years in Politics written by David Axelrod performed by David Axelrod on CD (Unabridged)£14.99
The great strategist who masterminded Obama's historic election campaigns opens up about his years as a young journalist, political consultant, and ultimately senior adviser to the president The man behind some of the greatest political changes of the last decade, David Axelrod has devoted a lifetime to...
---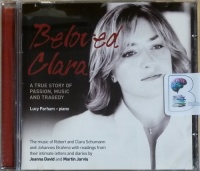 Beloved Clara written by Robert and Clara Schumann and Joahnnes Brahms performed by Joanna David, Martin Jarvis and Lucy Parham (Piano) on CD (Abridged)£9.99
Through their music and readings from their intimate letters and diaries, this album recounts the highly-charged story of the relationships between Robert and Clara Schumann and Johannes Brahms, between whom one of the most famed love triangles existed. The readings are by Martin Jarvis & Joanna David...
---
---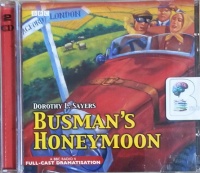 Busman's Honeymoon - BBC Dramatisation written by Dorothy L. Sayers performed by Ian Carmichael, Sarah Badel, Peter Jones and Rosemary Leach on CD (Abridged)£7.99
Society's eligible women are in mourning. Lord Peter Wimsey has married at last, having finally succeeded in his ardent pursuit of the lovely mystery novelist Harriet Vane. The two depart for a tranquil honeymoon in a country farmhouse but find, instead of a well-prepared love nest, the place left in a shambles by...
---
---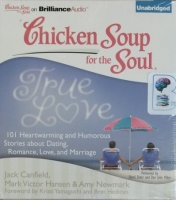 Chicken Soup for the Soul - True Love 101 Heartwarming and Humorous Stories about Dating, Romance, Love and Marriage written by Jack Canfield, Mark Victor Hansen and Amy Newmark performed by Sherri Slater and Dan John Miller on CD (Unabridged)£6.99
Everyone loves a good love story. And we all love stories about how the love started and blossomed. This fun new book about dating, romance, love, and marriage, will make you laugh and make you cry, and is guaranteed to inspire you to renew that search for your soul mate or open your heart a little more ...
---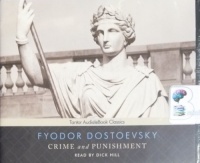 Crime and Punishment written by Fyodor Dostoevsky performed by Dick Hill on CD (Unabridged)£39.99
A desperate young man plans the perfect crime-the murder of a despicable pawnbroker, an old woman no one loves and no one will mourn. Is it not just, he reasons, for a man of genius to commit such a crime-to transgress moral law-if it will ultimately benefit humanity? So begins one of the greatest novels ever...
---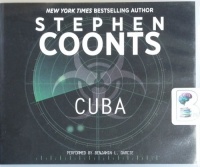 Cuba written by Stephen Coonts performed by Benjamin L. Darcie on CD (Unabridged)£19.99
The hero of six New York Times bestsellers by Stephen Coonts, author of Flight of the Intruder and Fortunes of War, returns as the United States and Cuba engage in a terrifying game of brinksmanship, a gamble that could break the last military taboo and destroy both countries. In Cuba, an ailing Fidel Castro ...
---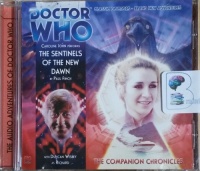 Dr Who - The Sentinels of the New Dawn written by Paul French performed by Caroline John and Duncan Wisbey on CD (Unabridged)£4.99
Some time after leaving UNIT, Liz Shaw calls the Doctor to Cambridge University, where scientists are experimenting with time dilation. A device hurls them to the year 2014, and a meeting with Richard Beauregard, heir to the Beauregard estate.
---
---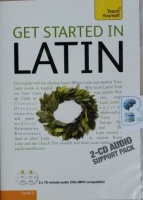 Get Started In Latin written by The Teach Yourself Team performed by Mark Espiner, Carmen Plaza, Paul Price and George Sharpley on CD (Abridged)£9.99
If you are an absolute beginner or simply looking for a solid foundation to your language studies for school, work or travel, this engaging course will help get you on your way to speaking, writing, reading and understanding Latin in no time. Through culture notes, clear language presentations, and extensive...
---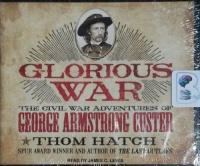 Glorious War - The Civil War Adventures of George Armstrong Custer written by Thom Hatch performed by James C. Lewis on CD (Unabridged)£24.99
Glorious War, the thrilling and definitive biography of George Armstrong Custer's Civil War years, is nothing short of a heart-pounding cavalry charge through the battlefield heroics that thrust the gallant young officer into the national spotlight in the midst of the country's darkest hours. From West Point to the...
---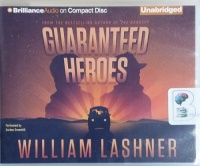 Guaranteed Heroes written by William Lashner performed by Gordon Greenhill on CD (Unabridged)£19.99
In a nation still recovering from the nuclear tragedies of forty years earlier, Clyde is working a dead-end guaranteed job at a diner, and Moonis is incarcerated in a Labor Camp for the Malcontented. But when Moonis's sister, Cecily, goes missing, the old friends escape their prisons to search for her in post-fallout...
---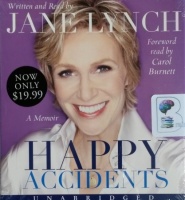 Happy Accidents written by Jane Lynch performed by Jane Lynch on CD (Unabridged)£14.99
Best-known as Glee's sharp-tongued Sue Sylvester, Jane Lynch's on-screen persona is someone that many love to hate. But when she's not prowling the corridors in Sue's shiny tracksuit, who is the real Jane Lynch and how did this Golden Globe and Emmy winner learn to channel such delicious nastiness?
---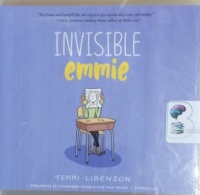 Invisible Emmie written by Terri Libenson performed by Cassandra Morris and Tara Sands on CD (Unabridged)£9.99
This debut novel from US cartoonist Terri Libenson follows two girls who could not seem more different: shy, observant, wallflower Emmie; and loud, popular, cheery Katie. What both girls do have in common are their strong feelings for the same boy, Tyler Ross. Then Emmie's very private, very embarrassing...