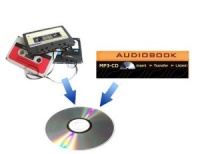 Very Large Fixed Price Audio Transfer Service£40.00
This is the fixed price £40.00 item to be used when ordering conversion of a 10-14 hour Audio Cassette or MP3 CD title.
---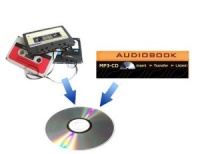 3 Hour Fixed Price Audio Transfer£15.00
This is the fixed price £15 item to be used when ordering conversion of a sub 3 hour Audio Cassette or MP3 CD title.
---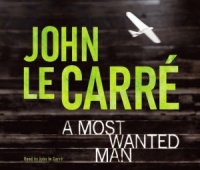 A Most Wanted Man written by John le Carre performed by John le Carre on CD (Abridged)£9.99
A half-starved young Russian man in a long black overcoat is smuggled into Hamburg at dead of night. He has an improbable amount of cash secreted in a purse round his neck. He is a devout Muslim. Or is he? He says his name is Issa.
---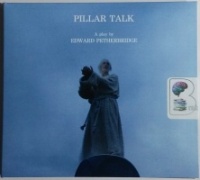 Pillar Talk - A Play written by Edward Petherbridge performed by Edward Petherbridge on CD (Unabridged)£14.99
Exclusive to Brainfood Audiobooks! Esteemed actor Edward (Nicholas Nickleby) Petherbridge uses the story of Symeon Stylites, the 5th century monk who lived on a pillar for thirty-six years, as a framework for an existential inquiry into imagination, belief, doubt, miracles and why one would live 'as I live.'
---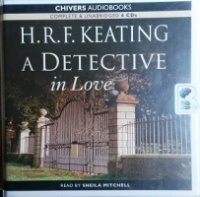 A Detective in Love written by H.R.F. Keating performed by Sheila Mitchell on CD (Unabridged)£9.99 - £14.99
DCI Harriet Martens is nicknamed the Hard Detective. But for Harriet, love proves more dangerous than any of her cases… Britain's number one tennis star, the beautiful Bubbles Xingara, has been murdered in the grounds of her luxurious house.
---
---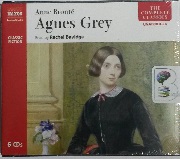 Agnes Grey written by Anne Bronte performed by Rachel Bavidge on CD (Unabridged)£24.99 - £29.99
For all those captivated by the trials of Jane Eyre, Anne Brontës heroine Agnes Grey is the ideal counterpoint. Agnes Grey is widely considered to be the best record of the precarious position of the governess in Victorian society, and the insolence, neglect and dependence that the gentle ....
---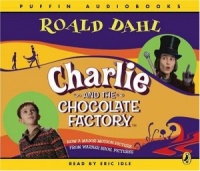 Charlie and the Chocolate Factory written by Roald Dahl performed by Eric Idle on CD (Unabridged)£4.99
This is a special audio edition of Charlie and the Chocolate Factory, read by Eric Idle, which will be published at the same time as the Warner Bros film.
Charlie Bucket thinks he's the luckiest boy alive when he unwraps one of Willy Wonka's Whipple-Scrumptious Fudgemallow Delights to find the last golden ticket.
---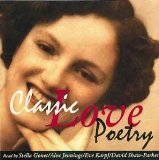 Classic Love Poetry written by Various Famous Poets performed by Various Famous Actors on CD (Abridged)£3.99 - £4.99
From "My True Love Hath My Heart" to September by Ted Hughes - there are 40 poems selected from the last millennia.
All performed by Stella Gonet, David Shaw-Parker, Alex Jennings and Eve Karpf.
---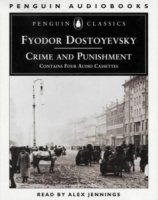 Crime and Punishment written by Fyodor Dostoyevsky performed by Alex Jennings on Cassette (Abridged)£6.99
Crime and Punishment is a novel by the Russian author Fyodor Dostoyevsky. It was first published in the literary journal The Russian Messenger in twelve monthly installments during 1866. It was later published in a single volume.
---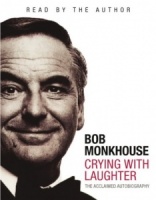 Crying with Laughter written by Bob Monkhouse performed by Bob Monkhouse on Cassette (Abridged)£18.99
Bob Monkhouse has been a star in show business for over 40 years during which time he has known both triumph and tragedy.
His first son was born disabled with cerebral palsy; he has suffered a life-long estrangement from his brother and he was arrested in 1978.
---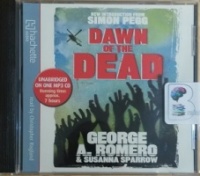 Dawn of the Dead written by George A. Romero and Susanna Sparrow performed by Christopher Ragland on MP3 CD (Unabridged)£4.99
When there is no more room in hell, the dead will walk the Earth. George A. Romero's iconic film and novel terrified generations. Now Dawn of the Dead is back to terrify once more. The world is being devastated by zombies. No one knows how far they have spread, or how to stop them.
---
---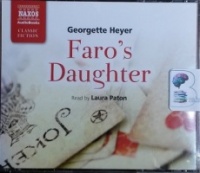 Faro's Daughter written by Georgette Heyer performed by Laura Paton on CD (Abridged)£11.99 - £19.99
Fiery, strong-willed Deb Grantham, who runs a gaming house with her aunt, is hardly the perfect wife for the young and naïve Lord Mablethorpe. His lordship's family are scandalised that he proposes to marry one of faro's daughters', and his cousin the proud, wealthy Max Ravenscar....
---
Five Red Herrings written by Dorothy L. Sayers performed by BBC Full Cast Dramatisation and Ian Carmichael on CD (Abridged)£13.99 - £18.99
A Genius Performance by Ian Carmichael and Cast!
When Sandy Campbell's body is found at the foot of a cliff near the small town of Kircdubright, the local constabulary are convinced that the argumentative painter is a victim of a tragic accident. But when Lord Peter Wimsey turns up, the hunt begins for an ingenious killer. Faced with six men, all of whom have a motive for murder, the aristocratic amateur sleuth must deduce which are the five red herrings and which has blood on his hands.
---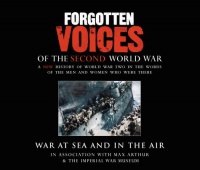 Forgotten Voices of the Second World War - War at Sea and in the Air written by Max Arthur performed by Timothy West and Various Second World War Survivors on CD (Abridged)£6.99
The first British major success of World War two was when Royal Navy forced the preying pocket Battle ship the Graf Spee, to scuttle at sea. Hitler had ordered a blockade of the British Isles and for some months German U-boats and warships caused havoc among allied merchant shipping carrying vital supplies.
---
New In December 2018 Part 1
(in alphabetical order)
Billy written by Pamela Stephenson performed by Pamela Stephenson on CD (Abridged)£4.99

From welding to folk singing to comedy to writing to acting, Billy Connolly has proved his versatility and sheer determination. Here, his wife Pamela gives the reader an insider's view of this talented musician, singer, TV presenter, comedian and actor.

Birds Without Wings written by Louis de Bernieres performed by Hugh Bonneville on CD (Abridged)£6.99

Birds Without Wings tells of the inhabitants of a small coastal town in south-west Anatolia in the dying days of the Ottoman empire. When jihad is declared against the Allies the young men of the town are sent to war. Karatavuk soon finds himself at Gallipoli where he experiences the intimate brutality...

Breasts - The Owners Manual written by Dr. Kristi Funk performed by Jaimee Paul on CD (Unabridged)£29.99

A comprehensive guide to total breast health from the go-to breast care expert for Good Morning America and The Doctors. One in eight women will be diagnosed with breast cancer over the course of their lives, and breast cancer is the #1 killer of women ages 20-59. But did you know that only...

Hamish Macbeth Mysteries written by M.C. Beaton performed by Graeme Malcolm on MP3 CD (Unabridged)£49.99

In the Scottish Highlands remote village of Lochdubh, in the real county of Sutherland, lives tall thin red-haired hazel-eyed quietly clever police Sergeant Hamish Macbeth – Scotland's most quick-witted but unambitious policeman. Discover where it all began with this audio collection containing the...

Hannibal Rising written by Thomas Harris performed by Thomas Harris on CD (Unabridged)£8.99

Hannibal Lecter emerges from the nightmare of the Eastern Front, a boy in the snow, mute, with a chain around his neck. He seems utterly alone, but he has brought his demons with him.

Mary Poppins written by P.L. Travers performed by Sophie Thompson on CD (Unabridged)£24.99

When Mary Poppins takes charge of the Banks children, she changes their lives forever. Unlike other nannies, she makes ordinary events extraordinary. Who else could slide up bannisters, pull wonders out of an empty carpetbag, lead the children on magical adventures and....

River God written by Wilbur Smith performed by Robert Powell on CD (Abridged)£4.99

At the festival of Osiris, loyal subjects of the Pharaoh gather to pay homage to their leader. Only Taita - a wise and formidably gifted enunch slave - sees him as a symbol of the kingdon's fading glory. Danger surounds all those who oppose the ruling elite. But together with his proteges, Lostris ...

Sherlock Holmes - A Study in Scarlet written by Arthur Conan Doyle performed by Derek Jacobi on CD (Unabridged)£9.99

'There's the scarlet thread of murder running through the colourless skein of life, and our duty is to unravel it, and isolate it, and expose every inch of it'. Arriving in the wilderness of London and in need of lodgings, Dr John Watson finds himself living at 221B Baker Street with one Sherlock Holmes.

Sherlock Holmes - The Adventures of Sherlock Holmes written by Arthur Conan Doyle performed by Derek Jacobi on CD (Unabridged)£19.99

A collection of Sherlock Holmes mystery adventures includes "A Scandal in Bohemia," "The Red-Headed League," "The Speckled Band," and "The Beryl Coronet."

Sherlock Holmes - The Definitive Collection written by Arthur Conan Doyle performed by Stephen Fry on MP3 CD (Unabridged)£49.99

Ever since he made his first appearance in A Study In Scarlet, Sherlock Holmes has enthralled and delighted millions of fans throughout the world. Now Stephen Fry, a lifelong fan of Doyle's detective fiction, has brought to life Arthur Conan Doyle's complete works – four novels and five collections....

Sherlock Holmes - The Valley of Fear written by Arthur Conan Doyle performed by Derek Jacobi on CD (Unabridged)£9.99

'It is the Valley of Fear, the Valley of Death. The terror is in the hearts of the people from the dusk to the dawn. Wait, young man, and you will learn for yourself'. Sherlock Holmes is intrigued and disturbed when he receives an ominous coded message: a Mr Douglas of Birlstone House is in terrible danger.

Sherlock Holmes The Sign of the Four written by Arthur Conan Doyle performed by Derek Jacobi on CD (Unabridged)£7.99 - £9.99

A Genius Performance by Derek Jacobi!

Mary Morstan reports two seemingly unconnected and inexplicable events: the disappearance of her father, a British Indian Army Captain, and the arrival of pearls by post from an unknown sender.

The Best of John Le Carre written by John Le Carre performed by Michael Jayston on MP3 CD (Unabridged)£59.99

Master of the spy novel' John le Carre's ingenious and gripping espionage thrillers have had his legion of fans on the edge of their seat for the last half-century making him one of the greatest British writers of today. His works have all been international bestsellers, with many being adapted into...

The Casebook of Sherlock Holmes written by Arthur Conan Doyle performed by Derek Jacobi on CD (Unabridged)£24.99 - £39.99

A Genius Performance by Derek Jacobi!
The Complete and Unabridged version of this fantastic author's last stories. Probably the best adventure stories ever told!

The Complete Chronicles of Narnia written by C.S. Lewis performed by Kenneth Branagh, Michael York, Lynn Redgrave and Derek Jacobi and Patrick Stewart on CD (Unabridged)£36.99

The Narnia Chronicles, first published in 1950, have been and remain some of the most enduringly popular children's books ever published. The best known, The Lion, the Witch and the Wardrobe, has been translated into 29 languages.

The Lady and the Unicorn written by Tracy Chevalier performed by Isla Blair and Jamie Glover on CD (Abridged)£4.99

The new novel from the author of the much-loved Girl with a Pearl Earring and Falling Angels. The Lady and the Unicorn tapestries are a set of six medieval tapestries. Beautiful, intricate and expertly made, they are also mysterious in their origin and meaning. Tapestries give an appearance of order...

The Long Song written by Andrea Levy performed by Andrea Levy and Adrian Lester on CD (Unabridged)£29.99 - £49.99

You do not know me yet. My son Thomas, who is publishing this book, tells me, it is customary at this place in a novel to give the reader a little taste of the story that is held within these pages. As your storyteller, I am to convey that this tale is set in Jamaica during the last turbulent years of slavery and the early years of freedom that followed.

The Tree of Hands written by Ruth Rendell performed by Imelda Staunton on CD (Unabridged)£29.99

Once when Benet was about fourteen she and her mother had been alone in a train carriage - and Mopsa had tried to stab her with a carving knife. It was some time since Benet had seen her psychologically disturbed mother. So when Mopsa arrived at the airport looking drab and colourless in a...

Young Herriot - The Early Life and Times of James Herriot written by John Lewis-Stempel performed by Cameron Stewart on CD (Unabridged)£9.99

Set in Glasgow in the 1930s, Young James Herriot is the fascinating story of Herriot's formative years at veterinary college, recounting the tales behind his calling to work with animals and his early friendships.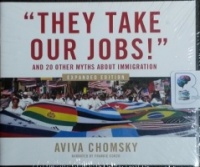 "They Take Our Jobs!" and 20 Other Myths About Immigration - Expanded Edition written by Aviva Chomsky performed by Frankie Corzo on CD (Unabridged)£19.99
In They Take Our Jobs! Aviva Chomsky challenges the underlying assumptions that fuel misinformed claims about immigrants, radically altering our notions of citizenship, discrimination, and U.S. history. Since it was first published, many of the same myths about immigration such as immigrants take...
---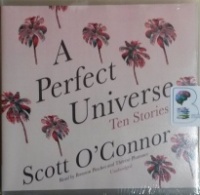 A Perfect Universe - Ten Stories written by Scott O'Connor performed by Bronson Pinchot and Therese Plummer on CD (Unabridged)£19.99
Scott O'Connor's novels have been hailed as "astonishing" (Library Journal), and "so insistently stirring, you want to lean in close to catch every word" (The New York Times Book Review). Now, from the author of Untouchable and Half World comes A Perfect Universe, a piercingly emotional cycle...
---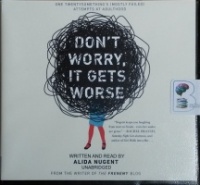 Don't Worry, It Gets Worse written by Alida Nugent performed by Alida Nugent on CD (Unabridged)£19.99
Alida Nugent graduated college with a degree in one hand and a drink in the other, eager to trade in parties and all-nighters for "the real world". But post-grad wasn't the glam life she imagined. Soon buried under a pile of bills, laundry, and three-dollar bottles of wine, it quickly became clear that she...
---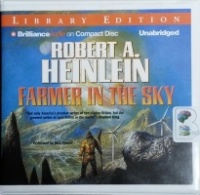 Farmer in the Sky written by Robert A. Heinlein performed by Nick Podehl on CD (Unabridged)£24.99
Farmer In The Sky is a 1953 science fiction novel by Robert A. Heinlein about a teenage boy who emigrates with his family to Jupiter's moon Ganymede, which is in the process of being terraformed. A condensed version of the novel was published in serial form in 1950 in Boys' Life magazine.
---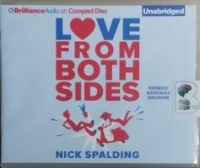 Love From Both Sides written by Nick Spalding performed by Heather Wilds and Napoleon Ryan on CD (Unabridged)£24.99
Sometimes, the hardest part of finding love is keeping a straight face.... For Jamie Newman, being a single guy isn't proving to be much fun, especially when confronted with a sexually belligerent divorcee and a goddess so far out of his league she might as well be a different species. Mind you, being a...
---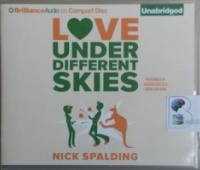 Love Under Different Skies written by Nick Spalding performed by Heather Wilds and Napoleon Ryan on CD (Unabridged)£19.99
Sometimes, the hardest part of staying together is keeping a straight face... Ever wish you could leave all your problems behind and make a fresh start somewhere else? Trade the stresses and strains of everyday life for your own slice of sun-kissed paradise on the other side of the world?
---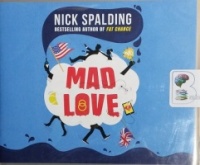 Mad Love written by Nick Spalding performed by Nico Evers-Swindell and Amy London on CD (Unabridged)£19.99
Can two people who have never met make a marriage work? Popular dating site Sociality thinks so, and is marrying London lad Adam to California girl Jessica to prove it. What better way to show that your 'love algorithms' work than to put two complete strangers together in an expensive publicity stunt?
---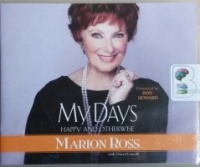 My Happy Days - Happy and Otherwise written by Marion Ross performed by Marion Ross and The Cast of Happy Days on CD (Unabridged)£29.99
For eleven seasons, Marion Ross was head of one of America's favorite television households. Now meet the lovable real-life woman behind the Happy Days mom . . . Before she was affectionately known to millions as "Mrs. C.," Marion Ross began her career as a Paramount starlet who went on to...
---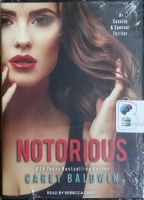 Notorious written by Carey Baldwin performed by Rebecca Gibel on MP3 CD (Unabridged)£19.99
Dallas socialite Cynthia Langhorne is infamous for her beauty, her philanthropy, and her home wrecking-until she's found shot through the heart and posed nude at a fundraising ball. The case is high profile, and there's a bigger problem: Cindy is the wife of a decorated FBI special agent-the prime...
---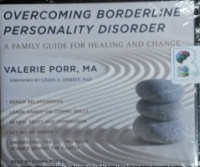 Overcoming Borderline Personality Disorder written by Valerie Porr, MA performed by Donna Postel on CD (Unabridged)£39.99
Overcoming Borderline Personality Disorder is a compassionate and informative guide to understanding this profoundly unsettling-and widely misunderstood-mental illness, believed to affect approximately six percent of the general population.Rather than viewing people with BPD as ...
---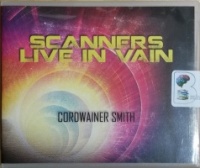 Scanners Live in Vain written by Cordwainer Smith performed by Christopher Strong on CD (Unabridged)£9.99
Man has conquered space, but not without costs. To maintain the space lanes, Scanners have to undergo an operation in which their brain is severed from their sensory inputs to block the pain of space. Scanner Martel has made this sacrifice. He must monitor his vital functions via implanted dials...
---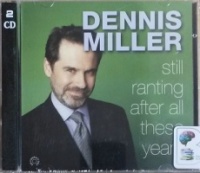 Still Ranting After All These Years written by Dennis Miller performed by Dennis Miller on CD (Unabridged)£9.99
If you thought Dennis Miller was done ranting, guess again. In Still Ranting After All These Years, recorded in early 2002, Miller is in fine form, commenting on everything from "War and Terrorism" to Enron; from "Obsessed Parents" to the "End of Class;" to "Truth in the Media," and so much more.
---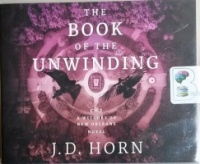 The Book of The Unwinding - A Witches of New Orleans Novel written by J.D. Horn performed by Sophie Amoss on CD (Unabridged)£19.99
The struggle for power continues in the sequel to The King of Bones and Ashes from Wall Street Journal bestselling author J.D. Horn. With their magic diminishing, warring factions of New Orleans witches desperately search for the Book of the Unwinding—a legendary grimoire, hidden by spells, that...
---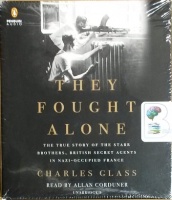 They Fought Alone - The True Story of the Starr Brothers, British Secret Agents in Nazi-Occupied France written by Charles Glass performed by Allan Corduner on CD (Unabridged)£29.99
"Highly detailed and fast-paced, Charles Glass's They Fought Alone is a must-read for those whose passion is the Resistance literature of World War II." —Alan Furst, author of A Hero of France From the bestselling author of Americans in Paris and The Deserters, the astounding story of Britain's...
---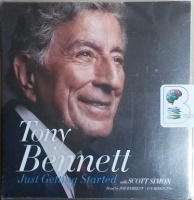 Tony Bennett - Just Getting Started written by Tony Bennett with Scott Simon performed by Joe Barrett on CD (Unabridged)£19.99
At 90, musician and singer Tony Bennett is as vibrant and productive as ever. In addition to his prodigious musical output, including albums, concerts, and personal appearances, this beloved and enduring artist has written his second book. In 2012's Life Is a Gift, Tony reflected on the lessons he has...
---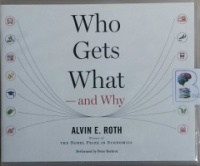 Who Gets What - and Why written by Alvin E. Roth performed by Peter Berkrot on CD (Unabridged)£14.99
"In his fluent and accessible book, Mr. Roth vividly describes the successes of market design." -- Economist.com​ "In this fascinating, often surprising book, Alvin Roth guides us through the jungles of modern life, pointing to the many markets that are hidden in plain view all around us." -- Dan Ariely, author...