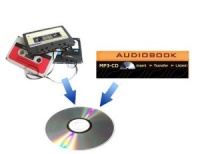 Very Large Fixed Price Audio Transfer Service£40.00
This is the fixed price £40.00 item to be used when ordering conversion of a 10-14 hour Audio Cassette or MP3 CD title.
---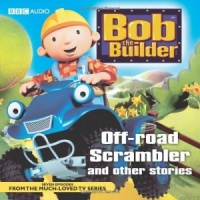 Bob the Builder - Off-Road Scrambler written by Bob the Builder Team performed by Bob the Builder Team on CD (Unabridged)£2.99
This title includes seven episodes from the hugely popular series featuring Bob the Builder, Roley, Lofty, Dizzy, Scoop, Muck and Spud - as seen on BBC TV.
---
---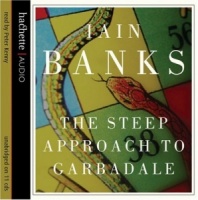 The Steep Approach to Garbadale written by Iain Banks performed by Peter Kenny on CD (Unabridged)£4.99
Dark family secrets, a long-lost love affair and a multi-million pound gaming business lie at the heart of Iain Banks' fabulous new novel. The Wopuld family built their fortune on a board game called Empire - now a wildly successful computer game.
---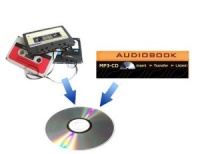 3 Hour Fixed Price Audio Transfer£15.00
This is the fixed price £15 item to be used when ordering conversion of a sub 3 hour Audio Cassette or MP3 CD title.
---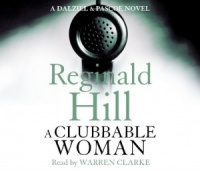 A Clubbable Woman written by Reginald Hill performed by Warren Clarke on CD (Abridged)£9.99 - £11.99
Reginald Hill's first Dalziel and Pascoe novel.
When Connon got back from the Rugby Club, his wife was even more uncommunicative than usual. Five hours later, when she still hadn't moved, Connon noticed that the front of her head had been caved in.
---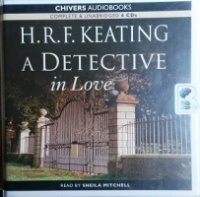 A Detective in Love written by H.R.F. Keating performed by Sheila Mitchell on CD (Unabridged)£9.99 - £14.99
DCI Harriet Martens is nicknamed the Hard Detective. But for Harriet, love proves more dangerous than any of her cases… Britain's number one tennis star, the beautiful Bubbles Xingara, has been murdered in the grounds of her luxurious house.
---
---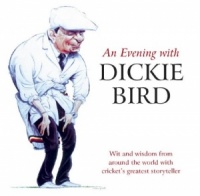 An Evening with Dickie Bird written by Dickie Bird performed by Dickie Bird on CD (Unabridged)£4.99
Dickie Bird is not only the world's most famous cricket umpire, he is also one of the most entertaining public speakers of our time.
---
---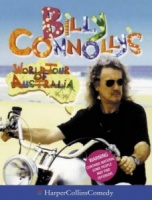 Billy Connolly's World Tour of Australia written by Billy Connolly performed by Billy Connolly on CD (Abridged)£7.99
Travelling by plane, motorbike, boat and foot, Billy Connolly tours the country performing his stage show and delivers and individual commentary on all things Australian.
---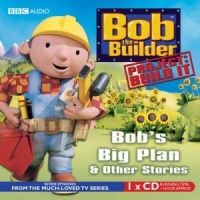 Bob the Builder - Bob's Big Plan written by Bob the Builder Team performed by Bob the Builder Team on CD (Unabridged)£11.99
You'll love these great new stories about "Bob the Builder" and his friends! In "Bob's Big Plan", a special extended episode, Bob hears that Sunflower Valley, where he and his brother Tom used to camp, is being developed.
---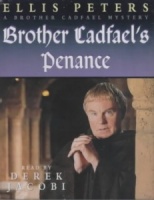 Brother Cadfael's Penance written by Ellis Peters performed by Derek Jacobi on Cassette (Abridged)£4.99
A Genius Performance by Derek Jacobi!
'And in this year of our Lord, 1145, now drawing to its close, chaotic events had seemed to be offering promise, however faint as yet, that even the two cousins battling wearily for the throne must despair of force and look around for another way of settling disputes.'
---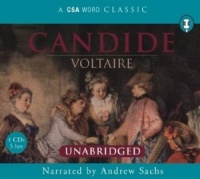 Candide written by Voltaire performed by Andrew Sachs on CD (Unabridged)£19.99
A Genius Performance by Andrew Sachs!
Candide and his tutor Pangloss journey the earth, following the philosophy: All is for the best in this, the best of all possible worlds - A point made by Liebnitz and earlier by Aquinas. This adage, however, is disproved at many turns, with the characters encountering opposition to their outlook. The initially naive Candide realises some of the dark truths of the eighteenth-century world, but could there be any light at the end of the tunnel?
---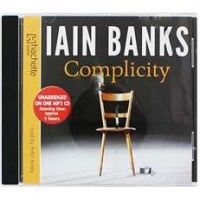 Complicity written by Iain Banks performed by Peter Kenny on MP3 CD (Unabridged)£4.99
An exploration of the morality of greed, corruption and violence. When several prominent people die mysteriously, the police beat a path to the door of an Edinburgh journalist known for his drug abuse and total commitment to computer games.
---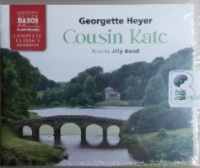 Cousin Kate written by Georgette Heyer performed by Jilly Bond on CD (Unabridged)£19.99 - £29.99
When young and beautiful governess Kate Malvern finds herself unemployed, she is taken in by Minerva Broome, the aunt she has never met, and whisked away to the majestic country home of Staplewood. However, things are not as they seem: strange things start to happen in the manor....
---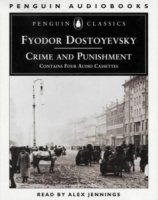 Crime and Punishment written by Fyodor Dostoyevsky performed by Alex Jennings on Cassette (Abridged)£6.99
Crime and Punishment is a novel by the Russian author Fyodor Dostoyevsky. It was first published in the literary journal The Russian Messenger in twelve monthly installments during 1866. It was later published in a single volume.
New In December 2017 Part 2
(in alphabetical order)
13 written by Kelly Armstrong performed by Jennifer Woodward on MP3 CD (Unabridged)£3.99 - £4.99

13. The breath-taking, explosive finale to the Women of the Otherworld series War is coming to the Otherworld. A sinister cult known as The Supernatural Liberation Movement is hell-bent on exposing the truth about supernaturals to the rest of the world.

A Sight for Sore Eyes written by Ruth Rendell performed by David Threlfall on Cassette (Unabridged)£14.99

A Sight for Sore Eyes tells three stories, and for the longest time, the reader has no inkling of how they will come together. The first is a story of a little girl who has been scolded and sent to her room when her mother is brutally murdered; as Francine grows up, she is haunted by the experience .....

A Thousand Acres written by Jane Smiley performed by Kathy Bates on Cassette (Abridged)£14.99

The Pulitzer Prize-winning, bestselling novel from one of America's greatest contemporary writers. Larry Cook's farm is the largest in Zebulon County, Iowa, and a tribute to his hard work and single-mindedness. Proud and possessive, his sudden decision to retire and hand over the farm to his ..

Age of the Five: Book 2 - Last of the Wilds written by Trudi Canavan performed by Samantha Bond on CD (Abridged)£3.99 - £4.99

Although the architect of the White's victory, Auraya's first taste of war has left her sleep filled with nightmares. She walks in fields of blood and gore while the dead rise in accusation. You killed us. You.

Age of the Five: Book 3 Voice of the Gods written by Trudi Canavan performed by Samantha Bond on CD (Abridged)£3.99 - £4.99

In her new role as protector of the Siyee, Auraya investigates sightings of a landwalker stranger in their land. She meets a mysterious woman claiming to be a friend of Mirar's: a woman who makes an offer Auraya is unable to refuse, but which she must conceal or risk the wrath of the gods.

BBC Full Cast Drama - The Essential Tragedies Volume 1 written by William Shakespeare performed by Philip Madoc, Corin Redgrave, Stella Gonet and Sophie Dahl on CD (Unabridged)£29.99

An essential collection of four of Shakespeare's best-known tragedies - the acclaimed BBC Radio 3 productions. Romeo and Juliet, Julius Caesar, The Tempest and King Lear.

Flight from Deathrow written by Harry Hill performed by Harry Hill on CD (Abridged)£3.99 - £4.99

What happens when an artificial-foot freedom fighter throws a British-made foot at the Chairman of the Communist Party of China? Will Dong Xiao Ping make it to Tower Records to buy the latest Status Quo album?

Helter Skelter - The True Story of the Manson Murders written by Vincent Bugliosi with Curt Gentry performed by Robert Foxworth on Cassette (Abridged)£9.99

The shocking true story of the Manson murders, revealed in this harrowing, often terrifying book. Helter Skelter won a Mystery Writers of America Edgar Award in 1975 for Best Fact Crime Book. On August 9th 1969, seven people were found shot, stabbed and bludgeoned to death in Los Angeles.

I'm Sorry I haven't a Christmas Clue written by BBC Radio Comedy Team performed by I'm Sorry I Haven't A Clue Team on Cassette (Abridged)£4.99

This title features the Christmas Special, called "I'm Sorry I Haven't a Christmas Carol", broadcast on Christmas Day 2003. Rather than being the normal quiz show, the regulars will be telling the story of Ebenezer Scrumph and his poor assistant Crotchet with the help of the regular guests...

Marlene Dietrich: Life and Legend written by Steven Bach performed by Roddy McDowall on Cassette (Abridged)£14.99

A biography of Marlene Dietrich, the actress and singer who worked with some of Hollywood's most famous film directors. During the World War II, she established her career as a concert artist, but in her homeland she was branded as a traitor. 15 years later she made a triumphant return to Germany.

Newton and the Counterfeiter written by Thomas Levenson performed by Kevin Pariseau on MP3 CD (Unabridged)£39.99

In 1695, Isaac Newton, already renowned as the greatest mind of his age, made a surprising career change. He left quiet Cambridge, where he had lived for 30 years and made his earth-shattering discoveries, and moved to London to take up the post of Warden of His Majestys Mint.

Old Songs in a New Cafe written by Robert James Waller performed by Robert James Waller on Cassette (Abridged)£6.99

Nineteen romantic, reflective essays by the author of The Bridges of Madison County celebrate life, explore loss, and meditate on the complex nature of time--past, present, and future.

Pillar Talk - A Play written by Edward Petherbridge performed by Edward Petherbridge on CD (Unabridged)£14.99

Exclusive to Brainfood Audiobooks! Esteemed actor Edward (Nicholas Nickleby) Petherbridge uses the story of Symeon Stylites, the 5th century monk who lived on a pillar for thirty-six years, as a framework for an existential inquiry into imagination, belief, doubt, miracles and why one would live 'as I live.'

Police written by Jo Nesbo performed by Sean Barrett on Cassette (Unabridged)£39.99

The police urgently need Harry Hole. A killer is stalking Oslo's streets. Police officers are being slain at the scenes of crimes they once investigated, but failed to solve. The murders are brutal, the media reaction hysterical. But this time, Harry can't help anyone. For years, detective Harry Hole has .....

Sailing Bright Eternity written by Gregory Benford performed by Gregory Benford, Harlan Ellison, Stefan Rudnicki and Janis Ian on MP3 CD (Unabridged)£9.99

Millennia of conflict between humans and mechs have driven the human race to near-extinction. Now, as the fierce AI mechs begin their final assault on mankind, it soon becomes apparent that three men of three generations in a family of voyagers are their targets.

Seriously....I'm Kidding written by Ellen Degeneres performed by Ellen Degeneres on CD (Unabridged)£19.99

"I've experienced a whole lot the last few years, and I have a lot to share. So I hope that you'll take a moment to sit back, relax, and enjoy the words I've put together for you in this book. I think you'll find I've left no stone unturned, no door unopened, no window unbroken, no rug unvacuumed,

Smasher written by Dick King-Smith performed by Bernard Cribbins on Cassette (Unabridged)£4.99

When Mrs. Buzzard wants to get rid of the big, ugly dog that creates a lot of trouble, Farmer Buzzard decides on a plan to save this lovable monster from banishment

Stepping Up - How Taking Responsibility Changes Everything written by John Izzo PhD performed by John Izzo PhD on CD (Unabridged)£14.99

Stepping Up argues that almost every problem, from global warming to personal issues to business challenges, can be solved if each of us were to look to ourselves to be the agent of change, rather than looking to others. The more each of us takes responsibility and chooses to step up and initiate change,

Stop Acting Rich ... and Start Living Like a Real Millionaire written by Thomas J Stanley performed by Fred Stella on CD (Unabridged)£9.99

With the current financial crisis, high unemployment, and tight credit, you may be saying to yourself: "Who is acting rich these days? We're barely making ends meet." The reality is that the recession may have caused us to take a breather, but every indication is that we will pick up right where we left off ...

The Edge of the Light written by Elizabeth George performed by Amy McFadden on MP3 CD (Unabridged)£9.99

On Whidbey Island, secrets never stay buried.... Becca's ability to hear the broken thoughts of others has not turned out to be a fabulous gift after all. It has got in the way of her being able to function in the world normally. More seriously, it makes her think she knows things that she doesn't know at all.

The Hitch-Hiker's Guide to the Galaxy written by Douglas Adams performed by Douglas Adams on Cassette (Unabridged)£14.99

One Thursday lunchtime Earth is unexpectedly demolished to make way for a new hyperspace bypass. For Arthur Dent, who has only just had his house demolished that morning, this is already more than he can cope with.

The Life and Opinions of Tristram Shandy, Gentleman written by Laurence Sterne performed by Steven Pacey on Cassette (Abridged)£4.99

Turning on its head the regimented structure of the traditional novel, TRISTRAM SHANDY uses a bawdy, nonsensical narrator to relate the story of his life in haphazard sequence, using little plot and fragrant digression. Fascinated by the sexual and the bizarre, Tristram focuses on his eccentric .....

The Odyssey written by Homer performed by Ian McKellen on CD (Unabridged)£24.99

This new translation by award-winning translator Robert Fagles captures the energy of Homer's original in bold, contemporary idiom. This is an Odyssey to treasure for its sheer lyrical mastery. The great adventure story tells of Odysseus, a veteran of the Trojan War, who -

The Strode Venturer written by Hammond Inness performed by Stephen Thorne on Cassette (Unabridged)£19.99

What could link the slick world of London boardrooms, an isolated island race in the Maldives and the mysterious voyages of a battered ship skippered by a brooding alcoholic? It falls to Geoffrey Bailey to unlock the mystery, but first he must overcome both family tragedy and the ....

The Templar Salvation written by Raymond Khoury performed by Richard Ferrone on CD (Unabridged)£19.99

Constantinople, 1203. As the rapacious armies of the Fourth Crusade lay siege to the city, a small band of Templars infiltrate the imperial library. They escape with three large chests filled with explosive secrets - ones they will not live long enough to learn.

The Time Machine written by H.G. Wells performed by Brian Cox on Cassette (Unabridged)£14.99

So begins the Time Traveller's astonishing firsthand account of his journey 800,000 years beyond his own era—and the story that launched H.G. Wells's successful career and earned him his reputation as the father of science fiction. With a speculative leap that still fires the imagination,

The Woodlanders written by Thomas Hardy performed by John Rowe on Cassette (Unabridged)£19.99

The Woodlanders is vintage Hardy. The story revolves around the young woman Grace Melbury, who returns to the leafy world of Little Hintock and soon finds herself at the centre of a number of tragic events. In penetrating, incisive and beautiful prose, Hardy tells a moving tale of unrequited love ....

Titus Awakes - The Lost Book of Gormenghast written by Maeve Gilmore and Mervyn Peake performed by Simon Vance on CD (Unabridged)£29.99

A final volume of the classic Gormenghast novels, produced from recently discovered manuscripts written by Peake's wife and based on his outlines, follows Titus's nightmarish departure from Castle Gormenghast.

Undoing Depression written by Richard O'Connor PhD performed by Richard O'Connor PhD on MP3 CD (Unabridged)£9.99

Completely revised and expanded edition of one of today s most popular and practical books on treating depression. Updated throughout. Like heart disease, says psychotherapist Richard O Connor, depression is fuelled by complex and interrelated factors: genetic, biochemical, environmental.

Wuthering Heights written by Emily Bronte performed by Janet McTeer and David Timson on CD (Unabridged)£14.99 - £19.99

When Mr Earnshaw brings a black-haired foundling child into his home on the Yorkshire moors, he little imagines the dramatic events which will follow. The passionate relationship between Cathy Earnshaw and the foundling, Heathcliff, is a story of love, hate, pity and retribution, the effects of which ... Naxos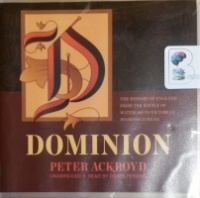 Dominion - The History of England from The Battle of Waterloo to Victoria's Diamond Jubilee written by Peter Ackroyd performed by Derek Perkins on CD (Unabridged)£29.99
Dominion, the fifth volume in Peter Ackroyd's masterful History of England, begins in 1815 as national glory following the Battle of Waterloo gives way to a post-war depression and ends with the death of Queen Victoria in January 1901. Spanning the end of the Regency, Ackroyd takes listeners from the ..
---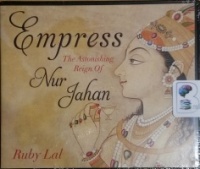 Empress - The Astonishing Reign of Nur Jahan written by Ruby Lal performed by Suzanne Toren on CD (Unabridged)£24.99
In 1611, thirty-four-year-old Nur Jahan, daughter of a Persian noble and widow of a subversive official, became the twentieth and favorite wife of the Emperor Jahangir, who ruled the vast Mughal Empire. An astute politician as well as a devoted partner, she issued imperial orders; coins of the realm bore her name.
---
---
Mrs Pringle written by Miss Read performed by Gwen Watford on Cassette (Unabridged)£19.99
Mrs Pringle, the lugubrious school cleaner, has always been a favourite character in the Fairacre series. Here we trace Maud Pringle's life from childhood visits to the village from her Caxley home, through her working days before her marriage to Fred Pringle, and on to her long association with Fariacre School, and we meet again many old friends as they cross Mrs
---
---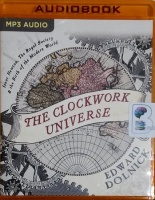 The Clockwork Universe - Isaac Newton, The Royal Society and the Birth of the Modern World written by Edward Dolnick performed by Alan Sklar on MP3 CD (Unabridged)£24.99
The Clockwork Universe is the story of a band of men who lived in a world of dirt and disease but pictured a universe that ran like a perfect machine. A meld of history and science, this book is a group portrait of some of the greatest minds who ever lived as they wrestled with natures most sweeping mysteries....
---
---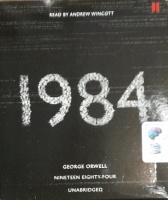 1984 written by George Orwell performed by Andrew Wincott on CD (Unabridged)£19.99
BIG BROTHER IS WATCHING YOU . . . 1984 is the year in which it happens. The world is divided into three superstates. In Oceania, the Party's power is absolute. Every action, word, gesture and thought is monitored under the watchful eye of Big Brother and the Thought Police. In the Ministry of Truth...
---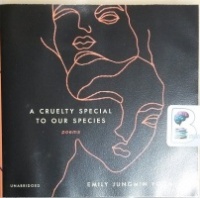 A Cruelty Special to Our Species written by Emily Jungmin Yoon performed by Emily Jungmin Yoon on CD (Unabridged)£14.99
A piercing debut collection of poems exploring gender, race, and violence from a sensational new talent. In her arresting collection, urgently relevant for our times, poet Emily Jungmin Yoon confronts the histories of sexual violence against women, focusing in particular on Korean so-called "comfort women,"
---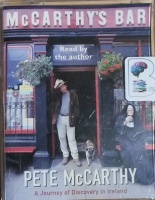 A Journey of Discovery in Ireland written by Pete McCarthy performed by Pete McCarthy on Cassette (Abridged)£4.99
McCARTHY'S BAR is the result of a lifelong love affair with Ireland. Written and read by the presenter of Channel 4's Travelog, it is both an entertaining journey and a personal investigation into a past, and a country populated by hundreds of McCarthys, where Christian Brothers rub shoulders with Van Morrison...
---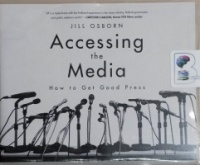 Accessing the Media - How to Get Good Press written by Jill Osborn performed by Teri Schnaubelt on CD (Unabridged)£14.99
Accessing the Media takes the listener behind the scenes to understand how best to work with press to get publicity. Perfect for politicians, business leaders, lobbyists, and media junkies, this reference provides an insider's look at how the modern newsroom works, detailing the different roles of reporters...
---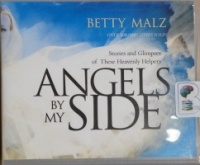 Angels by My Side - Stories and Glimpses of These Heavenly Helpers written by Betty Malz performed by Melanie Ewbank on CD (Unabridged)£9.99
God knows your needs - and He has His angels ready to help you! Have you ever had a close call? Do you sometimes sense that you are not alone? Do you wonder if you have ever met an angel "unaware"? When Betty Malz was a young mom, she suffered a ruptured appendix and, after many fatal ...
---
---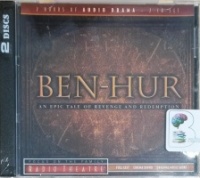 Ben-Hur written by Lew Wallace performed by Radio Theatre Team on CD (Unabridged)£9.99
An unforgettable account of betrayal, revenge, redemption, Focus on the Family Radio Theatre's production of Ben-Hur tells the tale of a nobleman who fell from Roman favor and was sentenced to live as a slave all at the hands of his childhood friend, Messala. Once nearly brothers, any hope of reconciliation...
---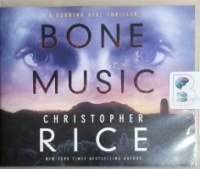 Bone Music written by Christopher Rice performed by Lauren Ezzo on CD (Unabridged)£19.99
There's more than one way to stoke the flames of revenge... Charlotte Rowe spent the first seven years of her life in the hands of the only parents she knew - a pair of serial killers who murdered her mother and tried to shape Charlotte in their own twisted image. If only the nightmare had ended when she...
---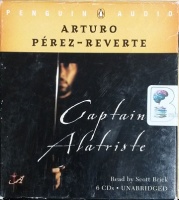 Captain Alatriste written by Arturo Perez-Reverte performed by Scott Brick on CD (Unabridged)£24.99
In Madrid in the 1620s, a man must live by his wits, and often by his sword. For this is a time when court intrigue is high, when the decadent young king has dragged the country into a series of disastrous wars, and citizens live in fear of the infamous Spanish Inquisition. In this political hotbed of hired assassins...
---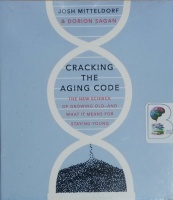 Cracking The Aging Code - The New Science of Growing Old and What It Means for Staying Young written by Josh Mitteldorf and Dorion Sagan performed by Stephen McLaughlin on CD (Unabridged)£39.99
A revolutionary examination of why we age, what it means for our health, and how we just might be able to fight it. In Cracking the Aging Code, theoretical biologist Josh Mitteldorf and award-winning writer and ecological philosopher Dorion Sagan reveal that evolution and aging are even more complex...