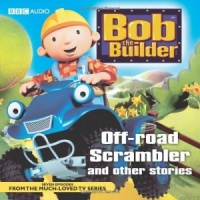 Bob the Builder - Off-Road Scrambler written by Bob the Builder Team performed by Bob the Builder Team on CD (Unabridged)£2.99
This title includes seven episodes from the hugely popular series featuring Bob the Builder, Roley, Lofty, Dizzy, Scoop, Muck and Spud - as seen on BBC TV.
---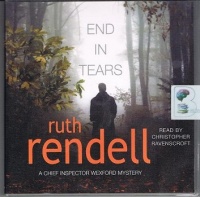 End in Tears written by Ruth Rendell performed by Christopher Ravenscroft on CD (Abridged)£4.99
A lump of concrete dropped deliberately from a little stone bridge kills the wrong person. The young woman in the car behind is spared. But only for a while...
---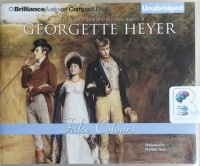 False Colours written by Georgette Heyer performed by Phyllida Nash on CD (Unabridged)£24.99
The honourable Christopher Fancot, on leave from the Diplomatic Service in the summer of 1817, is startled to find his entrancing but incorrigibly extravagant mother on the brink of financial and social ruin - and more than alarmed that his identical twin, Evelyn, Earl of Denville, has disappeared ...
---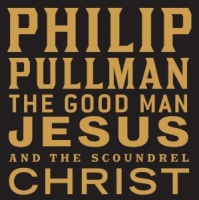 The Good Man Jesus and the Scoundrel Christ written by Philip Pullman performed by Philip Pullman on CD (Unabridged)£3.99
This is not a gospel. This is a story. In this ingenious and spell-binding retelling of the life of Jesus, Philip Pullman revisits the most influential story ever told.
---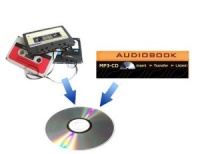 3 Hour Fixed Price Audio Transfer£15.00
This is the fixed price £15 item to be used when ordering conversion of a sub 3 hour Audio Cassette or MP3 CD title.
---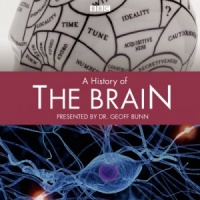 A History of the Brain written by Dr Geoff Bunn performed by Dr Geoff Bunn on CD (Unabridged)£6.99 - £7.29
This set covers 10 x 15 minute series on Radio 4 which was part of a two-week "Brain Season".
It explains in clear terms the latest discoveries in neuroscience. In this unprecedented journey, covering over 2,500 years of development in our understanding of what it is to be human.
---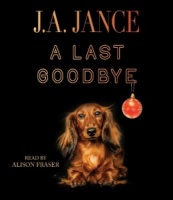 A Last Goodbye written by J.A. Jance performed by Alison Fraser on CD (Unabridged)£6.99
Ali Reynolds is finally getting married to her longtime love B. Simpson. They wanted a simple Christmas Eve wedding, but nothing is ever simple with Ali.
---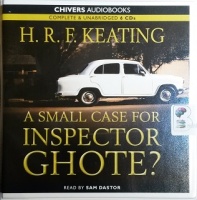 A Small Case for Inspector Ghote? written by H.R.F. Keating performed by Sam Dastor on CD (Unabridged)£34.99
In his proud new position in the prestigious Bombay Police Crime Branch, Inspector Ganesh Ghote sees his career finally take off with the prospect of only the most high-profile murders to investigate. Unfortunately, the Assistant Commissioner of Police has other ideas and chooses to keep Ghote...
---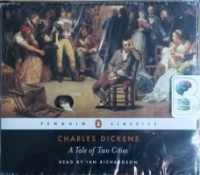 A Tale of Two Cities written by Charles Dickens performed by Ian Richardson on CD (Abridged)£5.99 - £9.99
After 18 years as a political prisoner in the Bastille the aging Dr Manette is finally released and reunited with his daughter in England.
---
---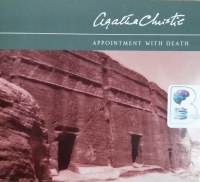 Appointment with Death written by Agatha Christie performed by Carole Boyd on CD (Abridged)£4.99
Among the towering red cliffs of Petra, like some monstrous swollen Buddha, sat the corpse of Mrs Boynton. A tiny puncture mark on her wrist was the only sign of the fatal injection that had killed her.
---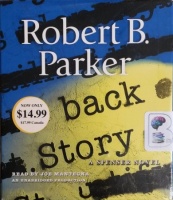 Back Story - A Spencer Novel written by Robert B. Parker performed by Joe Mantegna on CD (Unabridged)£9.99
Renaissance man Spenser - he of the acerbic social commentary, the gourmet cookery, and the steely abs - turns his considerable talents to the unraveling of a thirty-year-old murder mystery. During a 1974 holdup in a Boston bank by a revolutionary group calling itself the Dread Scott Brigade, Emily Gordon, a...
---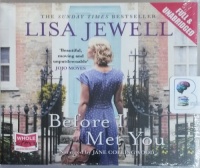 Before I Met You written by Lisa Jewell performed by Jane Collingwood on CD (Unabridged)£19.99
An uplifting, warm and unforgettable story of two women in two different times from the Sunday Times Top Ten bestselling author Betty Dean can't wait to leave her quiet upbringing in Guernsey and begin her mission to find Clara Pickle - the mysterious beneficiary in her grandmother's will. She arrives in ...
---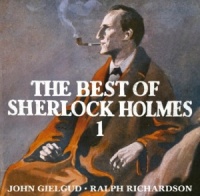 Best of Sherlock Holmes: v. 1 written by Arthur Conan Doyle performed by Sir John Gielgud and Sir Ralph Richardson on CD (Abridged)£6.99
A Genius Performance by Ralph Richardson and John Gielgud!
Recognised as the ultimate dramatisation of Conan Doyle's famous stories, these recordings have been acclaimed since their reissue by Hodder Headline Audiobooks in 1994.
---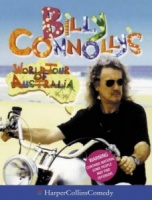 Billy Connolly's World Tour of Australia written by Billy Connolly performed by Billy Connolly on CD (Abridged)£7.99
Travelling by plane, motorbike, boat and foot, Billy Connolly tours the country performing his stage show and delivers and individual commentary on all things Australian.
---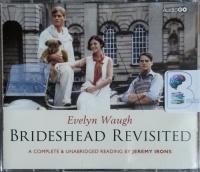 Brideshead Revisited written by Evelyn Waugh performed by Jeremy Irons on CD (Unabridged)£29.99 - £39.99
Brideshead Revisited is Evelyn Waugh's stunning novel of duty and desire set amongst the decadent, faded glory of the English aristocracy in the run-up to the Second World War.
Performed brilliantly by Jeremy Irons
New In December 2017 Part 1
(in alphabetical order)
Alphabet of Dreams written by Susan Fletcher performed by Meera Simhan on CD (Unabridged)£19.99

Fourteen-year-old Mitra, of royal Persian lineage, and her five-year-old brother Babak, whose dreams foretell the future, flee for their lives in the company of the magus Melchoir and two other Zoroastrian priests, traveling through Persia as they follow star signs leading to a newly-born king in Bethlehem.

Charlie Muffin written by Brian Freemantle performed by Hayward Morse on CD (Unabridged)£59.99

A cagey British spy fights enemies from without and within Charlie Muffin is an anachronism. He came into the intelligence service in the early 1950s, when the government, desperate for foot soldiers in the impending Cold War, dipped into the middle class for the first time. Despite a lack of upper-class bearing, Charlie survived twenty-five years on the espionage battle's front line: Berlin.

Christ Actually written by James Carroll performed by James Carroll on CD (Unabridged)£24.99

A New York Times bestselling and widely admired Catholic writer explores how we can retrieve transcendent faith in modern times Critically acclaimed and bestselling author James Carroll has explored every aspect of Christianity, faith, and Jesus Christ, except this central one:

Classic Love Poetry written by Various Famous Poets performed by Various Famous Actors on CD (Abridged)£3.99 - £4.99

From "My True Love Hath My Heart" to September by Ted Hughes - there are 40 poems selected from the last millennia.

All performed by Stella Gonet, David Shaw-Parker, Alex Jennings and Eve Karpf.

Heroes of Cricket written by Various Sports Broadcasters performed by Mike Atherton, Richie Benaud, Dickie Bird and Henry Blofeld on CD (Abridged)£9.99

All-time great performances and personalities from the world of cricket as recalled by some of the game's leading players, writers and commentators. 1. Donald Bradman: 270, Melbourne, 1936 2. Mike Atherton: My Duel with Donald, Trent Bridge, 1998 3. Jim Laker: 19 for 90, Old Trafford, 1953

How I Got This Way written by Regis Philbin performed by Regis Philbin on CD (Unabridged)£14.99

One of the most popular television and cultural icons ever, Regis Philbin has been entertaining television audiences for more than fifty years--as a beloved morning-show host (Live with Regis and Kelly), a nighttime game-show host (Who Wants to Be a Millionaire?)

It's Your Business - 183 Essential Tips that will Transform Your Small Business written by JJ Ramberg performed by JJ Ramberg on CD (Unabridged)£14.99

With advice from Ramberg and such notable entrepreneurs as Blake Mycoskie and Mike Michalowicz, this right-to-the-point book covers topics from human resources to finance, public relations to sales, and much, much more - all geared towards the small business owner.

Miracle in the Andes written by Nando Parrado performed by Nando Parrado and Josh Davies on CD (Abridged)£6.99

When Nando Parrado took off on a flight from Uruguay to Chile with his rugby team-mates, he was looking forward to an enjoyable weekend break, and had invited his mother and sister along for the trip. Then disaster struck, as their plane crashed into a mountain.

My Favourite Bible Stories and Songs written by Modern Bible Adaptation performed by The Cat's Payjamas Team on CD (Abridged)£7.99

Carefully selected from the Old Testament, this Bible stories audio collection provides a great introduction for children aged 3 and over. With background music and original sound effects for each story, the collection includes lively re-tellings of the David and Goliath, Jonah and the Whale, Noah's Ark and Adam and Eve.

Next of Kin written by Joanna Trollope performed by Eleanor Bron on Cassette (Unabridged)£19.99

The land running down to the River Dean has been farmed by the Meredith family for generations. Robin Meredith bought the farm from his father, just before he married his wife Caro and now he and his brother Joe work on the land. But now Caro has died, as much as a mystery to the family .....

Our Mutual Friend written by Charles Dickens performed by David Timson on CD (Unabridged)£59.99 - £69.99

Our Mutual Friend weaves together many stories uniting them in the bizarre symbolism of the wealth which derives from a rubbish tip. His last completed novel published in 1864-5. Through it Dickens confirmed his reputation as a story-teller of genius while extending the sphere of his imagination to new worlds. Naxos

Solace of the Road written by Siobhan Dowd performed by Sile Bermingham on CD (Unabridged)£9.99

Hating everything about her foster family, school, and life, Holly Hogan dreams of being reunited with her mother; thus, when she puts on a flowing blond wig and transforms herself into a strong girl named Solace, she finds the courage she needs to venture across England and discover her true self

The Complete Chronicles of Narnia written by C.S. Lewis performed by Kenneth Branagh, Michael York, Lynn Redgrave and Derek Jacobi and Patrick Stewart on CD (Unabridged)£36.99

The Narnia Chronicles, first published in 1950, have been and remain some of the most enduringly popular children's books ever published. The best known, The Lion, the Witch and the Wardrobe, has been translated into 29 languages.

The Conjuror's Bird written by Martin Davies performed by David Schofield and Lally Schofield on CD (Abridged)£4.99

It seems a long time ago that Fitz and Gabby were together, with his work on extinct species about to make him world-famous. Now, it's his career that is almost extinct. Suddenly, though, the beautiful Gabby reappears in his life. She wants his help in tracing the history of The Mysterious Bird of Ulieta,

The Cottage written by Danielle Steel performed by David Garrison on Cassette (Unabridged)£19.99

On a sunny day in Hollywood, a gleaming Rolls-Royce convertible pulls through the gates of the magnificent estate known as The Cottage. The man behind the wheel is Hollywood's ageless wonder, Cooper Winslow, a star of the silver screen for decades, a man whose allure to women is the stuff of legend.

The Dirty Bertie Collection written by Allan MacDonald performed by David Roberts on CD (Abridged)£14.99

The Dirty Bertie Audio Collection 10 CDs Box Set Pack By David Roberts & Alan Macdonald Titles in the CDs Worms, Fleas, Pants, Burp, Yuck, Bogeys, Mud, Germs, Loo, Fetch.

The Lord of Opium written by Nancy Farmer performed by Raul Esparza on CD (Unabridged)£24.99

As the teenage ruler of his own country, Matt must cope with clones and cartels in this riveting sequel to the modern classic House of the Scorpion, winner of the National Book Award, a Newbery Honor, and a Printz Honor. Matt has always been nothing but a clone - grown from a strip of old El Patron's skin.

The Murder Room written by P.D. James performed by Michael Jayston on CD (Unabridged)£9.99 - £29.99

A Genius Performance by Michael Jayston! The Dupayne, a small private museum in London devoted to the interwar years 1919 -- 1939, is in turmoil. As its trustees argue over whether it should be closed, one of them is brutally and mysteriously murdered. Yet even as Commander Dalgliesh and his team ...

The Old Curiosity Shop written by Charles Dickens performed by Anton Lesser on CD (Unabridged)£69.99

Little Nell and her grandfather live a contented life, enjoying each others companionship and the delights of their wonderful shop of curiosities. Overshadowing their happiness, however, are money woes and the mean and voracious intents of their landlord the repulsive dwarf Quilp. Naxos

The Poet written by Michael Connelly performed by Buck Schirner on CD (Abridged)£4.99

The apparent suicide of his policeman brother sets Denver crime reporter Jack McEvoy on edge. Surprise at the circumstances of his brother's death prompts Jack to look into a whole series of police suicides and puts him on the trail of a cop-killer whose victims are selected all too carefully.

The Third Wave - An Entrepreneur's Vision of the Future written by Steve Case and Walter Isaacson performed by Steve Case on CD (Unabridged)£9.99

The co-founder of America Online and the Presidential Ambassador for Global Entrepreneurship shares a road map to success for future innovators. Steve Case was on the leading edge of the Internet revolution when he cofounded AOL in 1991.

Trace written by Patricia Cornwell performed by Lorelei King on Cassette (Unabridged)£14.99

Against her own judgement, Kay Scarpetta agrees to return to Virginia as a consultant pathologist on the case involving the death of a 14-year-old girl. Soon Kay is investigating the probability that someone is after those closest to her.

Unnatural Causes written by P.D. James performed by Michael Jayston on Cassette (Unabridged)£19.99

An Adam Dalgliesh mystery. Set on the remote Suffolk coast, the third Adam Dalgliesh mystery, Unnatural Causes, is a thrilling work of crime fiction from P. D. James, the best-selling author of Death Comes to Pemberley. Superintendent Adam Dalgliesh had been looking forward to a quiet holiday at .....

Vanish written by Tess Gerritsen performed by Lorelei King on CD (Unabridged)£9.99

A blessed event becomes a nightmare for pregnant homicide detective Jane Rizzoli when she finds herself on the wrong side of a hostage crisis in this timely and relentless new thriller from the New York Times bestselling author of Body Double.

Vanity Dies Hard written by Ruth Rendell performed by Eva Haddon on Cassette (Unabridged)£14.99

Wealthy Alice Whittaker -- now Alice Fielding -- is known for her generosity, and when her friend Nesta vanishes Alice is determined to find her and help her. If that means money, well, Alice has plenty of it. Then Alice starts to feel sick -- a virus perhaps, something she just can't shake.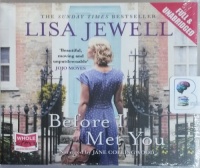 Before I Met You written by Lisa Jewell performed by Jane Collingwood on CD (Unabridged)£19.99
An uplifting, warm and unforgettable story of two women in two different times from the Sunday Times Top Ten bestselling author Betty Dean can't wait to leave her quiet upbringing in Guernsey and begin her mission to find Clara Pickle - the mysterious beneficiary in her grandmother's will. She arrives in ...
---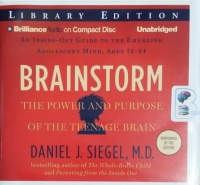 Brainstorm - The Power and Purpose of the Teenage Brain written by Daniel J. Siegel MD performed by Daniel J. Siegel MD on CD (Unabridged)£24.99
Between the ages of 12 and 24, the brain changes in important and often maddening ways. It's no wonder that many parents approach their child's adolescence with fear and trepidation. According to renowned neuropsychiatrist Daniel Siegel, however, if parents and teens can work together to form a...
---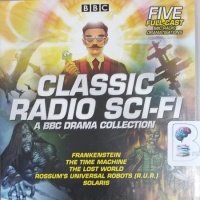 Classic Radio Sci-Fi - A BBC Drama Collection written by Various Great Sci-Fi Authors performed by Robert Glenister, Francis de Wolff, Carleton Hobbs and Joanne Froggatt on CD (Abridged)£19.99
Five seminal science fiction classics are brought vividly to life in these gripping BBC Radio dramatisations, with casts including Robert Glenister, William Gaunt, Carleton Hobbs and Joanne Froggatt. "Frankenstein" (1994) is adapted from one of the first science fiction novels, Mary Shelley's tale of a scientist who tries ...
---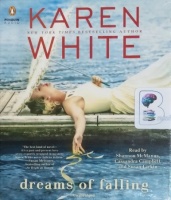 Dreams of Falling written by Karen White performed by Shannon McManus, Cassandra Campbell and Susan Larkin on CD (Unabridged)£24.99
One of PureWow's "Best Beach Reads of Summer 2018" New York Times best-selling author Karen White crafts evocative relationships in this contemporary women's fiction novel, set in the Lowcountry of South Carolina, about lifelong friends who share a devastating secret. On the banks of the North Santee ...
---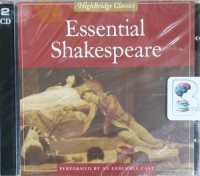 Essential Shakespeare written by William Shakespeare performed by Simon Callow, Lindsay Duncan, Paul Rhys and Harriet Walter on CD (Unabridged)£14.99
Experience some of the most thrilling poetry and drama in world literature. This unique collection includes two sonnets and famous scenes from 11 of Shakespeare's plays: Macbeth, Othello, Twelfth Night, As You Like It, Romeo and Juliet, Much Ado About Nothing, A Midsummer Night's Dream, Richard II...
---
---
---
---
---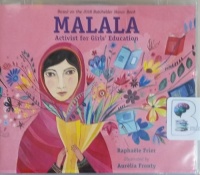 Malala - Activist for Girls' Education written by Raphaele Frier performed by Caroline McLaughlin on CD (Unabridged)£9.99
Despite an attempt on her life by the Taliban, Malala Yousafzai has continued to fight for the rights of children to become educated. As the youngest person to be awarded the Nobel Peace Prize, her courage and conviction continue to push her to fight for what she believes in. This riveting and inspiring ...
---
---
---
---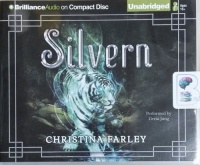 Silvern written by Christina Farley performed by Greta Jung on CD (Unabridged)£9.99
Jae Hwa Lee is ready to forget about immortals and move on with her life. Until the god of darkness, Kud, sends an assassin to kill her. She escapes with the knowledge that Kud is seeking the lost White Tiger Orb, and joins the Guardians of Shinshi to seek out the orb before Kud can find it. But Kud is a stronger...
---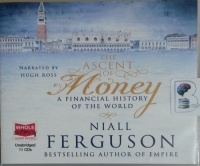 The Ascent of Money - A Financial History of the World written by Niall Ferguson performed by Hugh Ross on CD (Unabridged)£24.99
Bread, cash, dosh, dough, loot: Call it what you like, it matters. To Christians, love of it is the root of all evil. To generals, it's the sinews of war. To revolutionaries, it's the chains of labour. But in The Ascent of Money, Niall Ferguson shows that finance is in fact the foundation of human progress.