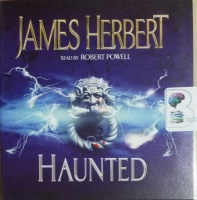 Haunted written by James Herbert performed by Robert Powell on CD (Abridged)£4.99
A ghostly twist. Three nights of terror at the house called Edbrook. Three nights in which David Ash, there to investigate a haunting, will be victim of horrifying games. Three nights in which he will face the blood-chilling enigma of his own past.
---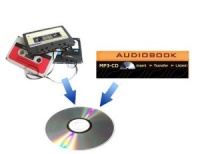 Large Fixed Price Audio Transfer Service£35.00
This is the fixed price £35.00 item to be used when ordering conversion of a 6-9 hour Audio Cassette or MP3 CD title.
---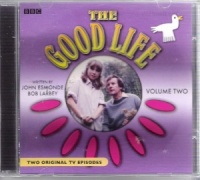 The Good Life written by John Esmonde and Bob Larbey performed by Richard Briers and Felicity Kendal on CD (Abridged)£3.99
Two episodes of the wonderful TV show!
---
---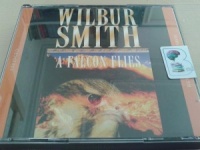 A Falcon Flies written by Wilbur Smith performed by Martin Jarvis on CD (Abridged)£4.99 - £8.99
A Falcon Flies is the first bestselling novel in Wilbur Smith's epic tale of Africa, The Ballantyne Novels. In search of a father they barely remember, Zouga and Dr Robyn Ballantyne board Mungo St John's magnificent clipper to speed them to Africa.
---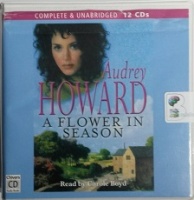 A Flower in Season written by Audrey Howard performed by Carole Boyd on CD (Unabridged)£14.99 - £24.99
Briony Marsden has led a hard life, forced to do the work of a grown man while enduring her drunkard father's taunts and blows. But when he goes too far one day, her fate becomes even worse as she makes her way alone in a heartless world.
---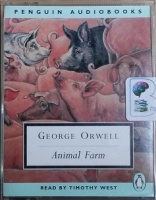 Animal Farm written by George Orwell performed by Timothy West on Cassette (Unabridged)£9.99
All animals are equal - but some are more equal than others' When the downtrodden animals of Manor Farm overthrow their master Mr Jones and take over the farm themselves, they imagine it is the beginning of a life of freedom and equality.
---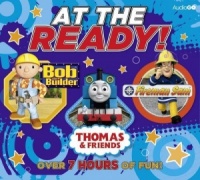 At The Ready! written by Various Childrens Authors performed by Various Famous Actors on CD (Abridged)£39.99
This box set contains over 7 hours of fun from Bob the Builder, Fireman Sam and Tomas the Tank Engine! This would make a brilliant gift that will last considerably longer than the New Year!
---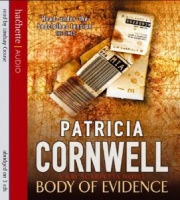 Body of Evidence written by Patricia Cornwell performed by Lindsay Crouse on CD (Abridged)£9.99
A reclusive writer is dead. And her final manuscript has disappeared ...Someone is stalking Beryl Madison.
---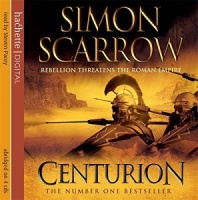 Centurion - Rebellion Threatens the Roman Empire written by Simon Scarrow performed by Steven Pacey on CD (Abridged)£17.99 - £18.99
In the first century AD the Roman Empire faces a new threat from its long-standing enemy Parthia. Parthia is vying with Rome for control of Palmyra an officially neutral kingdom.
---
---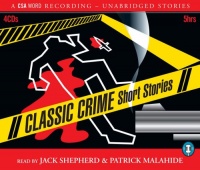 Classic Crime Short Stories written by Various Famous Crime Writers performed by Jack Shepherd and Patrick Malahide on CD (Unabridged)£4.99 - £9.99
Discover a world of heroes and villains, suspense and intrigue. This riveting and comprehensive collection brings together some of the best crime writing of all time.
---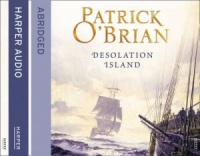 Desolation Island written by Patrick O'Brian performed by Robert Hardy on CD (Abridged)£8.99
A Genius Performance by Robert Hardy!
Commissioned to rescue Governor Bligh of Bounty fame, Captain Jack Aubrey and his friend and surgeon, Stephen Maturin, sail the Leopard to Australia with a hold full of convicts. Among them is a beautiful and dangerous spy — and a treacherous disease which decimates the crew.
---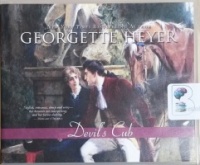 Devil's Cub written by Georgette Heyer performed by Michael Drew on CD (Unabridged)£24.99
The excesses of the young Marquis of Vidal are even wilder than his father's before him. Not for nothing is the reckless duellist and gamester called "the Devil's Cub". But when he is forced to leave the country, Mary Challoner discovers his fiendish plan to abduct her sister. Any only by daring to impersonate...
---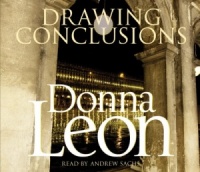 Drawing Conclusions written by Donna Leon performed by Andrew Sachs on CD (Abridged)£4.99 - £5.99
A Genius Performance by Andrew Sachs! When Anna Maria Giusti finds her elderly neighbour Constanza Altavilla dead, with blood on the floor near her head, she calls the police. Brunetti is called to the scene and it seems the woman has suffered a heart attack. Patta, the Vice-Questore, is eager to dismiss the case...
---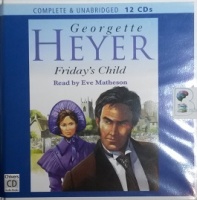 Friday's Child written by Georgette Heyer performed by Eve Matheson on CD (Unabridged)£29.99
This story of mistaken love is a romantic fiction set in the English Regency period. It centers on Lord Sheringham who has been rejected by the woman he loves but the woman who has secretly loved him since childhood is waiting.
New In December 2017 Part 1
(in alphabetical order)
Alphabet of Dreams written by Susan Fletcher performed by Meera Simhan on CD (Unabridged)£19.99

Fourteen-year-old Mitra, of royal Persian lineage, and her five-year-old brother Babak, whose dreams foretell the future, flee for their lives in the company of the magus Melchoir and two other Zoroastrian priests, traveling through Persia as they follow star signs leading to a newly-born king in Bethlehem.

Charlie Muffin written by Brian Freemantle performed by Hayward Morse on CD (Unabridged)£59.99

A cagey British spy fights enemies from without and within Charlie Muffin is an anachronism. He came into the intelligence service in the early 1950s, when the government, desperate for foot soldiers in the impending Cold War, dipped into the middle class for the first time. Despite a lack of upper-class bearing, Charlie survived twenty-five years on the espionage battle's front line: Berlin.

Christ Actually written by James Carroll performed by James Carroll on CD (Unabridged)£24.99

A New York Times bestselling and widely admired Catholic writer explores how we can retrieve transcendent faith in modern times Critically acclaimed and bestselling author James Carroll has explored every aspect of Christianity, faith, and Jesus Christ, except this central one:

Classic Love Poetry written by Various Famous Poets performed by Various Famous Actors on CD (Abridged)£3.99 - £4.99

From "My True Love Hath My Heart" to September by Ted Hughes - there are 40 poems selected from the last millennia.

All performed by Stella Gonet, David Shaw-Parker, Alex Jennings and Eve Karpf.

Heroes of Cricket written by Various Sports Broadcasters performed by Mike Atherton, Richie Benaud, Dickie Bird and Henry Blofeld on CD (Abridged)£9.99

All-time great performances and personalities from the world of cricket as recalled by some of the game's leading players, writers and commentators. 1. Donald Bradman: 270, Melbourne, 1936 2. Mike Atherton: My Duel with Donald, Trent Bridge, 1998 3. Jim Laker: 19 for 90, Old Trafford, 1953

How I Got This Way written by Regis Philbin performed by Regis Philbin on CD (Unabridged)£14.99

One of the most popular television and cultural icons ever, Regis Philbin has been entertaining television audiences for more than fifty years--as a beloved morning-show host (Live with Regis and Kelly), a nighttime game-show host (Who Wants to Be a Millionaire?)

It's Your Business - 183 Essential Tips that will Transform Your Small Business written by JJ Ramberg performed by JJ Ramberg on CD (Unabridged)£14.99

With advice from Ramberg and such notable entrepreneurs as Blake Mycoskie and Mike Michalowicz, this right-to-the-point book covers topics from human resources to finance, public relations to sales, and much, much more - all geared towards the small business owner.

Miracle in the Andes written by Nando Parrado performed by Nando Parrado and Josh Davies on CD (Abridged)£4.99

When Nando Parrado took off on a flight from Uruguay to Chile with his rugby team-mates, he was looking forward to an enjoyable weekend break, and had invited his mother and sister along for the trip. Then disaster struck, as their plane crashed into a mountain.

My Favourite Bible Stories and Songs written by Modern Bible Adaptation performed by The Cat's Payjamas Team on CD (Abridged)£7.99

Carefully selected from the Old Testament, this Bible stories audio collection provides a great introduction for children aged 3 and over. With background music and original sound effects for each story, the collection includes lively re-tellings of the David and Goliath, Jonah and the Whale, Noah's Ark and Adam and Eve.

Next of Kin written by Joanna Trollope performed by Eleanor Bron on Cassette (Unabridged)£19.99

The land running down to the River Dean has been farmed by the Meredith family for generations. Robin Meredith bought the farm from his father, just before he married his wife Caro and now he and his brother Joe work on the land. But now Caro has died, as much as a mystery to the family .....

Our Mutual Friend written by Charles Dickens performed by David Timson on CD (Unabridged)£59.99 - £69.99

Our Mutual Friend weaves together many stories uniting them in the bizarre symbolism of the wealth which derives from a rubbish tip. His last completed novel published in 1864-5. Through it Dickens confirmed his reputation as a story-teller of genius while extending the sphere of his imagination to new worlds. Naxos

Solace of the Road written by Siobhan Dowd performed by Sile Bermingham on CD (Unabridged)£9.99

Hating everything about her foster family, school, and life, Holly Hogan dreams of being reunited with her mother; thus, when she puts on a flowing blond wig and transforms herself into a strong girl named Solace, she finds the courage she needs to venture across England and discover her true self

The Complete Chronicles of Narnia written by C.S. Lewis performed by Kenneth Branagh, Michael York, Lynn Redgrave and Derek Jacobi and Patrick Stewart on CD (Unabridged)£36.99

The Narnia Chronicles, first published in 1950, have been and remain some of the most enduringly popular children's books ever published. The best known, The Lion, the Witch and the Wardrobe, has been translated into 29 languages.

The Conjuror's Bird written by Martin Davies performed by David Schofield and Lally Schofield on CD (Abridged)£4.99

It seems a long time ago that Fitz and Gabby were together, with his work on extinct species about to make him world-famous. Now, it's his career that is almost extinct. Suddenly, though, the beautiful Gabby reappears in his life. She wants his help in tracing the history of The Mysterious Bird of Ulieta,

The Cottage written by Danielle Steel performed by David Garrison on Cassette (Unabridged)£19.99

On a sunny day in Hollywood, a gleaming Rolls-Royce convertible pulls through the gates of the magnificent estate known as The Cottage. The man behind the wheel is Hollywood's ageless wonder, Cooper Winslow, a star of the silver screen for decades, a man whose allure to women is the stuff of legend.

The Dirty Bertie Collection written by Allan MacDonald performed by David Roberts on CD (Abridged)£14.99

The Dirty Bertie Audio Collection 10 CDs Box Set Pack By David Roberts & Alan Macdonald Titles in the CDs Worms, Fleas, Pants, Burp, Yuck, Bogeys, Mud, Germs, Loo, Fetch.

The Emotionally Abusive Relationship written by Beverly Engel performed by Deanna Hurst on MP3 CD (Unabridged)£9.99

The number of people who become involved with partners who abuse them emotionally and/or who are emotionally abusive themselves is phenomenal, and yet emotional abuse is the least understood form of abuse. In this breakthrough book, Beverly Engel, one of the world's leading experts .....

The Lord of Opium written by Nancy Farmer performed by Raul Esparza on CD (Unabridged)£24.99

As the teenage ruler of his own country, Matt must cope with clones and cartels in this riveting sequel to the modern classic House of the Scorpion, winner of the National Book Award, a Newbery Honor, and a Printz Honor. Matt has always been nothing but a clone - grown from a strip of old El Patron's skin.

The Murder Room written by P.D. James performed by Michael Jayston on CD (Unabridged)£9.99 - £29.99

A Genius Performance by Michael Jayston! The Dupayne, a small private museum in London devoted to the interwar years 1919 -- 1939, is in turmoil. As its trustees argue over whether it should be closed, one of them is brutally and mysteriously murdered. Yet even as Commander Dalgliesh and his team ...

The Poet written by Michael Connelly performed by Buck Schirner on CD (Abridged)£4.99

The apparent suicide of his policeman brother sets Denver crime reporter Jack McEvoy on edge. Surprise at the circumstances of his brother's death prompts Jack to look into a whole series of police suicides and puts him on the trail of a cop-killer whose victims are selected all too carefully.

The Third Wave - An Entrepreneur's Vision of the Future written by Steve Case and Walter Isaacson performed by Steve Case on CD (Unabridged)£9.99

The co-founder of America Online and the Presidential Ambassador for Global Entrepreneurship shares a road map to success for future innovators. Steve Case was on the leading edge of the Internet revolution when he cofounded AOL in 1991.

Trace written by Patricia Cornwell performed by Lorelei King on Cassette (Unabridged)£14.99

Against her own judgement, Kay Scarpetta agrees to return to Virginia as a consultant pathologist on the case involving the death of a 14-year-old girl. Soon Kay is investigating the probability that someone is after those closest to her.

Unnatural Causes written by P.D. James performed by Michael Jayston on Cassette (Unabridged)£19.99

An Adam Dalgliesh mystery. Set on the remote Suffolk coast, the third Adam Dalgliesh mystery, Unnatural Causes, is a thrilling work of crime fiction from P. D. James, the best-selling author of Death Comes to Pemberley. Superintendent Adam Dalgliesh had been looking forward to a quiet holiday at .....

Vanish written by Tess Gerritsen performed by Lorelei King on CD (Unabridged)£9.99

A blessed event becomes a nightmare for pregnant homicide detective Jane Rizzoli when she finds herself on the wrong side of a hostage crisis in this timely and relentless new thriller from the New York Times bestselling author of Body Double.

Vanity Dies Hard written by Ruth Rendell performed by Eva Haddon on Cassette (Unabridged)£14.99

Wealthy Alice Whittaker -- now Alice Fielding -- is known for her generosity, and when her friend Nesta vanishes Alice is determined to find her and help her. If that means money, well, Alice has plenty of it. Then Alice starts to feel sick -- a virus perhaps, something she just can't shake.
---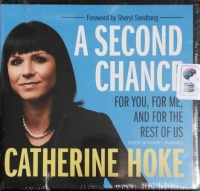 A Second Chance - For You, For Me and For the Rest of US written by Catherine Hoke performed by Catherine Hoke on CD (Unabridged)£9.99
What if you were only known for the worst thing you've ever done? For millions of Americans, this isn't just a hypothetical nightmare. Not only does the United States have the highest rate of incarceration in the world, it also makes certain that the stigma of a felony conviction follows people who have already..
---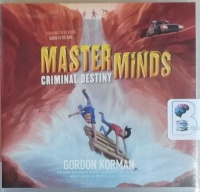 Masterminds - Criminal Destiny written by Gordon Korman performed by Ramon De Campo, Tarah Consoli, Kelly Jean Badgley and Mike Rylander on CD (Unabridged)£9.99
The clones of Project Osiris are free - but they're being hunted.... After their narrow escape from their "perfect" hometown, Eli, Tori, Amber, and Malik are finally in the real world and determined to expose the leaders of Serenity. They decide to track down Tamara Dunleavy, the mysterious billionaire and ...
---
---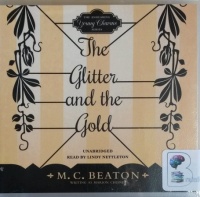 The Glitter and the Gold - Young Charms Series written by M.C. Beaton writing as Marion Chesney performed by Lindy Nettleton on CD (Unabridged)£19.99
Fanny and her bridegroom had been tricked. Both sets of parents had decided to recoup their familes' losses by marrying their children to a wealthy neighbour. But niether family had a penny to their name. As they set out to help each other find a partner with money, they discover that true love might...
---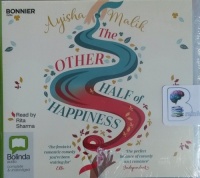 The Other Half of Happiness written by Ayisha Malik performed by Rita Sharma on CD (Unabridged)£9.99
The hilarious new novel from the acclaimed author of Sofia Khan Is Not Obliged. Sofia Khan is just married. But no-one told her life was going to be this way.... Her living situation is in dire straits, her husband Conall is distant and his annoyingly attractive colleague is ringing all sorts of alarm bells.
---
---
---
---
---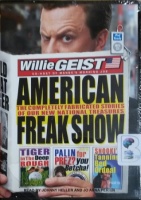 American Freak Show - The Completely Fabricated Stories of Our New National Treasures written by Willie Geist performed by Johnny Heller and Jo Anna Perrin on MP3 CD (Unabridged)£24.99
In just three short years, Willie Geist has gone from behind-the-scenes producer at MSNBC to rising on-air star, as the host of Way Too Early with Willie Geist and cohost of Morning Joe. He's fast, he's funny-something of an early-morning Jon Stewart.Now, in his first book, Geist focuses on America's ongoing parade...
---
---
---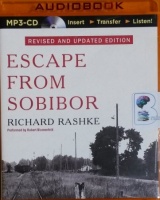 Escape from Sobibor - Revised and Updated written by Richard Rashke performed by Robert Blumenfeld on MP3 CD (Unabridged)£14.99
On October 14, 1943, 600 Jews imprisoned in Sobibor, a secret Nazi death camp in eastern Poland, revolted. They killed a dozen SS officers and guards, trampled the barbed wire fences, and raced across an open field filled with anti-tank mines. Against all odds, more than three hundred made it safely into ...
---