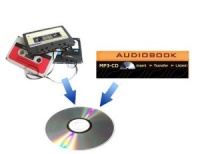 Very Large Fixed Price Audio Transfer Service£40.00
This is the fixed price £40.00 item to be used when ordering conversion of a 10-14 hour Audio Cassette or MP3 CD title.
---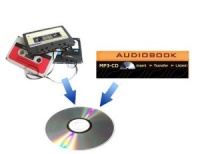 3 Hour Fixed Price Audio Transfer£15.00
This is the fixed price £15 item to be used when ordering conversion of a sub 3 hour Audio Cassette or MP3 CD title.
---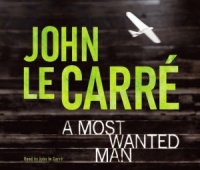 A Most Wanted Man written by John le Carre performed by John le Carre on CD (Abridged)£9.99
A half-starved young Russian man in a long black overcoat is smuggled into Hamburg at dead of night. He has an improbable amount of cash secreted in a purse round his neck. He is a devout Muslim. Or is he? He says his name is Issa.
---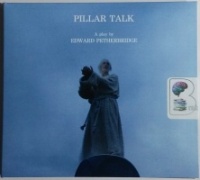 Pillar Talk - A Play written by Edward Petherbridge performed by Edward Petherbridge on CD (Unabridged)£14.99
Exclusive to Brainfood Audiobooks! Esteemed actor Edward (Nicholas Nickleby) Petherbridge uses the story of Symeon Stylites, the 5th century monk who lived on a pillar for thirty-six years, as a framework for an existential inquiry into imagination, belief, doubt, miracles and why one would live 'as I live.'
---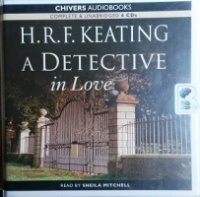 A Detective in Love written by H.R.F. Keating performed by Sheila Mitchell on CD (Unabridged)£9.99 - £14.99
DCI Harriet Martens is nicknamed the Hard Detective. But for Harriet, love proves more dangerous than any of her cases… Britain's number one tennis star, the beautiful Bubbles Xingara, has been murdered in the grounds of her luxurious house.
---
---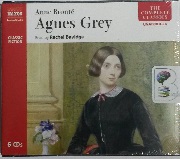 Agnes Grey written by Anne Bronte performed by Rachel Bavidge on CD (Unabridged)£24.99 - £29.99
For all those captivated by the trials of Jane Eyre, Anne Brontës heroine Agnes Grey is the ideal counterpoint. Agnes Grey is widely considered to be the best record of the precarious position of the governess in Victorian society, and the insolence, neglect and dependence that the gentle ....
---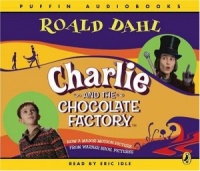 Charlie and the Chocolate Factory written by Roald Dahl performed by Eric Idle on CD (Unabridged)£4.99
This is a special audio edition of Charlie and the Chocolate Factory, read by Eric Idle, which will be published at the same time as the Warner Bros film.
Charlie Bucket thinks he's the luckiest boy alive when he unwraps one of Willy Wonka's Whipple-Scrumptious Fudgemallow Delights to find the last golden ticket.
---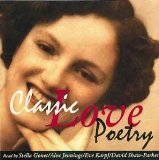 Classic Love Poetry written by Various Famous Poets performed by Various Famous Actors on CD (Abridged)£3.99 - £4.99
From "My True Love Hath My Heart" to September by Ted Hughes - there are 40 poems selected from the last millennia.
All performed by Stella Gonet, David Shaw-Parker, Alex Jennings and Eve Karpf.
---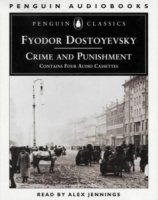 Crime and Punishment written by Fyodor Dostoyevsky performed by Alex Jennings on Cassette (Abridged)£6.99
Crime and Punishment is a novel by the Russian author Fyodor Dostoyevsky. It was first published in the literary journal The Russian Messenger in twelve monthly installments during 1866. It was later published in a single volume.
---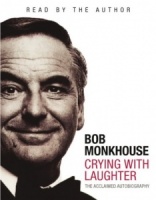 Crying with Laughter written by Bob Monkhouse performed by Bob Monkhouse on Cassette (Abridged)£18.99
Bob Monkhouse has been a star in show business for over 40 years during which time he has known both triumph and tragedy.
His first son was born disabled with cerebral palsy; he has suffered a life-long estrangement from his brother and he was arrested in 1978.
---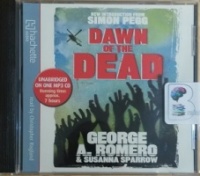 Dawn of the Dead written by George A. Romero and Susanna Sparrow performed by Christopher Ragland on MP3 CD (Unabridged)£4.99
When there is no more room in hell, the dead will walk the Earth. George A. Romero's iconic film and novel terrified generations. Now Dawn of the Dead is back to terrify once more. The world is being devastated by zombies. No one knows how far they have spread, or how to stop them.
---
---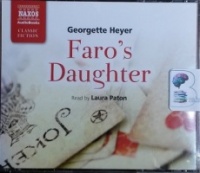 Faro's Daughter written by Georgette Heyer performed by Laura Paton on CD (Abridged)£11.99 - £19.99
Fiery, strong-willed Deb Grantham, who runs a gaming house with her aunt, is hardly the perfect wife for the young and naïve Lord Mablethorpe. His lordship's family are scandalised that he proposes to marry one of faro's daughters', and his cousin the proud, wealthy Max Ravenscar....
---
Five Red Herrings written by Dorothy L. Sayers performed by BBC Full Cast Dramatisation and Ian Carmichael on CD (Abridged)£13.99 - £18.99
A Genius Performance by Ian Carmichael and Cast!
When Sandy Campbell's body is found at the foot of a cliff near the small town of Kircdubright, the local constabulary are convinced that the argumentative painter is a victim of a tragic accident. But when Lord Peter Wimsey turns up, the hunt begins for an ingenious killer. Faced with six men, all of whom have a motive for murder, the aristocratic amateur sleuth must deduce which are the five red herrings and which has blood on his hands.
---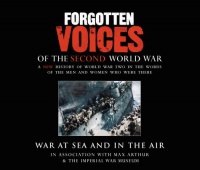 Forgotten Voices of the Second World War - War at Sea and in the Air written by Max Arthur performed by Timothy West and Various Second World War Survivors on CD (Abridged)£6.99
The first British major success of World War two was when Royal Navy forced the preying pocket Battle ship the Graf Spee, to scuttle at sea. Hitler had ordered a blockade of the British Isles and for some months German U-boats and warships caused havoc among allied merchant shipping carrying vital supplies.
---
---
---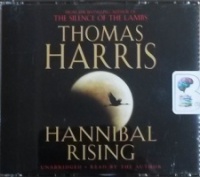 Hannibal Rising written by Thomas Harris performed by Thomas Harris on CD (Unabridged)£8.99
Hannibal Lecter emerges from the nightmare of the Eastern Front, a boy in the snow, mute, with a chain around his neck. He seems utterly alone, but he has brought his demons with him.
---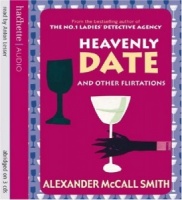 Heavenly Date and Other Flirtations written by Alexander McCall-Smith performed by Anton Lesser on CD (Abridged)£5.99
A Genius Performance by Anton Lesser!
Alexander McCall-Smith's short stories show the interest and intrigue, complexity and completeness that can come from the briefest meeting or a life long love. A lovely set of stories that have something for everyone.
---
New In August 2018 Part 1
(in alphabetical order)
A Bridge to the Stars written by Henning Mankell performed by Francis Greenslade on MP3 CD (Unabridged)£9.99

This poignant novel explores how a unilateral decision can change a life. Two things are hard for Joel Gustafson to cope with: not knowing why, and not being able to do anything about it. Joel's father was once a sailor who lived by the sea. Joel's mother once lived with them.

A Handful of Dust written by Evelyn Waugh performed by Simon Callow on Cassette (Abridged)£14.99

After seven years of marriage, Lady Brenda is bored with country life at Hetton Abbey. She drifts into an affair with shallow young socialite John Beaver and forsakes her unsuspecting husband Tony as she becomes more and more involved with the glamorous Belgravia set.

After River written by Donna Milner performed by Patricia Rodriguez on CD (Abridged)£4.99

Growing up on a dairy farm in the mountains of British Columbia in the 1960s, three kilometres north of the American border, Natalie Ward knew little of the outside world. But she had her family. A family so close and loving that Natalie believed they were the envy of the nearby town....

Brighton Rock written by Graham Greene performed by Samuel West on CD (Unabridged)£29.99 - £39.99

A truely Genius Performance by Samuel West!

His reading of this book makes it come alive in a way none of us have ever heard before - a Must Listen if ever we heard one!

A gang war is raging through the dark underworld of Brighton. Untouched by human feeling, Pinkie is isolated, a figure of pure evil. Believing he can escape retribution, he is unprepared for the courageous, life-embracing Ida Arnold, who is determined to avenge Hale's death.

Casting the First Stone written by Francis Fyfield performed by Sean Barrett on MP3 CD (Unabridged)£3.99 - £5.99

A Genius Performance by Sean Barrett!

A year after her husband's death, young widow and art collector Diana Porteous listlessly roams the beach near her home. Her friend and agent Saul takes action, introducing her to his stylish, anarchic sister, Sarah, to pep her up.

Cat O'Nine Tales written by Jeffrey Archer performed by Anton Lesser on CD (Unabridged)£19.99

Cat O' Nine Tales is the sixth collection of irresistible short stories from the master storyteller,illustrated by the internationally acclaimed artist, Ronald Searle, creator of Molesworth. These twelve yarns are satisfying and ingeniously plotted, featuring richly drawn characters and Jeffrey Archer's ...

Cold Mountain written by Charles Frazier performed by Charles Frazier on Cassette (Unabridged)£19.99

A soldier wounded in the Civil War, Inman turns his back on the carnage of the battlefield and begins the treacherous journey home to Cold Mountain, and to Ada, the woman he loved before the war began. As Inman attempts to make his way across the mountains, through the devastated landscape....

Doctor Who - Paradise Towers written by Stephen Wyatt performed by Bonnie Langford on CD (Unabridged)£29.99

Much in need of a holiday, Mel and the Doctor head for Paradise Towers: a luxury man-made planet with sparkling fountains, sunny streets, exotic flowers and a shimmering blue swimming pool. But when the TARDIS materialises in a dark, rubbish-filled, rat-infested alley it seems that this....

Fairy Tales written by Terry Jones performed by Bob Hoskins, Helen Mirren, Michael Hordern and Joan Greenwood on CD (Unabridged)£29.99

Terry Jones, Joan Greenwood, Michael Hordern, Bob Hoskins, Helen Mirren and Tim Rice read of a collection of original fairy tales for 8 to 11-year-olds, written by master storyteller Terry Jones, introducing such bizarre creatures as the fly-by-night, the rainbow cat, and the wonderful cake-horse.

His Illegal Self written by Peter Carey performed by Greta Scacchi on CD (Abridged)£9.99

Seven-year-old Che was abandoned by his radical Havard-student parents during the upheaval of the 1960s, and since then has been raised in isolated privilege by his New York grandmother. He yearns to see or hear news of his famous outlaw parents, but his grandmother refuses to tell him anything.

Left Brain - Right Stuff - How Leaders Make Winning Decisions written by Phil Rosenweig performed by Christopher Lane on CD (Unabridged)£11.99

Dozens of books have been published recently on the errors and biases that affect our judgments and choices. Drawing on cognitive science, their lessons are excellent for many kinds of decisions - consumer choice and financial investments, for example - but stop short of addressing many of....

Loving Frank written by Nancy Horan performed by Joyce Bean on CD (Abridged)£9.99

In the internationally bestselling vein of The Paris Wife and Z: a novel of Zelda Fitzgerald this biographical novel is set in the early 1900s when polite Chicago society was rocked by terrible scandal when renowned architect, Frank Lloyd Wright, ran off with Mamah Cheney, a client's wife.

Mansfield Park written by Jane Austen performed by Frances Barber on Cassette (Unabridged)£19.99 - £39.99

Mansfield Park is the story of Fanny Price: the earnest, gentle girl of humble origins sent to live with Sir Thomas Bertram and his family in Mansfield Park. There she discovers a world of flirtation, betrayal, and prejudice - but she also finds love. Fanny is often thought of as Austen's most difficult heroine to warm to, but her quiet, serious nature hides a loyal and loving heart, and her patient devotion is ultimately rewarded.

Nicholas Nickleby written by Charles Dickens performed by Anton Lesser on CD (Abridged)£11.99

One of Dickens' earlier novels, dating from 1839, it charts the fortunes of an honourable young man, Nicholas Nickleby, who has set out to make his way in the world. Dickens presents his remarkably vivid display of Victorian characters and the life they lead, from the generous to the fated to crushed.

Nineteen Eighty-Four written by George Orwell performed by Timothy West on Cassette (Unabridged)£29.99 - £39.99

Big Brother is watching you...1984 is the year in which it happens.The world is divided into three great powers: Oceania, Eurasia, and Eastasia, each perpetually at war with the other. Throughout Oceania 'The Party' rules by the agency of four ministries whose power is absolute and where every action, word, gesture and thought is monitored. In The Ministry of Truth, which deals in propaganda, Winston Smith's job is to edit the past.

Old Harry's Game - Radio Series 7 written by BBC Comedy Team performed by Andy Hamilton, Annette Crosbie and Timothy West on CD (Abridged)£19.99

Jean Paul Sartre said, 'Hell is other people'. But, as Satan will tell you, Hell is actually a fiery, unendingly cruel domain where Oliver Reed can never quite catch the barman's eye and Yves St Laurent is forced to wear a donkey jacket. But Hell is about to become more hellish for Satan himself (Andy Hamilton).

On Calvary's Hill written by Max Lucado performed by Ben Holland on CD (Unabridged)£9.99

It's early in the final week. The props and players for Friday's drama are in position. Five-inch spikes are in the bin. A cross-beam leans against a shed wall. The players are nearing the stage—Pilate, Annas and Caiaphas, Judas, the centurions. Players and props. Only this is no play; it's a divine plan.

Once in a House on Fire written by Andrea Ashworth performed by Andrea Ashworth on Cassette (Abridged)£4.99

Andrea Ashworth's father stopped on the way home from work one night to take a leak. He slipped in some mud, hit his head on a rock and drowned face-down in a stream less than four inches deep. Andrea was five years old; her sister was three; her mother was twenty-five.

Red Dragon written by Thomas Harris performed by Alan Sklar on Cassette (Unabridged)£14.99

A quiet summer night...a neat suburban house...and another happy family is shattered -- the latest victims of a grisly series of hideous sacrificial killings that no one understands, and no one can stop. Nobody lives to tell of the unimaginable carnage. Only the blood-stained walls bear witness.

Requests the Pleasure written by Joyce Grenfell performed by Joyce Grenfell on CD (Abridged)£9.99

Actress, comedienne and raconteur Joyce Grenfell tells the fascinating story of her life working in radio, film, the stage and war-time entertainment tours with her usual charm and much humour. Her glamorous and madcap American mother, her aunt Nancy Astor and her husband Reggie...

The Amber Spyglass written by Philip Pullman performed by BBC Full Cast Dramatisation and Philip Pullman on Cassette (Unabridged)£19.99

Lyra and Will find themselves in the final part of the story facing great perils. But there are old friends who come to their aid, not least Iorek Byrnison, the armoured bear.

The Boy in the Striped Pyjamas written by John Boyne performed by Michael Maloney on CD (Unabridged)£9.99

Nine-year-old Bruno knows nothing of the Final Solution or the Holocaust. He is oblivious to the appalling cruelties being inflicted on the people of Europe by his country. All he knows is that he has been moved from a comfortable home in Berlin to a house in a desolate area where there is nothing....

The Caedmon Short Story Collection written by Various Great Modern Authors performed by David McCallum, Claire Bloom, Celia Johnson and John Updike on Cassette (Abridged)£19.99

This collection, culled from the Caedmon archives of the past fifty years, includes such selections as John Updike's "Persistence of Desire" and Eudora Welty's "Why I Live at the P.O.," both read by the respective authors.

The God Engines written by John Scalzi performed by Christopher Lane on CD (Unabridged)£19.99

Captain Ean Tephe is a man of faith, whose allegiance to his lord and to his ship is uncontested. The Bishopry Militant knows this - and so, when it needs a ship and crew to undertake a secret, sacred mission to a hidden land, Tephe is the captain to whom the task is given.

The Grownup written by Gillian Flynn performed by Julia Whelan on CD (Unabridged)£9.99

Gillian Flynn's Edgar Award-winning homage to the classic ghost story, published for the first time as a standalone. A canny young woman is struggling to survive by perpetrating various levels of mostly harmless fraud. On a rainy April morning, she is reading auras at Spiritual Palms when Susan Burke...

The Lord of the Rings - Part 1 The Fellowship of the Ring written by J.R.R. Tolkien performed by Rob Inglis on Cassette (Unabridged)£7.99 - £19.99

Following Bilbo's 111th birthday, Frodo Baggins and his companion Sam Gamgee, set off along the same East Road down which Bilbo the Hobbit had accompanied Thorin Oakenshield and his dwarves all those many years ago.

The Lord of the Rings - Part 2 The Two Towers written by J.R.R. Tolkien performed by Rob Inglis on Cassette (Unabridged)£6.99 - £9.99

The second part of the The Lord of the Rings, following on from The Fellowship of the Ring.

Frodo and the Companions of the Ring have been beset by danger during their quest to prevent the Ruling Ring from falling into the hands of the Dark Lord by destroying it in the Cracks of Doom.

The Merchant of Venice written by William Shakespeare performed by Antony Sher, Roger Allam, Emma Fielding and Full Cast Dramatisation on CD (Abridged)£12.99 - £14.99

A good production but lacking in fire except for a great performance by Anthony Sher. Worth the price just for his work on this excellent play. The Best Merchant award has to go to the Hugh Griffith and Dorothy Tutin production.

The Moon's A Balloon written by David Niven performed by David Niven on CD (Abridged)£39.99

David Niven is remembered as one of Britain's best-loved actors. The archetypal English gentleman, he starred in over ninety films. He is equally remembered as the author of this classic autobiography.

The Power of Five - Raven's Gate written by Anthony Horowitz performed by Paul Panting on Cassette (Unabridged)£9.99

A sinister story of the supernatural; first of five in a thrilling new series by this number one best-selling author. Matt has always known he has unusual powers. Raised in foster care, he is sent to Yorkshire on a rehabilitation programme, only to find himself in the midst of sinister goings-on.

The Ruby in the Smoke written by Philip Pullman performed by Anton Lesser on CD (Unabridged)£24.99

An unabridged reading of Philip Pullman's nerve-shattering thriller, set in the murky streets and opium dens of Old London. When 16-year old Sally's father drowns in suspicious circumstances, she is left to fend for herself in Victorian London. Although she doesn't know it, she is already in terrible danger.

The Thief Lord written by Cornelia Funke performed by Michael Maloney on Cassette (Unabridged)£14.99

Two orphaned children are on the run, hiding among the crumbling canals and misty alleyways of the city. Befriended by a gang of street children and their mysterious leader, the Thief Lord, they shelter in an old, disused cinema. On their trail is a bungling detective, obsessed with disguises and the health...

Under Milk Wood written by Dylan Thomas performed by Dylan Thomas and Original Cast on CD (Unabridged)£9.99

Dylan Thomas' fantastic reading of 'Under Milk Wood' performed by Dylan Thomas and a remarkable cast available for the first time on CD. Under Milk Wood was originally a radio play and later a stage play and film which was written and delivered to the BBC in 1953.

We Will Remember Them written by Argo - Decca performed by Stephen Fry, Joanna Lumley, Nigel Havers and Bernard Cribbins on CD (Abridged)£4.99

We Will Remember Them is a unique recording project which brings together a cast of celebrty readers--actors, TV presenters and others in the public eye--to read poems of remembrance from times past and present, which are mixed with well known classical themes.

Women's Hour Poetry Collection written by Various Famous Poets performed by Jan Francis, Hannah Gordon, Trevor Nichols and Maggie Steed on Cassette (Abridged)£4.99

This anthology contains work by over 80 female poets, including Elizabeth Barrett Browning, Emily Bronte, Emily Dickinson, Fiona Pitt-Kethley and Liz Lochead.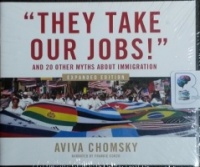 "They Take Our Jobs!" and 20 Other Myths About Immigration - Expanded Edition written by Aviva Chomsky performed by Frankie Corzo on CD (Unabridged)£19.99
In They Take Our Jobs! Aviva Chomsky challenges the underlying assumptions that fuel misinformed claims about immigrants, radically altering our notions of citizenship, discrimination, and U.S. history. Since it was first published, many of the same myths about immigration such as immigrants take...
---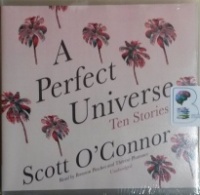 A Perfect Universe - Ten Stories written by Scott O'Connor performed by Bronson Pinchot and Therese Plummer on CD (Unabridged)£19.99
Scott O'Connor's novels have been hailed as "astonishing" (Library Journal), and "so insistently stirring, you want to lean in close to catch every word" (The New York Times Book Review). Now, from the author of Untouchable and Half World comes A Perfect Universe, a piercingly emotional cycle...
---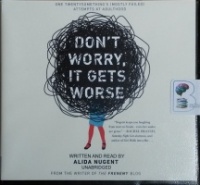 Don't Worry, It Gets Worse written by Alida Nugent performed by Alida Nugent on CD (Unabridged)£19.99
Alida Nugent graduated college with a degree in one hand and a drink in the other, eager to trade in parties and all-nighters for "the real world". But post-grad wasn't the glam life she imagined. Soon buried under a pile of bills, laundry, and three-dollar bottles of wine, it quickly became clear that she...
---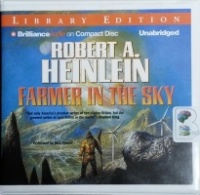 Farmer in the Sky written by Robert A. Heinlein performed by Nick Podehl on CD (Unabridged)£24.99
Farmer In The Sky is a 1953 science fiction novel by Robert A. Heinlein about a teenage boy who emigrates with his family to Jupiter's moon Ganymede, which is in the process of being terraformed. A condensed version of the novel was published in serial form in 1950 in Boys' Life magazine.
---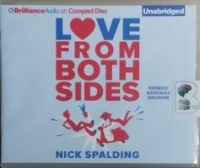 Love From Both Sides written by Nick Spalding performed by Heather Wilds and Napoleon Ryan on CD (Unabridged)£24.99
Sometimes, the hardest part of finding love is keeping a straight face.... For Jamie Newman, being a single guy isn't proving to be much fun, especially when confronted with a sexually belligerent divorcee and a goddess so far out of his league she might as well be a different species. Mind you, being a...
---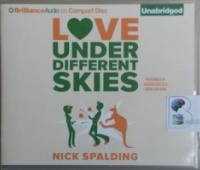 Love Under Different Skies written by Nick Spalding performed by Heather Wilds and Napoleon Ryan on CD (Unabridged)£19.99
Sometimes, the hardest part of staying together is keeping a straight face... Ever wish you could leave all your problems behind and make a fresh start somewhere else? Trade the stresses and strains of everyday life for your own slice of sun-kissed paradise on the other side of the world?
---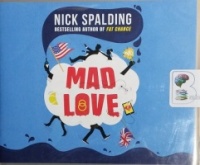 Mad Love written by Nick Spalding performed by Nico Evers-Swindell and Amy London on CD (Unabridged)£19.99
Can two people who have never met make a marriage work? Popular dating site Sociality thinks so, and is marrying London lad Adam to California girl Jessica to prove it. What better way to show that your 'love algorithms' work than to put two complete strangers together in an expensive publicity stunt?
---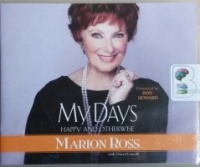 My Happy Days - Happy and Otherwise written by Marion Ross performed by Marion Ross and The Cast of Happy Days on CD (Unabridged)£29.99
For eleven seasons, Marion Ross was head of one of America's favorite television households. Now meet the lovable real-life woman behind the Happy Days mom . . . Before she was affectionately known to millions as "Mrs. C.," Marion Ross began her career as a Paramount starlet who went on to...
---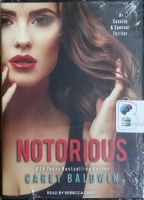 Notorious written by Carey Baldwin performed by Rebecca Gibel on MP3 CD (Unabridged)£19.99
Dallas socialite Cynthia Langhorne is infamous for her beauty, her philanthropy, and her home wrecking-until she's found shot through the heart and posed nude at a fundraising ball. The case is high profile, and there's a bigger problem: Cindy is the wife of a decorated FBI special agent-the prime...
---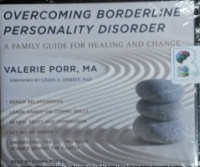 Overcoming Borderline Personality Disorder written by Valerie Porr, MA performed by Donna Postel on CD (Unabridged)£39.99
Overcoming Borderline Personality Disorder is a compassionate and informative guide to understanding this profoundly unsettling-and widely misunderstood-mental illness, believed to affect approximately six percent of the general population.Rather than viewing people with BPD as ...
---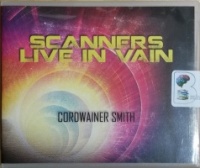 Scanners Live in Vain written by Cordwainer Smith performed by Christopher Strong on CD (Unabridged)£9.99
Man has conquered space, but not without costs. To maintain the space lanes, Scanners have to undergo an operation in which their brain is severed from their sensory inputs to block the pain of space. Scanner Martel has made this sacrifice. He must monitor his vital functions via implanted dials...
---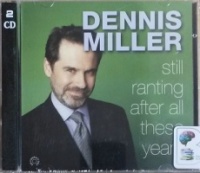 Still Ranting After All These Years written by Dennis Miller performed by Dennis Miller on CD (Unabridged)£9.99
If you thought Dennis Miller was done ranting, guess again. In Still Ranting After All These Years, recorded in early 2002, Miller is in fine form, commenting on everything from "War and Terrorism" to Enron; from "Obsessed Parents" to the "End of Class;" to "Truth in the Media," and so much more.
---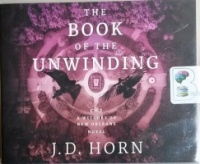 The Book of The Unwinding - A Witches of New Orleans Novel written by J.D. Horn performed by Sophie Amoss on CD (Unabridged)£19.99
The struggle for power continues in the sequel to The King of Bones and Ashes from Wall Street Journal bestselling author J.D. Horn. With their magic diminishing, warring factions of New Orleans witches desperately search for the Book of the Unwinding—a legendary grimoire, hidden by spells, that...
---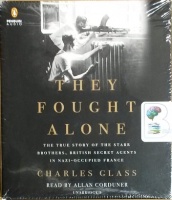 They Fought Alone - The True Story of the Starr Brothers, British Secret Agents in Nazi-Occupied France written by Charles Glass performed by Allan Corduner on CD (Unabridged)£29.99
"Highly detailed and fast-paced, Charles Glass's They Fought Alone is a must-read for those whose passion is the Resistance literature of World War II." —Alan Furst, author of A Hero of France From the bestselling author of Americans in Paris and The Deserters, the astounding story of Britain's...
---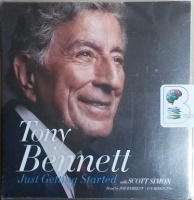 Tony Bennett - Just Getting Started written by Tony Bennett with Scott Simon performed by Joe Barrett on CD (Unabridged)£19.99
At 90, musician and singer Tony Bennett is as vibrant and productive as ever. In addition to his prodigious musical output, including albums, concerts, and personal appearances, this beloved and enduring artist has written his second book. In 2012's Life Is a Gift, Tony reflected on the lessons he has...
---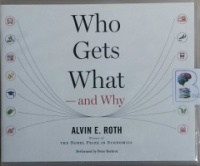 Who Gets What - and Why written by Alvin E. Roth performed by Peter Berkrot on CD (Unabridged)£14.99
"In his fluent and accessible book, Mr. Roth vividly describes the successes of market design." -- Economist.com​ "In this fascinating, often surprising book, Alvin Roth guides us through the jungles of modern life, pointing to the many markets that are hidden in plain view all around us." -- Dan Ariely, author...
---
---
---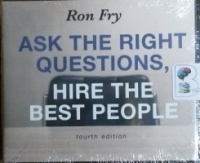 Ask The Right Questions, Hire The Right People - Fourth Edition written by Ron Fry performed by Patrick Lawlor on CD (Unabridged)£19.99
In this completely updated new edition, the best-selling author of 101 Great Answers to the Toughest Interview Questions and 101 Smart Questions to Ask on Your Interview takes you step by step through the hiring process. Whether you're replacing an employee who's leaving or creating a new position...