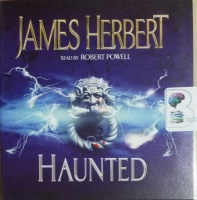 Haunted written by James Herbert performed by Robert Powell on CD (Abridged)£4.99
A ghostly twist. Three nights of terror at the house called Edbrook. Three nights in which David Ash, there to investigate a haunting, will be victim of horrifying games. Three nights in which he will face the blood-chilling enigma of his own past.
---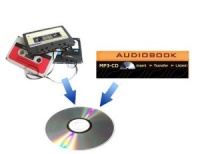 Large Fixed Price Audio Transfer Service£35.00
This is the fixed price £35.00 item to be used when ordering conversion of a 6-9 hour Audio Cassette or MP3 CD title.
---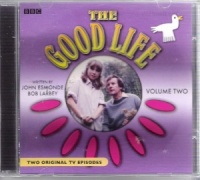 The Good Life written by John Esmonde and Bob Larbey performed by Richard Briers and Felicity Kendal on CD (Abridged)£3.99
Two episodes of the wonderful TV show!
---
---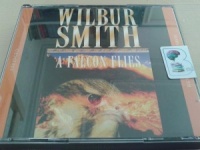 A Falcon Flies written by Wilbur Smith performed by Martin Jarvis on CD (Abridged)£4.99 - £8.99
A Falcon Flies is the first bestselling novel in Wilbur Smith's epic tale of Africa, The Ballantyne Novels. In search of a father they barely remember, Zouga and Dr Robyn Ballantyne board Mungo St John's magnificent clipper to speed them to Africa.
---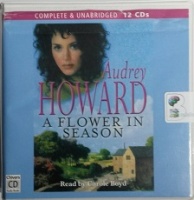 A Flower in Season written by Audrey Howard performed by Carole Boyd on CD (Unabridged)£14.99 - £24.99
Briony Marsden has led a hard life, forced to do the work of a grown man while enduring her drunkard father's taunts and blows. But when he goes too far one day, her fate becomes even worse as she makes her way alone in a heartless world.
---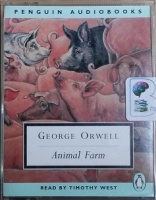 Animal Farm written by George Orwell performed by Timothy West on Cassette (Unabridged)£9.99
All animals are equal - but some are more equal than others' When the downtrodden animals of Manor Farm overthrow their master Mr Jones and take over the farm themselves, they imagine it is the beginning of a life of freedom and equality.
---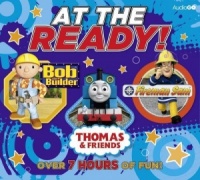 At The Ready! written by Various Childrens Authors performed by Various Famous Actors on CD (Abridged)£39.99
This box set contains over 7 hours of fun from Bob the Builder, Fireman Sam and Tomas the Tank Engine! This would make a brilliant gift that will last considerably longer than the New Year!
---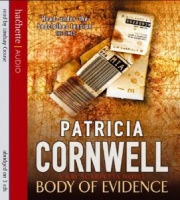 Body of Evidence written by Patricia Cornwell performed by Lindsay Crouse on CD (Abridged)£9.99
A reclusive writer is dead. And her final manuscript has disappeared ...Someone is stalking Beryl Madison.
---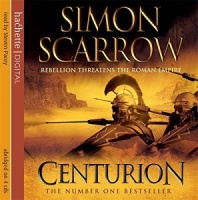 Centurion - Rebellion Threatens the Roman Empire written by Simon Scarrow performed by Steven Pacey on CD (Abridged)£17.99 - £18.99
In the first century AD the Roman Empire faces a new threat from its long-standing enemy Parthia. Parthia is vying with Rome for control of Palmyra an officially neutral kingdom.
---
---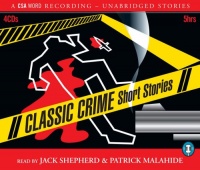 Classic Crime Short Stories written by Various Famous Crime Writers performed by Jack Shepherd and Patrick Malahide on CD (Unabridged)£4.99 - £9.99
Discover a world of heroes and villains, suspense and intrigue. This riveting and comprehensive collection brings together some of the best crime writing of all time.
---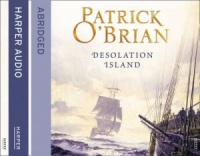 Desolation Island written by Patrick O'Brian performed by Robert Hardy on CD (Abridged)£8.99
A Genius Performance by Robert Hardy!
Commissioned to rescue Governor Bligh of Bounty fame, Captain Jack Aubrey and his friend and surgeon, Stephen Maturin, sail the Leopard to Australia with a hold full of convicts. Among them is a beautiful and dangerous spy — and a treacherous disease which decimates the crew.
---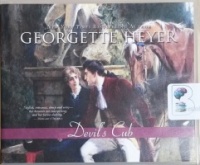 Devil's Cub written by Georgette Heyer performed by Michael Drew on CD (Unabridged)£24.99
The excesses of the young Marquis of Vidal are even wilder than his father's before him. Not for nothing is the reckless duellist and gamester called "the Devil's Cub". But when he is forced to leave the country, Mary Challoner discovers his fiendish plan to abduct her sister. Any only by daring to impersonate...
---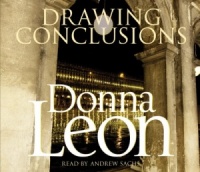 Drawing Conclusions written by Donna Leon performed by Andrew Sachs on CD (Abridged)£4.99 - £5.99
A Genius Performance by Andrew Sachs! When Anna Maria Giusti finds her elderly neighbour Constanza Altavilla dead, with blood on the floor near her head, she calls the police. Brunetti is called to the scene and it seems the woman has suffered a heart attack. Patta, the Vice-Questore, is eager to dismiss the case...
---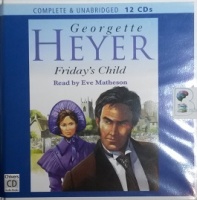 Friday's Child written by Georgette Heyer performed by Eve Matheson on CD (Unabridged)£29.99
This story of mistaken love is a romantic fiction set in the English Regency period. It centers on Lord Sheringham who has been rejected by the woman he loves but the woman who has secretly loved him since childhood is waiting.
---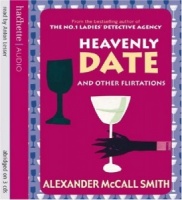 Heavenly Date and Other Flirtations written by Alexander McCall-Smith performed by Anton Lesser on CD (Abridged)£5.99
A Genius Performance by Anton Lesser!
Alexander McCall-Smith's short stories show the interest and intrigue, complexity and completeness that can come from the briefest meeting or a life long love. A lovely set of stories that have something for everyone.
---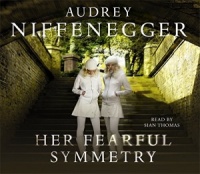 Her Fearful Symmetry written by Audrey Niffenegger performed by Sian Thomas on CD (Abridged)£4.49 - £4.99
dearest e, I told you I would let you know-so here it is-goodbye. I try to imagine what it would feel like if it was you-but it's impossible to conjure the world without you, even though we've been apart so long. I didn't leave you anything. You got to live my life.
---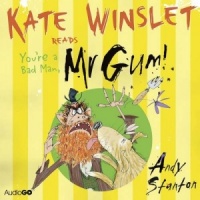 Kate Winslet reads You're a Bad Man Mr Gum written by Andy Stanton performed by Kate Winslet on CD (Unabridged)£6.99 - £8.99
Good evening. Mr Gum is a complete horror who hates children, animals, fun and corn on the cob. This book's all about him. And an angry fairy who lives in his bathtub. And Jake the dog, and a little girl called Polly. And there's heroes and sweets and adventures and EVERYTHING.
---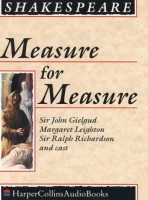 Measure for Measure written by William Shakespeare performed by Sir John Gielgud, Margaret Leighton and Sir Ralph Richardson on Cassette (Unabridged)£19.99
This is one of Shakespeare's so-called black comedies. This thought-provoking play poses the stark question: when a young woman is offered the choice of saving a man's life at the price of her own chastity, what should she do?
---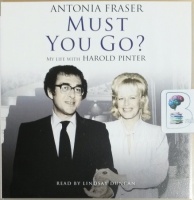 Must You Go? - My Life with Harold Pinter written by Antonia Fraser performed by Lindsay Duncan on CD (Abridged)£4.99 - £9.99
I first saw Harold across a crowded room, but it was lunchtime, not some enchanted evening, and we did not speak...' When Antonia Fraser met Harold Pinter she was a celebrated biographer and he was Britain's finest playwright.
---
---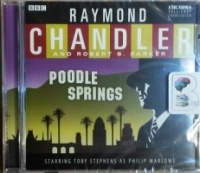 Poodle Springs written by Raymond Chandler and Robert B. Parker performed by Toby Stephens and BBC Full Cast Drama Team on CD (Abridged)£4.99
Fast-talking, trouble-seeking private eye Philip Marlowe is a different kind of detective: a moral man in an amoral world. California in the '40s and '50s is as beautiful as a ripe fruit and rotten to the core, and Marlowe must struggle to retain his integrity amidst the corruption he encounters daily.
---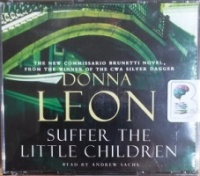 Suffer the Little Children written by Donna Leon performed by Andrew Sachs on CD (Abridged)£4.99
When Commissario Brunetti is summoned to the hospital bedside of a senior paediatrician whose skull has been fractured, he is confronted with more questions than answers. Three men, a Carabinieri captain and two privates from out of town, have burst into the doctor's apartment....
---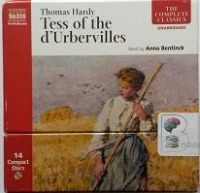 Tess of the d'Urbervilles written by Thomas Hardy performed by Anna Bentinck on CD (Unabridged)£49.99 - £69.99
Tess Durbeyfield is forced by her family's poverty to claim kinship with the wealthy D'Urbervilles. Violated by the son, Alec, her hopes of rebuilding her life with the gentle and bookish Angel Clare founder when he learns of her past.
New In April 2019 Part 5
(in alphabetical order)
A Clockwork Orange written by Anthony Burgess performed by Phil Daniels on Cassette (Unabridged)£9.99

In this 1962 classic, a novelistic exploration of modern crime and punishment, Alex is the 15-year-old leader of his gang of "droogs" thriving in the ultraviolent future, as prophetically imagined by Burgess. Speaking a bizarre Russian-derived slang, Alex and his friends freely pillage and slash their way across...

Acquisition written by Chelle Bliss performed by Brian Pallino and Natasha Soudek on MP3 CD (Unabridged)£9.99

A one-night stand with a handsome stranger wasn't a problem - until he tries to steal her company. Ambitious, high-powered CEO Lauren Bradley is one press release away from catapulting her company to new heights. Rival CEO Antonio Forte is arrogant, controlling, and sexy. She should know, since Antonio's...

Alex Cross, Run written by James Patterson performed by Michael Boatman on CD (Abridged)£4.99

Detective Alex Cross arrests renowned plastic surgeon Elijah Creem for sleeping with teenage girls. Now, his life ruined, Creem is out of jail, and he's made sure that no one will recognize him - by giving himself a new face. A young woman is found hanging from a sixth-floor window, and Alex is called to the scene.

Beatrix Potter - Artist, Storyteller and Countrywoman written by Judy Taylor performed by Patricia Routledge on Cassette (Abridged)£9.99

The audiobook edition of Judy Taylor's classic biography, Beatrix Potter: Artist, Storyteller, and Countrywoman, read by the actress Patricia Routledge. Starting with the publication of The Tale of Peter Rabbit, in 1902, Beatrix Potter went on to become one of the world's most successful children's authors.

Beyond Religion - Ethics for a Whole World written by Dalai Lama performed by Martin Sheen on CD (Unabridged)£9.99

In 1999 His Holiness The Dalai Lama published the bestselling Ancient Wisdom: Modern World, which addressed the question of ethics for the new millennium. A decade later, His Holiness enters the contemporary debate about religion vs atheism, and returns to the theme of ethics with a...

Biocentrism - How Life and Consciousness are the Keys to Understanding the True nature of the Universe written by Robert Lanza MD performed by Peter Ganim on MP3 CD (Unabridged)£19.99

Every now and then, a simple yet radical idea shakes the very foundations of knowledge. The startling discovery that the world was not flat challenged and ultimately changed the way people perceived themselves and their relationships with the world. For most humans of the 15th century, the notion of Earth...

Brainstorm - Detective Stories from the World of Neurology written by Suzanne O'Sullivan performed by Christine Williams on MP3 CD (Unabridged)£19.99

The Brain Always Wins is the practical guide to improving your life through better brain management. It is based on one simple fact: our brain controls and determines everything we do! How we perceive, understand and respond to the world, how we survive, adapt and communicate, how we learn and...

Burning Angels - A Will Jaeger Thriller written by Bear Grylls performed by Rupert Degas on MP3 CD (Unabridged)£9.99

A prehistoric corpse entombed within an Arctic glacier, crying tears of blood. A jungle island overrun by rabid primates - escapees from a research laboratory's Hot Zone. A massive seaplane hidden beneath a mountain, packed with a Nazi cargo of mind-blowing evil. A penniless orphan kidnapped from...

Choice of Evil written by Andrew Vachss performed by Phil Gigante on CD (Unabridged)£19.99

When his girlfriend, Crystal Beth, is gunned down at a gay rights rally in Central Park, Burke, the underground man-for-hire and expert hunter of predators, vows vengeance. But someone beats him to the task: a shadowy killer who calls himself Homo Erectus and who seems determined to wipe gay bashers...

CliffNotes - On Faulkner's Short Stories written by James L Roberts PhD performed by Luke Daniels on MP3 CD (Unabridged)£19.99

The CliffsNotes study guide on Faulkner's Short Stories supplements the original literary work, giving you background information about the author, an introduction to the work, critical commentaries, expanded glossaries, and a comprehensive index, all for you to use as an educational tool that will allow you..

CliffNotes - On Golding's Lord of the Flies written by Maureen Kelly performed by Nick Podehl on MP3 CD (Unabridged)£14.99

The CliffsNotes study guide on William Golding's Lord of the Flies supplements the original literary work, giving you background information about the author, an introduction to the work, and critical commentaries, all for you to use as an educational tool that will allow you to better understand the work.

CliffNotes - On Hosseini's The Kite Runner written by Richard Wasowski MA performed by Luke Daniels on MP3 CD (Unabridged)£14.99

The CliffsNotes study guide on Hosseini's The Kite Runner supplements the original literary work, giving you background information about the author, an introduction to the work, critical commentaries, expanded glossaries, and a comprehensive index, all for you to use as an educational tool that will allow you..

CliffNotes - On Shakespeare's The Merchant of Venice written by Waldo F. McNeir PhD performed by Luke Daniels on MP3 CD (Unabridged)£19.99

This CliffsNotes study guide on William Shakespeare's The Merchant of Venice supplements the original literary work, giving you background information about the author, an introduction to the work, and critical commentaries, all for you to use as an educational tool that will allow you to better understand ...

Cyber Wars - Hacks the Shocked the Business World written by Charles Arthur performed by Joe Jameson on MP3 CD (Unabridged)£19.99

Cyber Wars gives you the dramatic inside stories of some of the world's biggest cyber attacks. These are the game-changing hacks that make organisations around the world tremble and leaders stop and consider just how safe they really are. Charles Arthur provides a gripping account of why each hack...

Deep written by James Nestor performed by James Nestor on MP3 CD (Unabridged)£39.99

Covering a diving championship in Greece on a hot and sticky assignment for Outside magazine, James Nestor discovered free diving. He had stumbled on one of the most extreme sports in existence: a quest to extend the frontiers of human experience, in which divers descend without breathing equipment...

Explorers of the Nile - The Triumph and Tragedy of a Great Victorian Adventure written by Tim Jeal performed by Clive Chafer on MP3 CD (Unabridged)£24.99

Nothing obsessed explorers of the mid-nineteenth century more than the quest to discover the source of the White Nile. It was the planet's most elusive secret, the prize coveted above all others. Between 1856 and 1876, six larger-than-life men and one extraordinary woman accepted the challenge.

Here in Berlin written by Christina Garcia performed by Joan Walker on MP3 CD (Unabridged)£19.99

An unnamed Visitor travels to Berlin with a camera looking for reckonings of her own. The city itself is a character-vibrant and postapocalyptic, flat and featureless except for its rivers, its lakes, its legions of bicyclists. Here in Berlin, she encounters a people's history: the Cuban teen taken as a POW on...

It written by Stephen King performed by Steven Weber on MP3 CD (Unabridged)£39.99

To the children, the town was their whole world. To the adults, knowing better, Derry, Maine, was just their hometown: familiar, well ordered for the most part. A good place to live. It was the children who saw - and felt - what made Derry so horribly different. In the storm drains, in the sewers, IT lurked, taking...

Lucid Dreaming - Gateway to the Inner Self written by Robert Waggoner performed by Mel Foster on MP3 CD (Unabridged)£19.99

Lucid Dreaming: Gateway to the Inner Self is the account of an extraordinarily talented lucid dreamer who goes beyond the boundaries of both psychology and religion. In the process, he stumbles upon the Inner Self. While lucid (consciously aware) in the dream state and able to act and interact with dream...

Play It As It Lays written by Joan Didion performed by Lauren Fortgang on CD (Unabridged)£19.99

A ruthless dissection of American life in the late 1960s, Play It As It Lays captures the mood of an entire generation, the ennui of contemporary society reflected in spare prose that blisters and haunts the listener. Set in a place beyond good and evil-literally in Hollywood, Las Vegas, and the barren wastes...

Playing to The Edge written by Michael V. Hayden performed by Michael V. Hayden on CD (Unabridged)£29.99

An unprecedented high-level master narrative of America's intelligence wars from the only person ever to helm both the CIA and NSA, at a time of heinous new threats and wrenching change. For General Michael Hayden, playing to the edge means playing so close to the line that you get chalk dust on your cleats.

Superbugs - An Arms Race Against Bacteria written by William Hall, Anthony McDonnell and Jim O'Neill performed by Matthew Lloyd Davies on MP3 CD (Unabridged)£14.99

Antibiotics are powerful drugs that can prevent and treat infections, but they are becoming less effective as a result of drug resistance. Resistance develops because the bacteria that antibiotics target can evolve ways to defend themselves against these drugs. When antibiotics fail, there is very little else to...

Superforcasting written by Philip E. Tetlock and Dan Gardner performed by Joel Richards on MP3 CD (Unabridged)£19.99

From one of the world's most highly regarded social scientists, a transformative book on the habits of mind that lead to the best predictions. Everyone would benefit from seeing further into the future, whether buying stocks, crafting policy, launching a new product, or simply planning the week's meals.

Tales of Majipoor written by Robert Silverberg performed by Stefan Rudnicki on MP3 CD (Unabridged)£19.99

Seven stories of Majipoor from science fiction grand master Robert Silverberg Hailed as "one of the most fully realized worlds of modern science fiction" (Booklist>), Majipoor is a planet unlike any other, with countless untold stories. Now, available for the first time in one volume, Silverberg presents seven...

The Bipolar Disorder Survival Guide - What You and Your Family Need to Know written by David J. Miklowitz PhD performed by Kris Koscheski on MP3 CD (Unabridged)£24.99

Getting an accurate diagnosis is the first step toward reclaiming your life from bipolar disorder. But if you or someone you love is struggling with the frantic highs and crushing lows of this illness, there are still many hurdles to surmount at home, at work, and in daily life. You need current information and...

The Brain Always Wins written by John Sullivan and Chris Parker performed by Luke Mullins on MP3 CD (Unabridged)£19.99

The Brain Always Wins is the practical guide to improving your life through better brain management. It is based on one simple fact: our brain controls and determines everything we do! How we perceive, understand and respond to the world, how we survive, adapt and communicate, how we learn...

The Chemistry of Calm written by Henry Emmons MD performed by Qarie Marshall on MP3 CD (Unabridged)£24.99

The debilitating effects of anxiety can affect your sense of well-being, health, longevity, productivity, and relationships. In The Chemistry of Calm, Dr. Henry Emmons presents his Resilience Training Program - a groundbreaking regimen designed to relieve anxiety and restore physical and mental strength.

The Consciousness Instinct - Unraveling The Mystery of How The Brain Makes the Mind written by Michael S. Gazzaniga performed by David Colacci on MP3 CD (Unabridged)£19.99

"The father of cognitive neuroscience" illuminates the past, present, and future of the mind-brain problem How do neurons turn into minds? How does physical "stuff" - atoms, molecules, chemicals, and cells - create the vivid and various worlds inside our heads? The problem of consciousness has gnawed...

The Emotionally Abusive Relationship written by Beverly Engel performed by Deanna Hurst on CD (Unabridged)£19.99

The number of people who become involved with partners who abuse them emotionally and/or who are emotionally abusive themselves is phenomenal, and yet emotional abuse is the least understood form of abuse. In this breakthrough book, Beverly Engel, one of the world's leading experts on the subject...

The Godfather Notebook written by Francis Ford Coppola performed by Francis Ford Coppola and Joe Mantegna on CD (Unabridged)£19.99

The publishing sensation of the year for every film fan The never-before-published edition of Francis Ford Coppola's notes and annotations on The Godfather novel by Mario Puzo reveals the story behind one of the world's most iconic films. In this one-of-a-kind audio production, Coppola provides listeners...

The Greatest Knight written by Thomas Asbridge performed by Derek Perkins on MP3 CD (Unabridged)£29.99

In The Greatest Knight, renowned historian Thomas Asbridge draws upon the thirteenth-century biography and an array of other contemporary evidence to present a compelling account of William Marshal's life and times. Asbridge charts the unparalleled rise to prominence of a man bound to a code of honor...

The Man He Never Was written by James L. Rubart performed by James L. Rubart on MP3 CD (Unabridged)£14.99

What if You Woke Up One Morning and the Darkest Parts of Yourself Were Gone? Toren Daniels vanished eight months back, and his wife and kids have moved on—with more than a little relief. Toren was a good man, but carried a raging temper that often exploded without warning. So when he shows up on...

The Miser of Mayfair written by M.C. Beaton performed by Lindy Nettleton on MP3 CD (Unabridged)£14.99

The first book in the Regency Romance series, The House for a Season, from the bestselling author M.C Beaton. Is number 67 Clarges Street the unluckiest house in Mayfair? Every Season the beaux mondes of the Regency would hire a house in the heart of London's fashionable West End at disproportionately...

The Order of Time written by Carlo Rovelli performed by Benedict Cumberbatch on CD (Unabridged)£24.99

Winner of the Specsavers Audiobook of the Year 2018. Penguin presents the audio edition of The Order of Time by Carlo Rovelli. The best-selling author of Seven Brief Lessons on Physics takes us on an enchanting journey to discover the meaning of time. Time is a mystery that does not cease to puzzle us.

The Politically Incorrect Guide to Immigration - An America First Manifesto written by John Zmirak and Al Perrotta performed by John McLain on CD (Unabridged)£19.99

The crime statistics, the jobs, the inflated welfare state, the terror threats - The Politically Incorrect Guide to Immigration shines cold light on America's out-of-control immigration problem with real-life stories and incontrovertible evidence.

The Rights of Man written by Thomas Paine performed by Bernard Mayes on MP3 CD (Unabridged)£24.99

Published in 1791, Thomas Paine's The Rights of Man defended the French Revolution's values of freedom, equality, and brotherhood. He argued that a government based on justice ought to support mankind's civil rights relating to security and protection, as well as the natural rights to life, liberty, and..

The Shadow-Line written by Joseph Conrad performed by William Sutherland on MP3 CD (Unabridged)£24.99

Written at the start of the Great War, when his son Borys was at the Western Front, The Shadow-Line is Conrad's supreme effort to open man's eyes to the meaning of war through the stimulus of art. In many ways an autobiographical narrative, this masterpiece of his final period relates the story of a young ...

The Song of All written by Tina LeCount Myers performed by Ulf Bjorklund on MP3 CD (Unabridged)£14.99

A former warrior caught between gods and priests must fight for the survival of his family in this dark epic fantasy debut, set in a harsh arctic world inspired by Scandinavian indigenous cultures. On the forbidding fringes of the tundra, where years are marked by seasons of snow, humans war with immortals in...

The Way I See It - Revised and Expanded 2nd Edition - A Personal Look at Autism and Asperger's written by Temple Grandin PhD performed by Laural Merlington on MP3 CD (Unabridged)£9.99

As many as 1.5 million children and adults in the U.S. have autism. The lifetime cost of caring for a child with autism ranges from $3.5 to $5 million. Our children - our future - are at stake. The world needs to listen to what Temple Grandin has to say. In this innovative audiobook, Dr. Temple Grandin gets down..

Things That Helped - On Postpartum Depression written by Jessica Friedmann performed by Shiromi Arserio on CD (Unabridged)£19.99

Things That Helped is a memoir in essays, detailing the Australian writer Jessica Friedmann's recovery from postpartum depression. In each essay she focuses on a separate totemic object-from pho to red lips to the musician Anohni-to tell a story that is both deeply personal and culturally resonant. Drawing on...

Tomorrow War written by J.L. Bourne performed by Kevin T. Collins and Jay Snyder on MP3 CD (Unabridged)£9.99

In this riveting, ultrarealistic novel from J. L. Bourne, a man struggles to survive after the US infrastructure collapses and martial law engulfs the streets of America. In the not-too-distant future, during an unacknowledged mission inside the Syrian border, a government operative unwittingly triggers an...

Truth or Die written by James Patterson and Howard Roughan performed by Edoardo Ballerini on CD (Unabridged)£4.99

The truth will set you free – if it doesn't kill you first. New York attorney Trevor Mann's world shatters when he receives a phone call telling him his girlfriend has been shot dead in a mugging. But the circumstances point to something more calculated than a random attack.

Turtles All The Way Down written by John Green performed by Kate Rudd on CD (Unabridged)£14.99

Penguin presents the audiobook edition of Turtles All the Way Down by John Green, read by Kate Rudd. Sixteen-year-old Aza never intended to pursue the mystery of fugitive billionaire Russell Pickett, but there's a hundred thousand dollar reward at stake and her Best and Most Fearless Friend, Daisy, is eager to...

Unf*ckology - A Field Guide to Living with Guts and Confidence written by Amy Alkon performed by Carrignton MacDuffie on CD (Unabridged)£19.99

Amy Alkon presents Unf*ckology, a "science-help" book that knocks the self-help genre on its unscientific ass. You can finally stop fear from being your boss and put an end to your lifelong social suckage. Have you spent your life shrinking from opportunities you were dying to seize but feel "that's just who I am"?

We Don't Need Roads - The Making of the Back to the Future Trilogy written by Caseen Gaines performed by Ron Butler on MP3 CD (Unabridged)£14.99

Long before Marty McFly and Doc Brown traveled through time in a flying DeLorean, director Robert Zemeckis, and his friend and writing partner Bob Gale, worked tirelessly to break into the industry with a hit.For the first time ever, the story of how these two young filmmakers struck lightning is being told...

Wild Irish Heart - A Mystic Cove Novel written by Tricia O'Malley performed by Amy Landon on MP3 CD (Unabridged)£19.99

An ancient book, a power untouched, and a heart unloved lead Keelin O'Brien from her graduate studies in Boston to a small village on the coast of Southern Ireland. Determined to unearth the secrets lying hidden in the enchanted waters of the cove, Keelin has little time for a surly Irishman who infuriates her...

Worst Case written by James Patterson and Michael Ledwidge performed by Bobby Cannavale, John Glover and Orlagh Cassidy on CD (Unabridged)£4.99

The son of one of New York's wealthiest families is snatched off the street and held hostage. His parents can't save him, because this kidnapper isn't demanding money. Instead, he quizzes his prisoner on the price others pay for his life of luxury. In this exam, wrong answers are fatal.

X Minus One Vol. 1 - 12 Half Hour Original Radio Broadcasts written by Various Great Sci-Fi Authors performed by Karl Weber, Bob Hastings, Leon Janney and Mandel Kramer on MP3 CD (Unabridged)£24.99

X Minus One, widely regarded as one of the finest science fiction dramas ever produced for radio, was broadcast on NBC from 1955 until 1958. It began as a revival of NBC's Dimension X, which ran for just a year and a half, from 1950 to 1951. Though the first 15 episodes of X Minus One were merely new versions..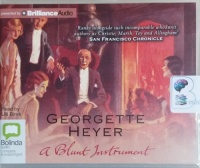 A Blunt Instrument written by Georgette Heyer performed by Ulli Birve on CD (Unabridged)£24.99
When Ernest Fletcher is found bludgeoned to death in his study, everyone is shocked and mystified: Ernest was well liked and respected, so who would have a motive for killing him? Enter Superintendent Hannasyde who, with consummate skill, begins to uncover the complexities of Fletcher's life. It seems the ...
---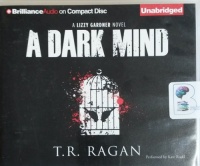 A Dark Mind written by T.R. Ragan performed by Kate Rudd on CD (Unabridged)£12.99
They call him the Lovebird Killer, a merciless fiend unleashing a flood of unspeakable cruelty upon Sacramento's most loving couples, young and old. This real-life monster's reign of terror has left the city's residents paralyzed with fear. All but Lizzy Gardner. Because hiding from monsters isn't Lizzy's style, not...
---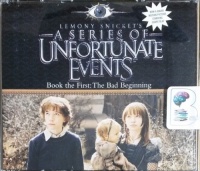 A Series of Unfortunate Events - Book The First: The Bad Beginning written by Lemony Snicket performed by Tim Curry on CD (Unabridged)£6.99
Like a car alarm, bagpipe music, or a doorbell ringing in the middle of the night, hearing this all-new audio edition of The Bad Beginning will only upset you. This unique multi-voice recording brings the first book in Lemony Snicket's alarming A Series of Unfortunate Events to such terrible life that no one should...
---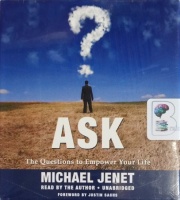 Ask - The Questions to Empower Your Life written by Michael Jenet performed by Michael Jenet on CD (Unabridged)£9.99
WHY? Why do some people live happier, successful, and more fulfilling lives while others are miserable, struggling and empty? ASK gives you the answer. As Jenet says, "Life is meant to be lived, not endured". In an easy-to-read, humorous, conversational style, peppered with logical explanations, simple steps ...
---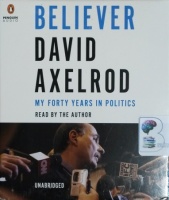 Believer - My Forty Years in Politics written by David Axelrod performed by David Axelrod on CD (Unabridged)£14.99
The great strategist who masterminded Obama's historic election campaigns opens up about his years as a young journalist, political consultant, and ultimately senior adviser to the president The man behind some of the greatest political changes of the last decade, David Axelrod has devoted a lifetime to...
---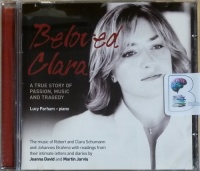 Beloved Clara written by Robert and Clara Schumann and Joahnnes Brahms performed by Joanna David, Martin Jarvis and Lucy Parham (Piano) on CD (Abridged)£9.99
Through their music and readings from their intimate letters and diaries, this album recounts the highly-charged story of the relationships between Robert and Clara Schumann and Johannes Brahms, between whom one of the most famed love triangles existed. The readings are by Martin Jarvis & Joanna David...
---
---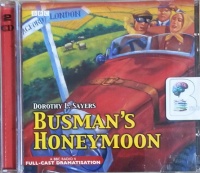 Busman's Honeymoon - BBC Dramatisation written by Dorothy L. Sayers performed by Ian Carmichael, Sarah Badel, Peter Jones and Rosemary Leach on CD (Abridged)£7.99
Society's eligible women are in mourning. Lord Peter Wimsey has married at last, having finally succeeded in his ardent pursuit of the lovely mystery novelist Harriet Vane. The two depart for a tranquil honeymoon in a country farmhouse but find, instead of a well-prepared love nest, the place left in a shambles by...
---
---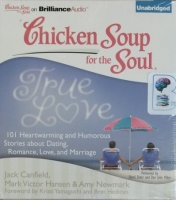 Chicken Soup for the Soul - True Love 101 Heartwarming and Humorous Stories about Dating, Romance, Love and Marriage written by Jack Canfield, Mark Victor Hansen and Amy Newmark performed by Sherri Slater and Dan John Miller on CD (Unabridged)£6.99
Everyone loves a good love story. And we all love stories about how the love started and blossomed. This fun new book about dating, romance, love, and marriage, will make you laugh and make you cry, and is guaranteed to inspire you to renew that search for your soul mate or open your heart a little more ...
---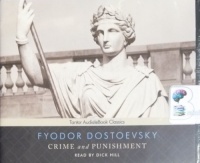 Crime and Punishment written by Fyodor Dostoevsky performed by Dick Hill on CD (Unabridged)£39.99
A desperate young man plans the perfect crime-the murder of a despicable pawnbroker, an old woman no one loves and no one will mourn. Is it not just, he reasons, for a man of genius to commit such a crime-to transgress moral law-if it will ultimately benefit humanity? So begins one of the greatest novels ever...
---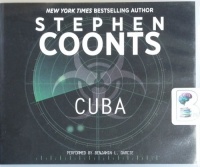 Cuba written by Stephen Coonts performed by Benjamin L. Darcie on CD (Unabridged)£19.99
The hero of six New York Times bestsellers by Stephen Coonts, author of Flight of the Intruder and Fortunes of War, returns as the United States and Cuba engage in a terrifying game of brinksmanship, a gamble that could break the last military taboo and destroy both countries. In Cuba, an ailing Fidel Castro ...
---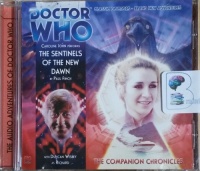 Dr Who - The Sentinels of the New Dawn written by Paul French performed by Caroline John and Duncan Wisbey on CD (Unabridged)£4.99
Some time after leaving UNIT, Liz Shaw calls the Doctor to Cambridge University, where scientists are experimenting with time dilation. A device hurls them to the year 2014, and a meeting with Richard Beauregard, heir to the Beauregard estate.
---
---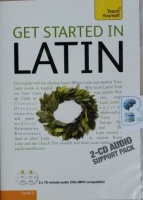 Get Started In Latin written by The Teach Yourself Team performed by Mark Espiner, Carmen Plaza, Paul Price and George Sharpley on CD (Abridged)£9.99
If you are an absolute beginner or simply looking for a solid foundation to your language studies for school, work or travel, this engaging course will help get you on your way to speaking, writing, reading and understanding Latin in no time. Through culture notes, clear language presentations, and extensive...
---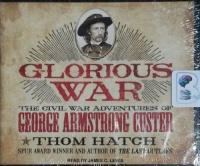 Glorious War - The Civil War Adventures of George Armstrong Custer written by Thom Hatch performed by James C. Lewis on CD (Unabridged)£24.99
Glorious War, the thrilling and definitive biography of George Armstrong Custer's Civil War years, is nothing short of a heart-pounding cavalry charge through the battlefield heroics that thrust the gallant young officer into the national spotlight in the midst of the country's darkest hours. From West Point to the...
---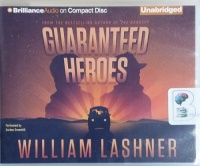 Guaranteed Heroes written by William Lashner performed by Gordon Greenhill on CD (Unabridged)£19.99
In a nation still recovering from the nuclear tragedies of forty years earlier, Clyde is working a dead-end guaranteed job at a diner, and Moonis is incarcerated in a Labor Camp for the Malcontented. But when Moonis's sister, Cecily, goes missing, the old friends escape their prisons to search for her in post-fallout...
---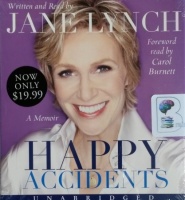 Happy Accidents written by Jane Lynch performed by Jane Lynch on CD (Unabridged)£14.99
Best-known as Glee's sharp-tongued Sue Sylvester, Jane Lynch's on-screen persona is someone that many love to hate. But when she's not prowling the corridors in Sue's shiny tracksuit, who is the real Jane Lynch and how did this Golden Globe and Emmy winner learn to channel such delicious nastiness?
---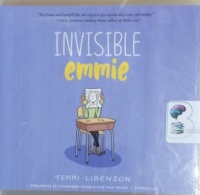 Invisible Emmie written by Terri Libenson performed by Cassandra Morris and Tara Sands on CD (Unabridged)£9.99
This debut novel from US cartoonist Terri Libenson follows two girls who could not seem more different: shy, observant, wallflower Emmie; and loud, popular, cheery Katie. What both girls do have in common are their strong feelings for the same boy, Tyler Ross. Then Emmie's very private, very embarrassing...
---
---
---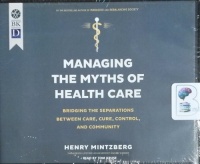 Managing The Myths of Health Care - Bridging the Separations between Care, Cure , Control and Community written by Henry Mintzberg performed by Tom Kruse on CD (Unabridged)£24.99
In this three-part assessment of the current state of health care, Mintzberg begins by confronting common myths about health care, including that it should be treated like a business. He then examines how health care is organized in relation to what we know about differentiation, separation, and integration...