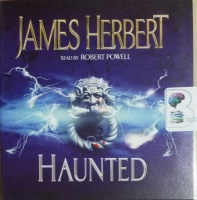 Haunted written by James Herbert performed by Robert Powell on CD (Abridged)£4.99
A ghostly twist. Three nights of terror at the house called Edbrook. Three nights in which David Ash, there to investigate a haunting, will be victim of horrifying games. Three nights in which he will face the blood-chilling enigma of his own past.
---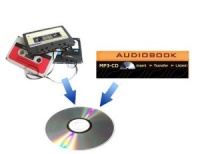 Large Fixed Price Audio Transfer Service£35.00
This is the fixed price £35.00 item to be used when ordering conversion of a 6-9 hour Audio Cassette or MP3 CD title.
---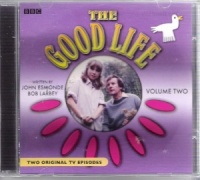 The Good Life written by John Esmonde and Bob Larbey performed by Richard Briers and Felicity Kendal on CD (Abridged)£3.99
Two episodes of the wonderful TV show!
---
---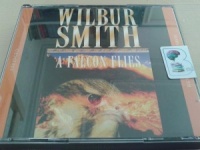 A Falcon Flies written by Wilbur Smith performed by Martin Jarvis on CD (Abridged)£4.99 - £8.99
A Falcon Flies is the first bestselling novel in Wilbur Smith's epic tale of Africa, The Ballantyne Novels. In search of a father they barely remember, Zouga and Dr Robyn Ballantyne board Mungo St John's magnificent clipper to speed them to Africa.
---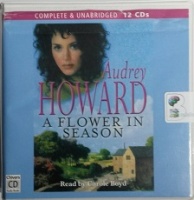 A Flower in Season written by Audrey Howard performed by Carole Boyd on CD (Unabridged)£14.99 - £24.99
Briony Marsden has led a hard life, forced to do the work of a grown man while enduring her drunkard father's taunts and blows. But when he goes too far one day, her fate becomes even worse as she makes her way alone in a heartless world.
---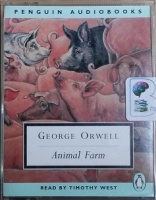 Animal Farm written by George Orwell performed by Timothy West on Cassette (Unabridged)£9.99
All animals are equal - but some are more equal than others' When the downtrodden animals of Manor Farm overthrow their master Mr Jones and take over the farm themselves, they imagine it is the beginning of a life of freedom and equality.
---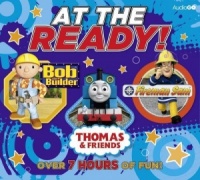 At The Ready! written by Various Childrens Authors performed by Various Famous Actors on CD (Abridged)£39.99
This box set contains over 7 hours of fun from Bob the Builder, Fireman Sam and Tomas the Tank Engine! This would make a brilliant gift that will last considerably longer than the New Year!
---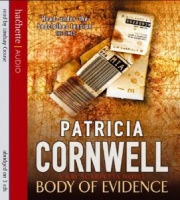 Body of Evidence written by Patricia Cornwell performed by Lindsay Crouse on CD (Abridged)£9.99
A reclusive writer is dead. And her final manuscript has disappeared ...Someone is stalking Beryl Madison.
---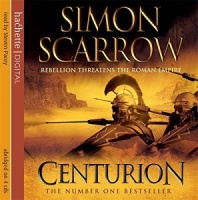 Centurion - Rebellion Threatens the Roman Empire written by Simon Scarrow performed by Steven Pacey on CD (Abridged)£17.99 - £18.99
In the first century AD the Roman Empire faces a new threat from its long-standing enemy Parthia. Parthia is vying with Rome for control of Palmyra an officially neutral kingdom.
---
---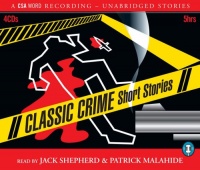 Classic Crime Short Stories written by Various Famous Crime Writers performed by Jack Shepherd and Patrick Malahide on CD (Unabridged)£4.99 - £9.99
Discover a world of heroes and villains, suspense and intrigue. This riveting and comprehensive collection brings together some of the best crime writing of all time.
---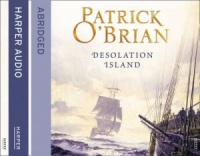 Desolation Island written by Patrick O'Brian performed by Robert Hardy on CD (Abridged)£8.99
A Genius Performance by Robert Hardy!
Commissioned to rescue Governor Bligh of Bounty fame, Captain Jack Aubrey and his friend and surgeon, Stephen Maturin, sail the Leopard to Australia with a hold full of convicts. Among them is a beautiful and dangerous spy — and a treacherous disease which decimates the crew.
---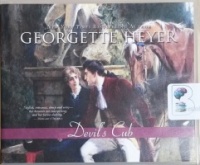 Devil's Cub written by Georgette Heyer performed by Michael Drew on CD (Unabridged)£24.99
The excesses of the young Marquis of Vidal are even wilder than his father's before him. Not for nothing is the reckless duellist and gamester called "the Devil's Cub". But when he is forced to leave the country, Mary Challoner discovers his fiendish plan to abduct her sister. Any only by daring to impersonate...
---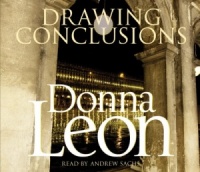 Drawing Conclusions written by Donna Leon performed by Andrew Sachs on CD (Abridged)£4.99 - £5.99
A Genius Performance by Andrew Sachs! When Anna Maria Giusti finds her elderly neighbour Constanza Altavilla dead, with blood on the floor near her head, she calls the police. Brunetti is called to the scene and it seems the woman has suffered a heart attack. Patta, the Vice-Questore, is eager to dismiss the case...
---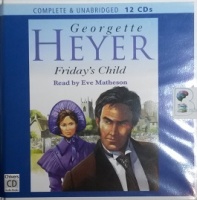 Friday's Child written by Georgette Heyer performed by Eve Matheson on CD (Unabridged)£29.99
This story of mistaken love is a romantic fiction set in the English Regency period. It centers on Lord Sheringham who has been rejected by the woman he loves but the woman who has secretly loved him since childhood is waiting.
---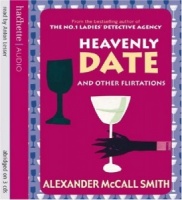 Heavenly Date and Other Flirtations written by Alexander McCall-Smith performed by Anton Lesser on CD (Abridged)£5.99
A Genius Performance by Anton Lesser!
Alexander McCall-Smith's short stories show the interest and intrigue, complexity and completeness that can come from the briefest meeting or a life long love. A lovely set of stories that have something for everyone.
---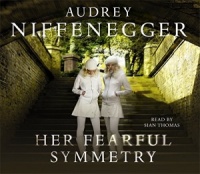 Her Fearful Symmetry written by Audrey Niffenegger performed by Sian Thomas on CD (Abridged)£4.49 - £4.99
dearest e, I told you I would let you know-so here it is-goodbye. I try to imagine what it would feel like if it was you-but it's impossible to conjure the world without you, even though we've been apart so long. I didn't leave you anything. You got to live my life.
---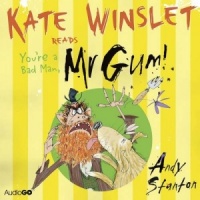 Kate Winslet reads You're a Bad Man Mr Gum written by Andy Stanton performed by Kate Winslet on CD (Unabridged)£6.99 - £8.99
Good evening. Mr Gum is a complete horror who hates children, animals, fun and corn on the cob. This book's all about him. And an angry fairy who lives in his bathtub. And Jake the dog, and a little girl called Polly. And there's heroes and sweets and adventures and EVERYTHING.
---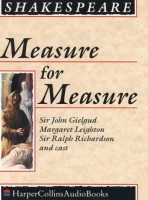 Measure for Measure written by William Shakespeare performed by Sir John Gielgud, Margaret Leighton and Sir Ralph Richardson on Cassette (Unabridged)£19.99
This is one of Shakespeare's so-called black comedies. This thought-provoking play poses the stark question: when a young woman is offered the choice of saving a man's life at the price of her own chastity, what should she do?
---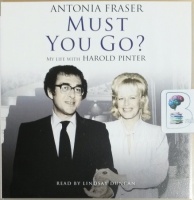 Must You Go? - My Life with Harold Pinter written by Antonia Fraser performed by Lindsay Duncan on CD (Abridged)£4.99 - £9.99
I first saw Harold across a crowded room, but it was lunchtime, not some enchanted evening, and we did not speak...' When Antonia Fraser met Harold Pinter she was a celebrated biographer and he was Britain's finest playwright.
---
---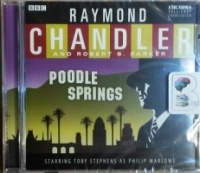 Poodle Springs written by Raymond Chandler and Robert B. Parker performed by Toby Stephens and BBC Full Cast Drama Team on CD (Abridged)£4.99
Fast-talking, trouble-seeking private eye Philip Marlowe is a different kind of detective: a moral man in an amoral world. California in the '40s and '50s is as beautiful as a ripe fruit and rotten to the core, and Marlowe must struggle to retain his integrity amidst the corruption he encounters daily.
---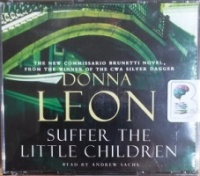 Suffer the Little Children written by Donna Leon performed by Andrew Sachs on CD (Abridged)£4.99
When Commissario Brunetti is summoned to the hospital bedside of a senior paediatrician whose skull has been fractured, he is confronted with more questions than answers. Three men, a Carabinieri captain and two privates from out of town, have burst into the doctor's apartment....
---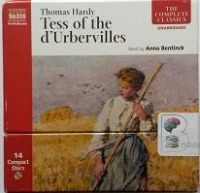 Tess of the d'Urbervilles written by Thomas Hardy performed by Anna Bentinck on CD (Unabridged)£49.99 - £69.99
Tess Durbeyfield is forced by her family's poverty to claim kinship with the wealthy D'Urbervilles. Violated by the son, Alec, her hopes of rebuilding her life with the gentle and bookish Angel Clare founder when he learns of her past.
New In April 2019 Part 3
(in alphabetical order)
A Better World - Book Two of the Brilliance Trilogy written by Marcus Sakey performed by Luke Daniels on CD (Unabridged)£14.99

The highly-anticipated sequel to the Edgar nominated Brilliance The brilliants changed everything. Since 1980, 1% of the world has been born with gifts we'd only dreamed of. The ability to sense a person's most intimate secrets, or predict the stock market, or move virtually unseen. For thirty years the world has...

A Touch of Crimson - A Renegade Angels Novel written by Sylvia Day performed by Luke Daniels on CD (Unabridged)£14.99

From the No. 1 international bestselling author of the Crossfire series, A Touch of Crimson is the first novel in Sylvia Day's sensationally sexy Renegade Angels series. If you fell for Gideon Cross, wait until you meet the men who really are out of this world... Adrian Mitchell is an angel of immense power and an...

American Values - Lessons I Learned from My Family written by Robert F. Kennedy Jr. performed by Stephen Graybill on CD (Unabridged)£24.99

With rich detail, compelling honesty, and a storyteller's gift, RFK Jr. describes growing up Kennedy in a tumultuous time in history that eerily echoes the issues of nuclear confrontation, religion, race, and inequality that we confront today. This powerful book combines the best aspects of memoir and political history.

Before and Again written by Barbara Delinsky performed by Mary Stuart Masterson on CD (Unabridged)£14.99

The brand-new novel from New York Times best-selling author Barbara Delinsky. Mackenzie Cooper took her eyes off the road for just a moment, but the resulting collision was enough to rob her of her life as she knew it. Forced to start again, she moved to a small town under a new name - Maggie Reid - and...

Calamity - The Reckoners Book Three written by Brandon Sanderson performed by MacLeod Andrews on CD (Unabridged)£14.99

They told David it was impossible - that even the Reckoners had never killed a High Epic. Yet Steelheart - invincible, immortal, unconquerable - is dead. And he died by David's hand. Eliminating Steelheart was supposed to make life more simple. Instead it only made David realize he has questions. Big ones.

Climate of Hope written by Michael Bloomberg and Carl Pope performed by Charles Pellett and Carl Pope on CD (Unabridged)£24.99

This program is read by Carl Pope and Charles Pellett with a preface read by the author, Mayor Michael Bloomberg. From Mayor Michael Bloomberg and former head of the Sierra Club Carl Pope comes a manifesto on how the benefits of taking action on climate change are concrete, immediate, and immense.

Coraline written by Neil Gaiman performed by Dawn French on Cassette (Abridged)£39.99

When Coraline moves with her parents to a new house she is fascinated by the fact that their 'house' is in fact only half of the house! Divided in to flats years before, there is a brick wall behind a door where once there was a corridor and one day it is corridor again down which the intrepid Coraline wanders.

Dark Saturday written by Nicci French performed by Beth Chalmers on CD (Unabridged)£29.99

Psychotherapist Frieda Klein assesses an incarcerated woman convicted of murder and begins to suspect that the girl is innocent, only to find herself targeted by someone who intends to keep the truth hidden.

Dawn written by Elie Wiesel performed by George Guidall on CD (Unabridged)£19.99

With the coming of dawn is the coming of death for a captured English officer in British-controlled Palestine. Elisha, a young Israeli freedom fighter, is his executioner. Ordered to kill the officer in reprisal for Britain's execution of a Jewish prisoner, Elisha thinks about his past-a sorrowful memory of....

Defending Jacob written by William Landay performed by Grover Gardner on CD (Unabridged)£24.99

When his fourteen-year-old son is charged with the murder of a fellow student, assistant district attorney Andy Barber is torn between loyalty and justice as facts come to light that lead him to question how well he knows his own son.

Drop Dead Healthy written by A.J. Jacobs performed by A.J. Jacobs on CD (Unabridged)£24.99

New York Times best-selling author and king of "immersion journalism" A.J. Jacobs tackles his most challenging experiment yet: a yearlong mission to radically improve every element of his body and mind - from his brain to his fingertips to his abs. Having lifted his spirit in The Year of Living Biblically and sharpened..

Fear Nothing written by Lisa Gardner performed by Kirsten Potter on CD (Unabridged)£14.99

Heart-racing suspense and irresistable characters from the best-selling author of Touch & Go, Catch Me, Love You More, and many others. My name is Dr Adeline Glen. Due to a genetic condition I can't feel pain. All Boston Detective D. D. Warren remembers is walking the crime scene. Next, a creaking...

Guided Meditations - Gold written by Donna Stewart performed by Donna Stewart on CD (Unabridged)£19.99

This collection of twenty short, themed meditations, with music by Llewellyn, will appeal not only to novices but also to more experienced meditators. The first part focuses on incorporating meditations into our daily lives with specific meditations to use at key times of the day--upon waking, at lunchtime,..

Hannibal and Me - What History's Greatest Military Strategist Can Teach Us About Success and Failure written by Andreas Kluth performed by Sean Runnette on CD (Unabridged)£39.99

The lives of Hannibal and his Roman enemies are the stuff of legend. But these classic stories contain truths with relevance today: The seeds of our successes lie in our failures, and within our successes are the kernels of our failure. Knowing how to recognize these paradoxes will help us to be more effective at...

His Kidnapper's Shoes written by Maggie James performed by Nico Evers-Swindell and Susan Duerden on CD (Unabridged)£19.99

Daniel is my son. He has always been mine. And he always will be. On some level deep inside, Laura Bateman knows something is wrong. That her relationship with her son is not what it should be. That it is based on lies. But bad things have happened to Laura. Things that change a person. Forever.

How We Work - Live Your Purpose, Reclaim Your Sanity and Embrace The Daily Grind written by Leah Weiss PhD performed by Caroline Slaughter on CD (Unabridged)£24.99

"I have long thought that what the Buddha taught can be seen as a highly developed science of mind which, if made more accessible to a lay audience, could benefit many people. I believe that Dr. Weiss's book, in combining such insights with science and good business practice, offers an effective mindfulness...

I See Life Through Rose-Colored Glasses written by Lisa Scottoline and Francesca Serritella performed by Lisa Scottoline and Francesca Serritella on CD (Unabridged)£19.99

In I See Life Through Rosé-Colored Glasses, the bestselling mother/daughter pair is back with another hilarious and heartfelt collection of essays about the possibilities and pitfalls of everyday life. The New York Times bestselling mother daughter duo are back with more hilarious, witty, and true tales from their...

Madam Secretary written by Madeline Albright performed by Madeline Albright on CD (Abridged)£9.99

The highest-ranking woman in the history of U.S. government chronicles the story of her life, from her childhood as a Czechoslovakian refugee through her rise to power in the world of international diplomacy and policy-making, detailing her two terms as Secretary of State, her personal life, and the...

Making Mistakes on Purpose - Sequel to Ms. Rapscott's Girls written by Elise Primavera performed by Katherine Kellgren on CD (Unabridged)£24.99

Students at a whimsical school for children of busy parents learn silly lessons about manners, friendship, and going far in life, in book two of the series that's tailor-made for a new generation of Mary Poppins fans Great Rapscott School for the Daughters of Busy Parents is not your typical boarding school.

Marked - Servents of Fate Series written by Sarah Fine performed by Emily Foster on CD (Unabridged)£14.99

In a broken landscape carved by environmental collapse, Boston paramedic Cacia Ferry risks life and limb on the front lines of a fragile and dangerous city. What most don't know - including her sexy new partner, Eli Margolis - is that while Cacy works to save lives, she has another job ferrying the dead to...

Meet Mr Mulliner written by P.G. Wodehouse performed by BBC Full Cast Dramatisation on CD (Abridged)£9.99

In the Angler's Rest, drinking hot scotch and lemon, sits one of Wodehouse's greatest raconteurs. Mr Mulliner, his vivid imagination lubricated by Miss Postlethwaite the barmaid, has fabulous stories to tell of the extraordinary behaviour of his far-flung family:

Mirror Mirror written by Cara Delevingne with Rowan Coleman performed by R. Jones on CD (Unabridged)£29.99

A gripping coming-of-age story that explores identity, sexuality, friendship and betrayal for fans of We Were Liars, Go Ask Alice and The Girls. Friend. Lover. Victim. Betrayer. When you look in the mirror, what do you see? Sixteen-year-old friends Red, Leo, Naomi and Rose are like anyone their age: figuring out...

My Country Versus Me - The First-Hand Account by the Los Alamos Scientist Who Was Falsely Accused of Being a Spy written by Wen Ho Lee with Helen Zia performed by Fred Stella on CD (Unabridged)£29.99

For the first time, Wen Ho Lee speaks out: about his work at Los Alamos and his experiences with the FBI, about his arrest and imprisonment. In January of 1999, the arrest of Wen Ho Lee, the Los Alamos scientist who was falsely accused of espionage by the US government and imprisoned without trial, sparked...

My Patients Like Treats - Tales from a House-Call Veterinarian written by Duncan MacVean DVM performed by Patrick Lawlor on CD (Unabridged)£14.99

It's all fun and games until somebody ends up in a cone. Physicians used to make house calls. Today, a few veterinarians still do. Duncan MacVean, DVM, is one such vet. His patients range from cats and dogs to pigs and lizard—each of them a unique personality. Every animal and every home is different...

My Sister and Other Liars written by Ruth Dugdall performed by Henrietta Meire on CD (Unabridged)£9.99

Sam is 17, starving herself and longing for oblivion. Her sister, Jena, is mentally scarred and desperate to remember. Between them, they share secrets too terrible to recall. Eighteen months earlier, Sam was still full of hope: hope that she could piece together Jena's fragmented memory after the vicious attack...

Passion and Purpose - The Power of Conscious Capitalism written by John Mackey performed by John Mackey on CD (Unabridged)£9.99

Business quiz: If your company has to decide between doing what's right and making a profit, which should it be? Answer: both. If that seems like a fantasy, then you should hear what Whole Foods Market CEO John Mackey has to say. Mackey owes his astounding success to "conscious business" - a revolutionary...

Pegasus written by Danielle Steel performed by Malcolm Hillgartner on CD (Abridged)£9.99

One life-changing war. A love story that would echo across the decades… On the cusp of the Second World War in Europe, Nicolas and Alex are two widowed men raising their children alone. They lead contented, peaceful lives, until a long-buried secret about Nicolas's ancestry threatens his family's safety…

Prince Harry - Brother, Soldier and Son written by Penny Junor performed by Penny Junor on CD (Unabridged)£29.99

This is the Prince Harry you've never heard about before. Published in celebration of his 30th birthday, this is the story behind the tabloid stories. The Prince who has the power to make or break. The maverick Prince, who is brilliant, impetuous, and unpredictable. The Prince who with his unique talents, charm ...

Reckless written by Cornelia Funke performed by Elliot Hill on CD (Unabridged)£39.99

Beyond the mirror, the darkest fairy tales come alive.... For years, Jacob Reckless has enjoyed the Mirrorworld's secrets and treasures. Not anymore. His younger brother has followed him. Now dark magic will turn the boy to beast, break the heart of the girl he loves, and destroy everything Jacob holds...

Redemption - Martin Luther King Jr.'s Last 31 Hours written by Joseph Rosenbloom performed by J.D. Jackson on CD (Unabridged)£24.99

This is a close up and intimate book about the last fateful hours of Martin Luther King, Jr.'s life. It draws on dozens of interviews by the author with people who were immersed in the Memphis events, as well as on recently released documents from archives in Atlanta. The fresh material yields a wealth...

Resilience - Two Sisters and a Story of Mental Illness written by Jessie Close with Pete Earley performed by Jessie Close and Glenn Close on CD (Unabridged)£14.99

At a young age, Jessie Close struggled with symptoms that would transform into severe bipolar disorder in her early twenties, but she was not properly diagnosed until the age of fifty. Jessie and her three siblings, including actress Glenn Close, spent many years in the Moral Re-Armament cult. Jessie passed...

Searching for Jesus - New Discoveries in the Quest for Jesus of Nazareth written by Robert J. Hutchinson performed by Bill Russell on CD (Unabridged)£29.99

For more than a century, Bible scholars and university researchers have been systematically debunking what ordinary Christians believed about Jesus of Nazareth. But what if the most recent Biblical scholarship actually affirmed the New Testament? What if Jesus was not a zealot revolutionary or a Greek...

Secrets of the Secret Service - The History and Uncertain Future of the U.S. Secret Service written by Gary J. Byrne performed by Pete Larkin on CD (Unabridged)£19.99

From the author of the number-one New York Times best seller Crisis of Character comes an explosive new exposé of the Secret Service. The United States Secret Service is tasked with protecting our presidents, their families, and the complex in which they live and work. Given this important mission, world...

Sky Dragons - Dragonriders of Pern written by Anne McCaffrey performed by Emily Durante on CD (Unabridged)£29.99

From the New York Times best-selling mother-and-son team of Anne McCaffrey and Todd McCaffrey comes the final installment in the riveting Pern saga that began with Todd's solo novel, Dragonsblood. Now, with all of Pern imperiled by the aftereffects of a plague that killed scores of dragons and left the planet...

Star Island written by Carl Hiaasen performed by Jeff Harding on CD (Unabridged)£19.99

Twenty-two-year-old pop star Cherry Pye is attempting a comeback from her latest drug and alcohol disaster. Ann DeLusia is Cherry's 'undercover stunt double', standing in for Cherry whenever the singer is too wasted to go out in public. But, one night, Ann-as-Cherry is mistakenly kidnapped from a Miami...

Strangers Tend to Tell Me Things - A Memoir of Love, Loss and Coming Home written by Amy Dickinson performed by Amy Dickinson on CD (Unabridged)£14.99

In Strangers Tend to Tell Me Things--her follow-up memoir to the NYT bestselling The Mighty Queens of Freeville--America's most popular advice columnist, "Ask Amy," shares her journey of family, second chances, and finding love. By peeling back the curtain of her syndicated advice column, Amy Dickinson...

Tell Me More - Stories about the 12 Hardest Things I'm Learning to Say written by Kelly Corrigan performed by Kelly Corrigan on CD (Unabridged)£19.99

NEW YORK TIMES BESTSELLER - A story-driven collection of essays on the twelve powerful phrases we use to sustain our relationships, from the bestselling author of Glitter and Glue and The Middle Place "Kelly Corrigan takes on all the big, difficult questions here, with great warmth and courage."--Glennon Doyle

The Dawn of Innovation - The First American Industrial Revolution written by Charles R. Morris performed by David Colacci on CD (Unabridged)£29.99

In the thirty years after the Civil War, the United States blew by Great Britain to become the greatest economic power in world history. That is a well-known period in history, when titans like Andrew Carnegie, John D Rockefeller, and J. P. Morgan walked the earth.But as Charles R. Morris shows us, the platform for..

The End of the Affair written by Graham Greene performed by Colin Firth on CD (Unabridged)£24.99 - £29.99

Audie Award Winner, Audiobook of the Year, 2013, Best Solo Narration, 2013. Graham Greene's evocative analysis of the love of self, the love of another, and the love of God is an English classic that has been translated for the stage, the screen, and even the opera house. Academy Award-winning actor Colin Firth...

The Great Good Thing written by Andrew Klavan performed by Andrew Klavan on CD (Unabridged)£19.99

How did a New York-born, Jewish, former-atheist novelist and screenwriter - a winner of multiple Edgar Awards, whose books became films with Clint Eastwood and Michael Douglas - find himself at the age of 50 being baptized and confessing Jesus as Lord? That's a tale worth telling. From his childhood...

The King's Speech - How One Man Saved the British Monarchy written by Mark Logue and Peter Conradi performed by Simon Vance on CD (Unabridged)£19.99

The King's Speech was written by London Sunday Times journalist Peter Conradi and Mark Logue-grandson of Lionel Logue, whose recently discovered diaries and correspondence contain fascinating details about these true events. At the urging of his wife, Elizabeth, the Duke of York (known to the royal...

The Laws of Medicine - Filed Notes from an Uncertain Science written by Siddhartha Mukherjee performed by Santino Fontana on CD (Unabridged)£14.99

Essential, required listening for doctors and patients alike: A Pulitzer Prize-winning author and one of the world's premiere cancer researchers reveals an urgent philosophy on the little-known principles that govern medicine—and how understanding these principles can empower us all. Over a decade ago...

The Life of Our Lord written by Charles Dickens performed by David Aikman on CD (Unabridged)£29.99

"I am very anxious that you should know something about the History of Jesus Christ. For everybody ought to know about Him. No one ever lived who was so good, so kind, so gentle, and so sorry for all people who did wrong, or were in any way ill or miserable, as He was." Charles Dickens wrote The Life of Our...

The Lion written by Nelson DeMille performed by Scott Brick on CD (Unabridged)£29.99

John Corey, former NYPD Homicide detective and special agent for the Anti-Terrorist Task Force, is back on the trail of Asad Khalil, the notorious Libyan terrorist known as 'The Lion'. Corey and his partner, agent Kate Mayfield, tracked Khalil across the US after his threats to wipe out the US in a horrific wave...

The Mindful Child - How to Help Your Kid Manage Stress and Become Happier, Kinder and More Compassionate written by Susan Kaiser Greenland performed by Angela Brazil on CD (Unabridged)£24.99

The techniques of mindful awareness have helped millions of adults reduce stress in their lives. Now, children-who are under more pressure than ever before-can learn to protect themselves with these well-established methods adapted for their ages. Based on a program affiliated with UCLA, The Mindful...

The Palace Job written by Patrick Weekes performed by Justine Eyre on CD (Unabridged)£9.99

Loch is seeking revenge. It would help if she wasn't in jail. The plan: To steal a priceless elven manuscript that once belonged to her family, but is now in the hands of the most powerful man in the Republic. To do so, Loch - former soldier, former prisoner, and current fugitive - must assemble a crack team...

The Perfume Burned His Eyes written by Michael Imperioli performed by Michael Imperioli on CD (Unabridged)£14.99

Matthew is a sixteen-year-old living in Jackson Heights, Queens, in 1976. After he loses his two most important male role models, his father and grandfather, his mother uses her inheritance to uproot Matthew and herself to a posh apartment building in Manhattan. Although only three miles away from his...

The Perricone Promise - Look Younger, Live Longer in Three Easy Steps written by Nicholas Perricone MD performed by Lloyd Sherr and Nicholas Perricone MD on CD (Unabridged)£9.99

In his previous books, Dr. Nicholas Perricone revealed the secrets to younger looking skin. However, in order to truly look and feel younger, listeners need to know how to preserve the entire body. The Perricone Promise outlines a revolutionary 28-day programme to help readers stay young. What's the secret?

The Shawl written by Cynthia Ozick performed by Yelena Shmulenson on CD (Unabridged)£14.99

At once fiercely immediate and complex in their implications, "The Shawl" and "Rosa" succeed in imagining the unimaginable: the horror of the Holocaust and the emptiness of its aftermath. They were written in 1977 but were first published in the early 1980s in The New Yorker. Both "The Shawl" and "Rosa" won...

The Wasp Factory written by Iain Banks performed by Peter Kenny on CD (Unabridged)£29.99

Frank, no ordinary sixteen-year-old, lives with his father outsIde a remote Scottish village. Their life is, to say the least, unconventional. Frank's mother abandoned them years ago: his elder brother Eric is confined to a psychiatric hospital; and his father measures out his eccentricities on an imperial scale.

The Wisdom and Teachings of Stephen R. Covey written by Stephen R. Covey performed by Jesse Boggs and Sean Covey on CD (Unabridged)£14.99

This commemorative collection captures the essence of Dr. Stephen R. Covey's most profound teachings on business, success, management, family, and love. After Dr. Covey passed away on July 16, 2012, there was an outpouring of emotion for the loss of one of the world's great thinkers on success and leadership.

Washington Journal - Reporting Watergate and Richard Nixon's Downfall written by Elizabeth Drew performed by Jo Anna Perrin on CD (Unabridged)£39.99

Unfolding over the course of a single year, from September 1973 to August 1974, Washington Journal is the record of the near-dissolution of a nation's political conscience-told from within. In this book, we see corruption in its most prosaic and grandest forms, along with occasional flashes of decency, ethics...

When the Devil Dances written by John Ringo performed by Marc Vietor on CD (Unabridged)£14.99

After five years of battling the Posleen invaders, human civilization is down to this: A handful of valleys in the Rocky Mountains, the Appalachians, Fargo, North Dakota and the Cumberland Basin.Only in the Cumberland Basin and the Ohio Valley do humans retain culture, philosophy, and learning. Only in...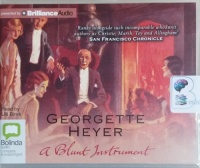 A Blunt Instrument written by Georgette Heyer performed by Ulli Birve on CD (Unabridged)£24.99
When Ernest Fletcher is found bludgeoned to death in his study, everyone is shocked and mystified: Ernest was well liked and respected, so who would have a motive for killing him? Enter Superintendent Hannasyde who, with consummate skill, begins to uncover the complexities of Fletcher's life. It seems the ...
---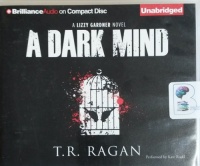 A Dark Mind written by T.R. Ragan performed by Kate Rudd on CD (Unabridged)£12.99
They call him the Lovebird Killer, a merciless fiend unleashing a flood of unspeakable cruelty upon Sacramento's most loving couples, young and old. This real-life monster's reign of terror has left the city's residents paralyzed with fear. All but Lizzy Gardner. Because hiding from monsters isn't Lizzy's style, not...
---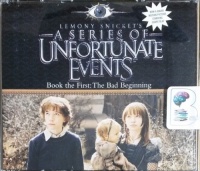 A Series of Unfortunate Events - Book The First: The Bad Beginning written by Lemony Snicket performed by Tim Curry on CD (Unabridged)£6.99
Like a car alarm, bagpipe music, or a doorbell ringing in the middle of the night, hearing this all-new audio edition of The Bad Beginning will only upset you. This unique multi-voice recording brings the first book in Lemony Snicket's alarming A Series of Unfortunate Events to such terrible life that no one should...
---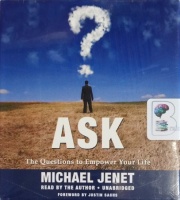 Ask - The Questions to Empower Your Life written by Michael Jenet performed by Michael Jenet on CD (Unabridged)£9.99
WHY? Why do some people live happier, successful, and more fulfilling lives while others are miserable, struggling and empty? ASK gives you the answer. As Jenet says, "Life is meant to be lived, not endured". In an easy-to-read, humorous, conversational style, peppered with logical explanations, simple steps ...
---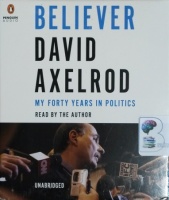 Believer - My Forty Years in Politics written by David Axelrod performed by David Axelrod on CD (Unabridged)£14.99
The great strategist who masterminded Obama's historic election campaigns opens up about his years as a young journalist, political consultant, and ultimately senior adviser to the president The man behind some of the greatest political changes of the last decade, David Axelrod has devoted a lifetime to...
---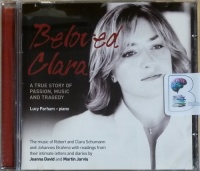 Beloved Clara written by Robert and Clara Schumann and Joahnnes Brahms performed by Joanna David, Martin Jarvis and Lucy Parham (Piano) on CD (Abridged)£9.99
Through their music and readings from their intimate letters and diaries, this album recounts the highly-charged story of the relationships between Robert and Clara Schumann and Johannes Brahms, between whom one of the most famed love triangles existed. The readings are by Martin Jarvis & Joanna David...
---
---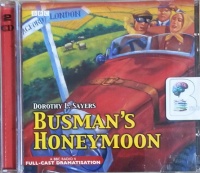 Busman's Honeymoon - BBC Dramatisation written by Dorothy L. Sayers performed by Ian Carmichael, Sarah Badel, Peter Jones and Rosemary Leach on CD (Abridged)£7.99
Society's eligible women are in mourning. Lord Peter Wimsey has married at last, having finally succeeded in his ardent pursuit of the lovely mystery novelist Harriet Vane. The two depart for a tranquil honeymoon in a country farmhouse but find, instead of a well-prepared love nest, the place left in a shambles by...
---
---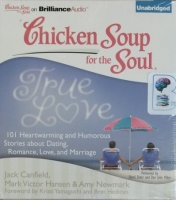 Chicken Soup for the Soul - True Love 101 Heartwarming and Humorous Stories about Dating, Romance, Love and Marriage written by Jack Canfield, Mark Victor Hansen and Amy Newmark performed by Sherri Slater and Dan John Miller on CD (Unabridged)£6.99
Everyone loves a good love story. And we all love stories about how the love started and blossomed. This fun new book about dating, romance, love, and marriage, will make you laugh and make you cry, and is guaranteed to inspire you to renew that search for your soul mate or open your heart a little more ...
---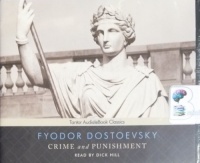 Crime and Punishment written by Fyodor Dostoevsky performed by Dick Hill on CD (Unabridged)£39.99
A desperate young man plans the perfect crime-the murder of a despicable pawnbroker, an old woman no one loves and no one will mourn. Is it not just, he reasons, for a man of genius to commit such a crime-to transgress moral law-if it will ultimately benefit humanity? So begins one of the greatest novels ever...
---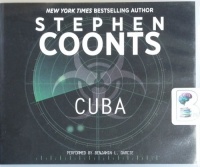 Cuba written by Stephen Coonts performed by Benjamin L. Darcie on CD (Unabridged)£19.99
The hero of six New York Times bestsellers by Stephen Coonts, author of Flight of the Intruder and Fortunes of War, returns as the United States and Cuba engage in a terrifying game of brinksmanship, a gamble that could break the last military taboo and destroy both countries. In Cuba, an ailing Fidel Castro ...
---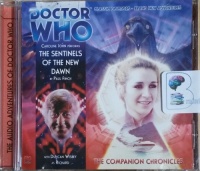 Dr Who - The Sentinels of the New Dawn written by Paul French performed by Caroline John and Duncan Wisbey on CD (Unabridged)£4.99
Some time after leaving UNIT, Liz Shaw calls the Doctor to Cambridge University, where scientists are experimenting with time dilation. A device hurls them to the year 2014, and a meeting with Richard Beauregard, heir to the Beauregard estate.
---
---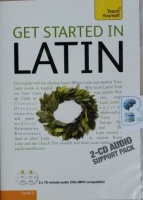 Get Started In Latin written by The Teach Yourself Team performed by Mark Espiner, Carmen Plaza, Paul Price and George Sharpley on CD (Abridged)£9.99
If you are an absolute beginner or simply looking for a solid foundation to your language studies for school, work or travel, this engaging course will help get you on your way to speaking, writing, reading and understanding Latin in no time. Through culture notes, clear language presentations, and extensive...
---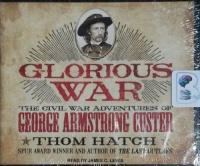 Glorious War - The Civil War Adventures of George Armstrong Custer written by Thom Hatch performed by James C. Lewis on CD (Unabridged)£24.99
Glorious War, the thrilling and definitive biography of George Armstrong Custer's Civil War years, is nothing short of a heart-pounding cavalry charge through the battlefield heroics that thrust the gallant young officer into the national spotlight in the midst of the country's darkest hours. From West Point to the...
---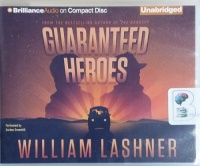 Guaranteed Heroes written by William Lashner performed by Gordon Greenhill on CD (Unabridged)£19.99
In a nation still recovering from the nuclear tragedies of forty years earlier, Clyde is working a dead-end guaranteed job at a diner, and Moonis is incarcerated in a Labor Camp for the Malcontented. But when Moonis's sister, Cecily, goes missing, the old friends escape their prisons to search for her in post-fallout...
---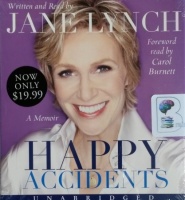 Happy Accidents written by Jane Lynch performed by Jane Lynch on CD (Unabridged)£14.99
Best-known as Glee's sharp-tongued Sue Sylvester, Jane Lynch's on-screen persona is someone that many love to hate. But when she's not prowling the corridors in Sue's shiny tracksuit, who is the real Jane Lynch and how did this Golden Globe and Emmy winner learn to channel such delicious nastiness?
---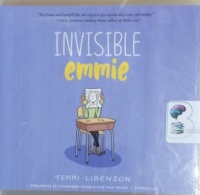 Invisible Emmie written by Terri Libenson performed by Cassandra Morris and Tara Sands on CD (Unabridged)£9.99
This debut novel from US cartoonist Terri Libenson follows two girls who could not seem more different: shy, observant, wallflower Emmie; and loud, popular, cheery Katie. What both girls do have in common are their strong feelings for the same boy, Tyler Ross. Then Emmie's very private, very embarrassing...
---
---
---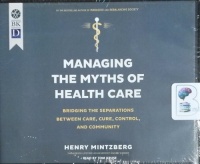 Managing The Myths of Health Care - Bridging the Separations between Care, Cure , Control and Community written by Henry Mintzberg performed by Tom Kruse on CD (Unabridged)£24.99
In this three-part assessment of the current state of health care, Mintzberg begins by confronting common myths about health care, including that it should be treated like a business. He then examines how health care is organized in relation to what we know about differentiation, separation, and integration...