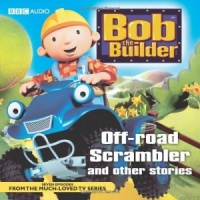 Bob the Builder - Off-Road Scrambler written by Bob the Builder Team performed by Bob the Builder Team on CD (Unabridged)£2.99
This title includes seven episodes from the hugely popular series featuring Bob the Builder, Roley, Lofty, Dizzy, Scoop, Muck and Spud - as seen on BBC TV.
---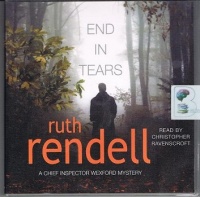 End in Tears written by Ruth Rendell performed by Christopher Ravenscroft on CD (Abridged)£4.99
A lump of concrete dropped deliberately from a little stone bridge kills the wrong person. The young woman in the car behind is spared. But only for a while...
---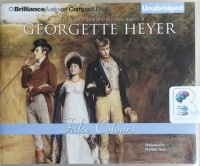 False Colours written by Georgette Heyer performed by Phyllida Nash on CD (Unabridged)£24.99
The honourable Christopher Fancot, on leave from the Diplomatic Service in the summer of 1817, is startled to find his entrancing but incorrigibly extravagant mother on the brink of financial and social ruin - and more than alarmed that his identical twin, Evelyn, Earl of Denville, has disappeared ...
---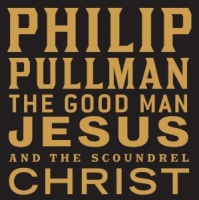 The Good Man Jesus and the Scoundrel Christ written by Philip Pullman performed by Philip Pullman on CD (Unabridged)£3.99
This is not a gospel. This is a story. In this ingenious and spell-binding retelling of the life of Jesus, Philip Pullman revisits the most influential story ever told.
---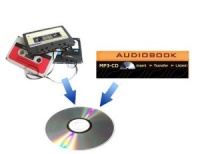 3 Hour Fixed Price Audio Transfer£15.00
This is the fixed price £15 item to be used when ordering conversion of a sub 3 hour Audio Cassette or MP3 CD title.
---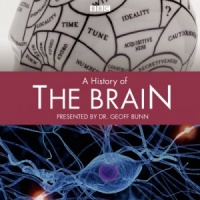 A History of the Brain written by Dr Geoff Bunn performed by Dr Geoff Bunn on CD (Unabridged)£6.99 - £7.29
This set covers 10 x 15 minute series on Radio 4 which was part of a two-week "Brain Season".
It explains in clear terms the latest discoveries in neuroscience. In this unprecedented journey, covering over 2,500 years of development in our understanding of what it is to be human.
---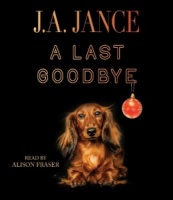 A Last Goodbye written by J.A. Jance performed by Alison Fraser on CD (Unabridged)£6.99
Ali Reynolds is finally getting married to her longtime love B. Simpson. They wanted a simple Christmas Eve wedding, but nothing is ever simple with Ali.
---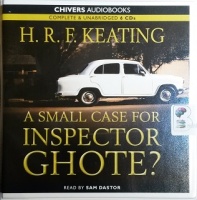 A Small Case for Inspector Ghote? written by H.R.F. Keating performed by Sam Dastor on CD (Unabridged)£34.99
In his proud new position in the prestigious Bombay Police Crime Branch, Inspector Ganesh Ghote sees his career finally take off with the prospect of only the most high-profile murders to investigate. Unfortunately, the Assistant Commissioner of Police has other ideas and chooses to keep Ghote...
---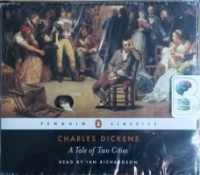 A Tale of Two Cities written by Charles Dickens performed by Ian Richardson on CD (Abridged)£5.99 - £9.99
After 18 years as a political prisoner in the Bastille the aging Dr Manette is finally released and reunited with his daughter in England.
---
---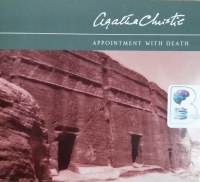 Appointment with Death written by Agatha Christie performed by Carole Boyd on CD (Abridged)£4.99
Among the towering red cliffs of Petra, like some monstrous swollen Buddha, sat the corpse of Mrs Boynton. A tiny puncture mark on her wrist was the only sign of the fatal injection that had killed her.
---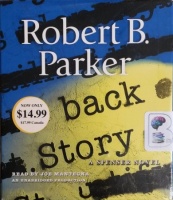 Back Story - A Spencer Novel written by Robert B. Parker performed by Joe Mantegna on CD (Unabridged)£9.99
Renaissance man Spenser - he of the acerbic social commentary, the gourmet cookery, and the steely abs - turns his considerable talents to the unraveling of a thirty-year-old murder mystery. During a 1974 holdup in a Boston bank by a revolutionary group calling itself the Dread Scott Brigade, Emily Gordon, a...
---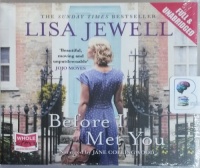 Before I Met You written by Lisa Jewell performed by Jane Collingwood on CD (Unabridged)£19.99
An uplifting, warm and unforgettable story of two women in two different times from the Sunday Times Top Ten bestselling author Betty Dean can't wait to leave her quiet upbringing in Guernsey and begin her mission to find Clara Pickle - the mysterious beneficiary in her grandmother's will. She arrives in ...
---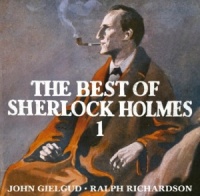 Best of Sherlock Holmes: v. 1 written by Arthur Conan Doyle performed by Sir John Gielgud and Sir Ralph Richardson on CD (Abridged)£6.99
A Genius Performance by Ralph Richardson and John Gielgud!
Recognised as the ultimate dramatisation of Conan Doyle's famous stories, these recordings have been acclaimed since their reissue by Hodder Headline Audiobooks in 1994.
---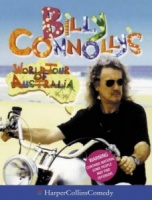 Billy Connolly's World Tour of Australia written by Billy Connolly performed by Billy Connolly on CD (Abridged)£7.99
Travelling by plane, motorbike, boat and foot, Billy Connolly tours the country performing his stage show and delivers and individual commentary on all things Australian.
---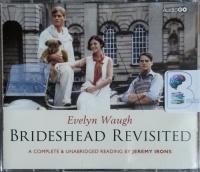 Brideshead Revisited written by Evelyn Waugh performed by Jeremy Irons on CD (Unabridged)£29.99 - £39.99
Brideshead Revisited is Evelyn Waugh's stunning novel of duty and desire set amongst the decadent, faded glory of the English aristocracy in the run-up to the Second World War.
Performed brilliantly by Jeremy Irons
---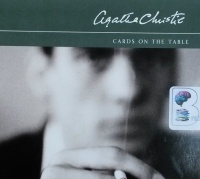 Cards on the Table written by Agatha Christie performed by Geraldine James on CD (Abridged)£4.99
Mr Shaitana was famous as a flamboyant party host. Nevertheless, he was a man of whom everybody was a little afraid. So, when he boasted to Poirot that he considered murder an art form, the detective had some reservations about accepting a party invitation to view Shaitana's private collection.
New In April 2019 Part 2
(in alphabetical order)
3,096 Days In Captivity - The True Story of My Abduction, Eight Years of Enslavement and Escape written by Natascha Kampusch performed by Jennifer Scapetis-Tycer on CD (Unabridged)£29.99

On March 2nd, 1998, ten-year-old Natascha Kampusch was kidnapped, and found herself locked in a house that would be her home for the next eight years. She was starved, beaten, treated as a slave, and forced to work for her deranged captor. But she never forgot who she was, and she never gave up hope...

A Christmas Carol written by Charles Dickens performed by Tim Curry on CD (Unabridged)£16.99

This version of Charles Dickens's A Christmas Carol, masterfully narrated by Tim Curry, was available for a limited time last year, and now it's back. This one-of-a-kind performance puts a unique spin on a treasured classic, and served as the inspiration for the exciting new line of Audible Signature Classics...

A Glimmer of Hope written by Steve McHugh performed by Elizabeth Knowelden on CD (Unabridged)£14.99

From Steve McHugh, the bestselling author of The Hellequin Chronicles, comes a new urban fantasy series packed with mystery, action, and, above all, magic. Layla Cassidy has always wanted a normal life, and the chance to put her father's brutal legacy behind her. And in her final year of university she's...

A Matter of Loyalty written by Anselm Audley and Elizabeth Edmondson performed by Michael Page on CD (Unabridged)£19.99

January 1954. Mists cover the hills around Selchester. Someone at the research facility known as the Atomic is leaking secrets to Soviet Russia, and when nuclear scientist Bruno Rothesay goes missing, the British Intelligence Services are convinced he's the mole. Hugo Hawksworth isn't so sure.

A Naturalist at Large - The Best Essays of Bernd Heinrich written by Bernd Heinrich performed by Rick Adamson on CD (Unabridged)£14.99

From one of the finest scientists and writers of our time comes an engaging record of a life spent in close observation of the natural world, one that has yielded marvelous, mind-altering insight and discoveries. In essays that span several decades, Bernd Heinrich finds himself at his beloved camp in Maine...

All Quiet on the Western Front written by Erich Maria Remarque performed by Tom Lawrence on CD (Unabridged)£24.99

The story is told by a young 'unknown soldier' in the trenches of Flanders during the First World War. Through his eyes we see all the realities of war; under fire, on patrol, waiting in the trenches, at home on leave, and in hospitals and dressing stations. Although there are vividly described incidents...

Armageddon's Children written by Terry Brooks performed by Nick Landrum on CD (Unabridged)£9.99 - £19.99

Terry Brooks' Shannara series, launched in 1977 with THE SWORD OF SHANNARA, is a landmark in the fantasy genre and remains one of the bestselling fantasy series of all time. With this new series, a new chapter in the Shannara legend begins.

Beauvallet written by Georgette Heyer performed by Cornelius Garrett on CD (Unabridged)£24.99

Sir Nicholas Beauvallet has fallen in love with a Spanish noblewoman. She and her father were aboard a galleon captured by Sir Nicholas. He vows to make her his bride even though it means returning the pair to Spain and entering the lion's den.

Come Home to Me written by Liz Talley performed by Shannon McManus on CD (Unabridged)£9.99

Healing the wounds of the past doesn't come easy in this novel of friendship and forgiveness from award-winning author Liz Talley. Summer Valentine has returned to Moonlight, South Carolina, a very different woman from the naive wallflower who left years before. These days she's straightforward and ...

Counter-Clock World written by Philip K Dick performed by Patrick Lawlor on CD (Unabridged)£19.99

In a world where time has begun moving backward, powerful prophet Anarch Peak is among those who have risen from the dead, but that may not last long, as a number of groups seek to send him back to the grave.

Currency - Book Seven of the Baroque Cycle written by Neal Stephenson performed by Simon Prebble and Kevin Pariseau on CD (Unabridged)£14.99

Daniel Waterhouse finds himself embroiled in a dark conflict that has been raging in the shadows for decades. It is a secret war between the brilliant, enigmatic Master of the Mint (and closet alchemist) Isaac Newton and his archnemesis, the insidious counterfeiter Jack the Coiner, a.k.a. Jack Shaftoe, King...

Dracula's Guest and Other Stories written by Bram Stoker performed by Rupert Degas on CD (Unabridged)£14.99

Best known for his masterpiece of horror, Dracula, Bram Stoker wrote a number of other novels and many short stories, all on supernatural themes or filled with a physical terror reminiscent of Poe. Dracula's Guest was originally part of the great novel, but was excised and published separately.

Expectation Hangover - Overcoimg Disappointment in Work, Love and Life written by Christine Hassler performed by Christina Traister on CD (Unabridged)£24.99

When our expectations are met and things go according to plan, we feel a sense of accomplishment and pride. Risking little, we feel safe, in control, and on-track. But when life throws us a curveball or does not live up to our expectations, we end up with an Expectation Hangover. This particular brand...

Flashman written by George MacDonald Fraser performed by Rupert Penry-Jones on CD (Abridged)£14.99 - £24.99

Harry Flashman: the unrepentant bully of Tom Brown's schooldays, now with a Victoria Cross, has three main talents – horsemanship, facility with foreign languages and fornication. A reluctant military hero, Flashman plays a key part in most of the defining military campaigns of the 19th century....

Improvement written by Joan Silber performed by Cassandra Campbell, Adenrele Ojo, Hillary Huber and Kate Reading on CD (Unabridged)£29.99

WINNER FOR THE 2018 PEN/FAULKNER AWARD FOR FICTION WINNER OF THE NATIONAL BOOK CRITICS CIRCLE AWARD FOR FICTION AUTHOR IS THE WINNER OF THE 2018 PEN/MALAMUD AWARD FOR EXCELLENCE IN THE SHORT STORY Named 1 of 6 New Paperbacks You Should Read in August by Vulture ....

In The Wake written by Helen Trevorrow performed by Emma Powell on MP3 CD (Unabridged)£12.99

When a body is found floating in London's Royal Albert Dock, successful public relations expert Kay Christie is sent to quiet the media, but things get complicated when it emerges that she knew the victim. As events spiral out of control, Kay discovers that those close to her may be harbouring another...

Indignation written by Philip Roth performed by Ray Chase on CD (Unabridged)£19.99

In 1951, the second year of the Korean War, a studious, law-abiding, and intense youngster from Newark, New Jersey, Marcus Messner, begins his sophomore year on the pastoral, conservative campus of Ohio's Winesburg College. And why is he there and not at a local college in Newark where he originally enrolled?

Losing Faith written by Adam Mitzner performed by David Marantz on CD (Unabridged)£14.99

From the acclaimed author Publishers Weekly called "a gifted writer" comes this nail-biting legal thriller in the best-selling tradition of John Grisham and Scott Turow. Aaron Littmann, the chairman of one of the country's most prestigious law firms, has just been contacted by a high-profile defense attorney...

Motivate Yourself - Get The Life You Want, Find Purpose and Achieve Fulfilment written by Andro Donovan performed by Deryn Edwards on MP3 CD (Unabridged)£12.99

Do you want to feel more productive, more present, and more inspired by your own life? Motivate Yourself offers practical strategies to improve your productivity and gives you the know-how to create the life you want. Learn how to move past your self-doubt and propel yourself into living your dream.

Murmurs of Earth - The Voyager Interstellar Record written by Carl Sagan et al performed by Timothy Ferris, Ann Druyan, Nick Sagan and Jon Lomberg on CD (Unabridged)£19.99

In 1977, two extraordinary spacecraft called Voyager were launched to the stars. Affixed to each Voyager craft was a gold-coated copped phonograph record as a message to possible extra-terrestrial civilizations that might encounter the spacecraft in some distant space and time. Each record contained...

Private - The Royals written by James Patterson with Rees Jones performed by Jay Snyder and Christian Coulson on CD (Unabridged)£6.99

God save the Queen-only Private can save the Royal Family.

Private is the most elite detective agency in the world. But when kidnappers threaten to execute a Royal Family member in front of the Queen, Jack Morgan and his team have just 24 hours to stop them. Or heads will roll...literally.

Regrets Only written by Erin Duffy performed by Nan McNamara on CD (Unabridged)£14.99

Claire thought she had everything a woman was supposed to want-a loving husband, a newborn son, a beautiful home in the suburbs. Then she walks in on her husband canoodling with their realtor in their newly renovated kitchen, and in an instant, her perfect life comes crashing down. With her marriage...

Royal Escape written by Georgette Heyer performed by Cornelius Garrett on CD (Unabridged)£24.99

A fascinating look into a tumultuous interlude in British history and the life of Bonnie Prince Charlie This brilliantly entertaining novel is a fictionalization of the true story of Charles II (May 29, 1630—February 6, 1685), charting his daring flight to France after the Battle of Worcester, where Cromwell and...

Showbiz Politics - Hollywood in American Political Life written by Kathryn Cramer Brownell performed by Pam Ward on CD (Unabridged)£29.99

Conventional wisdom holds that John F. Kennedy was the first celebrity president, in no small part because of his innate television savvy. But as Kathryn Brownell shows, Kennedy capitalized on a tradition and style rooted in California politics and the Hollywood studio system. Since the 1920s, politicians and...

Sound the Trumpet written by Gilbert Morris performed by Simon Vance on CD (Unabridged)£9.99

Daniel Bradford, a poor young Brit, is separated in a cruel twist of fate from his sister, Lyna, and left to rot in the infamous Dartmoor Prison. His only hope for escape comes when he agrees to a seven-year indenture in America. But he discovers he had traded one imprisonment for another under a cruel and...

Southern Storm - The Tragedy of Flight 242 written by Samme Chittum performed by Keith Sellon-Wright on MP3 CD (Unabridged)£9.99

On the afternoon of April 4, 1977, Georgia housewife Sadie Burkhalter Hurst looked out her front door to see a frantic stranger running toward her, his clothes ablaze, and, behind him, the mangled fuselage of a passenger plane that had just crashed in her yard. The plane, a Southern Airways DC-9-31...

The Best Cook in The World - Tales from My Momma's Table written by Rick Bragg performed by Rick Bragg on CD (Unabridged)£29.99

From the beloved, best-selling author of All Over but the Shoutin', a delectable, rollicking food memoir, cookbook, and loving tribute to a region, a vanishing history, a family, and, especially, to his mother. Margaret Bragg does not own a single cookbook. She measures in "dabs" and "smidgens" and "tads" and ...

The Essential Motivation Handbook written by Leo Babauta and Eric Hamm performed by Fred Stella on CD (Unabridged)£9.99

I've long wanted to put together a motivation book - I get emails and comments from readers every day in need of motivation to reach a goal, to stay focused, to exercise, to be productive, to just get up off their butts and do something. But I wanted to add something, add value greater than I already offer on...

The Girls in the Picture written by Melanie Benjamin performed by Kimberly Farr on CD (Unabridged)£19.99

From the New York Times best-selling author of The Swans of Fifth Avenue and The Aviator's Wife, a "rich exploration of two Hollywood friends who shaped the movies" (USA Today) - screenwriter Frances Marion and superstar Mary Pickford. "Full of Old Hollywood glamour and true details about the pair's...

The Girls of Enismore written by Patricia Falvey performed by Alana Kerr Collins on CD (Unabridged)£9.99

Victoria Bell and Rosie Killeen are best friends. Growing up in rural Ireland's County Mayo, their friendship is forged against the glorious backdrop of Ennismore House. However, Victoria, born of the aristocracy, and Rosie, daughter of a local farmer, both find that the disparity of their class and...

The Good Nurse - A True Story of Medicine, Madness and Murder written by Charles Graeber performed by Will Collyer on CD (Unabridged)£39.99

Charles Cullen, RN, was one of the most accomplished serial killers in recent history. For sixteen years, working in multiple hospitals, he had a hand in the deaths of as many as three hundred patients. Though colleagues knew-or had reason to know-what was going on, no one stopped him The Good Nurse...

The New Wild West: Black Gold, Fracking and Life in North Dakota written by Blaire Briody performed by Julie McKay on CD (Unabridged)£24.99

Williston, North Dakota, was a sleepy farm town for generations—until the frackers arrived. The oil companies moved into Williston, overtaking the town and setting off a boom that America hadn't seen since the Gold Rush. Workers from all over the country descended, chasing jobs that promised them six-figure...

The Operators - The Wild and Terrifying Inside Story of America's War in Afghanistan written by Michael Hastings performed by Lloyd James on CD (Unabridged)£19.99

General Stanley McChrystal, commander of international and US forces in Afghanistan, was living large, with staff calling him a rock star. Journalist Michael Hastings of Rolling Stone looked on as McChrystal and his staff let off steam, partying and openly bashing the Obama administration. When Hastings'...

The Picture of Dorian Gray written by Oscar Wilde performed by Edward Petherbridge on CD (Unabridged)£29.99 - £39.99

A Genius Performance by Edward Petherbridge! Dorian Gray is a child of his time. A young man who is only interested in appearances and, as the story continues, not so much about reality. He has a picture painted and makes a deal with the "devil" so that all the sins he commits are visited on the..

The Secret Agent written by Joseph Conrad performed by David Horovitch on CD (Unabridged)£39.99

Joseph Conrad's The Secret Agent is a tale of anarchism, espionage and terrorism. Our agent, a man named Mr Verloc, minds his own business while he keeps his shop in London's Soho, alongside his wife, who attends to her aged mother and disabled brother. Their lives are turned upside down when Verloc...

The Spirit Ring written by Lois McMaster Bujold performed by Jessica Almasy on CD (Unabridged)£9.99

Fiametta Beneforte dreamed of making beautiful and enchanted objets d'art, but alas her magician-goldsmith father was more likely to have her scrub the kiln than study magic. After all, it was a waste to train a mere daughter beyond the needs of the moment.Thur Ochs dreamed of escaping the icy mines...

The Witness Wore Red - The 19th Wife Who Brought Polygamous Cult Leaders to Justice written by Rebecca Musser with M. Bridget Cook performed by Rebecca Musser on CD (Unabridged)£14.99

Rebecca Musser grew up tightly wound in fear, concealing her family's polygamous lifestyle from the 'dangerous' outside world. Covered neck-to-calf in strict, modest clothing, she received a rigorous education at Alta Academy, the Fundamentalist Church of Jesus Christ of Latter Day Saints' school headed by...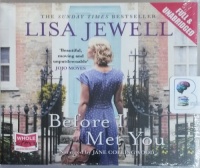 Before I Met You written by Lisa Jewell performed by Jane Collingwood on CD (Unabridged)£19.99
An uplifting, warm and unforgettable story of two women in two different times from the Sunday Times Top Ten bestselling author Betty Dean can't wait to leave her quiet upbringing in Guernsey and begin her mission to find Clara Pickle - the mysterious beneficiary in her grandmother's will. She arrives in ...
---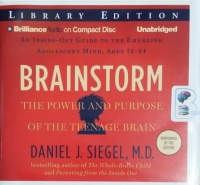 Brainstorm - The Power and Purpose of the Teenage Brain written by Daniel J. Siegel MD performed by Daniel J. Siegel MD on CD (Unabridged)£24.99
Between the ages of 12 and 24, the brain changes in important and often maddening ways. It's no wonder that many parents approach their child's adolescence with fear and trepidation. According to renowned neuropsychiatrist Daniel Siegel, however, if parents and teens can work together to form a...
---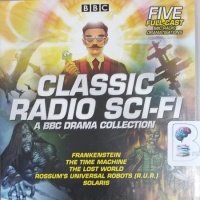 Classic Radio Sci-Fi - A BBC Drama Collection written by Various Great Sci-Fi Authors performed by Robert Glenister, Francis de Wolff, Carleton Hobbs and Joanne Froggatt on CD (Abridged)£19.99
Five seminal science fiction classics are brought vividly to life in these gripping BBC Radio dramatisations, with casts including Robert Glenister, William Gaunt, Carleton Hobbs and Joanne Froggatt. "Frankenstein" (1994) is adapted from one of the first science fiction novels, Mary Shelley's tale of a scientist who tries ...
---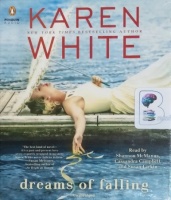 Dreams of Falling written by Karen White performed by Shannon McManus, Cassandra Campbell and Susan Larkin on CD (Unabridged)£24.99
One of PureWow's "Best Beach Reads of Summer 2018" New York Times best-selling author Karen White crafts evocative relationships in this contemporary women's fiction novel, set in the Lowcountry of South Carolina, about lifelong friends who share a devastating secret. On the banks of the North Santee ...
---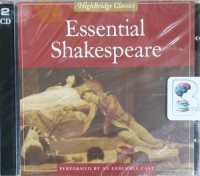 Essential Shakespeare written by William Shakespeare performed by Simon Callow, Lindsay Duncan, Paul Rhys and Harriet Walter on CD (Unabridged)£14.99
Experience some of the most thrilling poetry and drama in world literature. This unique collection includes two sonnets and famous scenes from 11 of Shakespeare's plays: Macbeth, Othello, Twelfth Night, As You Like It, Romeo and Juliet, Much Ado About Nothing, A Midsummer Night's Dream, Richard II...
---
---
---
---
---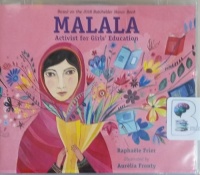 Malala - Activist for Girls' Education written by Raphaele Frier performed by Caroline McLaughlin on CD (Unabridged)£9.99
Despite an attempt on her life by the Taliban, Malala Yousafzai has continued to fight for the rights of children to become educated. As the youngest person to be awarded the Nobel Peace Prize, her courage and conviction continue to push her to fight for what she believes in. This riveting and inspiring ...
---
---
---
---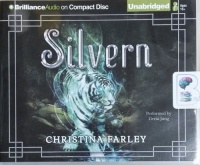 Silvern written by Christina Farley performed by Greta Jung on CD (Unabridged)£9.99
Jae Hwa Lee is ready to forget about immortals and move on with her life. Until the god of darkness, Kud, sends an assassin to kill her. She escapes with the knowledge that Kud is seeking the lost White Tiger Orb, and joins the Guardians of Shinshi to seek out the orb before Kud can find it. But Kud is a stronger...
---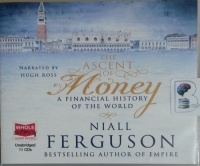 The Ascent of Money - A Financial History of the World written by Niall Ferguson performed by Hugh Ross on CD (Unabridged)£24.99
Bread, cash, dosh, dough, loot: Call it what you like, it matters. To Christians, love of it is the root of all evil. To generals, it's the sinews of war. To revolutionaries, it's the chains of labour. But in The Ascent of Money, Niall Ferguson shows that finance is in fact the foundation of human progress.
---