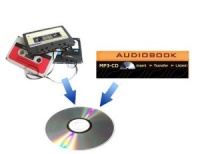 3 Hour Fixed Price Audio Transfer£15.00
This is the fixed price £15 item to be used when ordering conversion of a sub 3 hour Audio Cassette or MP3 CD title.
---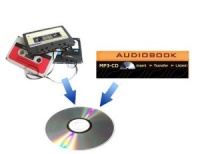 Large Fixed Price Audio Transfer Service£35.00
This is the fixed price £35.00 item to be used when ordering conversion of a 6-9 hour Audio Cassette or MP3 CD title.
---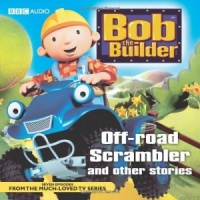 Bob the Builder - Off-Road Scrambler written by Bob the Builder Team performed by Bob the Builder Team on CD (Unabridged)£2.99
This title includes seven episodes from the hugely popular series featuring Bob the Builder, Roley, Lofty, Dizzy, Scoop, Muck and Spud - as seen on BBC TV.
---
---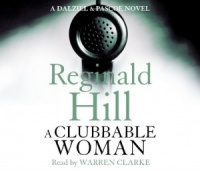 A Clubbable Woman written by Reginald Hill performed by Warren Clarke on CD (Abridged)£9.99 - £11.99
Reginald Hill's first Dalziel and Pascoe novel.
When Connon got back from the Rugby Club, his wife was even more uncommunicative than usual. Five hours later, when she still hadn't moved, Connon noticed that the front of her head had been caved in.
---
---
---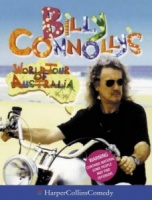 Billy Connolly's World Tour of Australia written by Billy Connolly performed by Billy Connolly on CD (Abridged)£7.99
Travelling by plane, motorbike, boat and foot, Billy Connolly tours the country performing his stage show and delivers and individual commentary on all things Australian.
---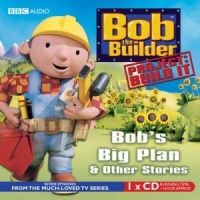 Bob the Builder - Bob's Big Plan written by Bob the Builder Team performed by Bob the Builder Team on CD (Unabridged)£11.99
You'll love these great new stories about "Bob the Builder" and his friends! In "Bob's Big Plan", a special extended episode, Bob hears that Sunflower Valley, where he and his brother Tom used to camp, is being developed.
---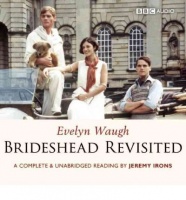 Brideshead Revisited written by Evelyn Waugh performed by Jeremy Irons on CD (Unabridged)£39.99 - £49.99
Brideshead Revisited is Evelyn Waugh's stunning novel of duty and desire set amongst the decadent, faded glory of the English aristocracy in the run-up to the Second World War.
Performed brilliantly by Jeremy Irons
---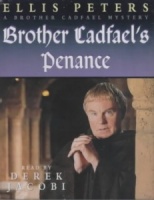 Brother Cadfael's Penance written by Ellis Peters performed by Derek Jacobi on Cassette (Abridged)£4.99
A Genius Performance by Derek Jacobi!
'And in this year of our Lord, 1145, now drawing to its close, chaotic events had seemed to be offering promise, however faint as yet, that even the two cousins battling wearily for the throne must despair of force and look around for another way of settling disputes.'
---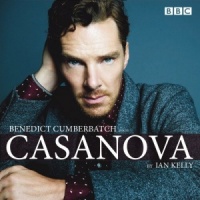 Casanova written by Ian Kelly performed by Benedict Cumberbatch on CD (Abridged)£9.99
Benedict Cumberbatch reads Ian Kelly's biography of one of the most beguiling and controversial individuals of any age.
---
---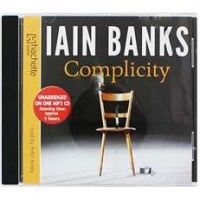 Complicity written by Iain Banks performed by Peter Kenny on MP3 CD (Unabridged)£4.99
An exploration of the morality of greed, corruption and violence. When several prominent people die mysteriously, the police beat a path to the door of an Edinburgh journalist known for his drug abuse and total commitment to computer games.
---
---
End in Tears written by Ruth Rendell performed by Nigel Anthony on CD (Unabridged)£29.99
A Genius Performance by Nigel Anthony!
Inspector Wexford investigates a series of murders - someone dies under a falling chunk of concrete and Amber Marshalson is beaten to death. After a short while it appears that the murders are connected. When another body is found it appears that a serial killer might be at work. Wexford will find this one of his toughest cases ever.
---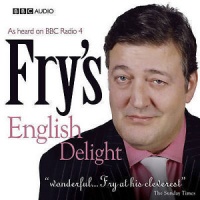 Fry's English Delight written by Stephen Fry performed by Stephen Fry on CD (Abridged)£3.99
A Genius Performance by Stephen Fry!
"Current Puns": Why does our language groan with the weight of puns? What exactly is a pun? And who, or what, is the Thief of Bad Gags? "Metaphor".
---
---
---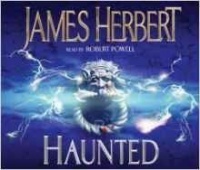 Haunted written by James Herbert performed by Robert Powell on CD (Abridged)£4.99
A ghostly twist. Three nights of terror at the house called Edbrook. Three nights in which David Ash, there to investigate a haunting, will be victim of horrifying games. Three nights in which he will face the blood-chilling enigma of his own past.
---
---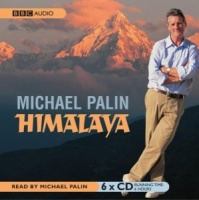 Himalaya written by Michael Palin performed by Michael Palin on CD (Abridged)£4.99
Michael Palin reads his own entertainingly written account of his journey accross the countries of the Himalayas, accompanying a major BBC TV series in 2004.
New In April 2019 Part 1
(in alphabetical order)
American Heiress - The Wild Saga of the Kidnapping, Crimes and Trial of Patty Hearst written by Jeffrey Toobin performed by Paul Michael on CD (Unabridged)£24.99

From New Yorker staff writer and bestselling author of The Nine and The Run of His Life: The People v. O. J. Simpson, the definitive account of the kidnapping and trial that defined an insane era in American history On February 4, 1974, Patty Hearst, a sophomore in college and heiress to the Hearst family fortune...

Atlas of a Lost World - Travels in Ice Age America written by Craig Childs performed by Craig Childs on CD (Unabridged)£29.99

From the author of Apocalyptic Planet, an unsparing, vivid, revelatory travelogue through prehistory that traces the arrival of the First People in North America 20,000 years ago and the artifacts that enable us to imagine their lives and fates. Scientists squabble over the locations and dates for human...

Auschwitz - A Doctor's Eyewitness Account written by Dr. Miklos Nyiszli performed by Noah Michael Levine on CD (Unabridged)£11.99

Auschwitz was one of the first books to bring the full horror of the Nazi death camps to the American public; this is, as the New York Review of Books said, "the best brief account of the Auschwitz experience available." When the Nazis invaded Hungary in 1944, they sent virtually the entire Jewish population...

Beyond Valor - World War II's Rangers and Airborne Vetrans Reveal The Heart of Combat written by Patrick K. O'Donnell performed by Scott Brick on CD (Unabridged)£29.99

From the first parachute drops in North Africa to the final battles in Germany, U.S. Ranger and Airborne troops saw the worst action of World War II. In Beyond Valor, Patrick O'Donnell, a pioneer of Internet-based "oral history" who has collected the first-person stories of hundreds of veterans on his...

Charlie Bone and the Beast written by Jenny Nimmo performed by Simon Jones on CD (Unabridged)£24.99

When Asa Pike, a Bloor's Academy student with the ability to change into a beast at dusk, goes missing, twelve-year-old Charlie Bone suspects a new classmate, the magically gifted Dagobert Endless, of foul play.

Dr. Feelgood - The Shocking Story of the Doctor who.... written by Richard A. Lertzman and William J. Birnes performed by Don Fernando Azevedo on CD (Unabridged)£19.99

Doctor Max Jacobson, whom the Secret Service under President John F. Kennedy code-named "Dr. Feelgood," developed a unique "energy formula" that altered the paths of some of the twentieth century's most iconic figures, including President and Jackie Kennedy, Marilyn Monroe, Frank Sinatra, and Elvis.

Empty Promises - And Other True Cases written by Ann Rule performed by Laural Merlington on CD (Unabridged)£6.99

In this unnerving collection drawn from her personal crime files, "America's best true-crime writer" (Kirkus Reviews) Ann Rule brilliantly dissects the convoluted love affairs that all too often end in violence.Expertly analyzing a shocking, headline-making case, Rule unmasks the deadly motives inside...

How to be a Brilliant Thinker - Exercise Your Mind and Find Creative Solutions written by Paul Sloane performed by Tom Parks on MP3 CD (Unabridged)£19.99

Do you want to have great ideas? Do you want to break out of the rut of conventional thinking? Would you like to be a genius? Would presenting brilliant ideas help in your job, career and social life? How to be a Brilliant Thinker will help you to achieve all these ideals, by helping you to think in powerful...

In The Blood - A Jefferson Tayte Genealogical Mystery written by Steve Robinson performed by Simon Vance on CD (Unabridged)£14.99

Two hundred years ago a loyalist family fled to England to escape the American War of Independence and seemingly vanished into thin air. American genealogist Jefferson Tayte is hired to find out what happened, but it soon becomes apparent that a calculated killer is out to stop him.

Jabberwalking written by Juan Felipe Herrera performed by Juan Felipe Herrera on CD (Unabridged)£19.99

U.S. Poet Laureate Juan Felipe Herrera is sharing secrets: how to turn your wonder at the world around you into weird, wild, incandescent poetry. Can you walk and talk at the same time? How about Jabber Walk? Can you write and draw and walk and journal all at the same time? If not, you're in luck: ...

Life Stories written by David Attenborough performed by David Attenborough on CD (Abridged)£14.99

One of the nation's most popular presenters examines twenty marvels of the natural world from his extraordinary and pioneering experiences.

What was Sir David's first pet? Which animal would he most like to be? What creature lays 'the biggest egg in the world'? How do you communicate with an ancient nomadic community in Fiji? And what did Sir David do when confronted by a ten-foot-long reptile?

Mad, Bad and Dangerous to Know: The Autobiography written by Ranulph Fiennes performed by Ranulph Fiennes on CD (Abridged)£9.99

Ranulph Fiennes has travelled to the most dangerous and inaccessible places on earth, almost died countless times, lost nearly half his fingers to frostbite, raised millions of pounds for charity and been awarded a polar medal and an OBE. He has been an elite soldier, an athlete, a mountaineer, an explorer...

Marilyn Monroe - The Private Life of a Public Icon written by Charles Casillo performed by Therese Plummer on CD (Unabridged)£19.99

Based on new interviews and research, this ground-breaking biography reveals how Marilyn Monroe's childhood contributed to her struggle with bi-polar disorder, and impacted her career and personal life. Marilyn Monroe. Her beauty still captivates. Her love life still fascinates. Her story still dominates...

Mind Over Matter written by Ranulph Fiennes performed by Sir Ranulph Fiennes on Cassette (Abridged)£4.99

Read by himself, this is Ranulph Fiennes's account of his epic journey across Antarctica, a journey of heroic proportions, and one which captured the public imagination.

Monkey Business - Swinging Through the Wall Street Jungle written by John Rolfe and Peter Troob performed by John Rolfe and Peter Troob on CD (Unabridged)£29.99

They Hit ''The Street.'' Forget what you've read, forget what you've heard, forget what you've been taught. Monkey Business pulls off Wall Street's suspenders and gives the reader the inside skinny on real life at an investment bank, where the promised land is always one more twenty-hour workday and another...

Mother, Can You Not? written by Kate Siegel performed by Kate Siegel and Kim Friedman on CD (Unabridged)£24.99

'Happy birthday, spawn. Welcome to the wrong side of 25. The expiration date on your eggs is officially in sight. Tick tock. Love, Mom.'' This was the text message Kate Friedman woke up to on the morning of her 26th birthday, but her mother's maternal adoration and helicopter parenting began while Kate...

Mr Mac and Me written by Esther Freud performed by John Banks on CD (Unabridged)£14.99

It is 1914, and Thomas Maggs lives with his parents on the Suffolk coast. Life is quiet - shaped by the seasons. Then one day a mysterious Scotsman arrives, looking for all the world like Sherlock Holmes. Mac is what the locals call him as they whisper. But Mac isn t a detective, he s the architect Charles Rennie...

No Second Chance written by Harlan Coben performed by Scott Brick on CD (Unabridged)£19.99

The "nimble and ingenious" (New York Times) thriller from the #1 New York Timesbestselling author! Shot twice by an unseen assailant, Dr. Marc Seidman lies in a hospital bed. His wife has been killed. His six-month-old daughter, Tara, has vanished. But then a ransom note arrives, giving him one chance to save her.

North and South written by Elizabeth Gaskell performed by Clare Wille on CD (Abridged)£39.99

North and South follows our widely-praised recording of Cranford (2008), transporting the listener to the heart of Victorian England by vividly delineating the social landscape and an unlikely romance which flourishes within it. Saddened to be leaving behind the sophistication of the South, Margaret Hale...

Oath of Fealty written by Elizabeth Moon performed by Jennifer Van Dyck on CD (Unabridged)£19.99

In the original trilogy starring Paksenarrion Dorthansdotter, headstrong daughter of a farmer on the north edge of the kingdom, Paks follows her dream of becoming a hero out of legend by running away to join the army. Military life and warfare aren't anything like she imagined - yet she holds to both her...

Play All - A Bingewatcher's Notebook written by Clive James performed by Clive Chafer on CD (Unabridged)£29.99

Television and TV viewing are not what they once were - and that's a good thing, according to award-winning author and critic Clive James. Since serving as television columnist for the London Observer from 1972 to 1982, James has witnessed a radical change in content, format, and programming, and in the ...

Retrain Your Anxious Brain - Practical and Effective Tools to Conquer Anxiety written by John Tsilimparis MFT with Daylle Deanna Schwartz performed by Jeff Cummings on CD (Unabridged)£19.99

Control Anxiety Before It Begins Trouble sleeping, panic attacks, knots in your stomach, excessive worry, doubts, phobias - anxiety comes in many shapes and sizes, and affects millions of people. But you don't have to suffer anymore. In Retrain Your Anxious Brain, renowned therapist and anxiety expert...

Shook One - Anxiety Playing Tricks on Me written by Charlamagne Tha God performed by Charlamagne Tha God and Dr. Ish on CD (Unabridged)£19.99

Charlamagne Tha God, New York Times bestselling author of Black Privilege and cohost of Power 105.1's The Breakfast Club, reveals his blueprint for breaking free from your fears and anxiety to reach that elusive next level of success. Fear is holding you back. It's time to turn the tables and channel your fears...

Snark - It's Mean, It's Personal and It's Ruining Our Conversation written by David Denby performed by William Dufris on CD (Unabridged)£14.99

A New Yorker film critic evaluates the cultural consequences of the sarcastic language that has become pervasive in the media and on the Internet, in an assessment that cites the importance of developing true wit.

Tasting the Past - The Science of Flavor and the Search for the Origins of Wine written by Kevin Begos performed by P.J. Ochlan on CD (Unabridged)£29.99

The characters in Tasting the Past include a young Swiss scientist who set out to decode the DNA of every single wine grape in the world; Middle Eastern researchers who seek to discover the wines that King David drank; and a University of Pennsylvania academic who has spent decades analyzing...

Thank You, Jeeves written by P.G. Wodehouse performed by Simon Callow on CD (Abridged)£24.99

GOLD WINNER at the 2001 SPOKEN WORD AWARDS! Due to the unrepentant playing of his banjolele, Bertie parts company with Jeeves, who finds employment with Bertie's old mate Chuffy. Chuffy and Pauline Stoker (previously engaged to the Wooster chap) have fallen in love, but Chuffy is reluctant...

The Days When Birds Come Back written by Deborah Reed performed by Xe Sands on CD (Unabridged)£29.99

"A blindingly beautiful book" -- Caroline Leavitt "Reed's painterly descriptions of the Oregon coast are so vivid and real, so beautiful and lyrical that her writing is more like a visual art form." -- Portland Tribune June is in transition, reeling from her divorce and trying to stay sober. She returns to the Oregon...

The Defector written by Daniel Silva performed by Phil Gigante on CD (Unabridged)£14.99

Gabriel Allon took down the world's most dangerous man. He made just one mistake. Leaving him alive . . . Spy turned art restorer Gabriel Allon is in Umbria, when shocking news arrives from London. A Russian defector who saved his life has vanished without a trace. British Intelligence suspect he was a...

The Enemy written by Tom Wood performed by Daniel Philpott on CD (Unabridged)£39.99

An impossible mission, for a man who barely exists. The mysterious assassin known only as Victor is locked in an uneasy alliance with the CIA. And he has a list: Three names, three victims. Worst of all, Victor is given just two days to take down his targets, forcing him to compromise his usual extreme care.

The Fisher Lass written by Margaret Dickinson performed by Susan Jameson on CD (Abridged)£4.99 - £6.99

Flame-haired Jeannie Buchanan has spent all her life in the shadow of the dark North Sea. Working with freezing fingers to gut the precious herring, she follows the fleet south, travelling far away from her Scottish home. When her beloved father's trawler goes missing, Jeannie must face up to life on her own.

The Snows of Kilimanjaro written by Ernest Hemingway performed by Charlton Heston on CD (Unabridged)£14.99

"The Snows of Kilimanjaro" is a short story by Ernest Hemingway. It was first published in Esquire magazine in 1936. It was republished in The Fifth Column and the First Forty-Nine Stories in 1938, The Snows of Kilimanjaro and Other Stories in 1961, and is included in The Complete Short Stories of Ernest...

Unstuff Your Life! written by Andrew J Mellen performed by Andrew J Mellen on CD (Unabridged)£14.99

One of the country's most sought-after professional organizers here makes his foolproof rescue plan available for everyone. Arguably the most organized man in America, Andrew J. Mellen has created unique, lasting techniques for streamlined living, bringing order out of chaos for a client....

Very Good, Jeeves written by P.G. Wodehouse performed by Jonathan Cecil on CD (Unabridged)£39.99

The immortal valet, Jeeves, shimmers to Bertie Wooster's assistance time and again in these side-splittingly funny tales. Whether saving a cabinet minister from a marauding swan, rescuing Bertie's chums from bowls of proverbial soup, or arranging unhingeing performances of 'Sonny Boy', Jeeves' genius...

Why I Write - Inadvertent written by Karl Ove Knausgaard performed by Edoardo Ballerini on CD (Unabridged)£19.99

The Why I Write series is based on the Windham-Campbell Lectures, delivered annually to commemorate the awarding of the Donald Windham-Sandy M. Campbell Literature Prizes at Yale University. Administered by Yale's Beinecke Rare Book and Manuscript Library, the series publishes works based...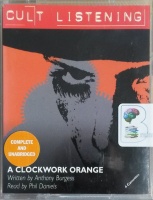 A Clockwork Orange written by Anthony Burgess performed by Phil Daniels on Cassette (Unabridged)£9.99
In this 1962 classic, a novelistic exploration of modern crime and punishment, Alex is the 15-year-old leader of his gang of "droogs" thriving in the ultraviolent future, as prophetically imagined by Burgess. Speaking a bizarre Russian-derived slang, Alex and his friends freely pillage and slash their way across...
---
---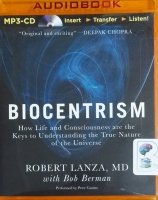 Biocentrism - How Life and Consciousness are the Keys to Understanding the True nature of the Universe written by Robert Lanza MD performed by Peter Ganim on MP3 CD (Unabridged)£19.99
Every now and then, a simple yet radical idea shakes the very foundations of knowledge. The startling discovery that the world was not flat challenged and ultimately changed the way people perceived themselves and their relationships with the world. For most humans of the 15th century, the notion of Earth...
---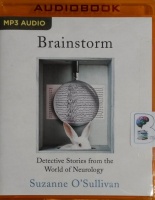 Brainstorm - Detective Stories from the World of Neurology written by Suzanne O'Sullivan performed by Christine Williams on MP3 CD (Unabridged)£19.99
The Brain Always Wins is the practical guide to improving your life through better brain management. It is based on one simple fact: our brain controls and determines everything we do! How we perceive, understand and respond to the world, how we survive, adapt and communicate, how we learn and...
---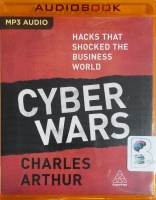 Cyber Wars - Hacks the Shocked the Business World written by Charles Arthur performed by Joe Jameson on MP3 CD (Unabridged)£19.99
Cyber Wars gives you the dramatic inside stories of some of the world's biggest cyber attacks. These are the game-changing hacks that make organisations around the world tremble and leaders stop and consider just how safe they really are. Charles Arthur provides a gripping account of why each hack...
---
---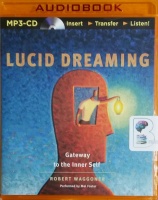 Lucid Dreaming - Gateway to the Inner Self written by Robert Waggoner performed by Mel Foster on MP3 CD (Unabridged)£19.99
Lucid Dreaming: Gateway to the Inner Self is the account of an extraordinarily talented lucid dreamer who goes beyond the boundaries of both psychology and religion. In the process, he stumbles upon the Inner Self. While lucid (consciously aware) in the dream state and able to act and interact with dream...
---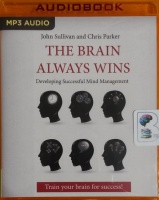 The Brain Always Wins written by John Sullivan and Chris Parker performed by Luke Mullins on MP3 CD (Unabridged)£19.99
The Brain Always Wins is the practical guide to improving your life through better brain management. It is based on one simple fact: our brain controls and determines everything we do! How we perceive, understand and respond to the world, how we survive, adapt and communicate, how we learn...
---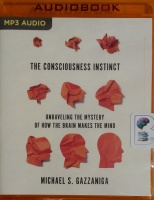 The Consciousness Instinct - Unraveling The Mystery of How The Brain Makes the Mind written by Michael S. Gazzaniga performed by David Colacci on MP3 CD (Unabridged)£19.99
"The father of cognitive neuroscience" illuminates the past, present, and future of the mind-brain problem How do neurons turn into minds? How does physical "stuff" - atoms, molecules, chemicals, and cells - create the vivid and various worlds inside our heads? The problem of consciousness has gnawed...
---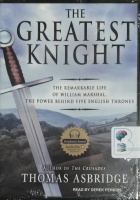 The Greatest Knight written by Thomas Asbridge performed by Derek Perkins on MP3 CD (Unabridged)£29.99
In The Greatest Knight, renowned historian Thomas Asbridge draws upon the thirteenth-century biography and an array of other contemporary evidence to present a compelling account of William Marshal's life and times. Asbridge charts the unparalleled rise to prominence of a man bound to a code of honor...
---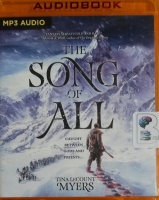 The Song of All written by Tina LeCount Myers performed by Ulf Bjorklund on MP3 CD (Unabridged)£14.99
A former warrior caught between gods and priests must fight for the survival of his family in this dark epic fantasy debut, set in a harsh arctic world inspired by Scandinavian indigenous cultures. On the forbidding fringes of the tundra, where years are marked by seasons of snow, humans war with immortals in...
---
---
X Minus One Vol. 1 - 12 Half Hour Original Radio Broadcasts written by Various Great Sci-Fi Authors performed by Karl Weber, Bob Hastings, Leon Janney and Mandel Kramer on MP3 CD (Unabridged)£24.99
X Minus One, widely regarded as one of the finest science fiction dramas ever produced for radio, was broadcast on NBC from 1955 until 1958. It began as a revival of NBC's Dimension X, which ran for just a year and a half, from 1950 to 1951. Though the first 15 episodes of X Minus One were merely new versions..
---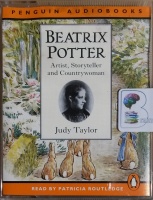 Beatrix Potter - Artist, Storyteller and Countrywoman written by Judy Taylor performed by Patricia Routledge on Cassette (Abridged)£9.99
The audiobook edition of Judy Taylor's classic biography, Beatrix Potter: Artist, Storyteller, and Countrywoman, read by the actress Patricia Routledge. Starting with the publication of The Tale of Peter Rabbit, in 1902, Beatrix Potter went on to become one of the world's most successful children's authors.
---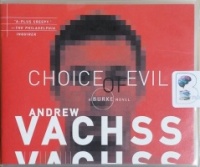 Choice of Evil written by Andrew Vachss performed by Phil Gigante on CD (Unabridged)£19.99
When his girlfriend, Crystal Beth, is gunned down at a gay rights rally in Central Park, Burke, the underground man-for-hire and expert hunter of predators, vows vengeance. But someone beats him to the task: a shadowy killer who calls himself Homo Erectus and who seems determined to wipe gay bashers...
---
---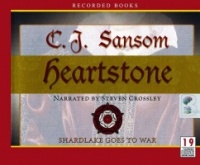 Heartstone written by C.J. Sansom performed by Steven Crossley on CD (Unabridged)£80.00
Shardlake goes to war... Summer, 1545. England is at war. Henry VIII's invasion of France has gone badly wrong, and a massive French fleet is preparing to sail across the Channel . . .Meanwhile, Matthew Shardlake is given an intriguing legal case by an old servant of Queen Catherine Parr. Asked to investigate claims..
---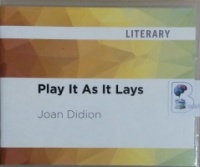 Play It As It Lays written by Joan Didion performed by Lauren Fortgang on CD (Unabridged)£19.99
A ruthless dissection of American life in the late 1960s, Play It As It Lays captures the mood of an entire generation, the ennui of contemporary society reflected in spare prose that blisters and haunts the listener. Set in a place beyond good and evil-literally in Hollywood, Las Vegas, and the barren wastes...
---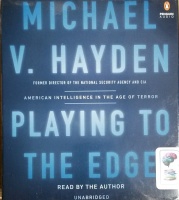 Playing to The Edge written by Michael V. Hayden performed by Michael V. Hayden on CD (Unabridged)£29.99
An unprecedented high-level master narrative of America's intelligence wars from the only person ever to helm both the CIA and NSA, at a time of heinous new threats and wrenching change. For General Michael Hayden, playing to the edge means playing so close to the line that you get chalk dust on your cleats.
---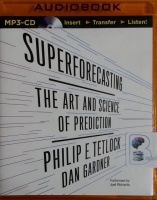 Superforcasting written by Philip E. Tetlock and Dan Gardner performed by Joel Richards on MP3 CD (Unabridged)£19.99
From one of the world's most highly regarded social scientists, a transformative book on the habits of mind that lead to the best predictions. Everyone would benefit from seeing further into the future, whether buying stocks, crafting policy, launching a new product, or simply planning the week's meals.