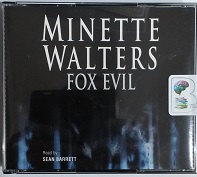 Fox Evil written by Minette Walters performed by Sean Barrett on CD (Abridged)£4.99 - £6.99
When elderly Ailsa Lockyer-Fox is found dead in her garden, dressed only in night clothes and with blood stains on the ground near her body, the finger of suspicion points at her wealthy, landowning husband, Colonel James Lockyer-Fox.
---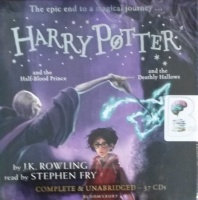 Harry Potter Collection Part 3 - Books 6 and 7 written by J.K. Rowling performed by Stephen Fry on CD (Unabridged)£39.99 - £59.99
Witches and wizards unite as you join the Battle of Hogwarts! Complete the entire series of J.K. Rowling's Harry Potter stories with this enchanting audiobook collection. The 37 CDs cover The Half-Blood Prince and The Deathly Hallows and find Dark Magic rising. Will Harry be able to summon the courage (and the...
---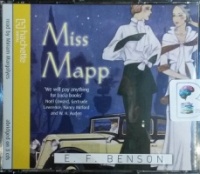 Miss Mapp written by E.F. Benson performed by Miriam Margolyes on CD (Abridged)£4.99
Nothing escapes the snooping opera glasses of Miss Elizabeth Mapp. She whiles away her busy hours observing the small English village of Tilling, and recording the antics in her notebook. But her observations are set to be disrupted by amorous advances of two retired army generals, both vying for her affection.
---
---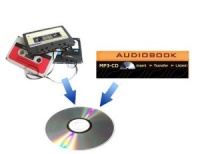 3 Hour Fixed Price Audio Transfer£15.00
This is the fixed price £15 item to be used when ordering conversion of a sub 3 hour Audio Cassette or MP3 CD title.
---
---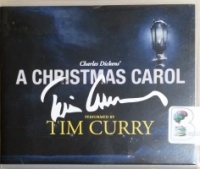 A Christmas Carol written by Charles Dickens performed by Tim Curry on CD (Unabridged)£16.99
This version of Charles Dickens's A Christmas Carol, masterfully narrated by Tim Curry, was available for a limited time last year, and now it's back. This one-of-a-kind performance puts a unique spin on a treasured classic, and served as the inspiration for the exciting new line of Audible Signature Classics...
---
---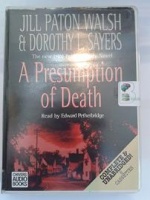 A Presumption of Death written by Jill Paton Walsh and Dorothy L Sayers performed by Edward Petherbridge on Cassette (Unabridged)£29.99 - £39.99
The story opens in 1940. Harriet Vane - now Lady Peter Wimsey - has taken her children to safety in the country. But the war has followed them: glamorous RAF pilots and even more glamorous land-girls scandalise the villagers; the blackout makes the night-time lanes as sinister as the back alleys of London.
---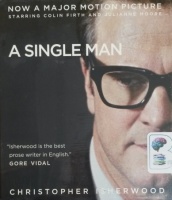 A Single Man written by Christopher Isherwood performed by Simon Prebble on CD (Unabridged)£19.99
Celebrated as a masterpiece from its first publication, A Single Man is the story of George, an English professor in suburban California left heartbroken after the death of his lover, Jim. With devastating clarity and humour, Christopher Isherwood shows George's determination to carry on, evoking the unexpected...
---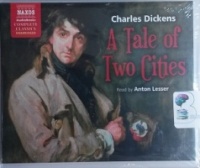 A Tale of Two Cities written by Charles Dickens performed by Anton Lesser on CD (Unabridged)£49.99 - £59.99
It was the best of times and the worst of times'. In one of the most famous openings of any novel, Dickens masterfully presents the turmoil of the French Revolution which is the backdrop for a novel of love, patience, hope and self-sacrifice. It is read by Anton Lesser whose award-winning Dickens... Naxos
---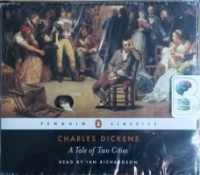 A Tale of Two Cities written by Charles Dickens performed by Ian Richardson on CD (Abridged)£5.99 - £9.99
After 18 years as a political prisoner in the Bastille the aging Dr Manette is finally released and reunited with his daughter in England.
---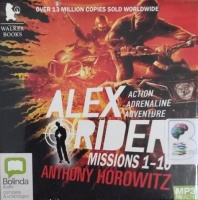 Alex Rider Missions 1 to 10 written by Anthony Horowitz performed by Jonathan Davies on MP3 CD (Unabridged)£29.99
In the number one bestselling series by Anthony Horowitz, 14-year-old Alex Rider is forcibly recruited into the deadly world of espionage and sent on his first mission. But mortal danger is never far away and the reluctant teenage spy soon finds himself in demand again by MI6. The ever popular and explosive...
---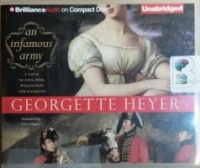 An Infamous Army written by Georgette Heyer performed by Claire Higgins on CD (Unabridged)£24.99 - £34.99
In 1815, beneath the aegis of the Army of Occupation, Brussels is the gayest town in Europe. And the widow Lady Barbara Childe, renowned for being as outrageous as she is beautiful, is at the centre of all that is fashionable and light-hearted. When she meets Charles Audley, dashing aide-de-camp...
---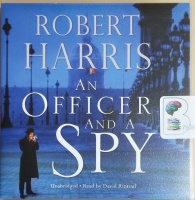 An Officer and a Spy written by Robert Harris performed by David Rintoul on CD (Unabridged)£14.99
They lied to protect their country. He told the truth to save it. A gripping historical thriller from the bestselling author of FATHERLAND. January 1895. On a freezing morning in the heart of Paris, an army officer, Georges Picquart, witnesses a convicted spy, Captain Alfred Dreyfus, being publicly humiliated in front..
---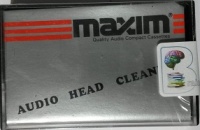 Audio Head Cleaner written by Maxim performed by Maxim on Cassette (Unabridged)£4.99
Very few of us like spending time cleaning. But...... cleaning the head of your tape player can give impressive results. If you haven't used a head cleaner for a significant period of time you should introduce it's use slowly. There may well be an accumulation of deposits on the rubber rollers ...
---
---
Blood Hunt written by Ian Rankin performed by Steven Pacey on CD (Unabridged)£39.99
It begins with a phone call. Gordon Reeve's brother has been found dead in his car in San Diego - the car was locked from the inside, a gun in his hand. In the US to identify the body Gordon comes to realise that his brother has in fact been murdered. What's more, it is soon obvious that his own life is in danger.
---
---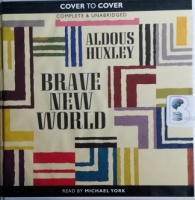 Brave New World written by Aldous Huxley performed by Michael York on CD (Unabridged)£19.99 - £29.99
When Lenina and Bernard visit a savage reservation, we experience how Utopia can destroy humanity. On the 75th anniversary of its publication, this outstanding work of literature is more crucial and relevant today than ever before. Cloning, feel-good drugs, anti-aging programs...
---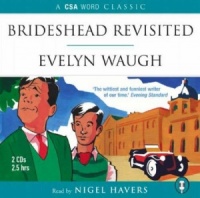 Brideshead Revisited written by Evelyn Waugh performed by Nigel Havers on CD (Abridged)£8.99
It is WW2 and Captain Charles Ryder reflects on his time at Oxford during the twenties and a world now changed. As a lonely student Charles was captivated by the outrageous and decadent Sebastian Flyte and invited to spend time at the Flyte's family home - the magnificent Brideshead.
---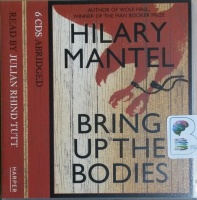 Bring Up The Bodies written by Hilary Mantel performed by Julian Rhind Tutt on CD (Abridged)£9.99
Winner of the Man Booker Prize 2012 Winner of the 2012 Costa Book of the Year Shortlisted for the 2013 Women's Prize for Fiction 'Simply exceptional…I envy anyone who hasn't yet read it'Daily Mail 'A gripping story of tumbling fury and terror'Independent on Sunday With this historic win for Bring Up the Bodies...
New In April 2019 Part 1
(in alphabetical order)
American Heiress - The Wild Saga of the Kidnapping, Crimes and Trial of Patty Hearst written by Jeffrey Toobin performed by Paul Michael on CD (Unabridged)£24.99

From New Yorker staff writer and bestselling author of The Nine and The Run of His Life: The People v. O. J. Simpson, the definitive account of the kidnapping and trial that defined an insane era in American history On February 4, 1974, Patty Hearst, a sophomore in college and heiress to the Hearst family fortune...

Atlas of a Lost World - Travels in Ice Age America written by Craig Childs performed by Craig Childs on CD (Unabridged)£29.99

From the author of Apocalyptic Planet, an unsparing, vivid, revelatory travelogue through prehistory that traces the arrival of the First People in North America 20,000 years ago and the artifacts that enable us to imagine their lives and fates. Scientists squabble over the locations and dates for human...

Auschwitz - A Doctor's Eyewitness Account written by Dr. Miklos Nyiszli performed by Noah Michael Levine on CD (Unabridged)£11.99

Auschwitz was one of the first books to bring the full horror of the Nazi death camps to the American public; this is, as the New York Review of Books said, "the best brief account of the Auschwitz experience available." When the Nazis invaded Hungary in 1944, they sent virtually the entire Jewish population...

Beyond Valor - World War II's Rangers and Airborne Vetrans Reveal The Heart of Combat written by Patrick K. O'Donnell performed by Scott Brick on CD (Unabridged)£29.99

From the first parachute drops in North Africa to the final battles in Germany, U.S. Ranger and Airborne troops saw the worst action of World War II. In Beyond Valor, Patrick O'Donnell, a pioneer of Internet-based "oral history" who has collected the first-person stories of hundreds of veterans on his...

Charlie Bone and the Beast written by Jenny Nimmo performed by Simon Jones on CD (Unabridged)£24.99

When Asa Pike, a Bloor's Academy student with the ability to change into a beast at dusk, goes missing, twelve-year-old Charlie Bone suspects a new classmate, the magically gifted Dagobert Endless, of foul play.

Dr. Feelgood - The Shocking Story of the Doctor who.... written by Richard A. Lertzman and William J. Birnes performed by Don Fernando Azevedo on CD (Unabridged)£19.99

Doctor Max Jacobson, whom the Secret Service under President John F. Kennedy code-named "Dr. Feelgood," developed a unique "energy formula" that altered the paths of some of the twentieth century's most iconic figures, including President and Jackie Kennedy, Marilyn Monroe, Frank Sinatra, and Elvis.

Empty Promises - And Other True Cases written by Ann Rule performed by Laural Merlington on CD (Unabridged)£6.99

In this unnerving collection drawn from her personal crime files, "America's best true-crime writer" (Kirkus Reviews) Ann Rule brilliantly dissects the convoluted love affairs that all too often end in violence.Expertly analyzing a shocking, headline-making case, Rule unmasks the deadly motives inside...

How to be a Brilliant Thinker - Exercise Your Mind and Find Creative Solutions written by Paul Sloane performed by Tom Parks on MP3 CD (Unabridged)£19.99

Do you want to have great ideas? Do you want to break out of the rut of conventional thinking? Would you like to be a genius? Would presenting brilliant ideas help in your job, career and social life? How to be a Brilliant Thinker will help you to achieve all these ideals, by helping you to think in powerful...

In The Blood - A Jefferson Tayte Genealogical Mystery written by Steve Robinson performed by Simon Vance on CD (Unabridged)£14.99

Two hundred years ago a loyalist family fled to England to escape the American War of Independence and seemingly vanished into thin air. American genealogist Jefferson Tayte is hired to find out what happened, but it soon becomes apparent that a calculated killer is out to stop him.

Life Stories written by David Attenborough performed by David Attenborough on CD (Abridged)£14.99

One of the nation's most popular presenters examines twenty marvels of the natural world from his extraordinary and pioneering experiences.

What was Sir David's first pet? Which animal would he most like to be? What creature lays 'the biggest egg in the world'? How do you communicate with an ancient nomadic community in Fiji? And what did Sir David do when confronted by a ten-foot-long reptile?

Mad, Bad and Dangerous to Know: The Autobiography written by Ranulph Fiennes performed by Ranulph Fiennes on CD (Abridged)£9.99

Ranulph Fiennes has travelled to the most dangerous and inaccessible places on earth, almost died countless times, lost nearly half his fingers to frostbite, raised millions of pounds for charity and been awarded a polar medal and an OBE. He has been an elite soldier, an athlete, a mountaineer, an explorer...

Marilyn Monroe - The Private Life of a Public Icon written by Charles Casillo performed by Therese Plummer on CD (Unabridged)£19.99

Based on new interviews and research, this ground-breaking biography reveals how Marilyn Monroe's childhood contributed to her struggle with bi-polar disorder, and impacted her career and personal life. Marilyn Monroe. Her beauty still captivates. Her love life still fascinates. Her story still dominates...

Mind Over Matter written by Ranulph Fiennes performed by Sir Ranulph Fiennes on Cassette (Abridged)£4.99

Read by himself, this is Ranulph Fiennes's account of his epic journey across Antarctica, a journey of heroic proportions, and one which captured the public imagination.

Monkey Business - Swinging Through the Wall Street Jungle written by John Rolfe and Peter Troob performed by John Rolfe and Peter Troob on CD (Unabridged)£29.99

They Hit ''The Street.'' Forget what you've read, forget what you've heard, forget what you've been taught. Monkey Business pulls off Wall Street's suspenders and gives the reader the inside skinny on real life at an investment bank, where the promised land is always one more twenty-hour workday and another...

Mother, Can You Not? written by Kate Siegel performed by Kate Siegel and Kim Friedman on CD (Unabridged)£24.99

'Happy birthday, spawn. Welcome to the wrong side of 25. The expiration date on your eggs is officially in sight. Tick tock. Love, Mom.'' This was the text message Kate Friedman woke up to on the morning of her 26th birthday, but her mother's maternal adoration and helicopter parenting began while Kate...

Mr Mac and Me written by Esther Freud performed by John Banks on CD (Unabridged)£14.99

It is 1914, and Thomas Maggs lives with his parents on the Suffolk coast. Life is quiet - shaped by the seasons. Then one day a mysterious Scotsman arrives, looking for all the world like Sherlock Holmes. Mac is what the locals call him as they whisper. But Mac isn t a detective, he s the architect Charles Rennie...

No Second Chance written by Harlan Coben performed by Scott Brick on CD (Unabridged)£19.99

The "nimble and ingenious" (New York Times) thriller from the #1 New York Timesbestselling author! Shot twice by an unseen assailant, Dr. Marc Seidman lies in a hospital bed. His wife has been killed. His six-month-old daughter, Tara, has vanished. But then a ransom note arrives, giving him one chance to save her.

North and South written by Elizabeth Gaskell performed by Clare Wille on CD (Abridged)£39.99

North and South follows our widely-praised recording of Cranford (2008), transporting the listener to the heart of Victorian England by vividly delineating the social landscape and an unlikely romance which flourishes within it. Saddened to be leaving behind the sophistication of the South, Margaret Hale...

Oath of Fealty written by Elizabeth Moon performed by Jennifer Van Dyck on CD (Unabridged)£19.99

In the original trilogy starring Paksenarrion Dorthansdotter, headstrong daughter of a farmer on the north edge of the kingdom, Paks follows her dream of becoming a hero out of legend by running away to join the army. Military life and warfare aren't anything like she imagined - yet she holds to both her...

Play All - A Bingewatcher's Notebook written by Clive James performed by Clive Chafer on CD (Unabridged)£29.99

Television and TV viewing are not what they once were - and that's a good thing, according to award-winning author and critic Clive James. Since serving as television columnist for the London Observer from 1972 to 1982, James has witnessed a radical change in content, format, and programming, and in the ...

Shook One - Anxiety Playing Tricks on Me written by Charlamagne Tha God performed by Charlamagne Tha God and Dr. Ish on CD (Unabridged)£19.99

Charlamagne Tha God, New York Times bestselling author of Black Privilege and cohost of Power 105.1's The Breakfast Club, reveals his blueprint for breaking free from your fears and anxiety to reach that elusive next level of success. Fear is holding you back. It's time to turn the tables and channel your fears...

Snark - It's Mean, It's Personal and It's Ruining Our Conversation written by David Denby performed by William Dufris on CD (Unabridged)£14.99

A New Yorker film critic evaluates the cultural consequences of the sarcastic language that has become pervasive in the media and on the Internet, in an assessment that cites the importance of developing true wit.

Tasting the Past - The Science of Flavor and the Search for the Origins of Wine written by Kevin Begos performed by P.J. Ochlan on CD (Unabridged)£29.99

The characters in Tasting the Past include a young Swiss scientist who set out to decode the DNA of every single wine grape in the world; Middle Eastern researchers who seek to discover the wines that King David drank; and a University of Pennsylvania academic who has spent decades analyzing...

Thank You, Jeeves written by P.G. Wodehouse performed by Simon Callow on CD (Abridged)£19.99 - £24.99

GOLD WINNER at the 2001 SPOKEN WORD AWARDS! Due to the unrepentant playing of his banjolele, Bertie parts company with Jeeves, who finds employment with Bertie's old mate Chuffy. Chuffy and Pauline Stoker (previously engaged to the Wooster chap) have fallen in love, but Chuffy is reluctant...

The Days When Birds Come Back written by Deborah Reed performed by Xe Sands on CD (Unabridged)£29.99

"A blindingly beautiful book" -- Caroline Leavitt "Reed's painterly descriptions of the Oregon coast are so vivid and real, so beautiful and lyrical that her writing is more like a visual art form." -- Portland Tribune June is in transition, reeling from her divorce and trying to stay sober. She returns to the Oregon...

The Defector written by Daniel Silva performed by Phil Gigante on CD (Unabridged)£14.99

Gabriel Allon took down the world's most dangerous man. He made just one mistake. Leaving him alive . . . Spy turned art restorer Gabriel Allon is in Umbria, when shocking news arrives from London. A Russian defector who saved his life has vanished without a trace. British Intelligence suspect he was a...

The Enemy written by Tom Wood performed by Daniel Philpott on CD (Unabridged)£39.99

An impossible mission, for a man who barely exists. The mysterious assassin known only as Victor is locked in an uneasy alliance with the CIA. And he has a list: Three names, three victims. Worst of all, Victor is given just two days to take down his targets, forcing him to compromise his usual extreme care.

The Fisher Lass written by Margaret Dickinson performed by Susan Jameson on CD (Abridged)£4.99 - £6.99

Flame-haired Jeannie Buchanan has spent all her life in the shadow of the dark North Sea. Working with freezing fingers to gut the precious herring, she follows the fleet south, travelling far away from her Scottish home. When her beloved father's trawler goes missing, Jeannie must face up to life on her own.

The Snows of Kilimanjaro written by Ernest Hemingway performed by Charlton Heston on CD (Unabridged)£9.99 - £14.99

"The Snows of Kilimanjaro" is a short story by Ernest Hemingway. It was first published in Esquire magazine in 1936. It was republished in The Fifth Column and the First Forty-Nine Stories in 1938, The Snows of Kilimanjaro and Other Stories in 1961, and is included in The Complete Short Stories of Ernest...

Unstuff Your Life! written by Andrew J Mellen performed by Andrew J Mellen on CD (Unabridged)£14.99

One of the country's most sought-after professional organizers here makes his foolproof rescue plan available for everyone. Arguably the most organized man in America, Andrew J. Mellen has created unique, lasting techniques for streamlined living, bringing order out of chaos for a client....

Very Good, Jeeves written by P.G. Wodehouse performed by Jonathan Cecil on CD (Unabridged)£39.99

The immortal valet, Jeeves, shimmers to Bertie Wooster's assistance time and again in these side-splittingly funny tales. Whether saving a cabinet minister from a marauding swan, rescuing Bertie's chums from bowls of proverbial soup, or arranging unhingeing performances of 'Sonny Boy', Jeeves' genius...

Why I Write - Inadvertent written by Karl Ove Knausgaard performed by Edoardo Ballerini on CD (Unabridged)£19.99

The Why I Write series is based on the Windham-Campbell Lectures, delivered annually to commemorate the awarding of the Donald Windham-Sandy M. Campbell Literature Prizes at Yale University. Administered by Yale's Beinecke Rare Book and Manuscript Library, the series publishes works based...
---
---
---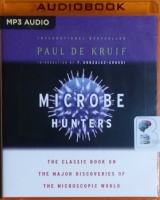 Microbe Hunters - The Classic Book on The Major Discoveries of the Microscopic World written by Paul De Kruif performed by Michael Quinlan on MP3 CD (Unabridged)£19.99
This science classic by Paul de Kruif chronicles the pioneering bacteriological work of the first scientists to see and learn from the microscopic world. Paul de Kruif's Microbe Hunters is a timeless dramatization of the scientists, bacteriologists, doctors, and medical technicians who discovered microbes and ...
---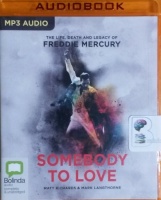 Somebody to Love - The Life, Death and Legacy of Freddie Mercury written by Matt Richards and Mark Langthorne performed by Tim Bruce on MP3 CD (Unabridged)£14.99
When Freddie Mercury died in 1991, aged just 45, the world was rocked by the vibrant and flamboyant star's tragic secret that he had been battling AIDS. The announcement of his diagnosis reached them less than 24-hours before his death, shocking his millions of fans, and fully opening the eyes of the world to...
---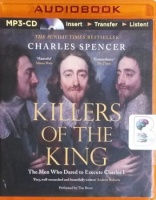 Killers of the King - The Men Who Dared to Execute Charles I written by Charles Spencer performed by Tim Bruce on MP3 CD (Unabridged)£14.99
January, 1649. After seven years of fighting in the bloodiest war in Britain's history, Parliament had overpowered King Charles I and now faced a problem: what to do with a defeated king, a king who refused to surrender?Parliamentarians resolved to do the unthinkable, to disregard the Divine Right of Kings ...
---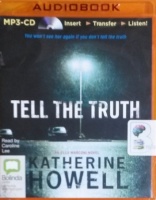 Tell the Truth written by Katherine Howell performed by Caroline Lee and on MP3 CD (Unabridged)£14.99
Detective Ella Marconi has her work cut out for her trying to unravel the lies surrounding her latest, thrilling case. Paramedic Stacey Durham has an idyllic life: her dream job, a beautiful house, and a devoted husband. Until her car is found abandoned and covered in her blood. Detective Ella Marconi knows...
---
---
---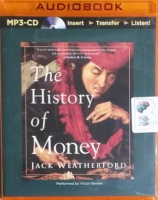 The History of Money written by Jack Weatherford performed by Victor Bevine and on MP3 CD (Unabridged)£24.99
From primitive man's cowrie shells to the electronic cash card, from the markets of Timbuktu to the New York Stock Exchange, The History of Money explores how money and the many forms of exchange have affected us, and how they will continue to shape all aspects of our lives - economic, political, and personal.
---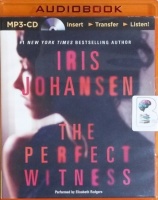 The Perfect Witness written by Iris Johansen performed by Elisabeth Rodgers on MP3 CD (Unabridged)£14.99
From the #1 New York Times bestselling author comes an explosive new thriller She had the perfect life. She had the perfect cover. She was the perfect witness. Until they found her. From the blockbuster bestselling author of the Eve Duncan novels comes a new, stand alone thriller about a woman with a...
---
---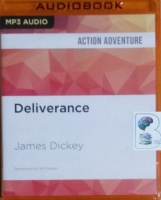 Deliverance written by James Dickey performed by Will Patton on MP3 CD (Unabridged)£14.99
The smash-hit best seller that inspired the acclaimed 1972 film starring Jon Voight, Burt Reynolds, Ned Beatty, and Ronny Cox is now available in unabridged audio for the very first time. The setting is the Georgia wilderness, where the state's most remote white-water river awaits. In the thundering froth of that...
---
---
---
---
---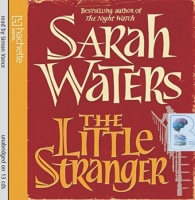 The Little Stranger written by Sarah Waters performed by Simon Vance on CD (Unabridged)£16.99 - £19.99
After her award-winning trilogy of Victorian novels, Sarah Waters turned to the 1940s and wrote THE NIGHT WATCH, a tender and tragic novel set against the backdrop of wartime Britain. Shortlisted for both the Orange and the Man Booker, it went straight to number one in the bestseller chart. In a dusty post-war...
---
---