.......the home of
Format Freedom
working to remove the limits to your listening opportunities....
Format is a big issue in the world of books. Hardback or softback in the written word has been the biggest choice for most book lovers over the years. The issue of format arises in even greater relief with regard to audiobooks. So we at Brainfood Audiobooks have decided to develop our Audio Transfer Service.
After several more requests from our fantastic Customers we have decided to include a new option with regard to conversion of audio tapes and MP3 CDs. This option has been suggested to us by several Customers who own laptops/tablets that don't allow the use of MP3 CDs. So we are now offering an additional option of Transfer to MP3 USB Drive. This means that you will receive both your original audiobook and a USB stick, with an MP3 file Transfer of your book, which you can insert into your USB socket on tablets or laptops. The additional cost for this service is £5.00. If you require transfer to MP3 USB stick please add this item to your basket before checking out.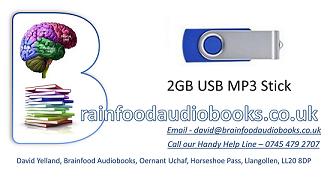 After some great feedback from our wonderful Customers we have made a change to simplify the ordering process. We have now linked all of our products to the appropriate Transfer Service. So any MP3 or Audio Cassette book will have a link to the correct Transfer service on the book's page, in the area below the description of the book. This means that any book with a duration of 195 mins or less will be linked to the fixed price £10 Transfer Service. Thanks goes to all the Customers who have helped us with this.
As of 1st January we have teamed up with our audio transfer people to offer a more streamlined service. In an effort to improve our service to you we will now be providing all of our 3 hour cassette products on Audio CD for a flat rate of £10.
Turn around time will reduce to just 5 working days.
What this means is that format need no longer be a barrier to listening. Many of our recordings are over 50 years old and were only ever produced on audio cassette. Our new seamless service means that all these wonderful productions are now available, irrespective of your listening technology.